I know, I know. You probably looked at the title of this post and are thinking "blechh" right about now. You might not even be reading this post because why on Earth would you want to know how to make a chocolate cake with sauerkraut?? Well...because it's good? And unique? Seriously. I saw the recipe a few months ago and instantly thought of my dad. He's a sauerkraut lover and not a huge dessert fan, so I figured this would be the perfect cake for his birthday.

Don't worry; you don't actually taste the sauerkraut! It's main purpose is to add some moistness to the cake and while it pretty much tastes like a normal chocolate cake, the sauerkraut sure does make it unique!

Here's what you need for the cake and frosting:
Cake:
¾ C sauerkraut firmly packed

2 ½ C flour

Pinch of salt

1 t baking powder

1 t baking soda

½ C cocoa powder

11 T unsalted butter (1 stick + 3 T)

1 ½ C sugar

2 t vanilla extract

3 large eggs

1 C cold coffee
Frosting:
1 lb. semisweet chocolate chips

1 C sour cream

2 T corn syrup

1 T honey

1 T vanilla
First, you'll want to rinse the sauerkraut really well to get rid of the vinegary taste. Drain it and dry it a bit, but not too much. Chop it up so it's nice and fine.
In a medium bowl, whisk together the salt, baking soda, baking powder, and cocoa.
In a larger bowl, beat the butter until it's soft and then add the sugar and vanilla and continue beating so it's light and fluffy. Beat in the eggs at a high speed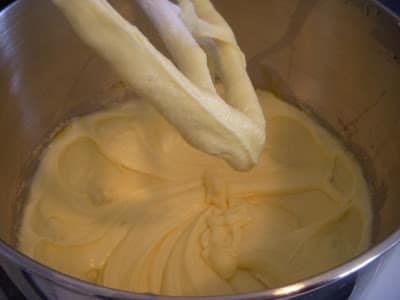 Add the dry ingredients to the wet ones, alternating with the coffee and beat until it's all blended together. Now fold in the sauerkraut.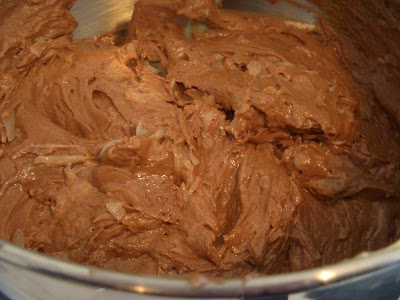 Put batter into two 9-inch cake pans sprayed with cooking spray.
Now you're ready to make the frosting. Using a double boiler (or a makeshift one like mine) melt the chocolate chips. You'll need to put boiling water in the bottom pan and the chocolate chips in the top pan.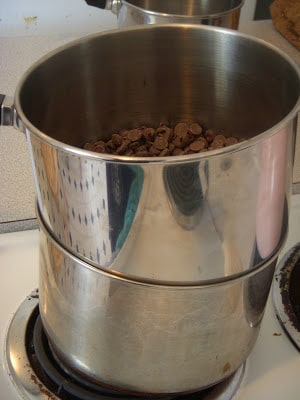 Keep over the heat and stir until the chips are all melted. Then stir in the sour cream, corn syrup, honey, and vanilla.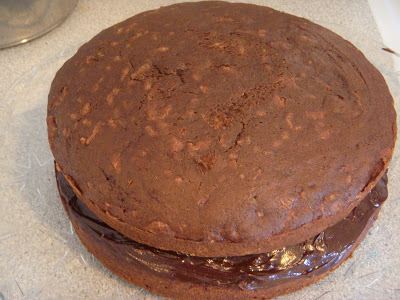 Place the other cake on top and frost the top and all around the edges.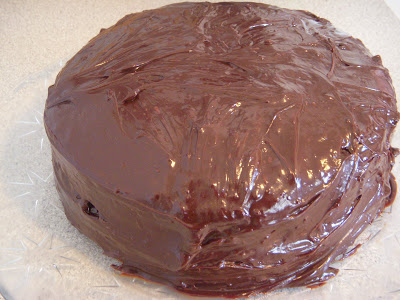 I put some sprinkles on top because I thought it needed a bit more pizazz and that's all I had in my kitchen (they were pink...sorry Dad!).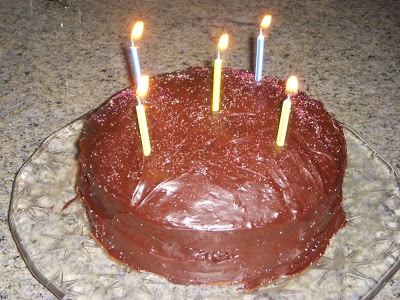 The cake turned out to be quite good. It wasn't as amazingly moist as I was expecting , but it had a really good flavor to it and the frosting was fabulous. Next time I'd probably make sure my sauerkraut was a little more wet when I added it in. I'm happy I actually tried this recipe out and that my dad enjoyed it. You couldn't even tell there was sauerkraut in the cake unless you looked really closely. And even then it looked like coconut!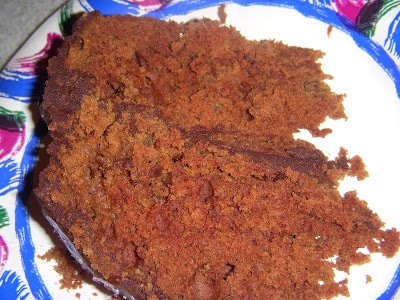 This recipe also reminded my sister and I of a beet cake our mom used to make that was incredible. In the meantime, Julia, a freelance writer for the Boston Globe who Chels and I met at the WBUR Public Radio Kitchen "eat-up", sent us her favorite beet cake recipe. I'll definitely be trying it soon and reporting back!
[Sues]
*And the winners of the Banana Nut Cheerios Giveaway chosen by Random.Org are:
Enjoy your gift basket and Banana Nut Cheerios!