Rarely does a week go by when I don't see at least one thing I want to make off of the Closet Cooking blog. Kevin is an amazing cook (and photographer) and my friends and I check out his blog on the daily. The picture of the savory zucchini bread he made was so colorful and pretty-looking. Plus, anything involving the words "bread" and "feta" makes me drool a little bit. It didn't take any twisting of my arm to know I had to make this.

What You'll Need:
1 large zucchini, grated

2 chopped roasted red peppers

2 cloves grated garlic

½ cup feta

1 teaspoon oregano

2 tablespoon balsamic vinegar

¼ cup olive oil

2 eggs

1 cup all purpose flour

½ cup whole wheat flour

1 teaspoon salt

½ teaspoon baking soda

½ teaspoon baking powder
Well, first I had to roast red peppers, which I've never done before. But it was actually pretty simple. Just halve the peppers, take the seeds out, and put them on a baking tray like so: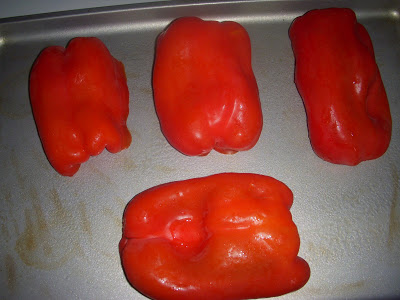 Preheat the oven to 450 and right when it's all heated up, put it on broil. Now put the peppers in for 7-10 minutes, until the skins are nice and blackened.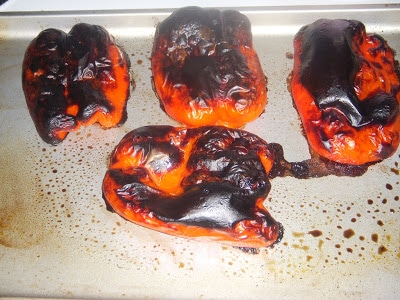 Now put them in a bag to cool them for about 20 minutes. I would have probably put them in a paper bag over plastic, if I had had one. While roasting the peppers, I had flashbacks to being 6 years old and my dad coming inside from roasting peppers on the grill. He would open the paper bag and tell me he had baby bunnies inside. I would freak out before realizing there were actually peppers in the bag and not, in fact, baby bunnies. And I just made my dad sound really cruel. Don't worry, I wasn't permanently scarred. Too badly.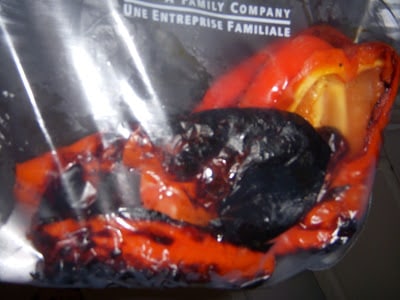 Once the peppers are cooled, it should be fairly easy for you to just remove the skins. And look! Now you have your very own roasted red peppers!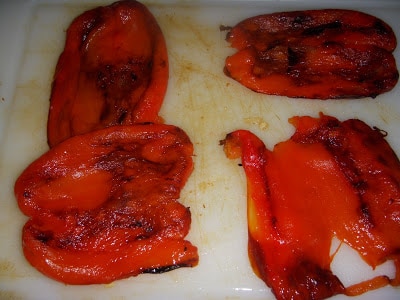 While the pepper are roasting and cooling and such, you can start working on the rest of the bread. You'll want your zucchini grated, which is pretty easy to do with a regular old cheese grater.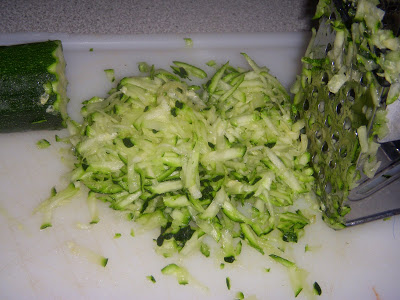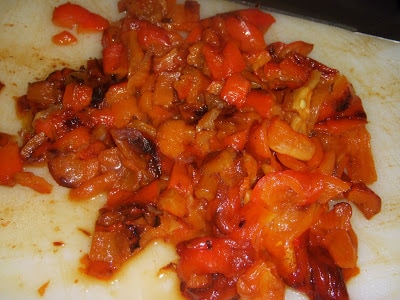 Put the grated zucchini, red peppers, garlic, feta, oregano, balsamic vinegar, olive oil, and eggs in a large bowl.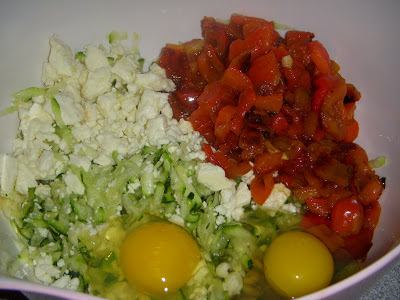 And mix them all together!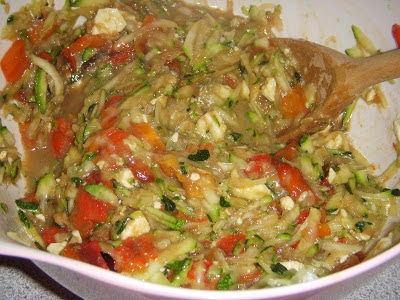 In a separate bowl, mix the flour, salt, and baking powder together.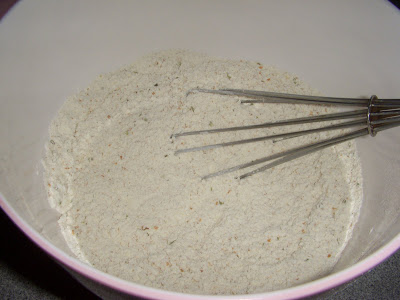 And then combine the two mixtures together.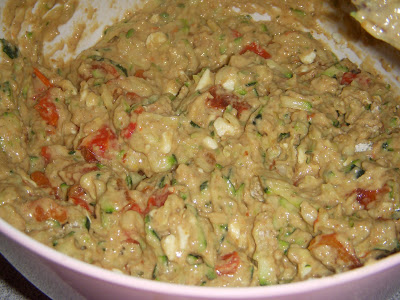 Put the batter in a buttered 9x5 loaf pan.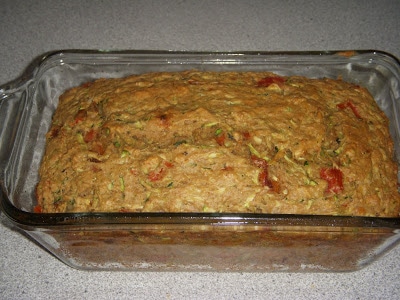 The bread should slide out of the loaf pan easily. At first I was a little worried because parts of the bread felt way too moist to be cooked through. But then I realized the zucchini I used was pretty wet and I might have thrown a little extra feta in too (shh!).
This bread has so many flavors bursting from it; it's difficult to even describe. I'm a pretty big eater (duh), but found that I was barely able to eat a whole slice of this bread before feeling extremely full and satisfied. This was fabulous because it meant the bread lasted for days and I was able to enjoy it longer and even give a portion of it to Sara.

I decided to make my own hummus to go along with the savory zucchini bread. Since I was making it last minute and didn't want to go to the store, I just used whatever I had in my cabinets. I made it with red kidney beans, lemon juice, a little bit of peanut butter, garlic, kalamata olives, paprika, and cumin. Put all the ingredients in my little food processor and chopped them up.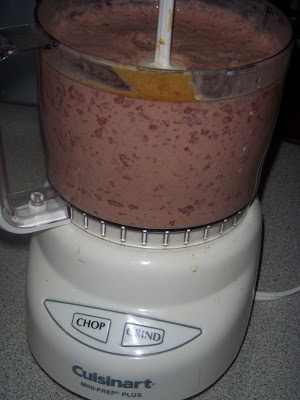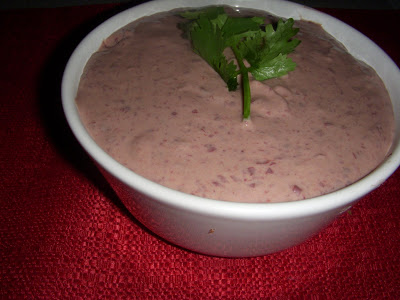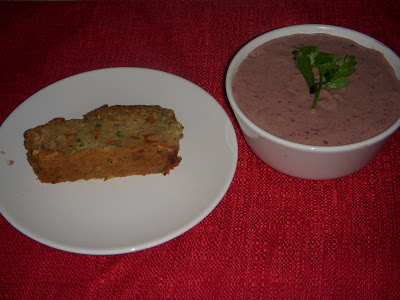 The hummus on the bread probably combined way too many flavors, but it was delicious nonetheless. And I had so much left over, I just started smearing it on everything I eat. Hey, there are worse things to be addicted to!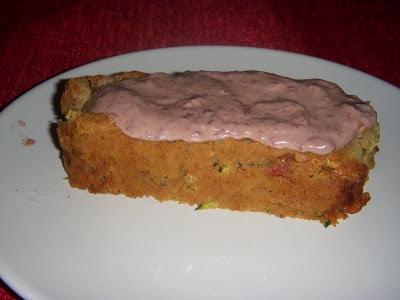 This is definitely not the zucchini bread to make if you're looking for that typical sweet, dessert-like zucchini bread. But if you're looking for something that can be more of a meal, you should try this out. Now I'm starting to get excited about all the possible ways for me to experiment with zucchini bread. This one was a fabulous start!

There are so many different ways to make the bread and so many different things to add. Let us know if you baked the bread using an ingredient not listed!

[Sues]