When the news came today that both my roommate, Liza, and myself didn't have to go to work because of the snow here in Boston, it was glorious. I can't remember the last time I had a real snow day in my adult life and now I've had two in the past couple weeks!
We both actually had a lot of work to get done anyway, so we plopped ourselves on the couches and got cranking. Snow days midweek are weird, because it's obviously not a weekend, it doesn't even really feel like a weekend, and it's next to impossible to get around unless you decide to take public transportation. The best thing about snow days is they're the perfect excuse to just slow things down. A good opportunity to sit by the window and watch people dig their cars out, knowing full well I don't have to worry about it since my car is in a covered spot 😉 And an even better opportunity to accomplish things on your to-do list without feeling rushed that you have somewhere to be.
For a successful snow day, here's what you should do 😉
Eat a hearty breakfast. Being sick all last week and snowboarding all weekend drained me, so I allowed myself to sleep in a bit later than usual for a weekday. It was nice to have the time to make a good (and random) brunch, of eggs, cucumber and tomato salad, and toast instead of rushing around eating goodness knows what.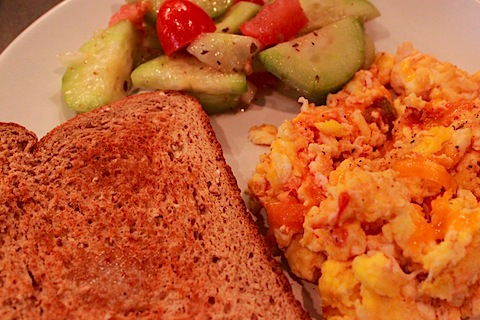 Play in the snow. After making a nice dent in our workload, Liza and I took a break and headed outside to check out the snowy scene. I'm not the biggest lover of snow, I much prefer the summer, but I have to admit, this snowfall was stunning. The trees were beautifully coated and there was a noticeable stillness in the air. It would be crazy not to love it.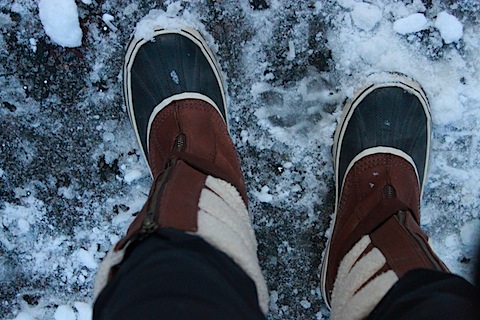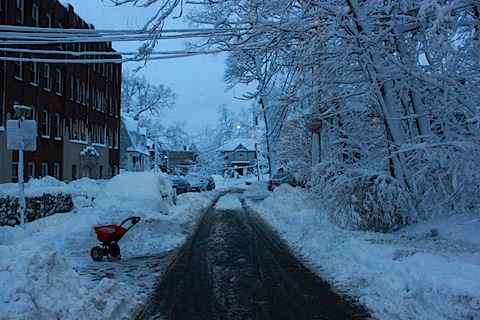 I offered to lend Liza a hand brushing off the roof of her Jeep, too. One of the many perks of being tall 😉 It's also one of my biggest pet peeves when people drive around with snow flying off of their roofs! Bah humbug.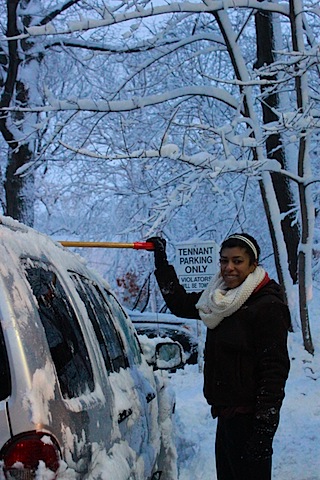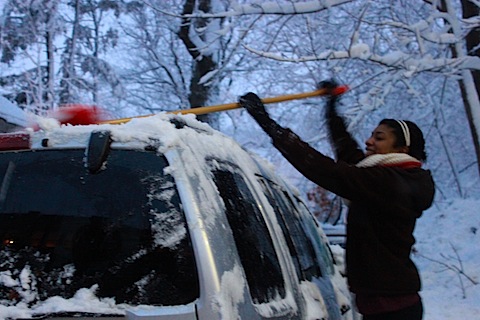 After cleaning the car off we goofed off a bit in the snow because it's fun to act like a little kid 😉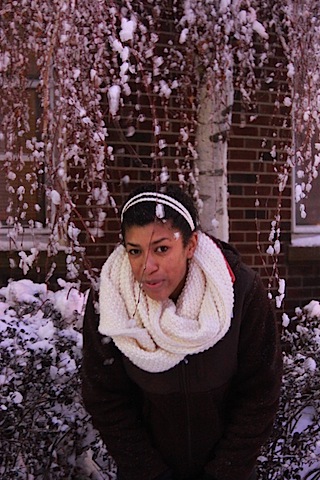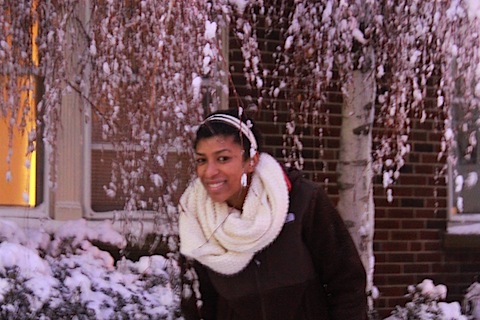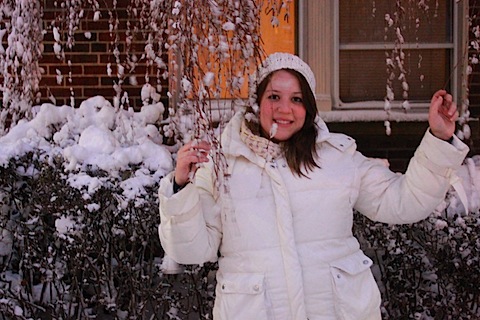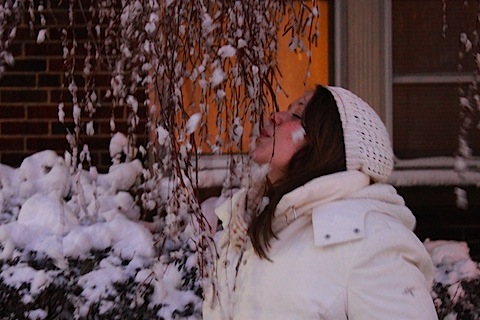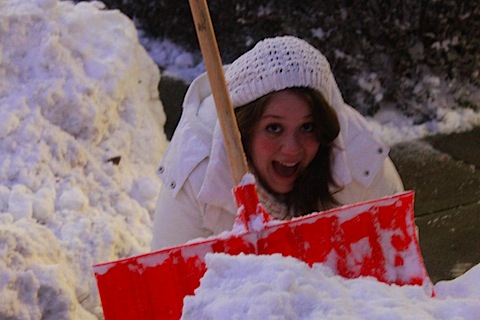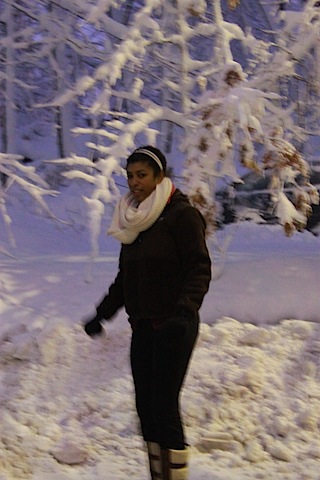 Sad attempt at a jumping picture. It's all about the timing!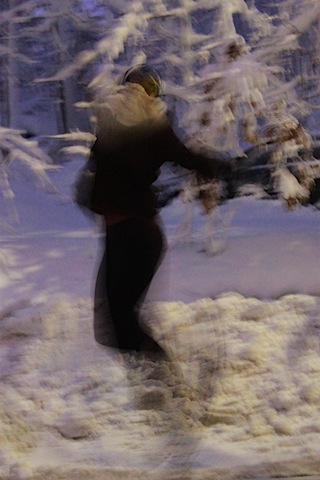 Drink wine. I definitely should have worn my new drop ski gloves outside because my fingers turned so numb in no time at all with my fleece gloves. Once we got back inside I decided a glass of red wine would warm me back up nicely. Of course.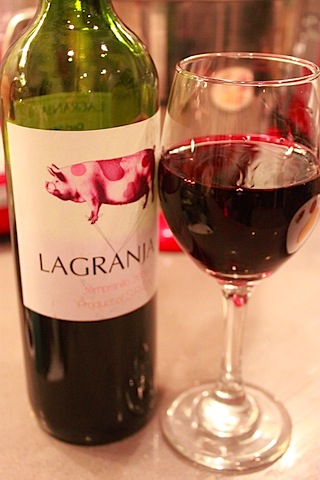 I obviously bought this wine because I love the pig on the bottle (hehe), but for only $3.99 at Trader Joes, it's actually a decent red.
Cheese and crackers were necessary to accompany the wine, too.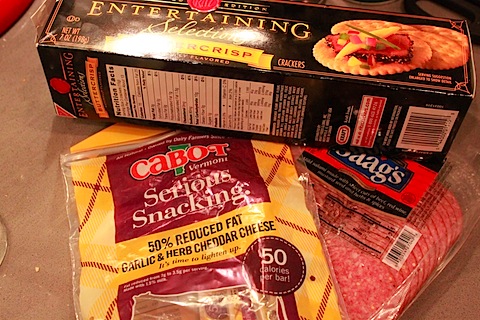 Have a boy bring you food. Our friend Justin brought us over a ton of Trader Joes pizza when he got out of work. Literally, a ton. He even put it in the oven and served us. Good boy 🙂 And he brought us popcorn to snack on while we all watched a movie. Win, win, win!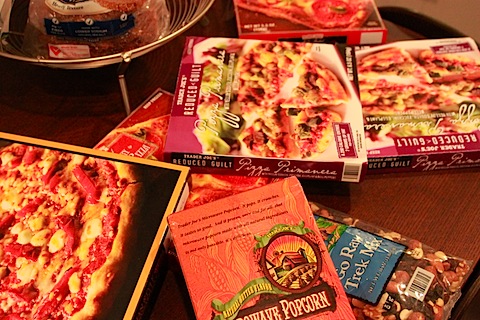 My back actually hurts from sitting on the couch all day so I'm a little excited to get back to reality tomorrow 😉
How did you spend your snow day?
[Chels]