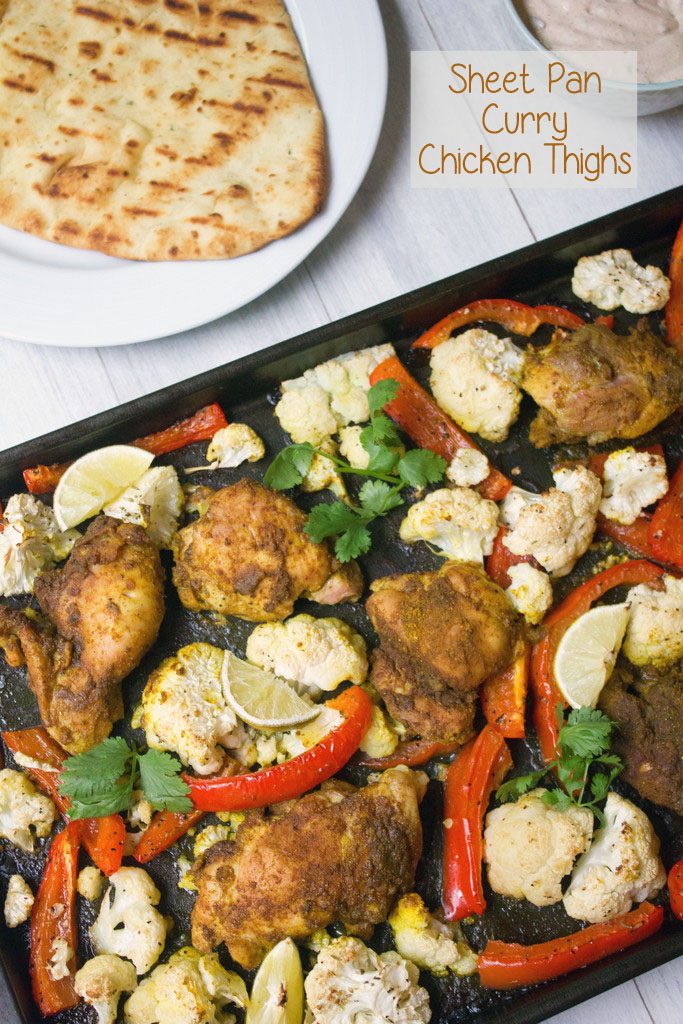 Another summer weekend in the books. SOB. Everyone's talking about how they can't wait for fall and how they hate this hot weather, but I'm over here like, "please let these 90 degree temperatures last forever." Well, maybe not forever. If I really wanted that, I'd get up and move to Arizona or something... And then I'd be miserable without the change in seasons and falling leaves and suede booties and yes, even the snow on the ground. Even my huge long puffy coat and scarf and mittens. But not my winter hat. I really hate hats. And really need to buy a new winter coat this season that actually has a hood on it.
Well, that conversation escalated quickly. Can we go back to talking about summer? I've been a bit of a slacker this summer when it comes to meal planning and going to the grocery store regularly and cooking dinner. I was so good at the beginning of the year and even kept a journal of what I made for dinner each night. But when you have to write down pizza and takeout and grilled cheese too many nights in a row, you start to skip writing it down all together, because what's the point? But now that a new season will soon be beginning, I'm more determined than ever to get my act together.
I've been seeing sheet pan dinners around Pinterest forever now, but have never actually attempted one myself until now. Obsessed. I had some chicken thighs in my freezer from a ButcherBox delivery the company sent me (my new favorite thing ever! More on this soon, but it's basically grass fed meat delivered to your door for a pretty fabulous cost) and was craving a curry-style dinner. I went with a curry powder mixture that I marinated the chicken in and then baked on the sheet pan with cauliflower and peppers. Even though I baked it all on a sheet pan, I did still dirty some dishes in the process. Maybe that defeats the purpose of a sheet pan dinner a little bit, but I am not too bothered by it.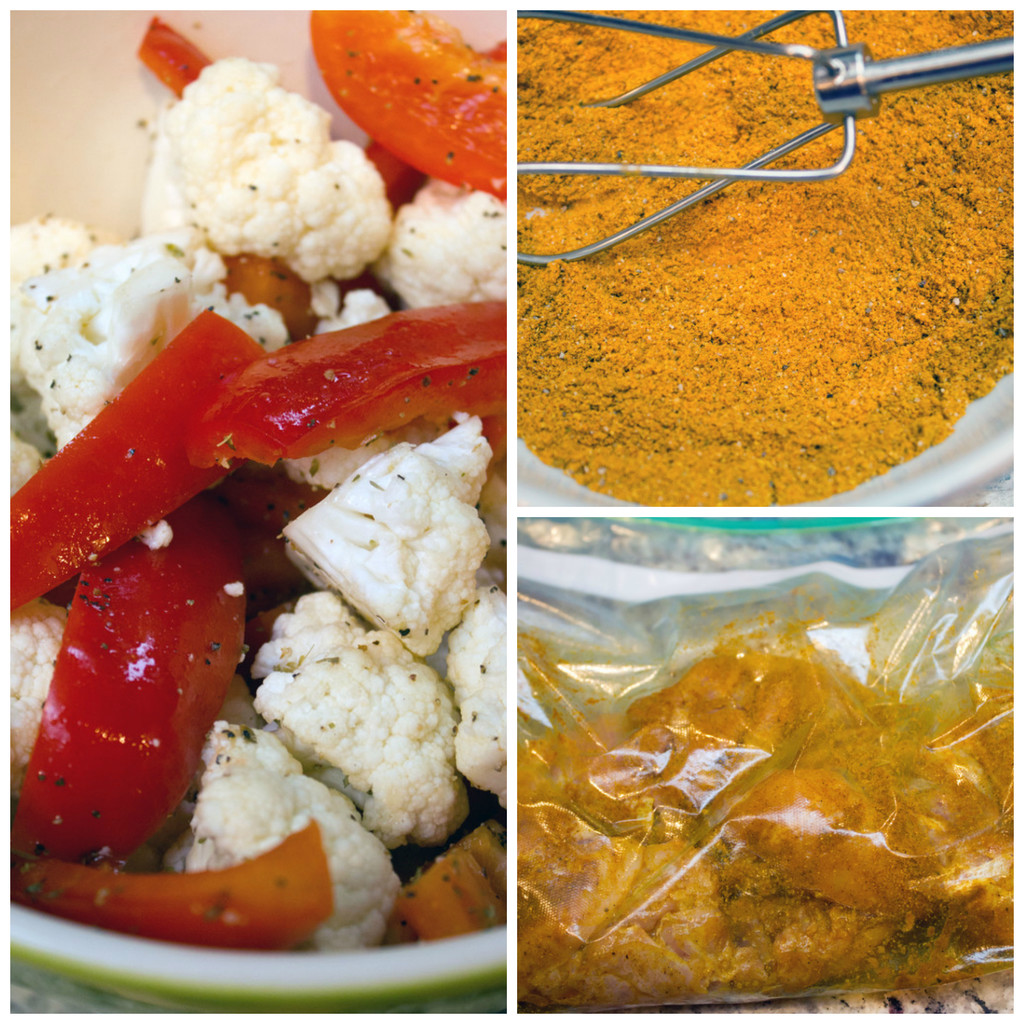 I almost never cook with chicken thighs, but man, these totally changed my mind. Also, I never call people "man," so I'm not sure why I did just now. Most of you are probably ladies, anyway.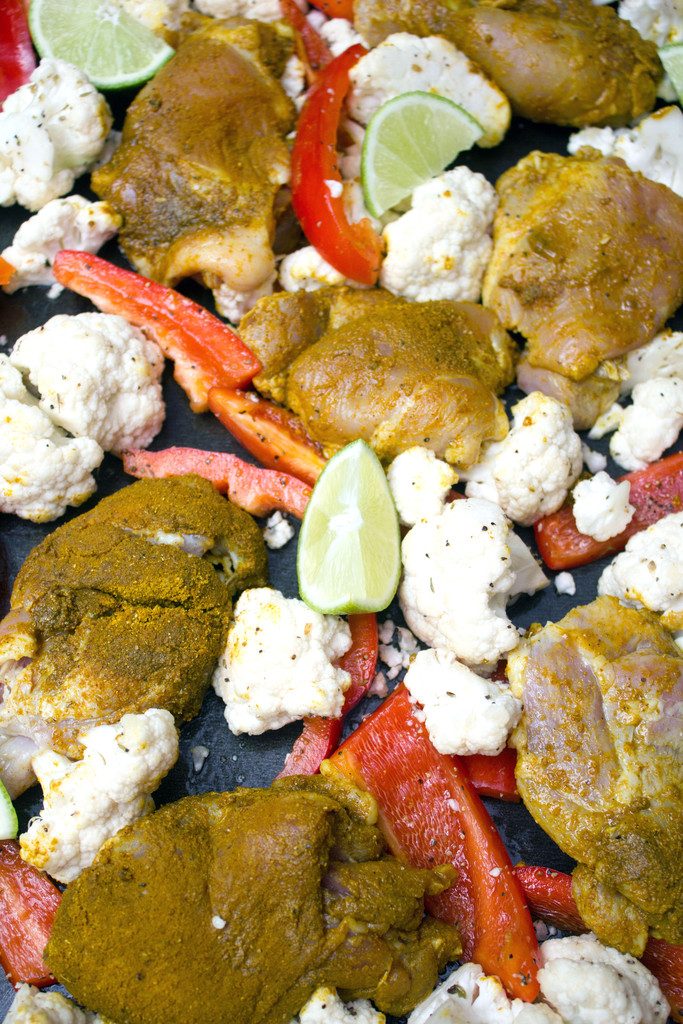 This is the kind of meal that you pop in the oven and then just sit back while your entire house or apartment is filled with delightful aromas. And by sit back, I mean take out the dog, clean your counters, and try to meal plan for the rest of the week.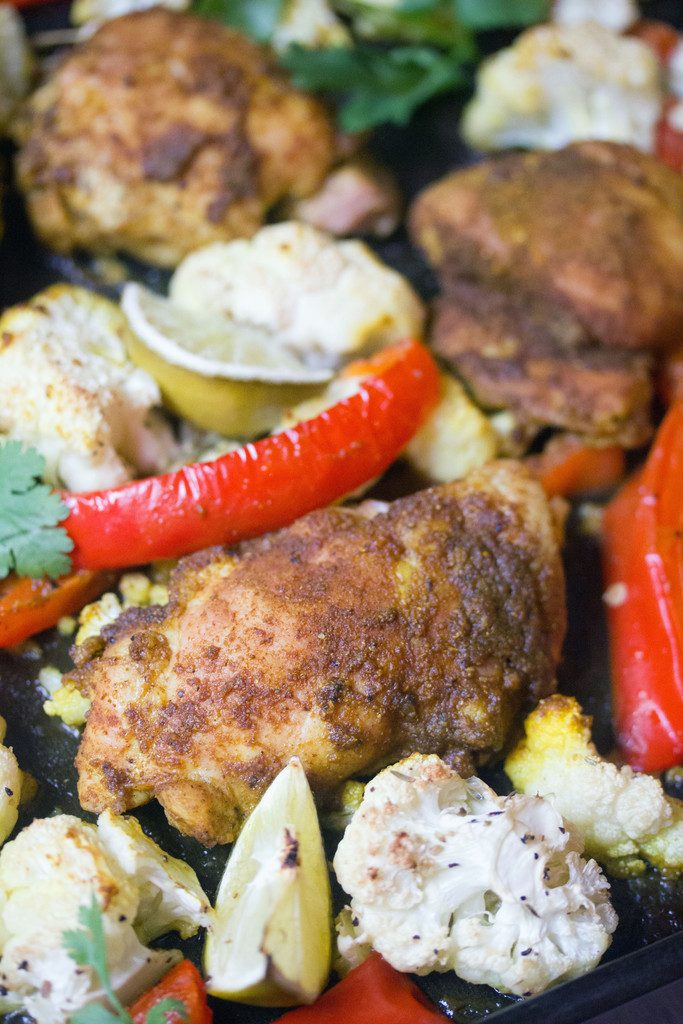 OK, I'll admit that part of the appeal of sheet pan dinners is just how pretty they look. So many fun colors and textures all laid out on one pan. I almost just dug right into this meal from the sheet pan. But then I decided I would look like a crazy person if anyone happened to see me eating a meal off a sheet pan. plus, portion control.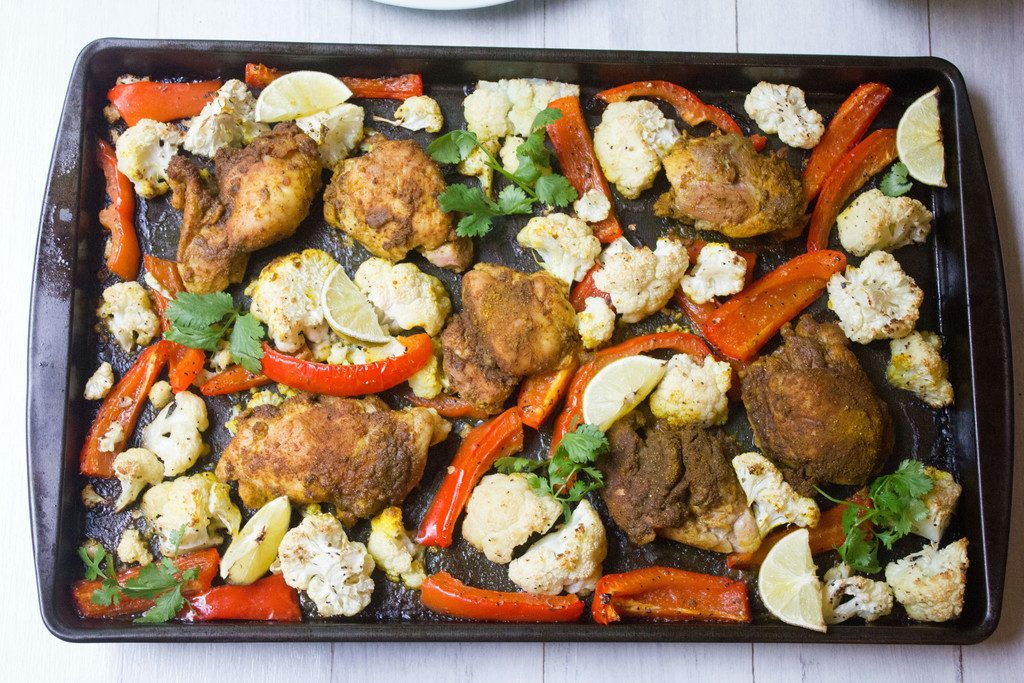 So instead, I grilled some naan. Because is naan ever a bad idea? I didn't make my own here, but bought the store-bought kind and popped it onto a grill pan for a few minutes.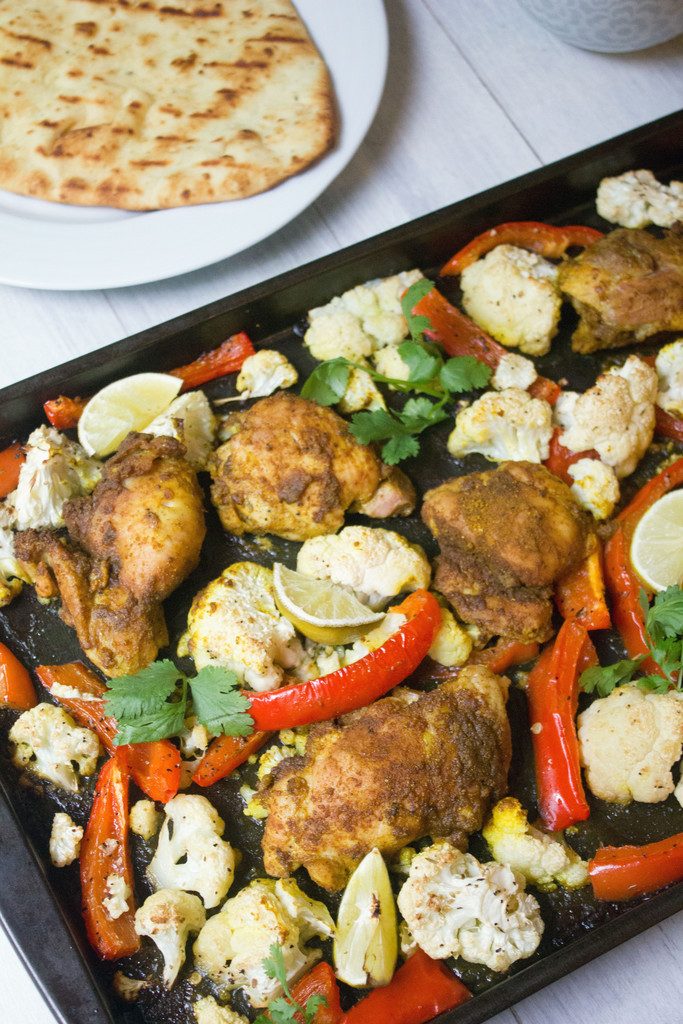 I also whipped up a yogurt sauce that also had a little kick to it from some paprika. Usually you'd make a yogurt sauce to cool things down... But I guess I just enjoy adding to the heat! Though when paprika is added to Greek yogurt, the result is a delightfully muted cool heat.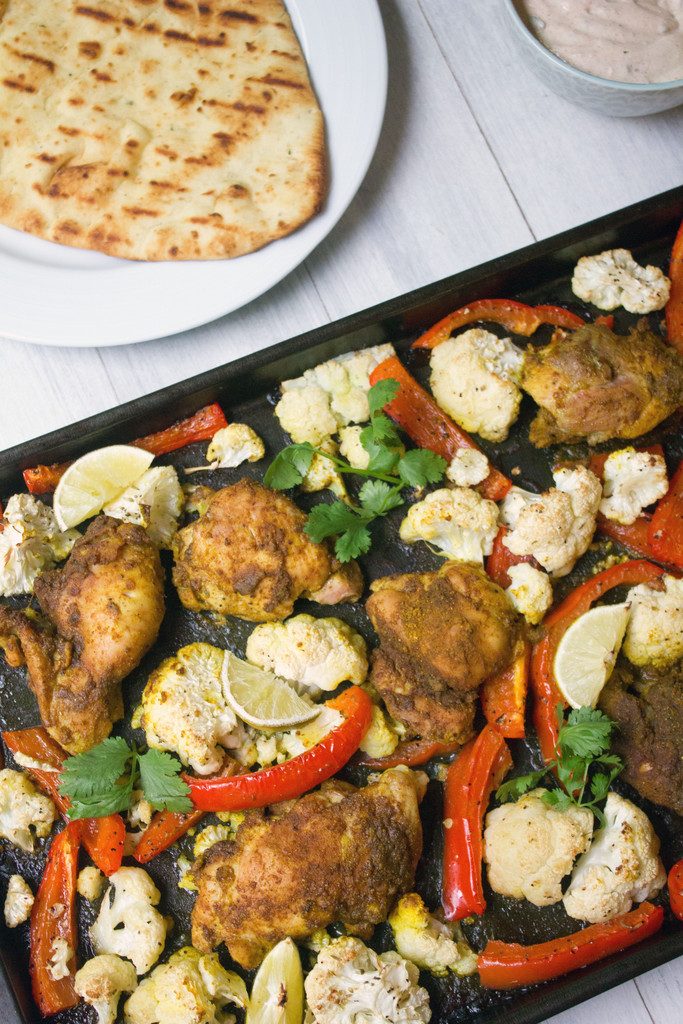 So, instead of eating the chicken and veggies right from the pan, I put them on the naan and topped it all with a little yogurt sauce. Extra limes on the side because more citrus is always a good idea.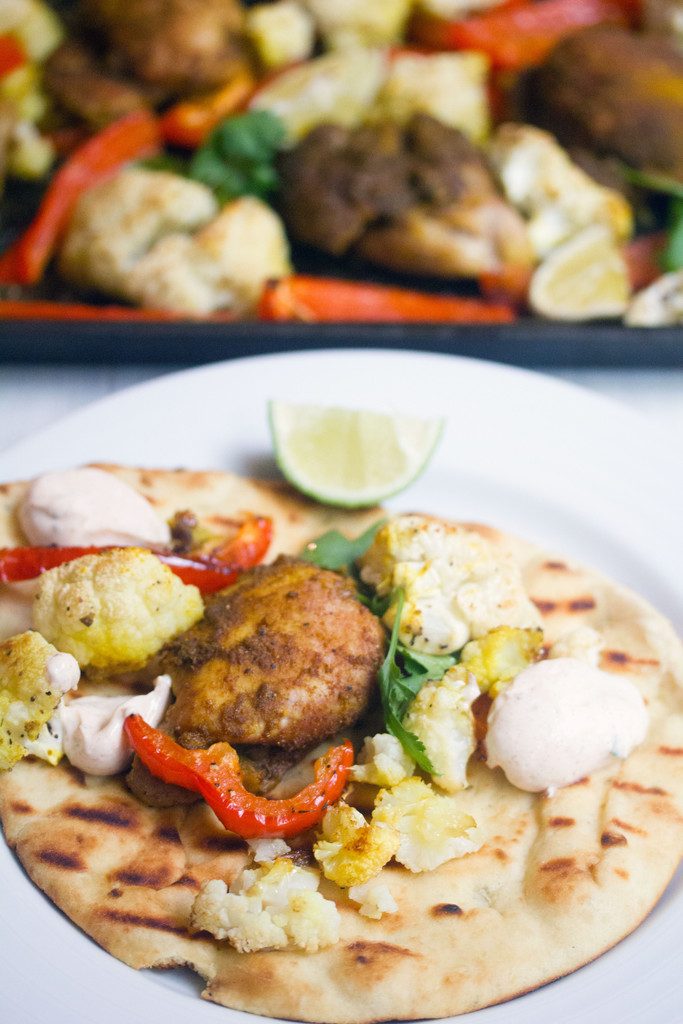 Weeknight dinner success. That's one to write down in the books. September is on the way and there's no better time for making some new goals, right? Well, except for January. I'm really a start the year with new goals kinda gal, but it's good to reassess every season. And this season is telling me I need to get my act together. Who's with me on needing a little meal planning action for the rest of 2016?
Do you meal plan or mostly wing it on weeknights?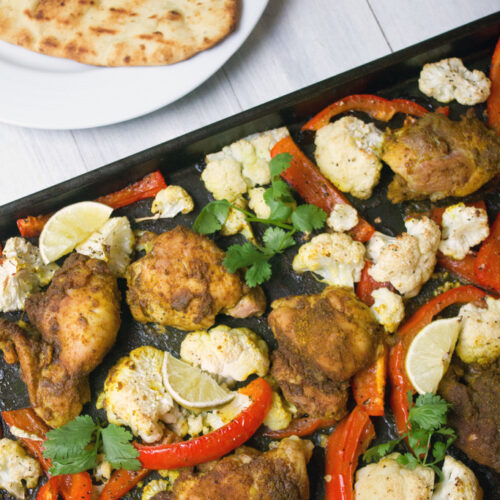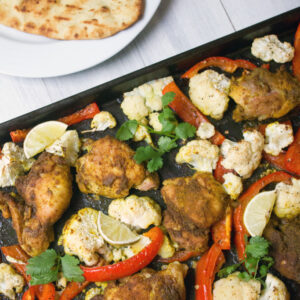 Sheet Pan Curry Chicken Thighs
Full-flavored chicken made on a sheet pan! These Curry Chicken Thighs with cauliflower and red peppers is made on a sheet pan and best eaten with naan and yogurt sauce.
Print
Pin
Rate
Ingredients
4

Tbsp

curry powder

½

tsp

paprika

½

tsp

cumin

½

tsp

garlic powder

¾

tsp

pepper

divided

¾

tsp

salt

divided

2

lb.

chicken thighs

4

Tbsp

olive oil

divided

1

head cauliflower

cut into florets

2

red bell peppers

cut into thick slices

½

tsp

dried oregano

2

Tbsp

freshly squeezed lime juice

2

Tbsp

chopped cilantro

Naan

for serving
Yogurt Sauce:
2

cup

greek yogurt

1

Tbsp

freshly squeezed like juice

½

tsp

paprika

¼

tsp

pepper

¼

tsp

salt

1

Tbsp

finely chopped mint
Instructions
In a small bowl, mix together curry powder, paprika, cumin, garlic powder, ¼ tsp pepper, and ¼ tsp salt.

Place chicken thighs in a large Ziplock bag. Pour in 2 Tbsp olive oil and sprinkle curry seasoning mixture over. Marinate chicken for at least 2 hours and up to 1 day.

When ready to bake, pre-heat oven to 400 degrees. Toss cauliflower and red peppers with remaining 2 Tbsp olive oil, oregano, ½ tsp pepper, and ½ tsp salt on a sheet pan.

Bake for 30-40 minutes, until chicken reaches an internal temperature of 165 degrees.

Squeeze lime juice over the top and sprinkle cilantro, if desired.

Serve chicken with naan and yogurt sauce (recipe below).
Yogurt Sauce:
Put all ingredients in a small bowl and stir until combined.
Share a Photo of Your Finished Recipe!
Mention @wearenotmartha and share a photo if you've made the recipe!