Getting a manicure is typically my go-to way of treating myself. But lately, I've found myself doing my own nails at home because after I spend good money to get them done, they almost always seem to chip in no time at all. Doing dishes, craft projects, and basically just living life, perfectly painted digits are always a target to be destroyed! My biggest pet peeve is when I get a manicure right before a vacation and it chips just a couple days into the trip. I've been known to sometimes even purchase the color just so I can have it as backup while away since I hate chipped nails.
I recently started a new job (working from home!) as a Marketing Coordinator for Southwest Day Spa in Brookline, located right at the St. Mary's T stop on the C Line. As part of the new gig, I'm required to have some treatments done so I'll know how to better market them. Tough life 😉
My first treatment was this past Friday for a shellac manicure. This manicure is all the rage now in the beauty world because of it's chip-free, no dry time formula. Imagine having polish on for up to 14 days without it chipping? And you don't even have to sit around and wait for it to dry (my least favorite part about manicures!). Sounds kind of perfect, right?
So at this point, you're probably wondering how this all works!
First, the spa manicurist will shape your nails as they normally would. Then a single layer of the clear UV base coat is applied. Then the color coat is applied followed by the final coat which is a single layer of the top coat. After each coat you insert your nails into the UV lamp (below) for a handful of seconds to allow each coat to set.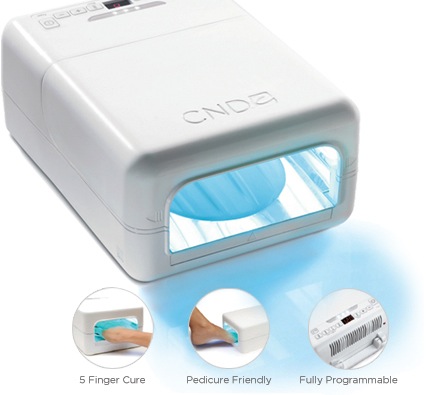 (source)
When the top coat has set you're pretty much all done! When my manicure was finished, Lana (who is hilarious!), the spa manicurist who did them, took a wet piece of gauze and wiped each of my nails individually. I'm not going to lie, my heart just about dropped because I thought they were going to smudge. But the polish didn't budge and I became a quick believer of this process!
Southwest offers a nice variety of colors by CND (Creative Nail Design) the leader in this process, from darks to lights, mattes, and more metallic finishes.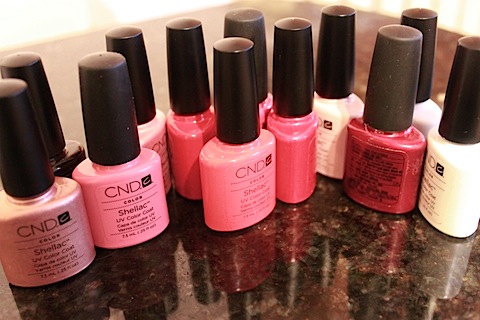 Whenever I have a difficult time deciding on colors, or just feel like being a little different, I'll pick two colors 😉 The dark color almost translates as black in the photo but it's actually called Fedora and is a deep, deep mahogany/brownish/with a bit of plum. The pink is called Tutti Frutti. Delicious.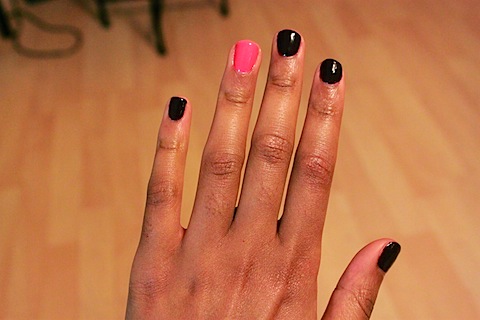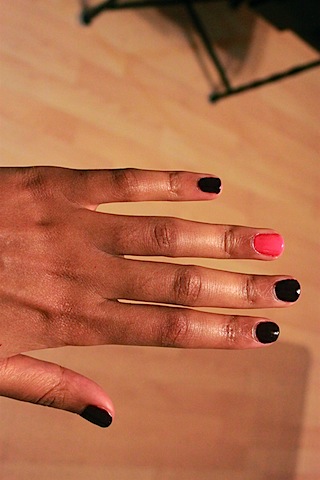 My roommate, Liza, also came with me to get a mani. She did a French manicure but with black polish instead of the traditional white. We're unique 😉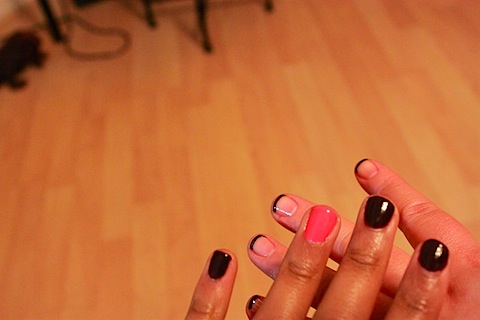 Some of the lovely ladies from Southwest including the owner, Levina (second from the left).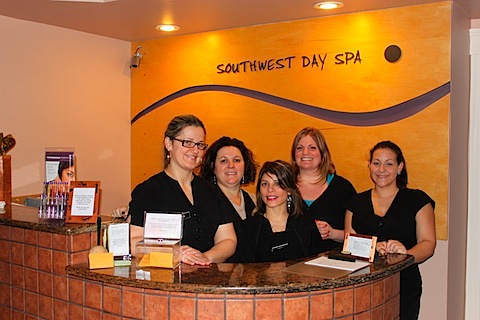 It's been a few days since my manicure and I've assembled an entire order of bridal shower invitations which includes hundreds of pieces of sticky adhesives, done a few loads of dishes, showered, done errands etc. and my nails haven't chipped and still look as glossy and perfect as they did on Friday. This might be my newest obsession!
And now for a FUN GIVEAWAY for the local readers:
Leave a comment on this post sharing your favorite nail polish brand or favorite nail polish color, by Friday February 4th at 11:59pm EST, for a chance to win a Complimentary Shellac Manicure ($30 value) at Southwest Day Spa to be redeemed in the month of February. Good Luck!
———————————————————————————————–
Have you tried a shellac manicure yet? What are your thoughts?
[Chels]