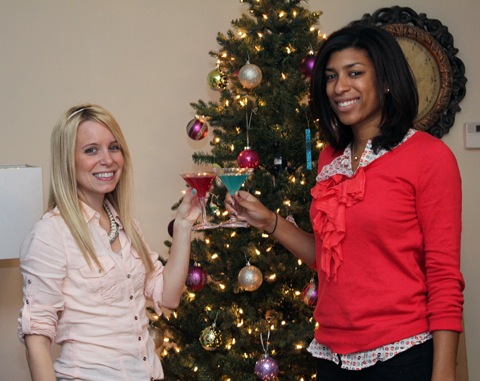 I know, I know; it's not Friday (though maybe it is by the time you're reading this). But we thought this week called for a little Cocktail Thursday action. After all, it is the holiday season. And our friends at Sierra Mist asked us if we'd like to whip up a couple concoctions with the new Sierra Mist Natural. Cocktails? We are not Martha? Yup. Sold!
You see, neither Chels nor I are big soda drinkers. At all. But when it comes to making cocktails, I'll often whip up a simple syrup and finish my cocktail with a splash of soda water. Well, add in a little lemon lime flavor and that's basically what Sierra Mist is. It only has 5 ingredients: carbonated water, real sugar, citric acid, natural flavor, and potassium citrate. None of that yucky high fructose corn syrup. Hurrah! When it comes to soda, this is definitely the good stuff.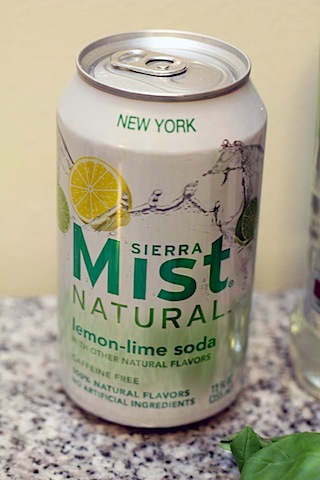 So, we were assigned to make two different cocktails and happily set out on our quest. First up? The Meet Me at the Mist-letoe Martini. Oh, and I should clarify: we had the options of making these mocktails if we wanted… But you know us better than that. And if it means anything, my spellcheck just changed "mocktail" to "cocktail," clearly not understanding what that word means. Neither do I, spellcheck, neither do I.
Meet Me at the Mist-letoe Martini (makes 1 cocktail):
Print this recipe!
2 oz. Sierra Mist Natural
3 leaves fresh basil
½ oz. fresh lime juice
1 ½ oz. raspberry vodka
1 oz. blueberry juice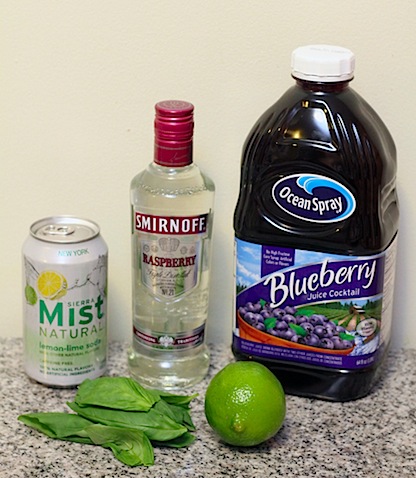 In a glass, muddle two basil leaves and lime juice and then add to a shaker filled with ice.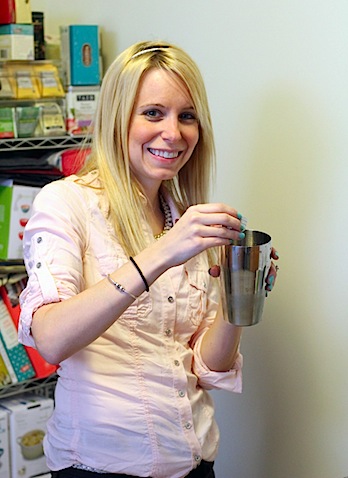 Add raspberry vodka and blueberry juice to the shaker, shake well, and strain into a martini glass.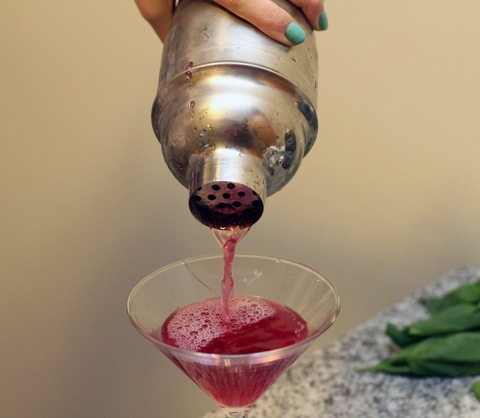 Top off with Sierra Mist Natural.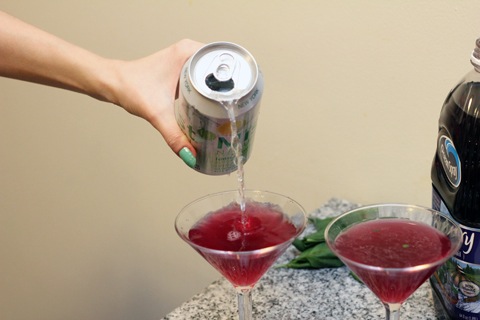 And enjoy!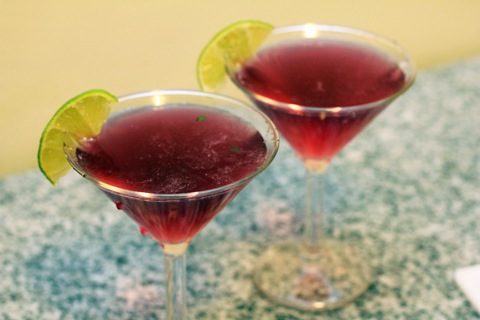 But before we enjoyed, we wanted to make our second cocktail… So we could compare. Research purposes and all. Next up was the Frost Bite Cocktail… with alcohol, of course. Two kinds, in fact. The lovely people at Sierra Mist do not mess around. My kind of people.
Frost Bite Cocktail (makes 1):
Print this recipe!
3 oz. Sierra Mist Natural
1 oz. coconut vodka
1 oz. pineapple juice
1 oz. Blue Curacao
Fresh mint leaves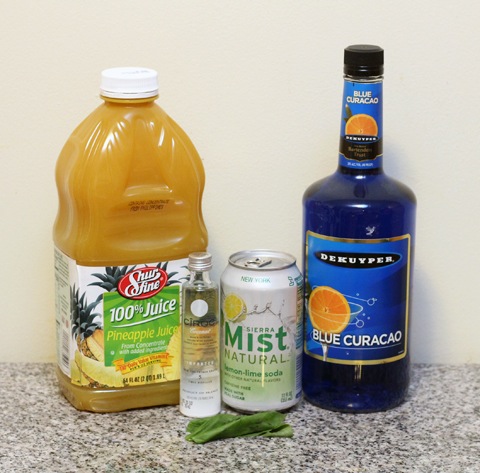 In a shaker, filled with ice, mix coconut vodka and pineapple juice.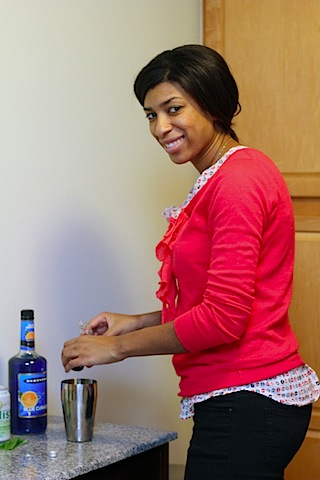 Add Blue Curacao and mint. Shake all the ingredients well and strain into a glass. Top with Sierra Mist Natural.
And drink away!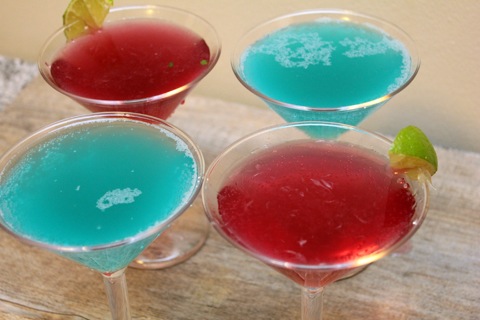 Aren't they pretty drinks? We thought they looked a tab bit more like 4th of July than Christmas, but the blue really did look like "frost bite"! I think these drinks are perfect for getting you into the holiday spirit!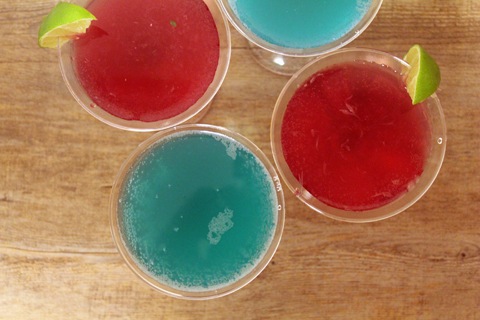 Of course, we enjoyed the drinks in front of my just-decorated Christmas tree.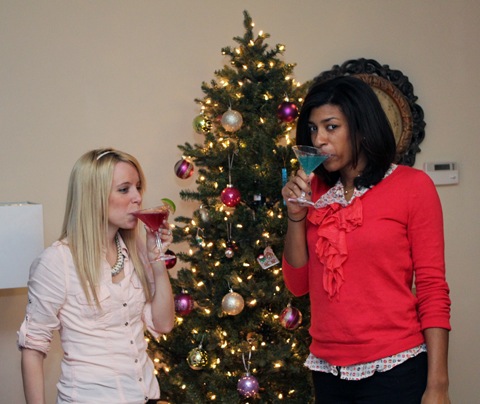 And what did we think? Well, I was surprised to be a big fan of the Meet Me at the Mist-letoe drink, considering raspberry vodka isn't quite my thing. But combined with the blueberry juice? It almost tasted a bit cranberry-ish. And I always love basil in my drinks!
And Chels was surprised to have enjoyed the Frost Bite drink so much, considering Blue Curacao can be a little scary (and brings us back to college!). But I think the pineapple juice and coconut vodka gave it the perfect tropical touch.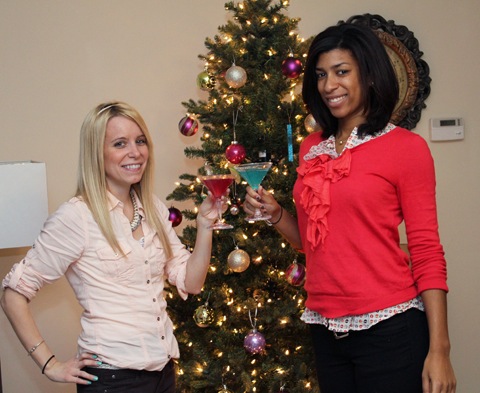 Topping the drinks with Sierra Mist Natural was such a great idea to get that fizz and a little extra real sugar. Next time, I'd love to try the Sierra Mist Natural in a cocktail that doesn't already have a lot of sugar from juices in it, so the flavor and sweetness really comes through. Oh, and we'll be doing just that since Chels and I will be creating our own cocktail with Sierra Mist Natural in the coming weeks. We may also have a little something for you 🙂 Stay tuned!
In the meantime, head over to the Sierra Mist Natural Facebook page and like it to see some other fun recipes. And, please, let us know…
Would you prefer the Meet Me Under the Mist-letoe Martini or the Frost Bite Cocktail?
[Sues]
Disclaimer: Sierra Mist provided us with product and compensation to participate in this campaign. But, as always, all opinions are our own and we wouldn't share this with you if we didn't truly believe in it!