The other night, when I made the Salmon with Hoisin, Orange, and Bok Choy, I decided I needed a healthy side dish to go along with it. Since the salmon took hardly any time at all to prepare (and I was staaahvin'), I wanted to find a side that could be made fairly quickly as well. I immediately thought of couscous since it basically cooks in the blink of an eye! I found a perfectly fitting recipe for Couscous Salad on Food Network. It was extremely simple sounding and packed with veggies!
The recipe serves 8… and for whatever reason, as if I have an army of children living with me, I thought it was necessary to make the full recipe… it was a bit excessive. Hey… now I have loads of leftovers! But this could also be a great dish to bring to a Spring or Summer party! Pretty sure people will fall truly, madly, deeply in love with you if you bring it.
Here's what you need (serves 8):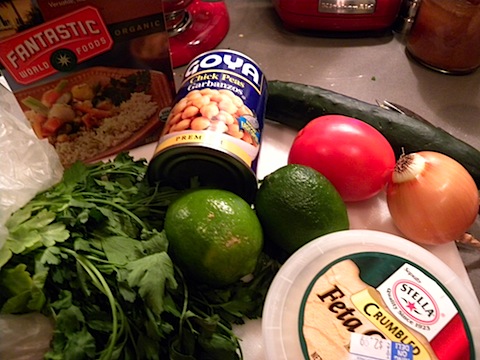 • 1 box flavored couscous (I used a plain whole wheat couscous and added my own garlic in just to keep it au naturel), cooked
• 1 can chick peas
• 1 red bell pepper, finely chopped (yup, never going to the grocery store on a Sunday night again. No red peppers left… I've never seen that happen before!)
• 1/2 Vidalia onion, chopped
• 1 cucumber, peeled, seeded, and finely chopped
• 1 tomato, chopped
• 1/4 cup fresh parsley leaves, chopped
• 1/2 cup crumbled feta cheese (I didn't measure, just dumped a ton in… love feta!)
• salt and freshly ground black pepper
• 1/4 cup olive oil
• 2 to 3 limes, juiced (mmm citrus!)
Here's what you do (and it's only one step!):
In a large bowl, toss all of the ingredients along with the olive oil and lime juice, to taste.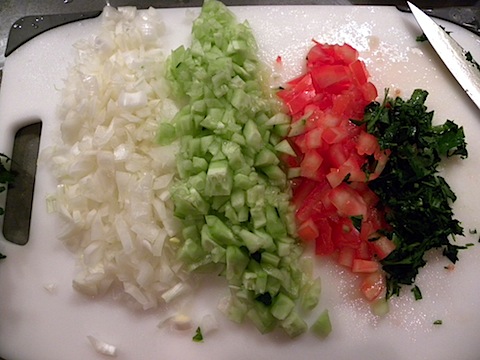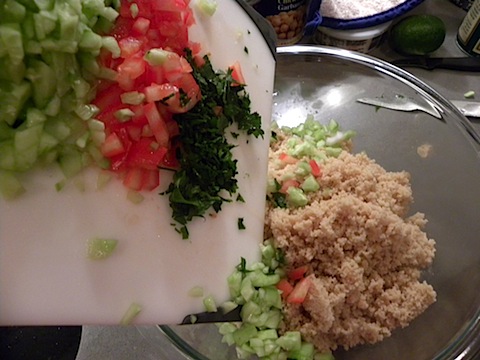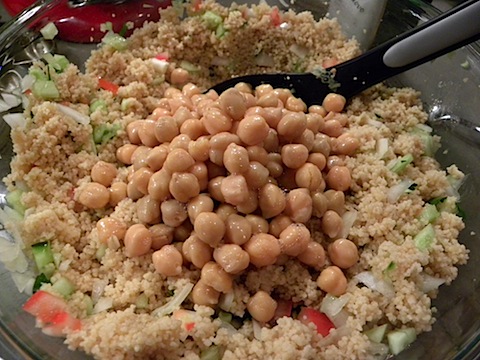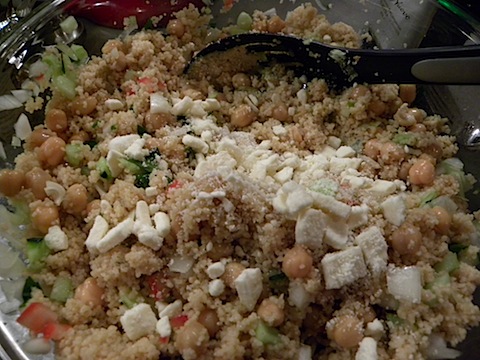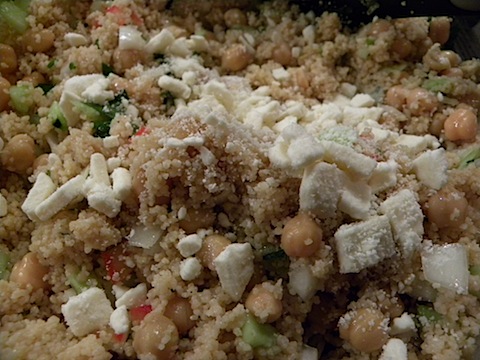 Voila… All done! Told you it was easy 😉 The best part is you can definitely add in any other favorite vegetables you might have. I honestly think this is going to be a staple go-to side to have at parties this year. It's simple to toss together right before you leave and all of the ingredients are totally accessible! Unless you go to the grocery store on a Sunday evening, that is 😉
[Chels]