For the next installment of our time at the Boston Center for Adult Education (BCAE), we re-created Martha Stewart's Skillet Slaw. We wanted to make a simple side dish and with just a handful of main ingredients, simple this is! We were drawn to this particular recipe because when we typically think of cole slaw, we think of a cold dish with mayonnaise but this doesn't have any, so we were eager to see how it came out.
Here's what you need (serves 4):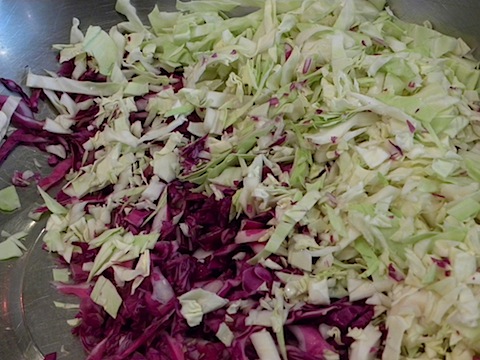 • 4 ounces bacon, chopped
• 2 teaspoons vegetable oil
• ½ small head green cabbage, cored and thinly sliced
• ½ small head red cabbage, cored and thinly sliced
• 3 tablespoons apple cider vinegar
• 1 teaspoon caraway seeds (found at Whole Foods)
• 1 teaspoon coarse salt
• ½ teaspoon ground pepper
Here's what you do:
BCAE Skillet Slaw Recipe from Chels and Sues on Vimeo.
• In a large skillet, cook bacon until crispy. Once finished, transfer bacon to a paper towel-lined plate and set aside.
• In the same skillet, reduce the heat to medium. Add 1 teaspoon vegetable oil and white cabbage to skillet. Toss the cabbage until lightly coated with oil and the bacon fat. Cover and cook, stirring often until the cabbage is tender, for about 8 minutes. Transfer to a large bowl and set aside.
• Add the other teaspoon of vegetable oil and red cabbage to the same skillet. Toss that until lightly coated. Cover and cook until tender, about 8 minutes. Transfer to bowl with the white cabbage.
(You can also just add both cabbages in the skillet together. For some reason the recipe says to do it individually but we put them in together and it worked just fine!)
• Add 2 tablespoons of vinegar to skillet and stir, of course, making sure to scrape up any brown bits at the bottom of the skillet. Pour the heated vinegar over cabbage and toss to coat. Add the remaining teaspoon of vinegar to slaw, along with caraway seeds, salt, and pepper. Toss until everything is well combined. Sprinkle with bacon and serve.
The thing we liked best about this is that it can be served either warm or cold. It was delicious both ways. The hints and zing from the apple cider vinegar and the bits of crunch from the bacon are the real winners in this side dish. This is definitely a side that will have people talking. And that's what we like! 🙂
Check out the rest of our BCAE series:
BCAE State of the Art Kitchen Tour
Mango Ginger Smoothie
[Chels]