Here's a fun fact: I can't do a cartwheel. I've always wanted to be able to but for some reason I have insane control issues and apparently don't trust myself throwing my 5 foot 10 inch body around aimlessly. I think I'm always afraid I'm going to kill myself, break a bone, or crack my skull on the cement, so my attempts at cartwheels are always the most pathetic sight. So when I heard about Sky Zone, Boston's new trampoline park, I knew immediately that I would be paying them a little visit. My co-worker Kimberly told me she and her husband went last weekend and said it's basically a room filled with large trampolines and trampoline walls. AMAZING! Now I can throw myself around and know I'll just bounce back up… versus laying lifelessly on pavement. 😉
This past Sunday Melis, my roommate Liza, and I hopped in my car and drove out to Hyde Park to spend some time at Sky Zone. We walked in, signed our waivers (eeeep!), and paid for a half hour session, which was only $8. We decided to start with a half hour because Kimberly told me last week that it was INTENSE and quite tiring. You can always add additional time on if you want to stay longer, too. So we paid our $8, changed into our official Sky Zone sneakers (which are included in the rate), put our belongings in a locker (25 cents for a small one and 50 cents for a large one, which all 3 of us shared), and headed to the trampoline area.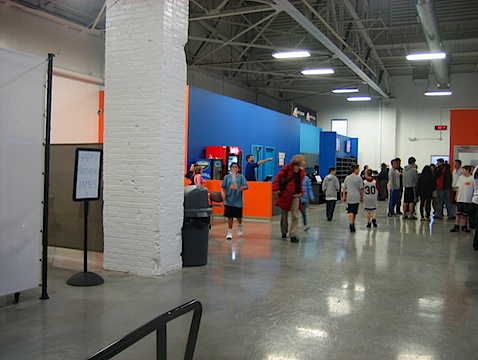 Yes, that is a caged in trampoline zone. I felt like a 5 year old entering this area because it was just that exciting 😉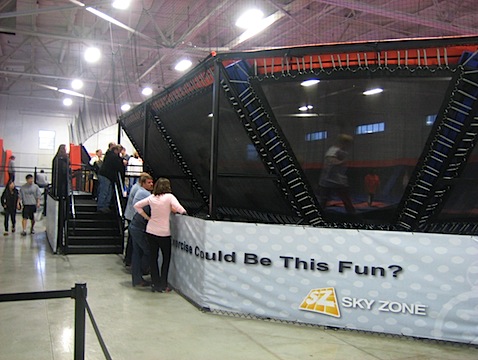 There are large digital clocks around the former warehouse turned trampoline heaven and every session starts on the half hour. Everyone is given an orange sticker that says your "in" time. So we started at 3pm and our session ended at 3:30pm. There is a Sky Zone employee who announces on a loud speaker when each session is up so you know when to exit.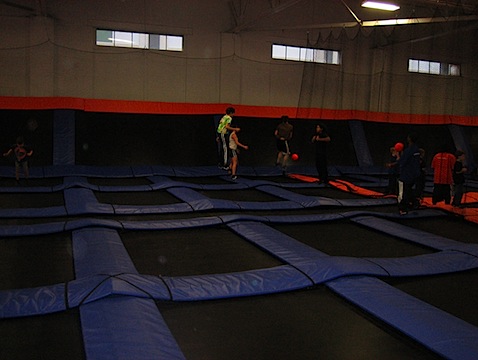 You're allowed to bounce all around the structure but only one person is allowed on each square at a time to avoid injury. And see those slanted trampoline walls? Let's just say I had a blast running and flying into and off of them. Let it also be known that I heard my neck crack at one point while doing so. How quickly we forget when we're surrounded by children that we're not actually the same age as them 😉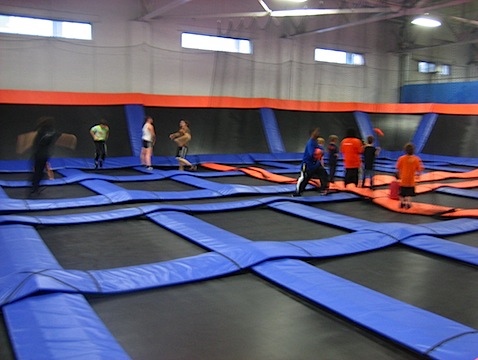 I've taken an Urban Rebounding class at Healthworks many a time, which is basically a cardio/aerobic class where you bounce off of mini trampolines for 45 minutes. It's a great workout and definitely gets the blood flowing and the sweat flying, but Sky Zone takes that to a whole different level. The second I stepped on the first trampoline square I knew it was going to be a workout… these trampolines have some serious springs so it takes real leg work to even get around.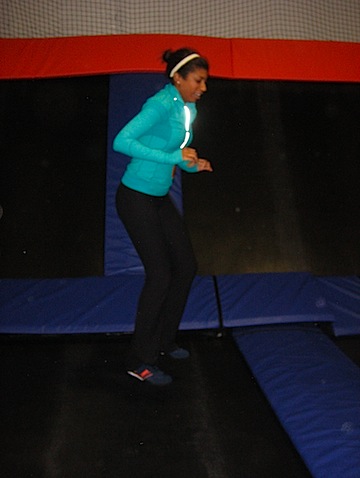 It was a blast literally floating in the air 🙂
Here are a few fun facts from the Sky Zone Web site about jumping on trampolines:
• It strengthens every muscle, organ and cell in your body
• Enhances overall coordination, strength, flexibility, timing, agility, balance and spatial awareness (definitely true!)
• Stimulates your lymphatic system
• Strengthens your heart
• Is low-impact
• Requires 30% more energy than running on a hard surface.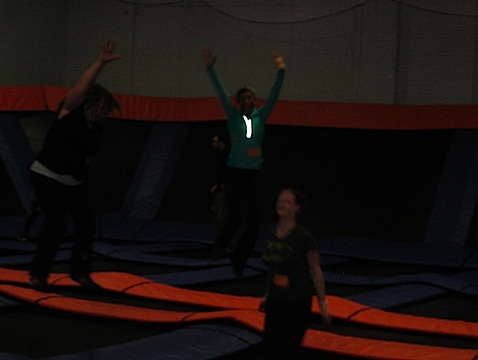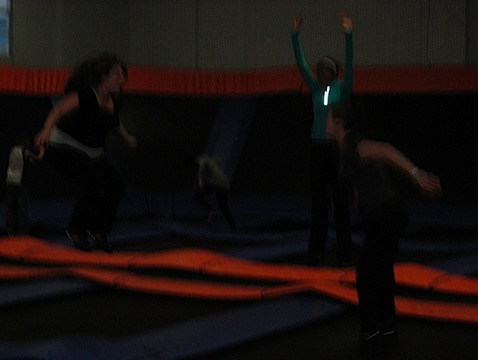 Sky Zone also offers SkyRobics which is a low-impact fitness class that combines advanced calisthenics, core exercises and strength building aerobics. Their Boston class schedule can be found here. They even have dodgeball!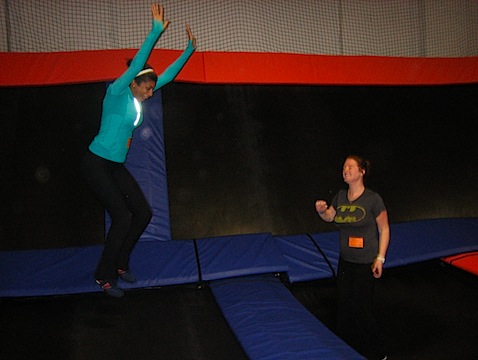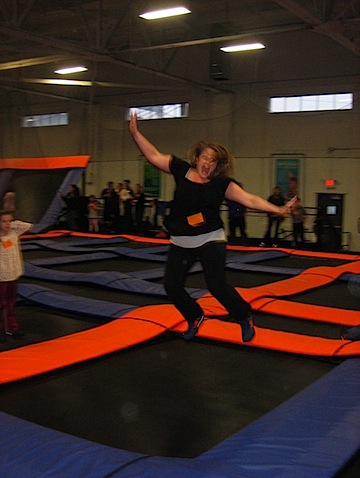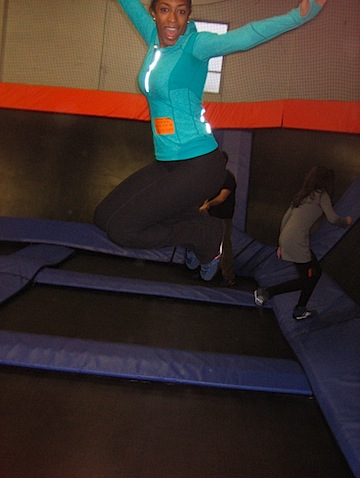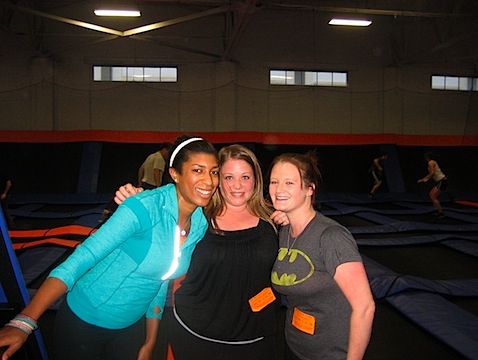 Needless to say, two days later and my body and muscles are still aching… all just from having fun and acting like a kid again. Not a bad deal at all 😉
Sky Zones Open Jump hours of operation:
Monday: Closed
Tuesday-Thursday: 3pm-8pm
Friday: 12pm-11pm
Saturday: 10am-10pm, Sky Jam 10pm-12am, ages 16+
Sunday: 12pm-8pm
SkyRobics:
Monday and Wednesday: 9am-10am
Tuesday and Thursday: 6pm-7pm
Toddler Time:
Tuesday and Thursday: 9:30am-11am
Location:
91-B Sprauge Street
Hyde Park, MA 02136
857.345.9693
There are a handful of Sky Zone locations scattered about the country including Sacramento, Las Vegas, Minneapolis, St. Louis, Columbus (Ohio), and Orlando!
Become a fan of Sky Zone of Facebook to keep an eye out for deals and specials, too!
[Chels]