One of my favorite things about twitter is I can say things like "menu planning for the week... any good suggestions?" and the suggestions come flying in within seconds. And just like that, meals for the week are set. One of our twitter followers, Shoghig, who we met at the Guacaholics Anonymous event a couple weeks ago, suggested I make Slow Cooked Ropa Vieja. The funny thing was, I was just cleaning out some kitchen cabinets over the weekend and saw my slow cooker and said "I really need to use this soon!" So the timing was perfect since I was already on the lookout for recipes involving the slow cooker! Plus, one of the joys of slow cooking, you can get loads of other things checked off your to-do list while all the ingredients of the dish are mingling and getting to know each other for the afternoon. The other perk is your house is filled with mouth-watering aromas. Not complaining!
Here's what you need (serves 4):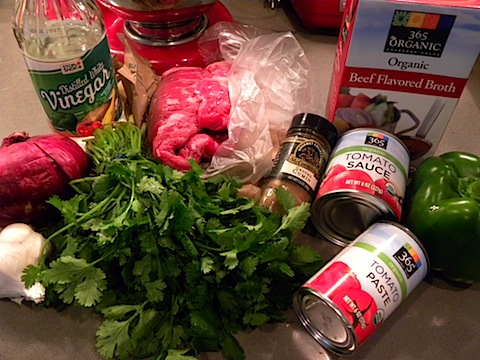 • 2 teaspoons vegetable oil
• 1 ¼ pounds beef flank steak
• ⅔ cup beef broth
• 1 (8 ounce) can tomato sauce
• 1 small onion, sliced
• 1 green bell pepper, seeded and sliced into strips
• 3 cloves of garlic, chopped
• 1 (6 ounce) can tomato paste
• 1 teaspoon ground cumin
• 1 teaspoon chopped fresh cilantro
• 2 teaspoons olive oil
• 2 teaspoons white vinegar
Here's what you do: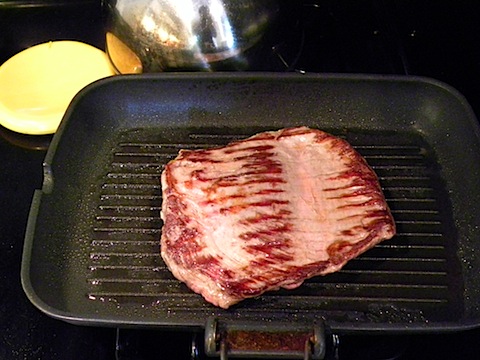 • Heat the vegetable oil in a skillet over medium-high heat. Brown the steak for about 4 minutes on each side.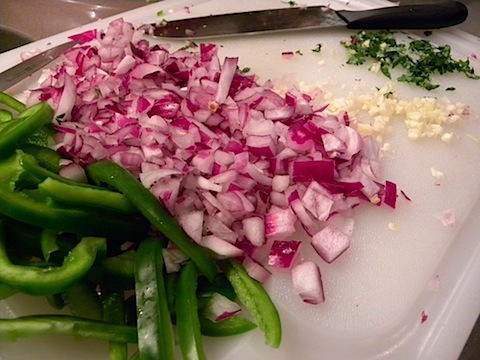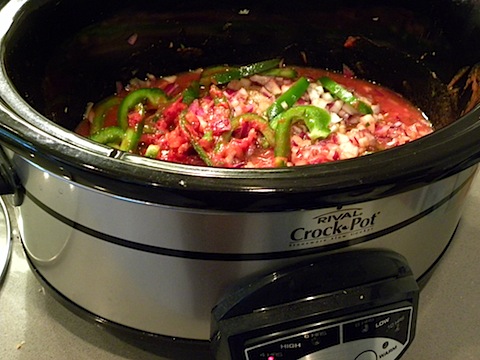 • Transfer the flank steak to the slow cooker. Pour in the beef broth and tomato sauce, then add the onion, green pepper, garlic, tomato paste, cumin, cilantro, vinegar, and olive oil. Stir until well blended.
• Cover the slow cooker and cook on high for 4 hours or low for up to 10 hours. I chose to cook on high for 4 hours since I started late afternoon.
• When cooking is complete shred the meat using two forks.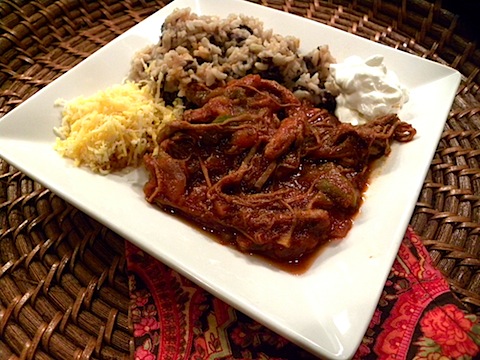 I ended up serving the Ropa Vieja with brown rice and beans, sour cream, and some cheese. Oh my! I'm almost positive that I smiled to myself when I took the first bite 😉 The shredded flank steak in the tomato sauce base along with an abundance of texture and comforting flavors are absolute perfection.
Do you have any slow cooked favorites?
[Chels]