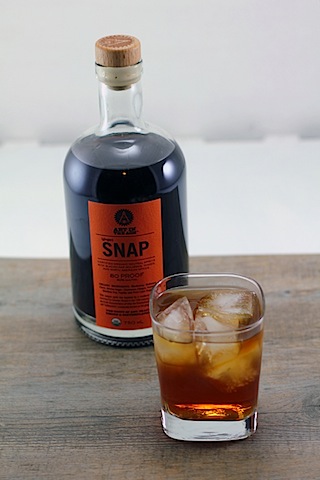 No, I'm not talking about Snapple Iced Tea. It's Snap Iced Tea. As in Snap. Another spirit from my new favorite distillery, Art in the Age. After I wrote/raved about Root a couple weeks ago, the lovely people at Art in the Age contacted me and asked if I'd like to try Snap and Rhuby. Um, you have no idea how much I wanted to try them. Basically, yes times a million.
In case you haven't been able to tell, I am a HUGE fan of all things ginger. Yes, that means ginger snaps. But that also means that whenever I get sushi, I eat half the raw ginger on the plate. I totally understand it's an acquired taste and one that some don't love. But I've found that when people like ginger, they really like ginger. I really like ginger. And yes, ginger snaps, too.
That's why I was incredibly excited to try Art in the Age's Snap- it's based on the original 1600s recipe for the ginger snap.
Snap, like Root, comes in an incredibly-designed bottle that makes me want to display it on a shelf in my living room.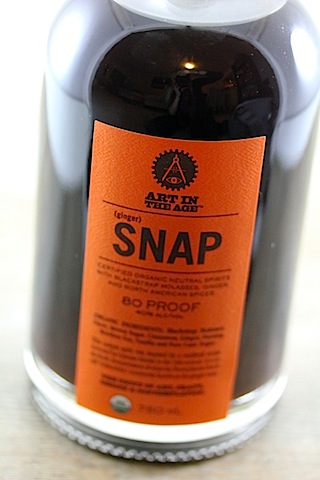 The back of the bottle is even prettier, displaying all of the ingredients in Snap. So, what's in this one? Blackstrap molasses (yum!), clove, brown sugar, cinnamon, ginger, nutmeg, rooibos tea, and vanilla. Once again, a plethora of ingredients I can't get enough of.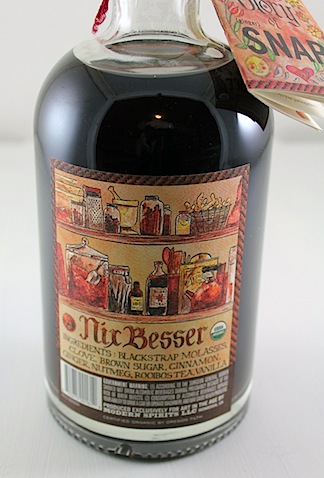 By the way, Nix Besser means "None Better." Agreed.
If you want to learn even more, check out the fabulous Snap video Art in the Age created. I'm seriously obsessed with Art in the Age and can't get over how creative all their marketing material is. They also sent me their press kit and it was one of the best I've ever seen.
While, again, I am of the mindset that this spirit is best enjoyed as simply as possible- on the rocks or mixed with a little bit of soda. But there are all kinds of fun concoctions you can make with Snap.
I'm pretty sure I'm going to have to try this St. Paddy's Snap Shake despite the fact that St. Patrick's Day is long gone. I mean, it involves a carton of mint chocolate chip ice cream, milk, Snap, chocolate cookies or ginger snaps, and whipped cream. Heaven in a mug. I also need to make ice cream with Snap.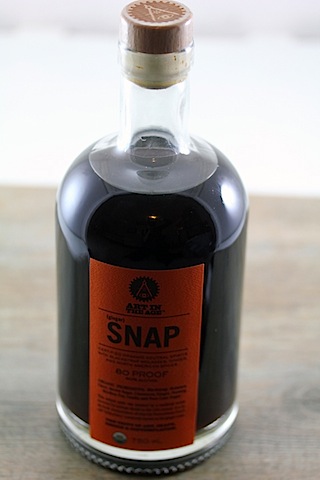 I went the route of refreshing and decided to make Snap Iced Tea. I was recently sent several cases of Honest Tea (more on this later next week… I promise! It will also involve a giveaway for Boston-area readers!) and decided to go with the 2 oz. Snap and 4 oz. "Not Too Sweet Tea."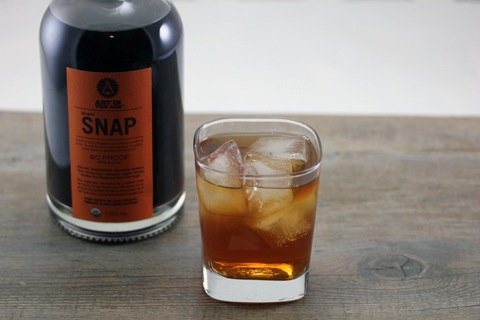 The result?A little bit spicy; a little bit sweet; and a whole lot of awesome. Snap definitely felt more "alcoholic" than Snap, but that's not necessarily a bad thing… Especially if you've had a rough week. It really reminded me of rum; but a much spicier and more interesting rum. I tasted much more of a molasses note than a ginger note, but really found both.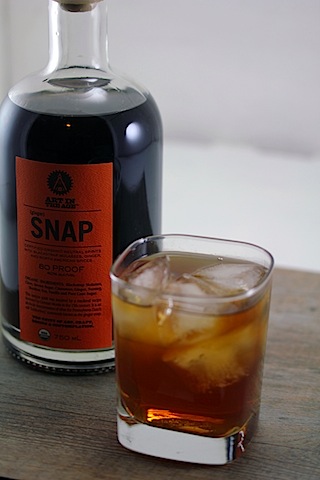 The flavors definitely aren't that sweet ginger snap flavor you're used to- they're more rustic and strong; the way ginger snaps were originally supposed to be. And the way I like my liquor! I am a fan of Skyy Ginger Vodka, but the sweetness can be a little too much. Snap just feels natural and PACKED with molasses!
I'm pretty sure you'll be seeing Snap and Root on the blog again in the future. I definitely want to experiment and utilize these spirits in some more drinks. Plus, I still get to try Rhuby; Art in the Age's rhubarb inspired drink.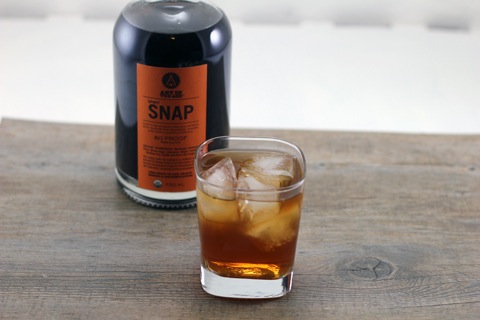 Thank you SO much to Art in the Age for giving me the chance to try Snap and Rhuby! I haven't seen them in my liquor stores yet, but I'm hoping they appear soon. These are the kinds of spirits I need to always have in stock in my liquor cabinet.
I'm off to get ready for my Bachelorette party weekend!! I've been held in suspense and have no idea where we're going or what we're doing. I just know that I'll be picked up shortly and am spending the next couple days with my nearest and dearest friends! The weather has been so weird lately and I have a feeling it's going to be a cold weekend wherever we go (it's within driving distance!), so I'm basically packing my entire closet. Chels also sent this to me for a little extra help: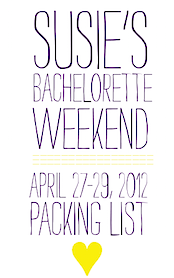 I can't wait to spend the weekend hanging out with my favorites and I'm sure I'll be updating Twitter every so often, so follow along if you want! And have a wonderful weekend!
Are you a lover of ginger or could you do without? Gingersnaps?
[Sues]