In one word, this weekend was: AMAZING. We were invited to spend a few days at Vermont's Sugarbush Ski Resort to participate in Ski Vermont and Cabot's Snow How weekend. The two of us were going to learn to snowboard in Sugarbush's First Timer Learn Ski or Board program. And while we were incredibly excited, we were also both a bit nervous. Maybe you don't understand if you grew up on the slopes, but neither of us did. And you could literally count the times either of us had been on skis or a snowboard in our lives (Chels had tried snowboarding twice and me, never!) It's never really been our "scene." But after this weekend, it just might be.
We had some details about the weekend ahead of time and knew we'd be staying at Sugarbush's Clay Brook condos with some other fabulous ladies Barbara Jones and Robyn Moreno. Audrey McClellan was set to attend to, but sadly got sick at the last minute (we're both big fans of Audrey and her website, so check it out!). Barbara brought her friends Chris and Shana and Robyn brought her sister Bianca, boyfriend Marin, and friend Izzy. It was an awesome group of ladies who were all perfect for the trip. Oh, and the lovely ladies who made this all possible for us was Candace Karu, also known as Cabot's Lifestyle Commentator and Favorite Foodie (yes, that is her real job title!); her sister Roberta MacDonald, Cabot's SVP/Marketing; Jen Neary of Cabot; and Kathy Murphy of Ski Vermont.
Sugarbush is located in the Mad River Valley, a little under 4 hours from Boston. And it's quite a beautiful drive, especially if it's snowing just a tiny bit near the end. It's definitely a bit off the beaten path, but from the moment you enter the resort area, you feel like you've entered a whole different world.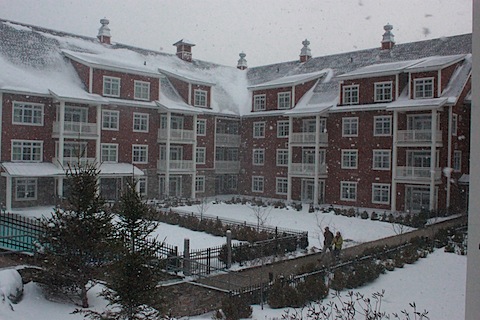 (Clay Brook Condos)
Of course, when we arrived we spent some time exploring our beautiful accommodations. We stayed in a stunning suite, with lots of windows, a gourmet kitchen, individual bathrooms in each room, and the coziest beds. Leaving yesterday was definitely a battle.
The perfect kitchen for any wanna-be cook!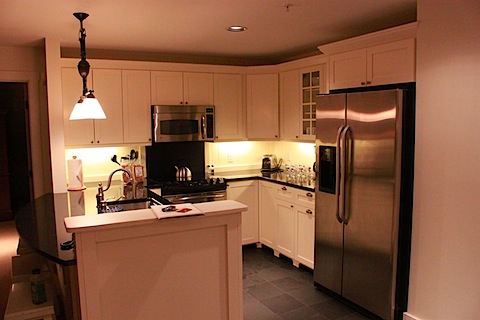 Our fridge was stocked with Cabot cheese, naturally 🙂 And the most amazing Cabot vanilla Greek yogurt ever!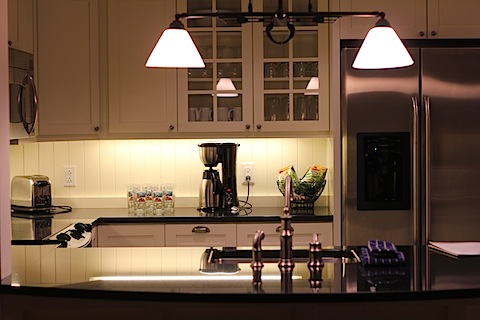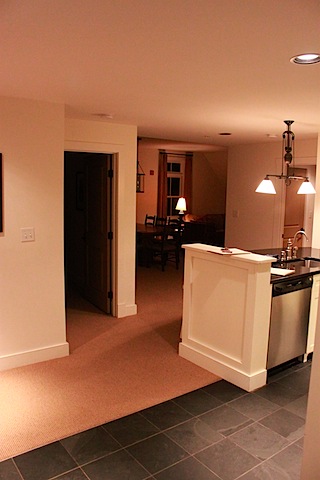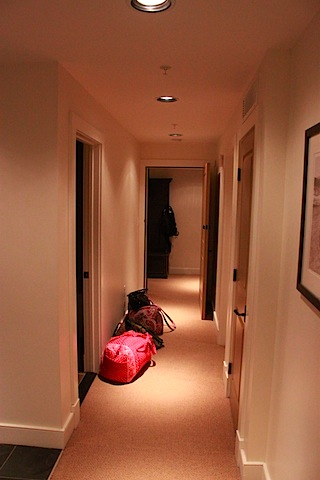 The living room had an awesome electric fireplace, too.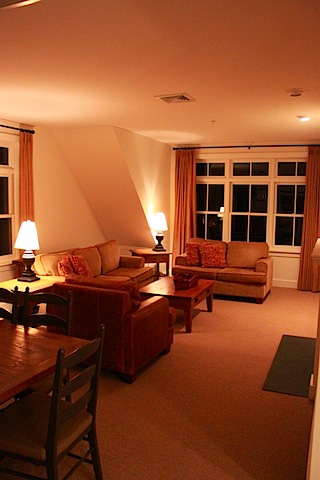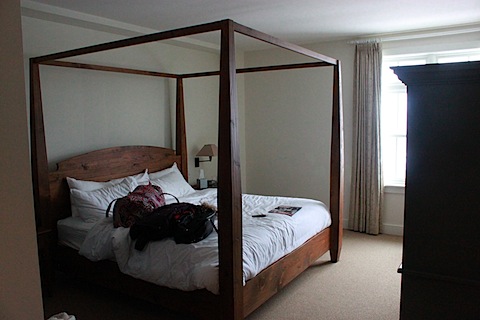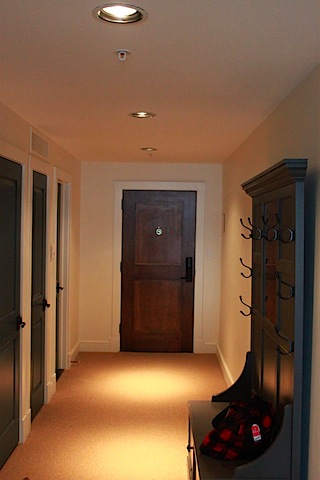 As we entered our room, we were pleasantly surprised with sweet Rossignol backpacks: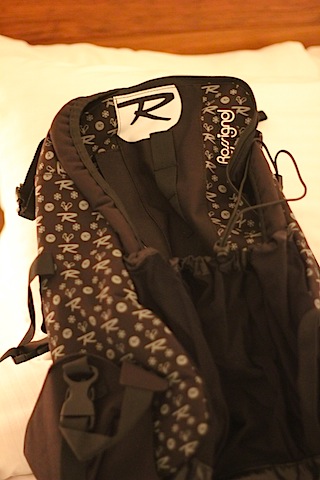 Packed to the brim with goodies, including warm socks (that we both very much needed for the weekend), HeatMax Hot Hands hand and boot warmers (totally necessary!), Green Mountain coffee, Ski Vermont magnets, Canus goat's milk products, eucalyptus spray and other fun things!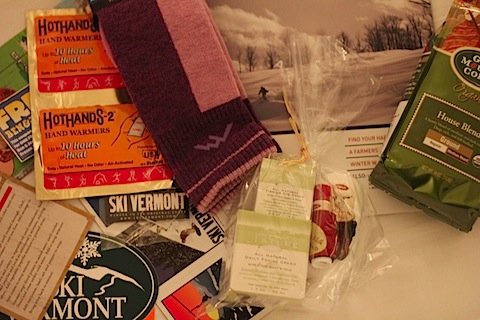 Once we got settled, we headed downstairs to the "Snow How HQ" to meet the rest the rest of Team Snow How.
We were immediately welcomed by the rest of Team Snow How and more gifts were sprung upon us. Like Drop snowboard goggles, designed by Seth Neary of Driven Studio (who also happened to be our videographer for the weekend... Yes, there is tons of footage of us falling all over the slopes, which we'll hopefully have in our hands soon!). We were also gifted with Drop snowboard gloves (which we got A LOT of use out of), a cute black and red Cabot plaid wool tote, and a beautiful Ski Vermont zip-up jacket. We were completely hooked up with everything we needed to have a successful day on the mountain!
We also got to enjoy dinner prepared especially for us by Chef Mark Molinaro, Executive Chef at the New England Culinary Institute and also a go-to chef for Cabot.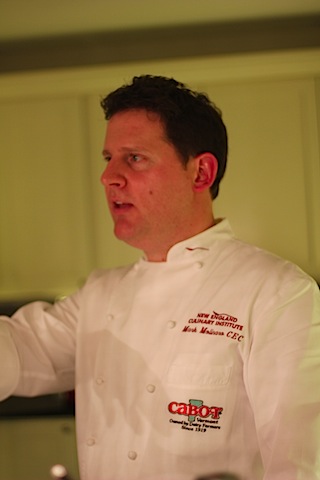 We started with some appetizers like individual chili-cheddar meat loaves, Cabot cheddar cheese crisps, and stuffed fingerling potatoes with horseradish cheddar, while we mingled.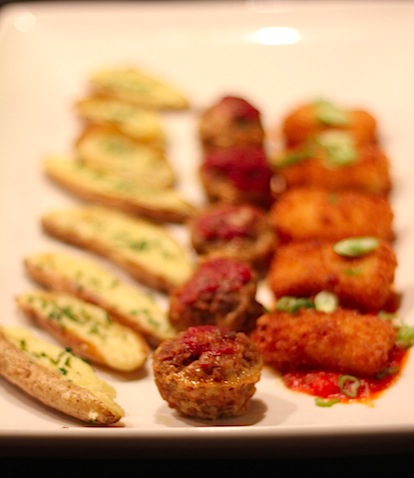 Then we moved on to a bowl of Cabot cheddar butternut squash soup (This will be made again ASAP as it was SO SO good!).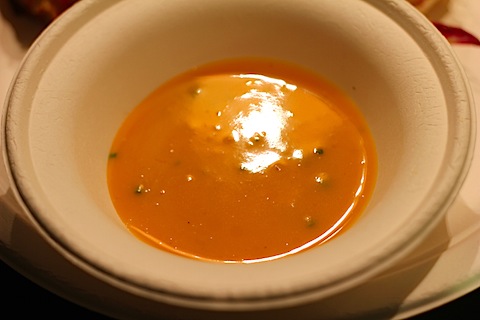 We indulged in a hearty mixed winter green salad with cabot cheddar dressing.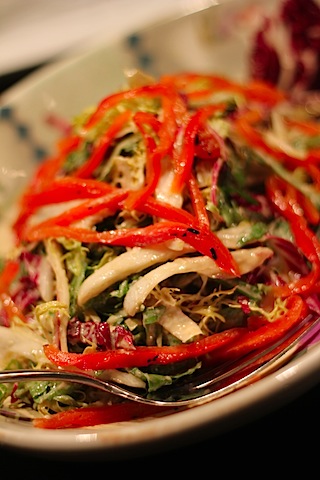 And Cabot cheese and spinach cannelloni.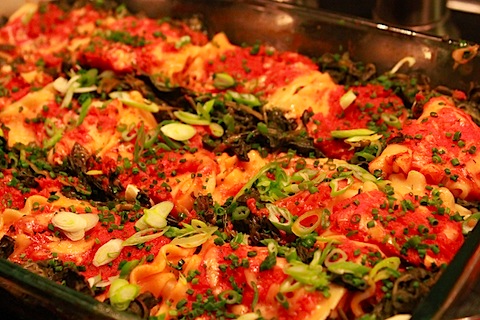 And, of course, dessert! It was quick apple cherry crunch with Cabot whipped cream.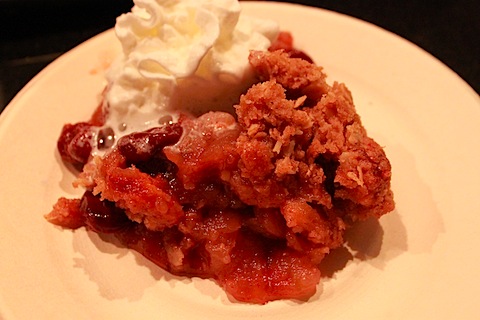 I'm pretty sure we ranted and raved about the food for a good hour. It was the perfect pre-slope food!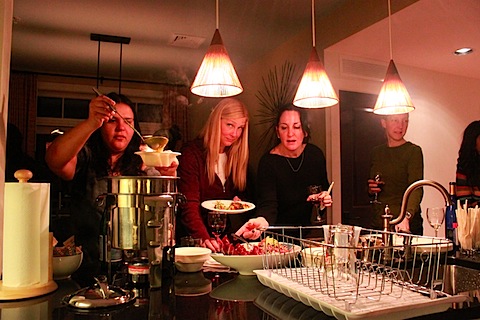 We tried go to bed relatively early that night since we knew Saturday would be a long day. But we were sharing a room and ended up staying up kind of late chatting... What else is new with us? Plus, we were both a little bit nervous for what the morning would bring.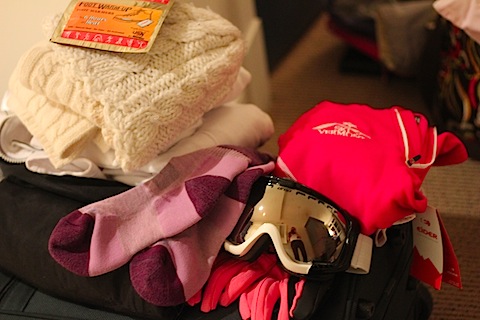 (Sues's huge pile of clothing laid out the night before)
Bright and early the next morning, we headed down to the rental area to retrieve our boots and boards and to meet our instructors.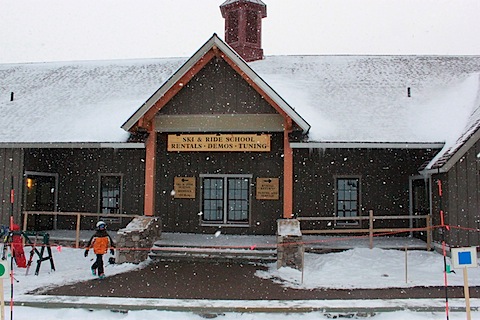 Dressed in about a million layers, of course. (and it must be said that though the temps were in the 20s and snow was falling, we were not cold at all. That's a big YAY for long underwear, fleeces, warm jackets, warm socks, scarves, gloves, etc.). And only slightly nervous... Um, sure.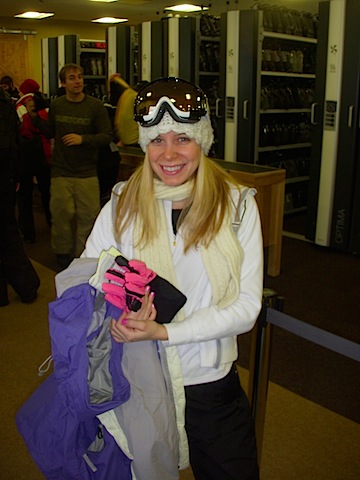 All geared up and board ready, we're ready to go! Cracking open the hand warmers first thing!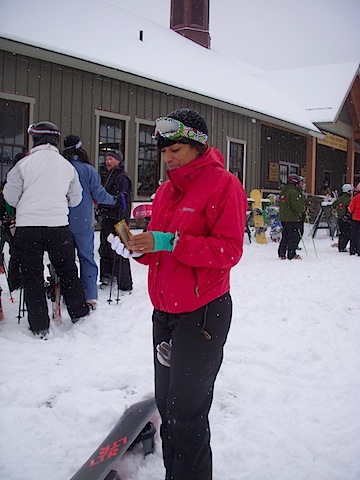 We were so lucky that we had the best weekend weather-wise. The entire time we were at Sugarbush a light snow was falling, making for excellent skiing and boarding and an incredibly beautiful landscape.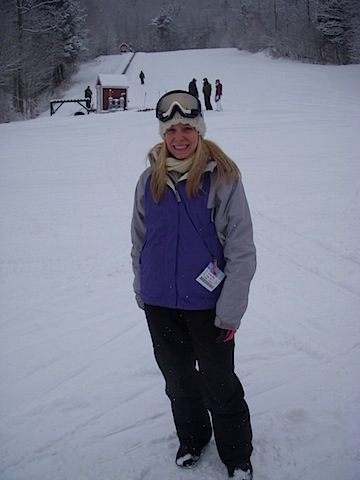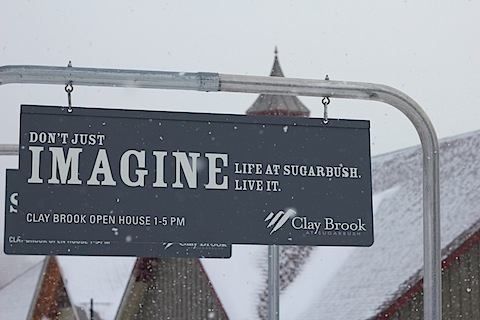 Chris, Barbara, and Shana were already looking like naturals on the mountain (OK, maybe it was more like a hill).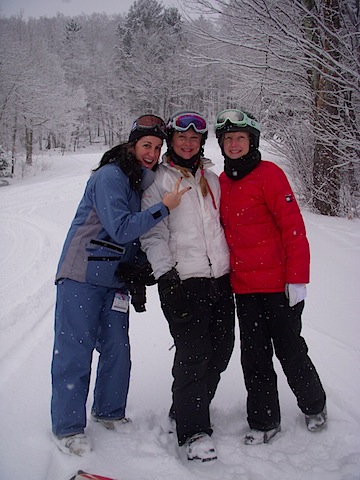 We hadn't even strapped our boards on yet, but were excited to get started!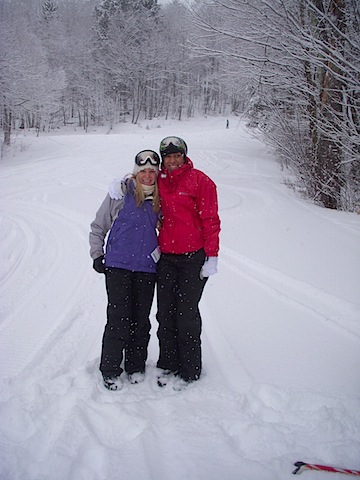 And perhaps a bit apprehensive after strapping in the first foot!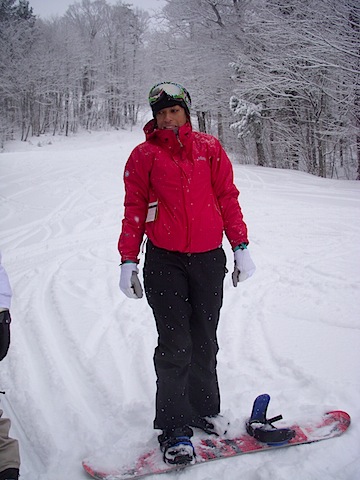 But with instructor Meridith leading us, we started feeling totally comfortable.
Athletic stance! (possibly the most important thing we learned this weekend...)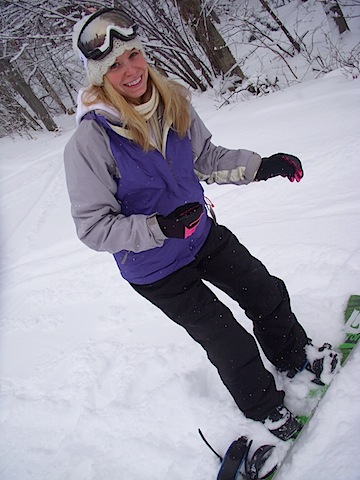 Silly as it may sound, we were both kind of nervous to go up the hill on a rope-tow. But guess what? Sugarbush's beginner hill has something called a "welcome mat." You just stand on it and are moved up the mountain. SO much easier than being dragged by a rope.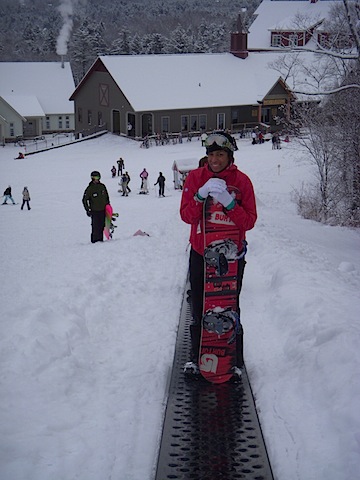 We spent most of Saturday and Sunday going up the welcome mat and then attempting to snowboard down the hill. We were instructed on how to heel skid, toe skid, traverse, and link turns.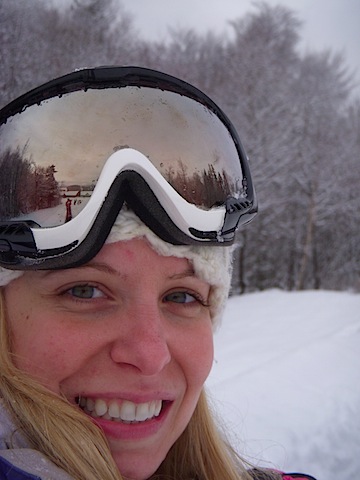 Yes, there was lots of falling and yes there were lots of sore muscles (still are!). But we expected that ahead of time.
It's almost difficult to describe how amazing our snowboard instructors were. Meridith and Will were the most patient, supportive instructors and did their very best to make us feel comfortable on the mountain. They put no pressure on anyone and explained basic skills about a million times to each of us. They held our hands as we went down the mountain and encouraged us to take our time and get comfortable. These are most definitely the kinds of instructors you want if it's your first time on a snowboard (especially if you're feeling a bit nervous).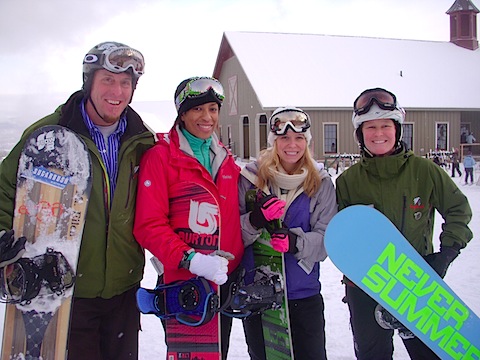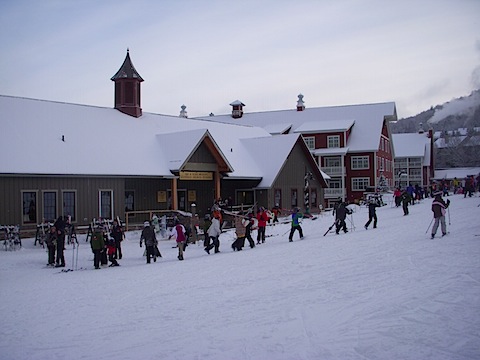 After a full day of snowboarding and hot tubbing, Saturday evening we enjoyed dinner at Timber's, a restaurant right at the bottom of the mountain.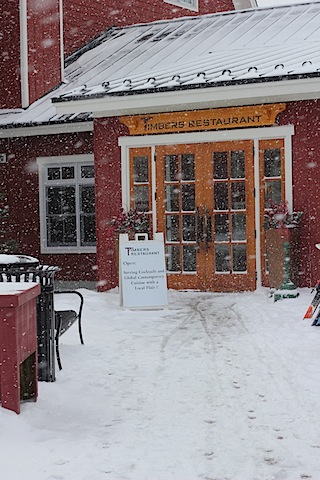 We didn't sit next to each other at dinner but still somehow managed to order the exact same thing for all 3 courses. Clearly we've known each other for far too long (usually we try to order different dishes to enjoy more of the menu, but somehow always want the same things)!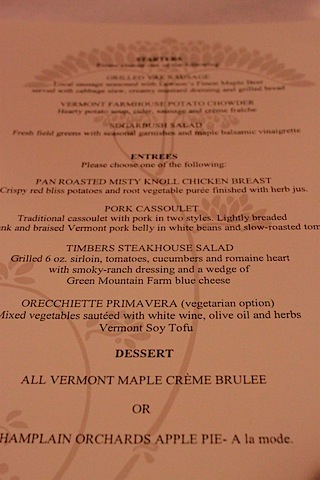 But first, bread. And a roasted garlic tapenade of sorts with butter. Yum.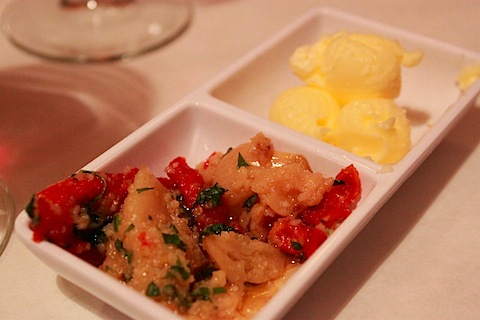 We started with the Vermont Farmhouse Potato Chowder. It had bits of sausage in it and was just what we needed to warm up after a day in the snow.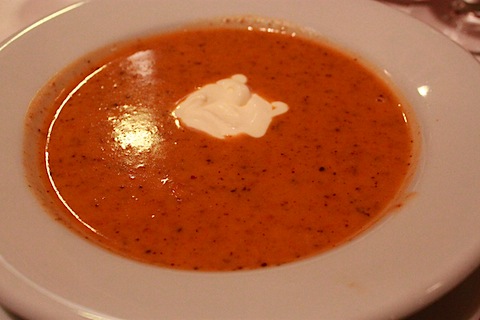 For our main course we ordered the Pork Cassoulet. It was a traditional cassoulet with pork in two styles. Lightly breaded pork flank and braised Vermont pork belly in white beans and slow-roasted tomatoes. This was definitely a dish you'd want to order after spending all day on the ski slopes. Warm, comforting, and delicious.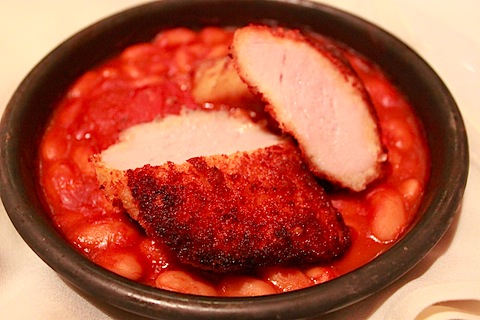 We were all so full after dinner but after dinner always comes dessert. Champlain Orchards Apple Pie a la mode. And to not make room in your stomach for this would be criminal.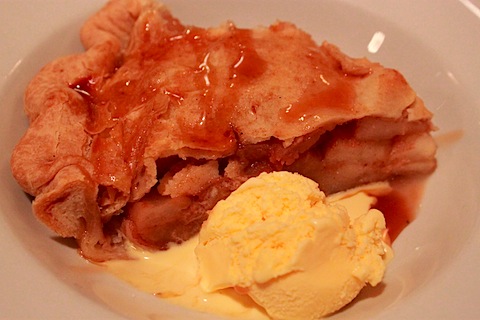 We spent Sunday morning on the slopes again... We could lie and say we ended the weekend by attempting these slopes. But we most definitely did not. And can't even imagine the horror we would have felt simply going up that ski lift.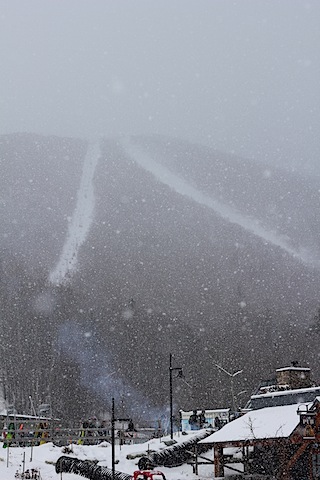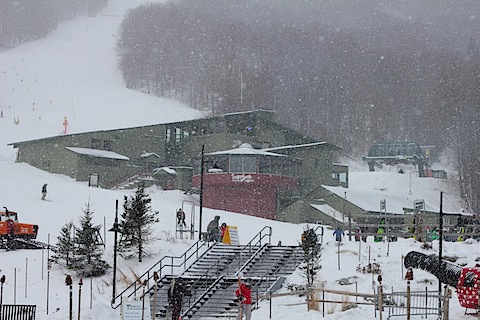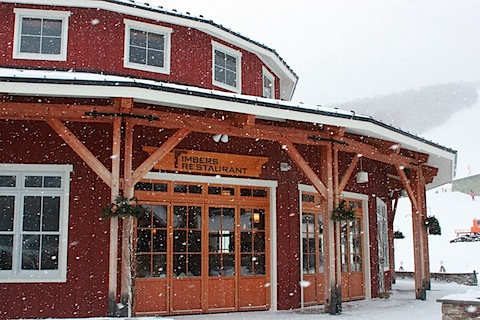 We actually went back to Timbers for lunch and looked out the window while we were nice and warm and cozy and stared at the real mountains. Very us 😉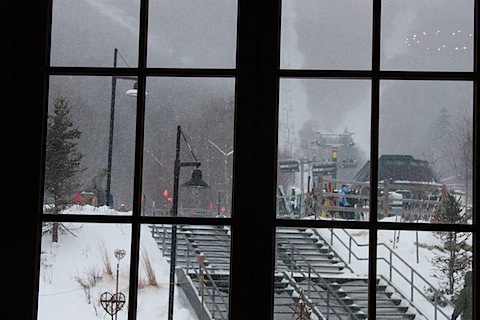 Before we packed the car up and headed back to Boston, we wandered around, took some pictures, and grabbed a cup of hot chocolate to-go. It was just necessary to slowly take in the scene because it really is a wonderful mountain filled with some truly good people.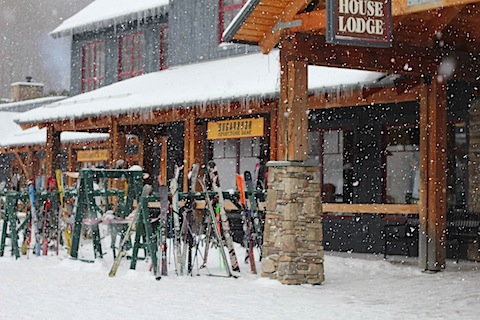 And it's true. We asked several people how they felt Sugarbush was different than other resorts and pretty much everyone said the people are just SO nice. There was constantly a Sugarbush employee standing around asking if you needed help, offering to help lace up your boots, and even offering to carry your heavy board. For anyone feeling any apprehension at all about taking to the mountains, Sugarbush is definitely a place that will help bring back a sense of calm and confidence to you. Which is exactly what we needed.
Oh, and everyone said Sugarbush is absolutely beautiful, too.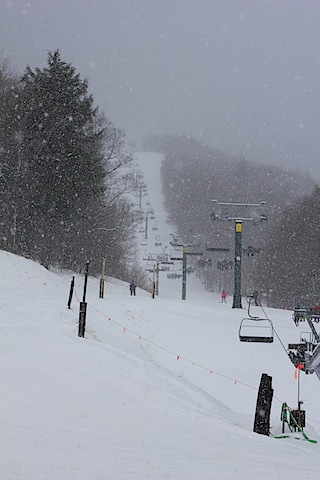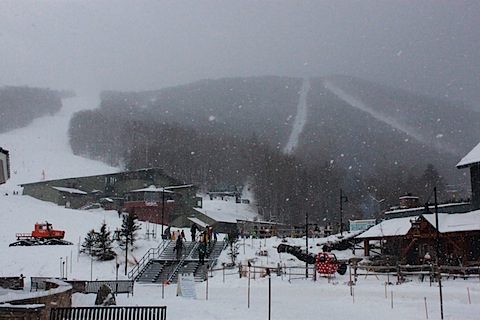 See that pool? It's 80 degrees. And there are two glorious hot tubs you can sit in... Even when the snow is falling around you.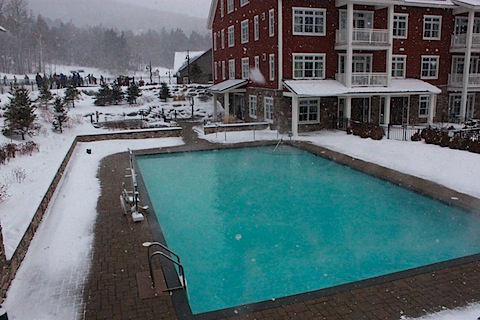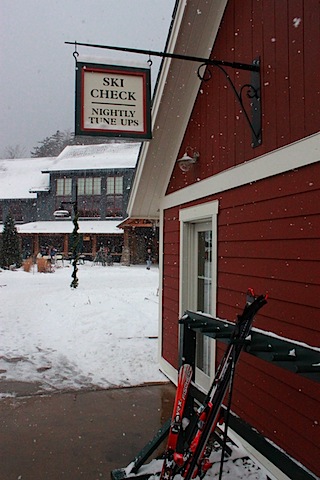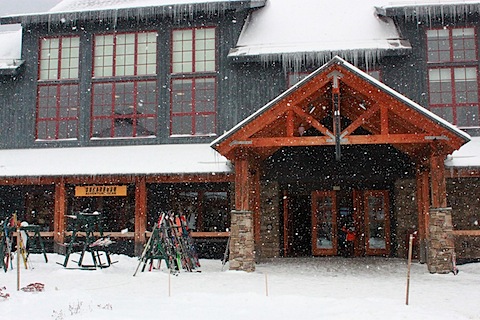 We didn't get to eat any waffles during our stay, but next time we'll definitely be hitting the Waffle Cabin up!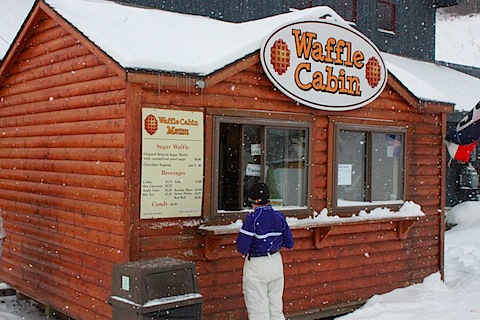 And if we get our own snowboards some day, they might just have to be Cabot boards. Or maybe we could do a custom We are not Martha board? Hey Seth, wanna help us out? 🙂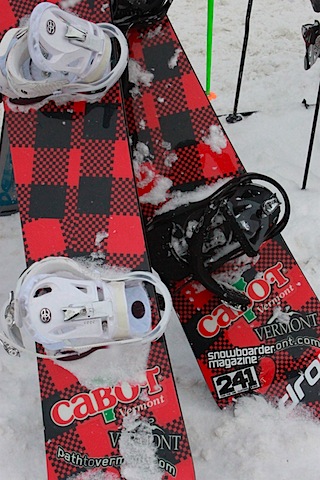 This trip was quite honestly the experience of a lifetime and though we're nowhere near "good" at snowboarding just yet, we have the beginner's knowledge we need to continue building our skills. And though just a week ago, we never would have looked at each other and said "let's go snowboarding," we will most likely be doing that now. And we're in luck! Because we completed the First Timer Program, we're now the lucky owners of season passes to Sugarbush!
Thank you so much to Cabot, Ski Vermont, Sugarbush Ski Resort, and Driven Studio for inviting us to be a part of this experience and to show us that really anyone can learn to snowboard and ski. No matter how afraid you might be. And, of course, it also helped to learn that a ski/snowboard vacation is about so much more than skiing and snowboarding. Because after you tire of the mountain, you can always head to the spa, hot tub, restaurants, or tennis courts with some good friends, family, and a bottle of wine.
Thanks again to everyone who made this weekend possible!!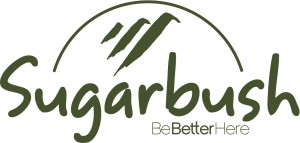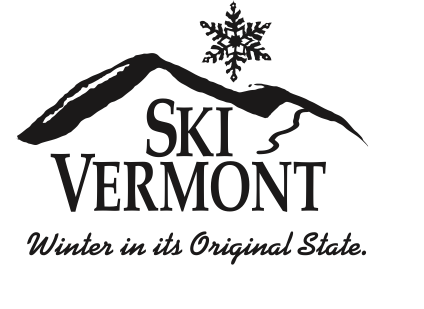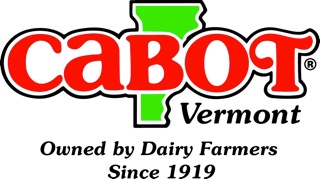 Good luck... And if you win, maybe we'll meet you on the slopes!! 🙂
[Sues and Chels]
(It should be noted that we didn't pay for a thing on this trip from the snowboard lessons, rentals, and lift passes [not that we were good enough to even get on a lift!] to the meals, wine, gear, and accommodations. But all of the opinions in this post are our own. We loved everything about the trip and would gladly pay to go back again!)