As a graphic designer and aspiring stationary/invitation designer it's quite necessary to have a designated workspace. Typically, while I'm assembling invitations or working on projects, I'd set up shop out on the living room coffee table or at the kitchen table. At the time, that seemed to work just fine, with a few annoyances, but as I starting taking on more projects things just never seemed organized and I just felt all over the place.
A while after my new roommate, Siri, moved in she said to me "you're an artist… you need your own space". The problem was… there was absolutely no room at all left in my bedroom, since I already have a ladder desk set up with my big desktop computer, dresser, nightstand, big bed… and far too many clothes, plus I didn't really like the idea of having an office be in my bedroom since it's not the "healthiest" thing to do. Plus the common area in our apartment is just a big open space and it got kinda crazy when I had hundreds of invitations scattered about.
So this is when the creativity kicked in. I'd always, always, always wanted to convert a closet into an office/craft room/gift wrapping space… anything other than just a traditional closet. I'd look at magazines and would just stare at the pages with these conversions, never thinking I'd actually do it while I was renting a place. We have the perfect closet out in the common area that housed all of my many coats and some household items like brooms, Swifer, laundry rack… things that could easily be moved around to other parts of the apartment. I started the research process, thinking it would take forever to start getting ideas, but the first example I saw, I just fell in love with and decided to run with it. I, of course, had to put my own twist on it, cause that's how I do 😉
…And voilà!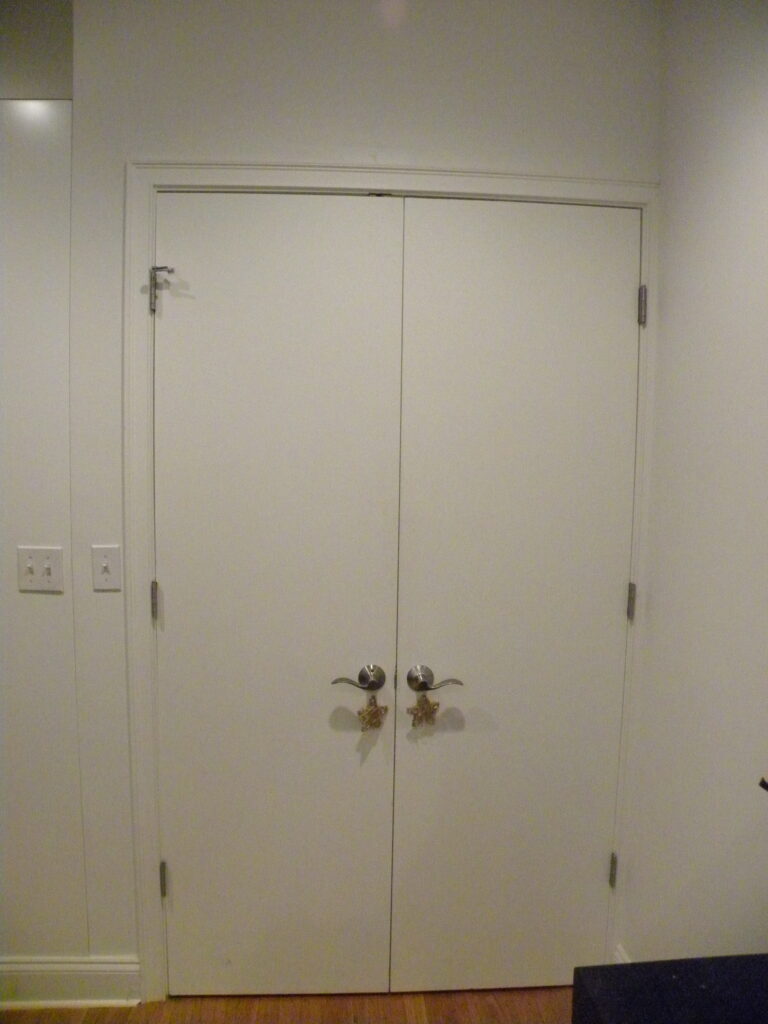 (doors closed… duh)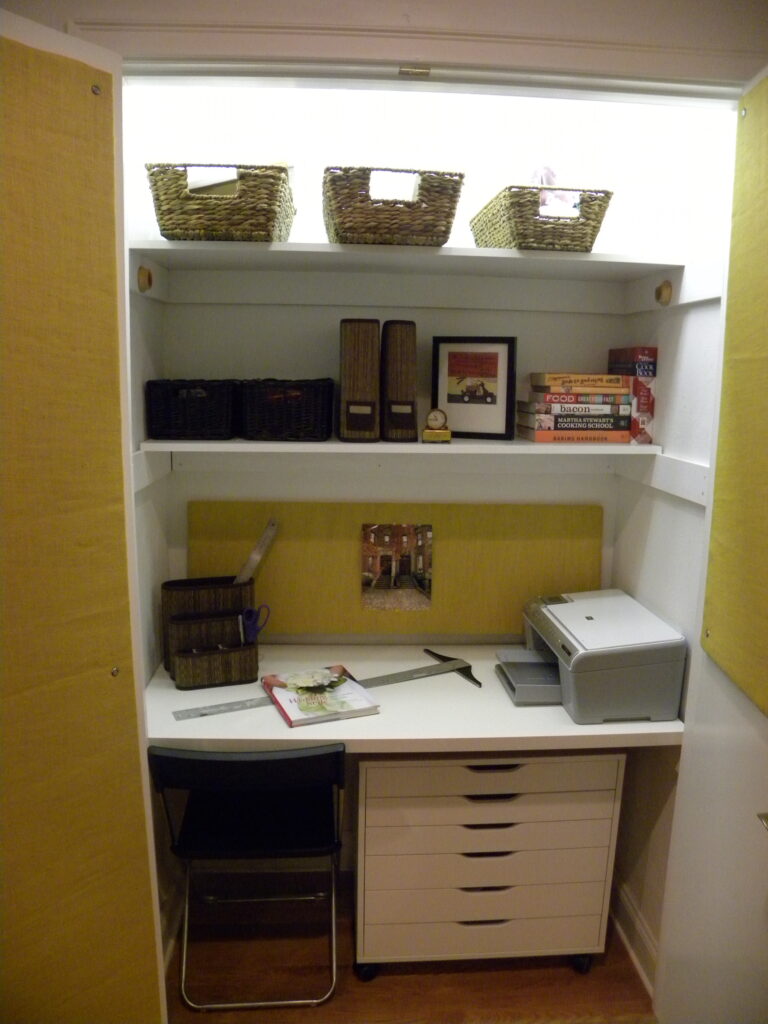 Why hello! All of the yellow is burlap that I purchased from a local fabric store and had cut (it was $31 for the fabric!). Then I wrapped it around a material called homasote, which is an extremely inexpensive material that I bought at Home Depot. A lot of schools use homasote for bulletin boards, which is what I'm planning on doing, since it's so much less expensive than the "real" thing! All of this fabric purchasing means I finally had an excuse to purchase a staple gun, which means, watch out because I'm going to start stapling everything! I've been wanting one for as long as I can remember, and actually quite surprised it took me this long to purchase one!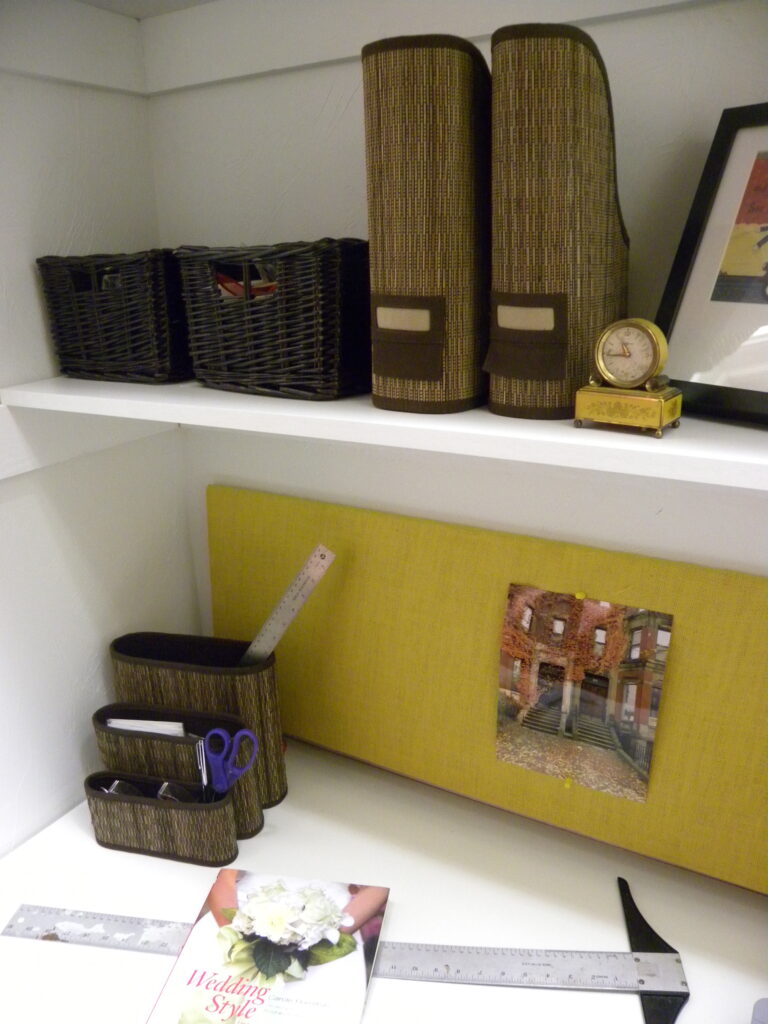 The two wicker baskets on the left are from the Christmas Tree Shop and the others are from IKEA.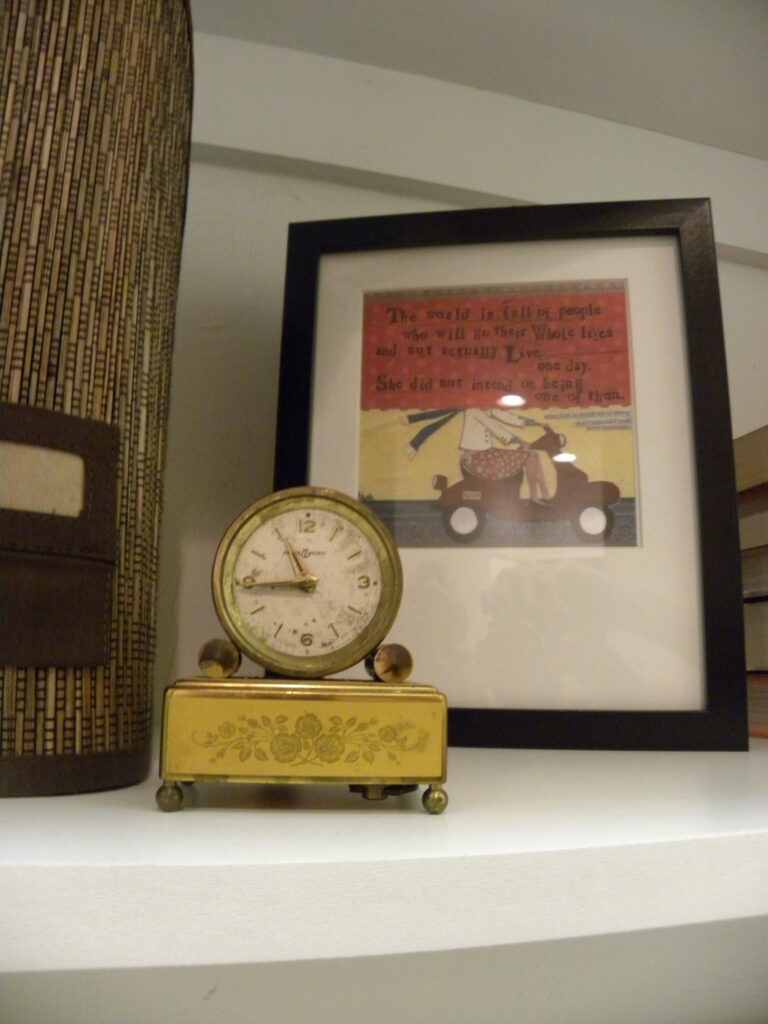 The vintage clock my grandmother gave me and the long sought-after print I framed, the items that inspired the space!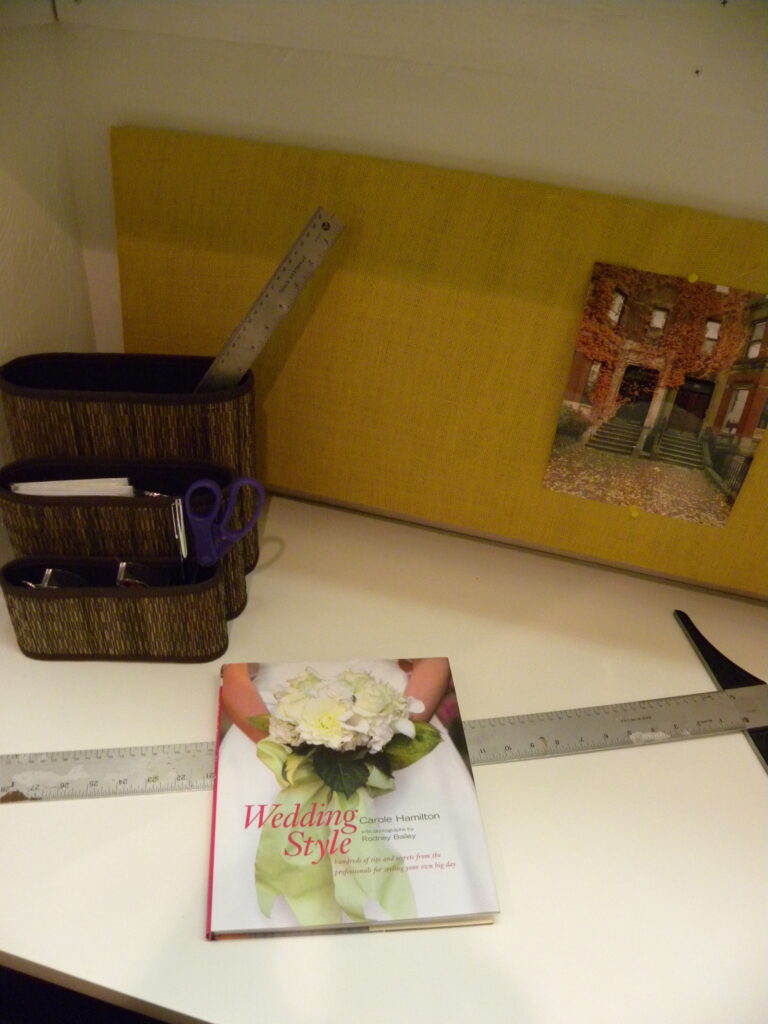 Wedding book, T square, and part of the photograph I snapped on Newbury Street last week. The desk surface was purchased at Ikea and Justo had to cut it down to size for me… because I took the wrong measurements… because I can't measure… because apparently I was spacing out in first grade when we were learning how to use rulers.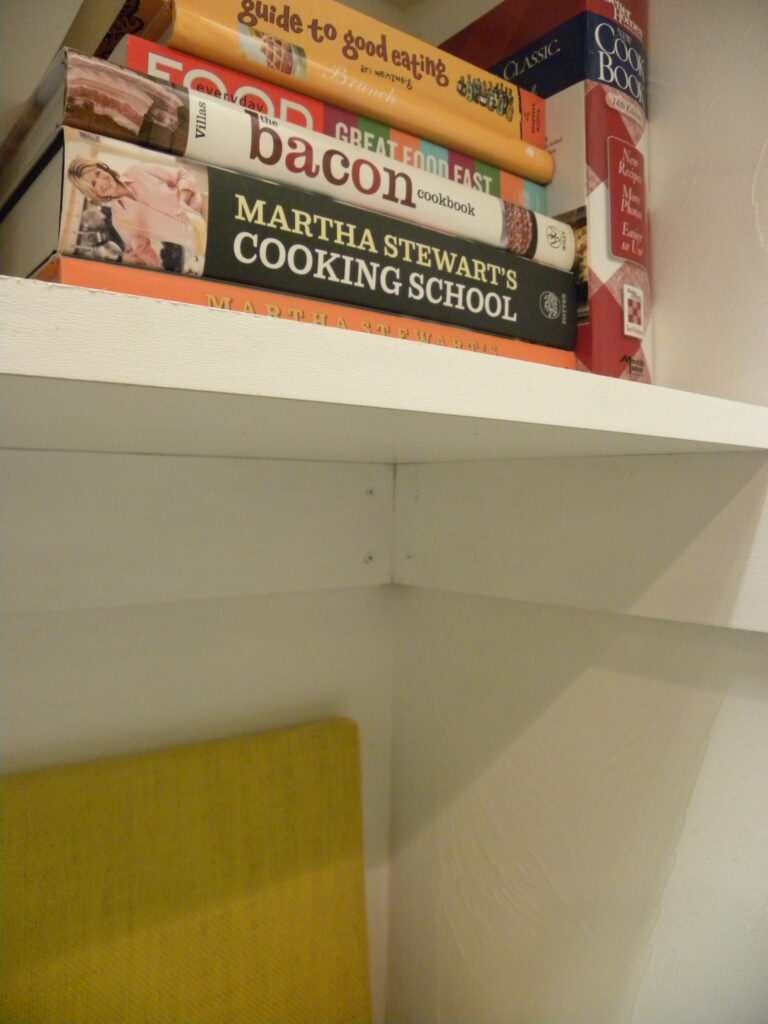 Of course, I had to make space for some cookbooks! Also, please note the beautiful structure Justo built for the shelf to rest on! He built the same structure for the desk to rest on as well. Perfect and completely level… I'm officially impressed! I purchased the shelf at Home Depot because Ikea didn't have what I was originally looking for. Home Depot will cut any wood that is purchased in their store (for a small fee) and they also have cutting stations where you can cut your own molding, which is what I did for the structure that the desk and shelf are resting on! FYI you'll look really cool, knowledgeable, and handy if you're cutting your own materials in Home Depot… it's FUN stuff! 😉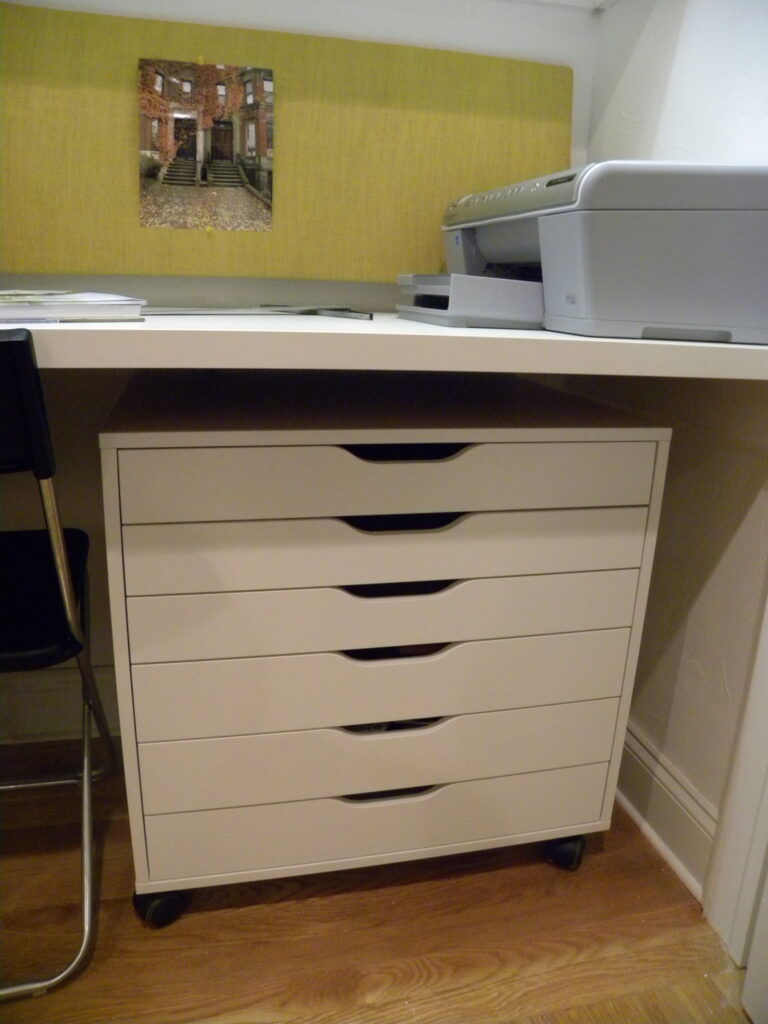 This is the cabinet from IKEA that I assembled. Long story short, it took me far longer than it should have to assemble this. My self-diagnosed ADD kicked in so I was extremely distracted and kept taking breaks. At one point it looked like this…
(I always organize all of the screws/nails/bits and pieces before I begin any project like this. Makes it ten million times easier… and there were roughly ten million pieces that I had to bring up four flights of stairs in armfuls since the box was so darn heavy. Unlike cutting your own molding at home depot, this is not fun.)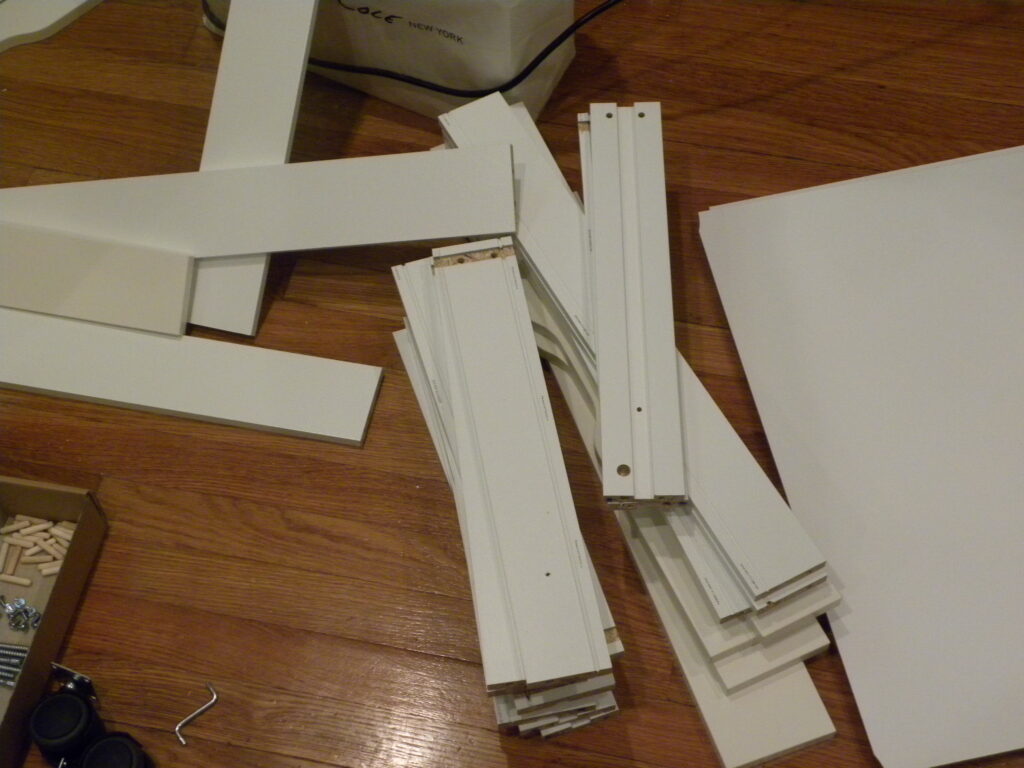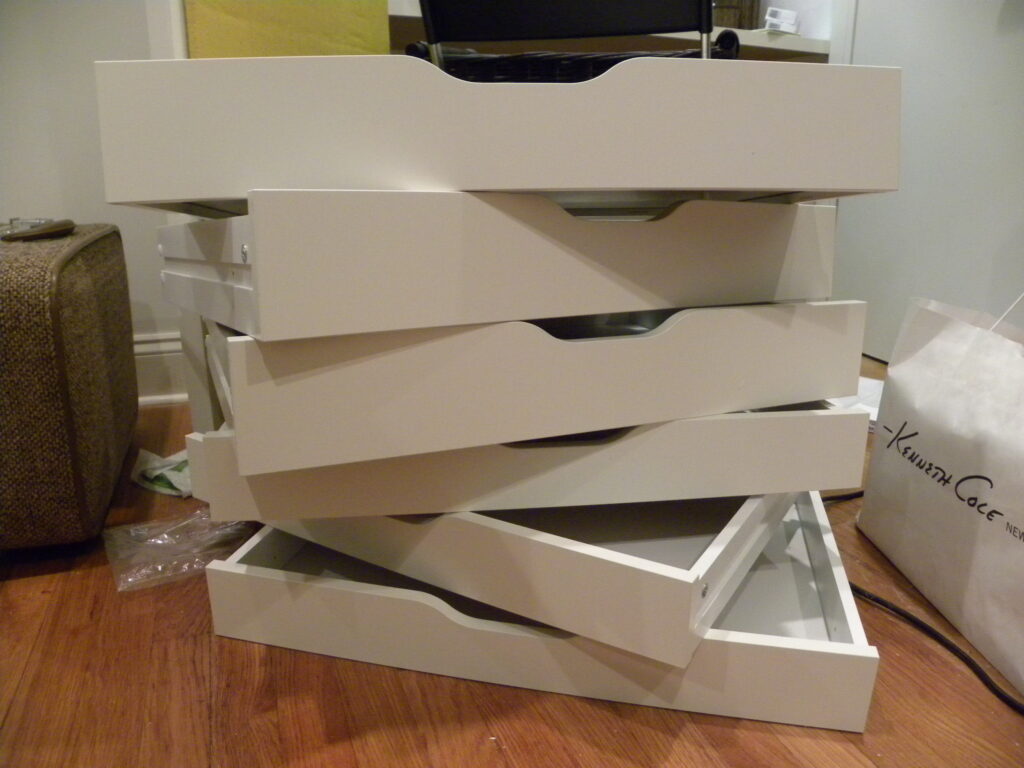 … so I'm just thankful that part is all done! I've always wanted a really large Bisley file cabinet but this little thang from Ikea will due for now! It's actually quite sturdy and perfect for what I need it for!
After we were done working on the space I couldn't help myself from starring at it. Every time I walk by it I look and smile (cause I'm rad like that). I'm SO excited to work here and it's making doing work from home way better than I could imagine! I have to say "thanks" to Siri for encouraging me to have my own "artists space" and a massive "thank you" to Justo for building me the perfect office space … I'm waiting for an invoice, hehe! 😉 Very much appreciated!
[Chels]