I think eggs are a fabulous food because a) you can eat them for breakfast, lunch, dinner, or snack (also known as any time at all) and b) you can do a billion different things with them. And they're good for you too (in moderation)!! Remember when eggs had a bad name? And then all the sudden it became "the incredible edible egg" and "I love eggs from my head down to my legs." They can be so incredibly easy (scrambled) or fancy schmancy (souflee).
Last week when I was looking for recipes that involved asparagus and goat cheese, I got a little too excited and found a few too many. I couldn't decide which to make so I figured I'd just make them all. Why not?
So today I made what I like to refer to as an omelet, only more complicated- Martha Stewart's Souffleed Omelet with Goat Cheese, Asparagus, and Ham. But I couldn't find Serrano ham anywhere (why not??) and had to use prosciutto. So, this is basically a combination of all the dinners I've been making lately.
The first step of this recipe is one example of something complicated that I'm not sure is absolutely necessary. I boiled my asparagus for a few minutes and the put it in an ice water bath like Martha told me to. This supposedly stops it from cooking. Well, obviously it stops it from cooking, but I'm not sure how much better this is than simply removing it from the boiling water. All the same, I followed the recipe: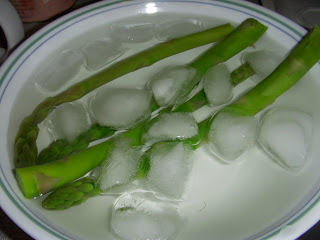 Now, the 5 eggs must be separated. It's a good idea to crack the eggs into a separate bowl, just in case you screw up; you don't want to screw up on the 5th egg and ruin all the rest of your hard work. So I crack the eggs one by one and put the white in the middle bowl and then transfer it to the egg white bowl before cracking the next.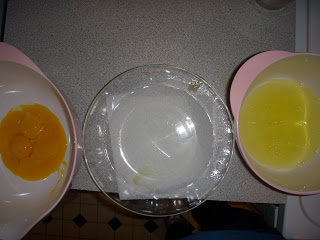 This is the yolk mixed with flour (2 T), salt (½ t), and pepper (¼ t). It was a little too thick for my liking, so I'm thinking next time I would definitely add a little less flour: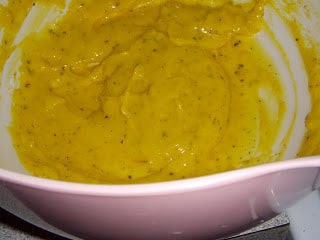 Here are the egg whites after they have been beaten until they formed stiff peaks. I used my favorite little KitchenAid handheld mixer.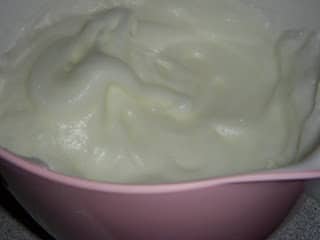 Then I folded the two mixtures together, which was a bit difficult considering the egg yolks were so thick. So, basically I just stirred them together. It worked. Then I spread this mixture into my frying pan, which already had some butter melted in it.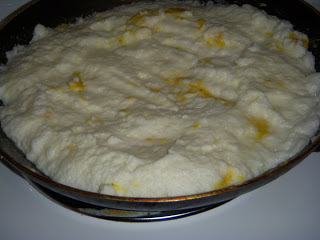 I cooked it for about 6 minutes and added goat cheese (a lot), parsley (instead of mint, which I forgot to buy), asparagus (drained from its "ice water bath" and cut in half), and prosciutto (a lot).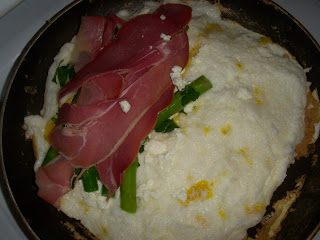 I basically added too much filling, and it was a bit difficult to fold the omelet over. But that's OK because too much is better than not enough.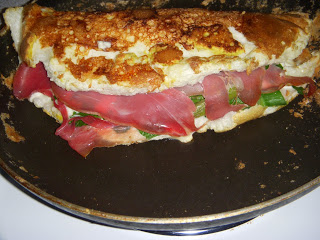 Then I stuck it in the oven (heated at 375 degrees) for about 4 minutes. I'm not too sure what the point of that was, but it tasted quite good so I'm not questioning it.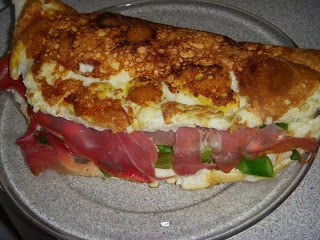 Slice it up and serve it. Mine didn't come out as the prettiest thing in the world, but honestly, I think adding less flour to the egg yolk would have made all the difference.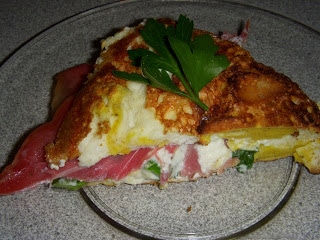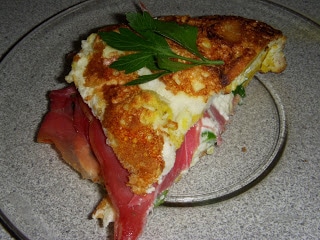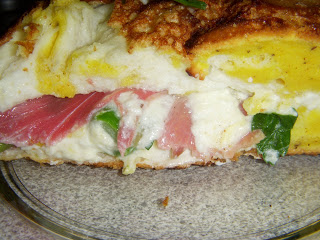 Now you're probably thinking, that much work for an omelet? But trust me, this is not a typical omelet. It is so incredibly light and fluffy...even if it didn't have all of the amazing filling, I would have been happy just eating the souffleed egg!
*I'd also like to give a big special shout out to my newly engaged sister, Beth, and my future brother-in-law, Adam. Sorry your shout out is on a post about eggs! You know cupcakes will be waiting for you upon your arrival to Boston 🙂

[Sues]