This is a recipe that's been on my to-make list forrrr-evahh. I kept buying the ingredients for it and then having to re-buy jalapenos and cilantro because they went bad. I spotted the recipe on Healthy Delicious's blog on June 3 and almost made them that very night. Last night was August 3. And I finally decided to just do it.
I totally changed the name of the recipe because I don't like the word "patty" for some reason (they were originally called Southwest Lentil Patties). I guess it's OK if it's a hamburger patty, but otherwise it's just a girl's name (and I always imagine said Patty to have red hair... Or to be Peppermint Patty from the Peanuts gang- the one who had a crush on Charlie Brown). So, I like the word cake better. Even though it could be considered dessert-like. It's also like a crab cake. OK, done analyzing. Let's get cooking.
Southwest Lentil Cakes with Creamy Lime Dressing (serves about 3):
1 T olive oil
1 jalapeno, minced
2 cloves garlic, minced
1 small onion, chopped (about ¼ C)
1 carrot, peeled and diced
1 C cooked lentils
1 whole egg and 1 egg white
2 T cilantro, chopped
¼ C breadcrumbs
1 T + 1 t cumin, divided
1 lime, juiced
4 T reduced fat sour cream
Salt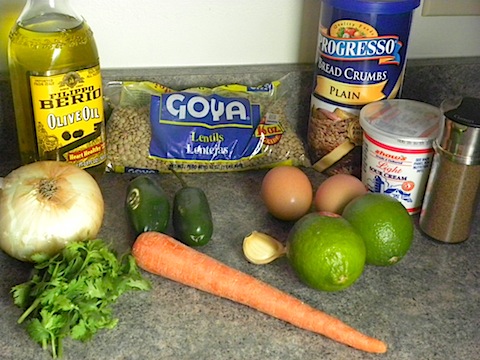 This recipe was actually super easy, save for some chopping. I did most of it while chatting it up on the phone with my mom. First I got my lentils cooking in water. (I just boil 1.5 C water for 1 C lentils. When it's boiling, put my lentils in, reduce to simmer and cover for about 20 minutes until all water is absorbed). When they were done, I set them aside to cool a bit.
Then I chopped about ¼ C of onion, a jalapeno (I was going to use 2, but after chopping one, I realized it was more than enough), a carrot, and my garlic (using my Chef'n Garlic Zoom, of course).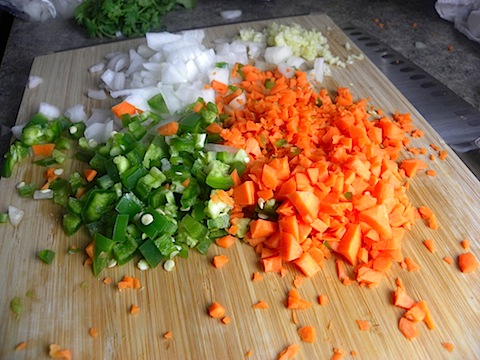 I heated about 1 T of olive oil in a frying pan and added the onion, jalapeno, carrot, and garlic in. I cooked it for about 3 minutes.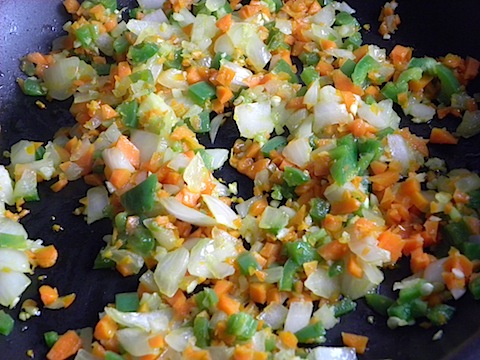 Then I got out a big mixing bowl and combined the sauteed veggies with the cooked lentils.
I also added in the eggs (1 whole egg and 1 egg white), the breadcrumbs, the cumin, and the cilantro. And mixed it all up.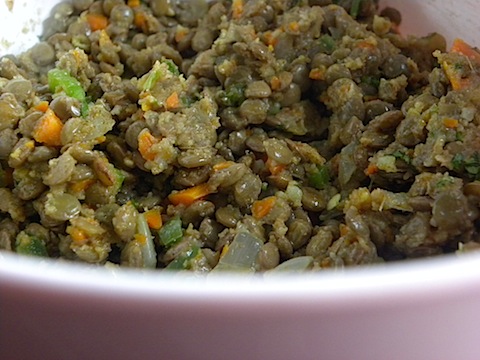 I formed patties or cakes (!!) with the sticky lentil mixture. The recipe says to use about a tablespoon and make a half-dollar coin shape. I can't for the life of me remember the last time I've seen a half-dollar coin, so I just played it by ear. I ended up with 9 cakes, which is what the recipe said I should have.
Then I put the frying pan back over medium heat and cooked the patties for about 2 minutes on each side.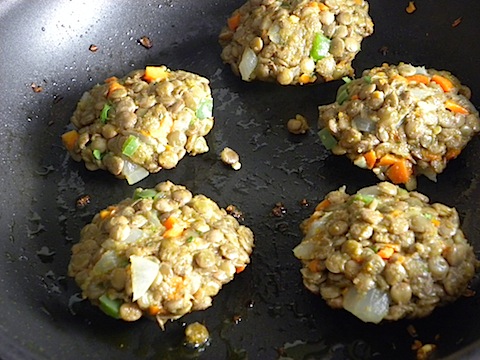 And then I almost set off the smoke detector several times. Which would have been kind of embarrassing since we just moved in. We haven't really met many neighbors and there's a concierge who's always at the front desk (near our unit) and I wasn't interested in making any scenes. Luckily, I avoided any incidents. And the cakes cooked up pretty nicely.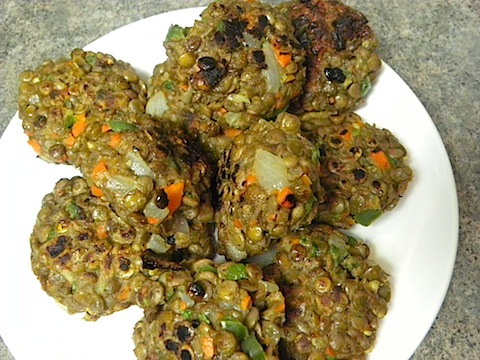 I decided to put my lentil cakes atop a bed of baby spinach. I also made the dressing in the recipe. Which simply combines the reduced-fat sour cream, lime, and 1 t cumin. It called for 2 limes, but after juicing 1, the dressing was liquidy enough. Maybe my limes were just super juicy! But it was pretty perfect.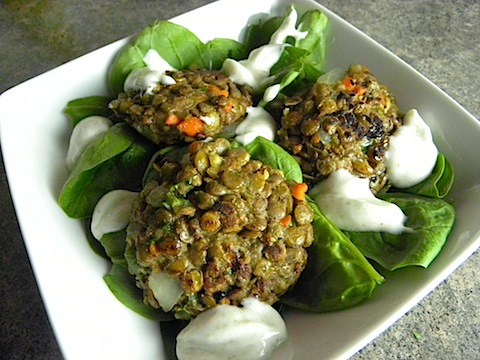 I actually got a tad bit nervous serving these to Chris for dinner. Like, he'd look at me and be like "where's the meat?" Not that he would ever speak to me that way. I think he pretty much just appreciates that I cook him dinner a lot. And force him to try new things (right, honey?!) But if there's not meat, there should be pasta or something, right?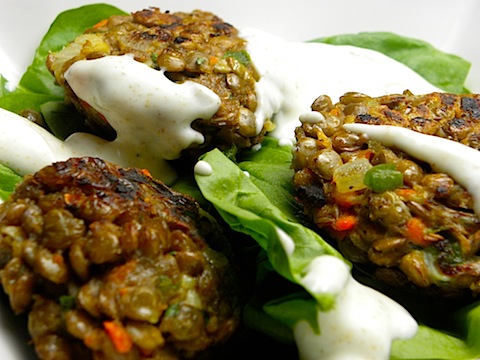 Well, no. I actually forgot these lentil cakes have jalapenos in them. And Chris loves pretty much everything with jalapenos in it. PLUS, lentils are incredibly filling. After eating 3 of the "cakes" atop some spinach with creamy lime dressing, I was totally full. And so was Chris. Yay lentils!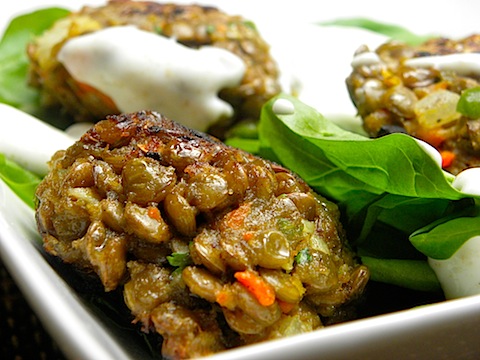 Plus, we were both very aware that we had these waiting in the freezer for us.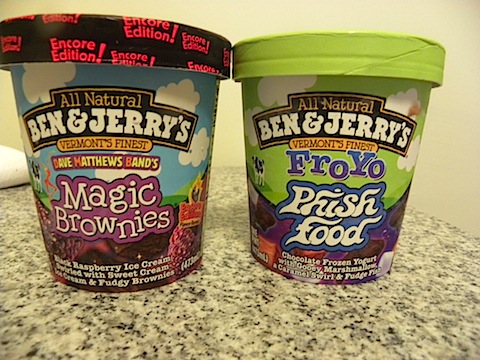 Guys, it's going to be really dangerous living so close to a 7-11. Ice cream, cookies, Slurpies, oh my!
But seriously, these lentil cakes were awesome. I was really happy with how they came out and they're the perfect topping to any boring old salad. Or you could just eat them alone for a snack. Which I'll most likely be doing later today. They're flavorful, filling, and pretty unique, too.
I'm so glad I finally made these lentil cakes! And you better believe I'll be making them again soon 🙂
Gap Jeans Giveaway Winner!
You guys were AWESOME with all your moving advice for me. I feel so lucky that it went fairly smoothly... That said, I hope I don't have to move again for a long, long time. Fingers crossed! Anyway, I used Random.org to select a winner and that winner is Joanne from Eats Well With Others!!
By the way, Joanne has one of the most awesomest blogs ever, so go read it if you're not already. She's a beautifully entertaining writer AND she just made her own pretzel rolls. So there. Now she's going to start rocking some new Gap jeans! Congrats, Joanne... We'll contact you to get your address ASAP!
[Sues]