Tonight I made the easiest, quickest dinner ever. It was so easy, I don't even know what to say about it, except that you should make Martha Stewart's soy-glazed salmon if you want something deliciousss but don't have a lot of time and/or energy. Also, here's the part where I give another HUGE shout-out to Trader Joe's...this time to their frozen fish selection. It seriously saves my life. I'm not very good at planning my meals ahead of time, so I like to have lots of ingredients on hand. And I ALWAYS have some fish from TJ's in my freezer. Which makes me very happy. Now, I know you might be thinking, "frozen fish?? Ewwww." But I am being 100% honest when I say it is just as good as fresh. Seriously. Would I lie to you? They actually "flash freeze" it, which means they basically freeze it right on the boat when it's caught, so it's at its ultimate freshest.
Anyway, now that you all probably think I work for Trader Joe's, I'll continue on and you can see how easy this recipe is. Start by making the glaze by mixing the light brown sugar, olive oil, soy sauce, lemon juice, and dry white wine together until the sugar melts.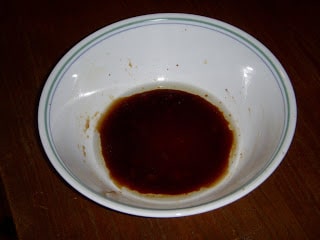 Then pour the glaze over the salmon (which you obvi. have to thaw first if it's frozen).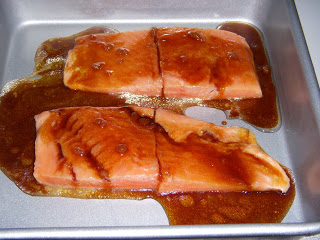 Bake the salmon at 400 degrees for 15-20 minutes. The recipe says to baste it every few minutes with the glaze, but since I don't have a baster (add it to the list!), I just used a pastry brush to re-cover the salmon in the glaze.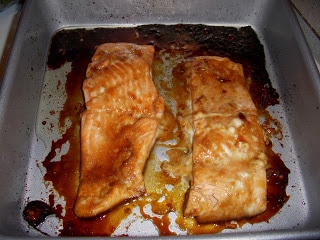 While the salmon was cooking, I threw some olive oil, garlic, and spinach in a pan and sauteed it. I was also jamming out (yes, jamming out...cooking this was so easy, I had lots of time to dance around the kitchen) to Sia's Some People Have Real Problems, because she is legit fun to cook to.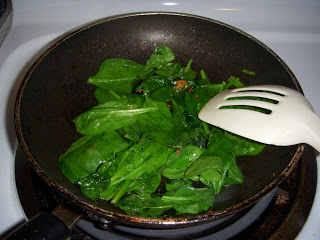 The salmon was so good; you would never guess that it was once frozen. And the glaze was seriously prefect. Really flavorful, but not so much that it took away from the favor of the salmon. Mmmm, it's bedtime now, but I'm kind of craving those leftovers. Restraining myself.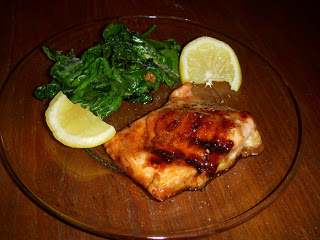 While eating your dinner and being happy that it was so easy and yet tastes so amazing, you should sip on some wine. Come on, you deserve it after all that "hard" work in the kitchen. 2 Guys Uncorked suggest pairing the salmon with a pinot noir...try the Famega NV vinho Verde.
And for dessert, I helped myself to Chels's lemon bars, which she left at my apartment. Another reason why it's always fun to host the get-togethers.