I crave pasta a lot. Like pretty much all the time. I try not to eat it as much as I crave it because it's not the healthiest thing in the world, but sometimes I just really really want it. Plus, there are so many amazing things you can do with it that are super easy, so if you don't have a lot of time, pasta is perfect. I was looking for something quick and easy when I saw this recipe for Martha Stewart's spaghetti with pancetta, green beans, and basil. Pasta plus pancetta (which, in case you don't know, is Italian bacon) sounded perfectly amazing.
When I eat it, I try to buy the somewhat healthy-ish pasta. I actually love whole wheat pasta and think it's much more flavorful and delicious than the regular white, so it works out well. Some of my favorite is the Ronzoni Healthy Harvest you see below.
8 oz. spaghetti

4 oz. pancetta (or 4 slices of bacon)

3/4 lb green beans

1/2 C parmesan cheese

1 C fresh basil

Anything else you want (I added garlic [obvi] and mushrooms)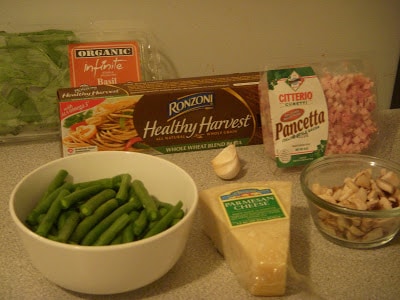 First, you'll want to start boiling your pasta. When it's cooked to your liking, drain the pasta, but reserve 1 cup of water. Put the pasta back in the pot. In the meantime, start cooking your pancetta in a frying pan until it's nice and crispy.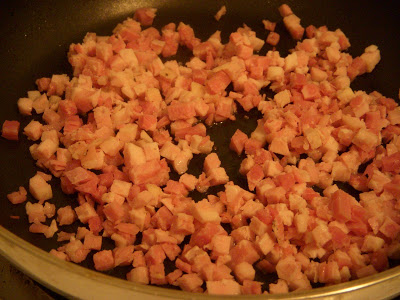 Move the pancetta to a paper towel-lined plate, so that some of the oil gets absorbed.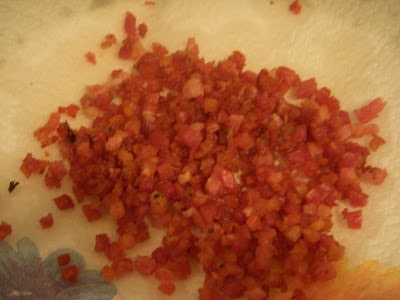 With some of the leftover oil from the pancetta still in the pan, throw your green beans in to start cooking. Also, add any additional ingredients you choose. I threw in some mushrooms and a bunch of garlic (because what's pasta without garlic??).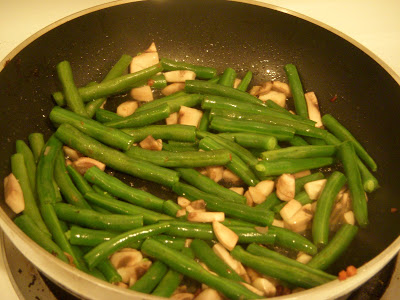 When everything is cooked up (I like my green beans nice and crispy), throw them in the pot with the pasta, along with 1/2 C of parmesan cheese.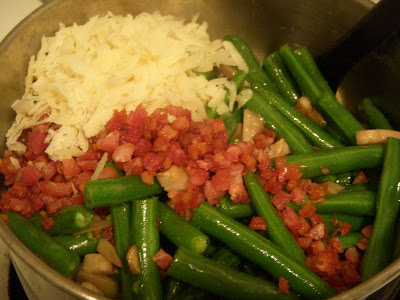 Also put in your cup of reserved water from the pasta and then top with the basil leaves.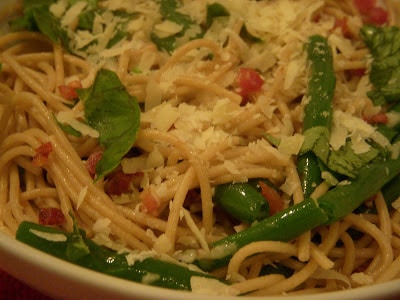 Serve and throw in some more parmesan if you like. Seriously, does it get any quicker and easier than that?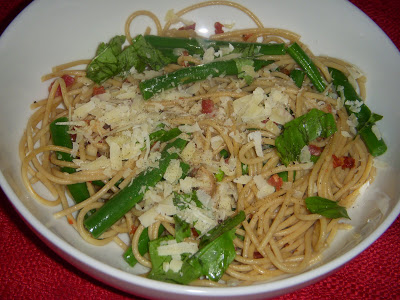 This was a deliciously flavorful dish that could have been made into even more of a meal with the addition of some grilled chicken or fish. It definitely cured my carb cravings and also allowed me to get some fresh veggies in too. Now if only it was healthy enough to eat every night.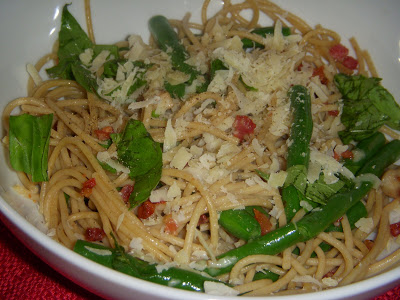 [Sues]