February in New England is the perfect time to indulge in delicious (not so good for you) comfort foods and believe me when I say, I've done just that this winter. Mac and cheese, pizza, pie, you get the drill. That being said, I've actually had cravings for some more nutritionally complete dinners lately. Something healthy and filling yet won't weigh me down. I've been all over the place lately and have had a pretty inconsistent schedule between working multiple jobs, working on invitation orders, and making time for everyone, that I've definitely slacked on my food choices. And I decided tonight, that regardless of how busy and long my day was, that I'd cook myself a solid dinner instead of making a sandwich or eating a banana. Because that's been happening a lot lately.
I decided to turn to Cooking Light to do some browsing because I tend to find healthy but still flavorful and creative recipes there! I knew I wanted to use salmon since I haven't cooked with it in a while and when I found a recipe for Spice-Rubbed Roasted Salmon with Lemon-Garlic Spinach I knew that would be dinner! The combination of warm spices used in this recipe were perfect for a cold night.
Here's what you need: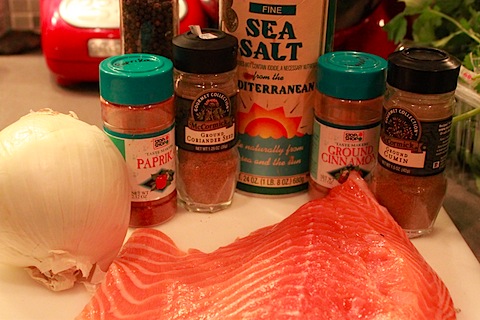 For the salmon:
• ½ teaspoon salt
• ½ teaspoon ground cumin
• ½ teaspoon ground coriander
• ¼ teaspoon paprika
• ⅛ teaspoon ground cinnamon
• ⅛ teaspoon freshly ground black pepper
• 1 (1 -1.5 lb) skinless salmon filet (you can ask for the skin to be removed at the fish counter for a nice clean cut, too)
• 1 large onion
• Cooking spray
• 2 tablespoons chopped fresh cilantro
For the spinach:
• 1 teaspoon olive oil
• 2 garlic cloves, minced
• 2 (6-ounce) packages fresh baby spinach
• 1 teaspoon grated lemon rind
• ¼ teaspoon salt
• 1 tablespoon fresh lemon juice
Here's what you do:
• Preheat oven to 400 degrees.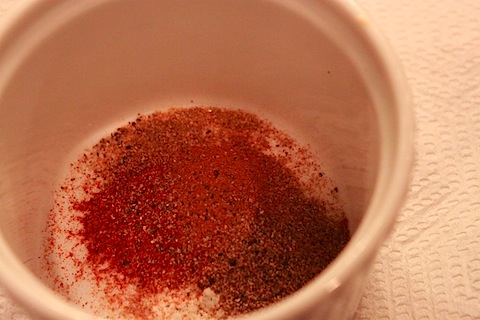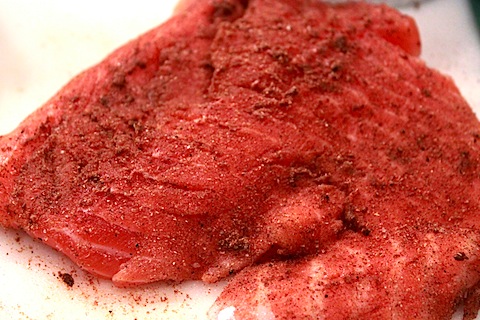 • Combine the first 6 ingredients and rub the spice mixture evenly over the salmon.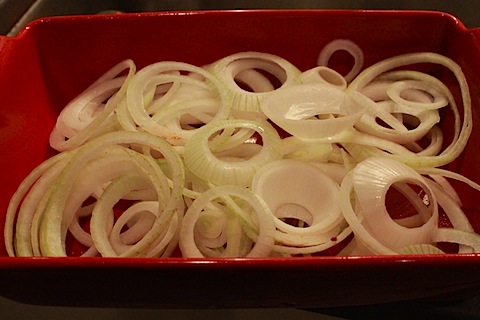 • Coat the bottom of a baking dish (about 11x7 inches or so) with cooking spray and place onions in dish.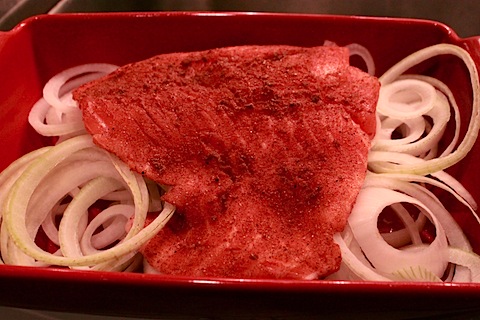 • Place salmon on top of the onions.
• Bake at 400 degrees for about 20 minutes or until the salmon is flaky when gently pulled with a fork.
Now, for the spinach, which is beyond simple to make and will become a staple side dish in my kitchen. It only takes a few minutes and is just simply good... wahoo!
• Heat oil in a nonstick skillet over medium heat. Add garlic to the pan and cook for a minute. Slowly add the fresh spinach, handfuls at a time, until spinach is just wilted. Make sure to stir frequently. Add the lemon rind and salt. Stir in lemon juice and remove from heat. I also added some roasted sunflower seeds for additional nutrients and a lil' crunch. And because I add sunflower seeds to everything 🙂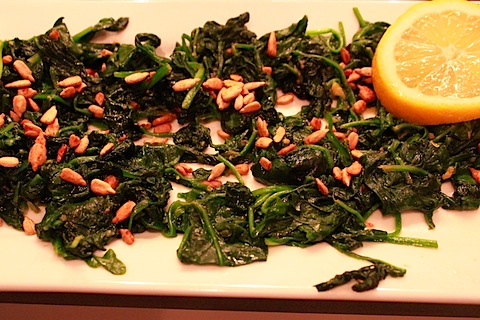 Now you can plate your salmon. I made a bed of the lemon-garlic spinach, placed the salmon on top, and sprinkled with chopped cilantro. I also roasted some potatoes in some olive oil, dill, salt, and pepper to keep it simple but also to make the meal a bit more hearty.
I actually think I fell in love with this. Right in time for Valentine's Day, hehe 😉 Using spices like cumin, coriander, paprika, and cinnamon definitely warms the salmon up and "winterizes" it so to speak. I typically do citrus over salmon so it was nice to switch it up and make it seasonally appropriate. I felt completely satisfied and didn't even feel the need to go back for seconds. Who knew?!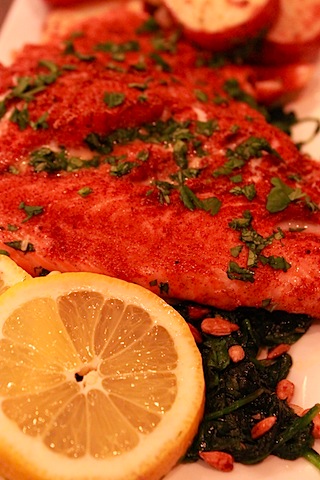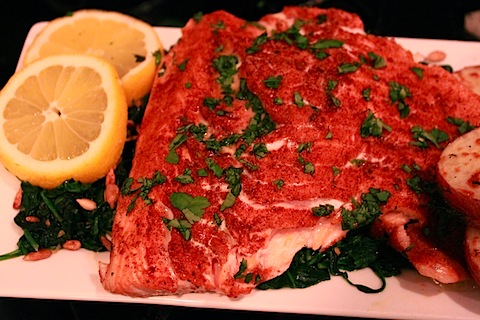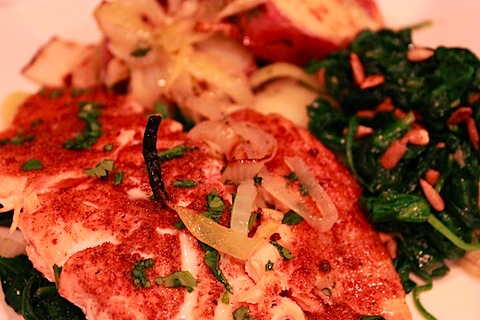 Also, I have a confession to make.
I think part of the reason I've been craving healthier foods lately is because last week there was an addition to my kitchen:
This:
and this: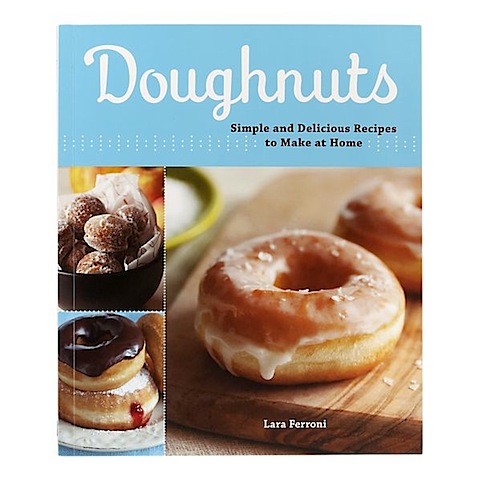 Doughnut pan and the most gorgeous doughnut cookbook. Damage will be done so prepare yourself and hold on tight. But first, make this Spice-Rubbed Roasted Salmon with Lemon-Garlic Spinach because you're going to be making doughnuts right along with me 😉
[Chels]