I don't know about you, but I've been dreaming about putting avocado in my risotto for a long time. An embarrassingly long time. For a while, I imagined a beautifully vivid green, Slimer-like risotto. What? Slimer-like risotto doesn't sound totally appealing to you? Fine. It probably wouldn't look very appealing either. And anyway, once I started dreaming up this recipe, it began to grow and grow into a whole new beast. But a big friendly beast who I really wanted to come across. So, I made it happen.
For this risotto, I decided to use bulgur instead of arborio rice. So really, it's a lie to call this risotto anyway. But I'm going to because I used the same basic (easy!) risotto process and came up with a similar end product. In case you haven't noticed; risotto is an addiction of mine. One of the first dishes I feel like I perfected and one of the most versatile of all foods. At this point, anything I slowly add chicken broth to and eat out of a bowl, I call risotto.
Spicy Avocado Corn Bulgur Risotto (serves 4-6):
Print this recipe!
3 1/2 C chicken or vegetable broth
1 T olive oil
2 shallots, diced
3 garlic cloves, minced
1 jalapeño pepper, finely copped (seeds removed if you don't want too spicy)
1 1/2 C bulgur
1/2 C dry white wine
3/4 C corn
2 avocados
1-2 T lemon juice
1/4 C parmesan cheese, grated
I have a whole risotto spiel I give each time I make and post about it, so I'll keep it short and sweet here. Despite what you might have heard, making risotto is ridiculously easy. If you'd like to challenge me to make it with my eyes closed, I will accept your challenge. Let's do this. In the meantime, I promise that once you make it once, you'll want to make it every night. Or at least once a week. It's the most versatile dish ever.
And so.
Start by bringing chicken or vegetable broth to a simmer in a saucepan and then reducing the heat to low.
Add your olive oil to a different saucepan over medium heat. Add shallots and garlic and cook for about 4 minutes, until translucent.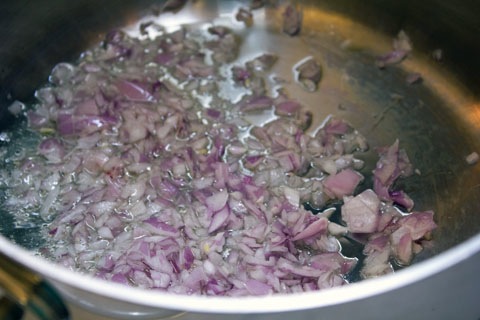 Add in jalapeño and cook for another minute.
Another tip I repeat over and over is using a VeggiChop
 for jalapeños and other spicy peppers. I LOVE hot peppers, but hate chopping them because I'm a mess at it and wear contacts. So, I throw them in the VC and have it do the work for me. Goodnight.
OK, here's the part where you add the bulgur. Stir it up for a minute.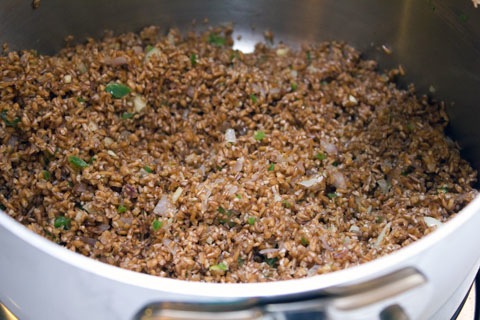 Now pour in your wine and stir until it is all absorbed. Good news is you now have practically an entire bottle of wine open that will go bad if you don't drink it quickly! Hurry!
Now, add about a 3/4 C of warmed chicken broth to the bulgur, stir and let it absorb. Repeat. The other good news is bulgur is a lot less sticky than arborio, so you really don't need to feel the need to stir like a crazy person (not that you should anyway. But arborio rice does get a bit sticky if you don't stir).
When you're almost done adding all your broth, add the corn to the pot.
And whip your avocado up. I decided to use my Vitamix
because I wanted a nice puree. But you can use a blender or food processor or even mash by hand.
Whatever you do, make sure you add some salt, pepper, and lemon juice.
I thought I'd only use one avocado, but I quickly realized I wanted two. Should have known!
Add it to the almost-completed risotto.
And stir it in.
Stir in the parmesan, too, while you're at it.
Not quite Slimer-like in color, but I'm going with "that's a good thing." Risotto looking like Ecto Cooler could get scary.
In case you're unaware:
I'm pretty sure if you're a child of the 80s, you refer to anything of a bright color as Slimer-like. Amiright?
Also known as scary green.
This, on the other hand, was not scary at all. It was whole grain deliciousness.
I loved the quick bite of spice from the jalapeño pepper and the mellow flavor and creamy texture from the avocado. Perfect contrasts married together. As Paula Abdul would say, opposites attract.
I love me some 80s/early 90s. (Am I the only one STILL sad she left [slash was fired from] American Idol??)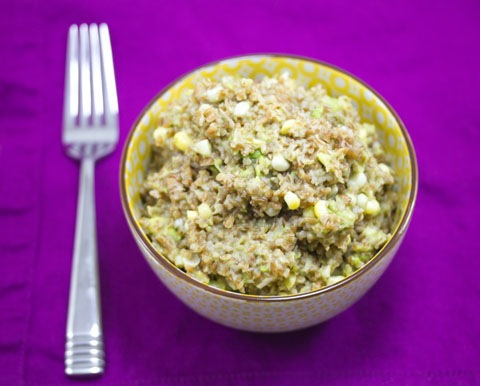 And don't even get me started on how sad I am that summer corn is gone and I have to go back to the frozen stuff.
But it's not too tough to make myself feel better when I'm now surrounded by orange vegetables. Pumpkin risotto? I am so ready for that one.
Plus, I'm still working on my candy corn recipe for the year. I do one per year and then stay away from the stuff for the remainder. Candy corn risotto? Don't worry; I won't even touch that one. I did totally just Google it, though, and was momentarily frightened before I realized that "candy" is an actual type of corn. Like the vegetable corn. Phew. Some things are even too much for me. Believe it or not.
Some of you might want to know if the bulgur makes this dish a lot different than the traditional arborio rice, I would say yes. It definitely has a healthier whole-grain taste and doesn't have that super creamy consistency of arborio risotto. That's one reason I think this was a good dish to add the avocado to. It added the creamy factor.
And made for the perfect take for lunch leftovers for the next couple days.
I've been having really weird focusing issues lately. It's like I can't concentrate until I put on the right music and then I get into this zone where I can work for a couple hours straight just banging work out. Right now it's Pink. And the entire time I was writing this post I was both typing in tune to the songs and stopping to dance in between sentences. I don't know. Whatever works, right?
Speaking of, the new Pink album
is basically the most immature album ever and I'm totally obsessed with it. I'm pretty sure Pink entered her freshman year of college and remains there to this day. But you have to love her for it. So much for growing up and getting boring.
What music motivates you to get work done?
[Sues]