And I'm home, back in Boston! It felt like I was gone forever! Although I always love being away there is no other feeling like coming home to your own bed and getting back into the swing of things. I feel really motivated after being away for a week! Lots of creative ideas were flowing while I was gone, so I'm ready to get the week started! The second half of my trip to St. Augustine was just as much fun as the first half! Lots of hanging out, eating at new restaurants and of course, visiting the already familiar shops we love!
On Wednesday we woke up bright and early and did some hot yoga.. it was challenging but wonderful! Later that afternoon we stopped in Simple Gestures, one of my all time favorite stores. The owner Sue, saw our post that I wrote earlier this year about the store so it was really exciting to get to introduce myself to her this time 🙂 We chatted for a while and she really is one of the sweetest people! I raved about the shop back in March, but the majority of everything sold in the store is handmade by local artists, which is something I will always support. I bought a little something for my mom, which is Christmas/Winter related, hence the little sprig of pine on the box. I also bought a really neat and chunky black and yellow wooden necklace and an awesome hand knit neck warmer (both of which you can sort of see in the photo below). I'm so excited to wear the neck warmer this fall… giddy in fact 🙂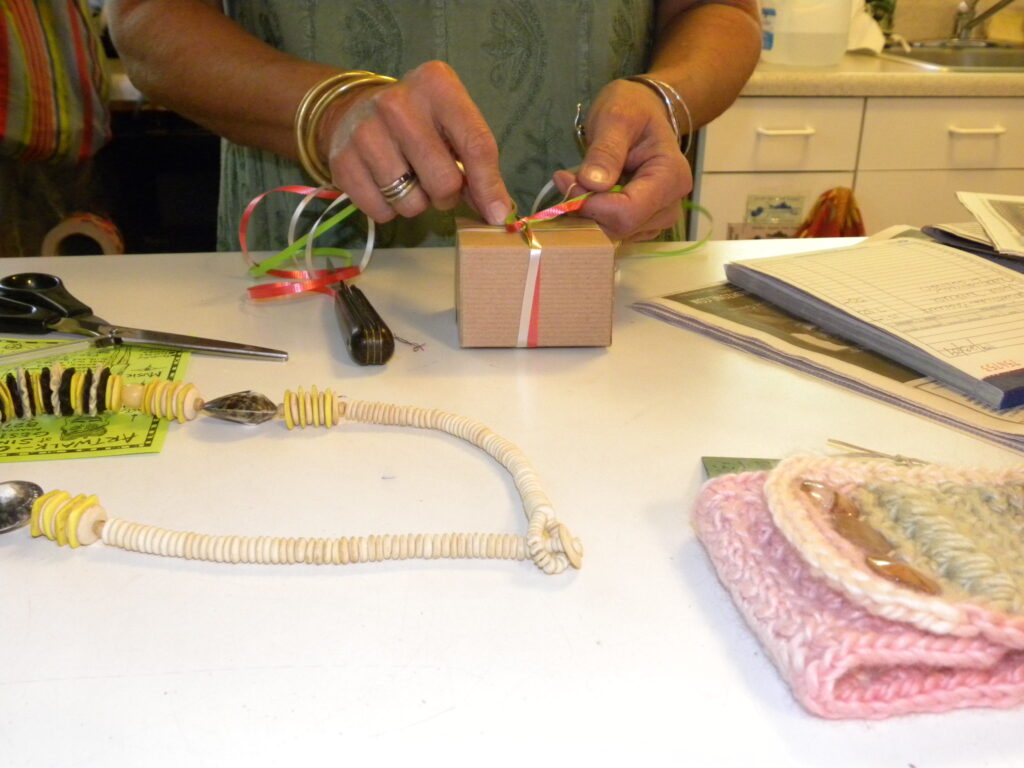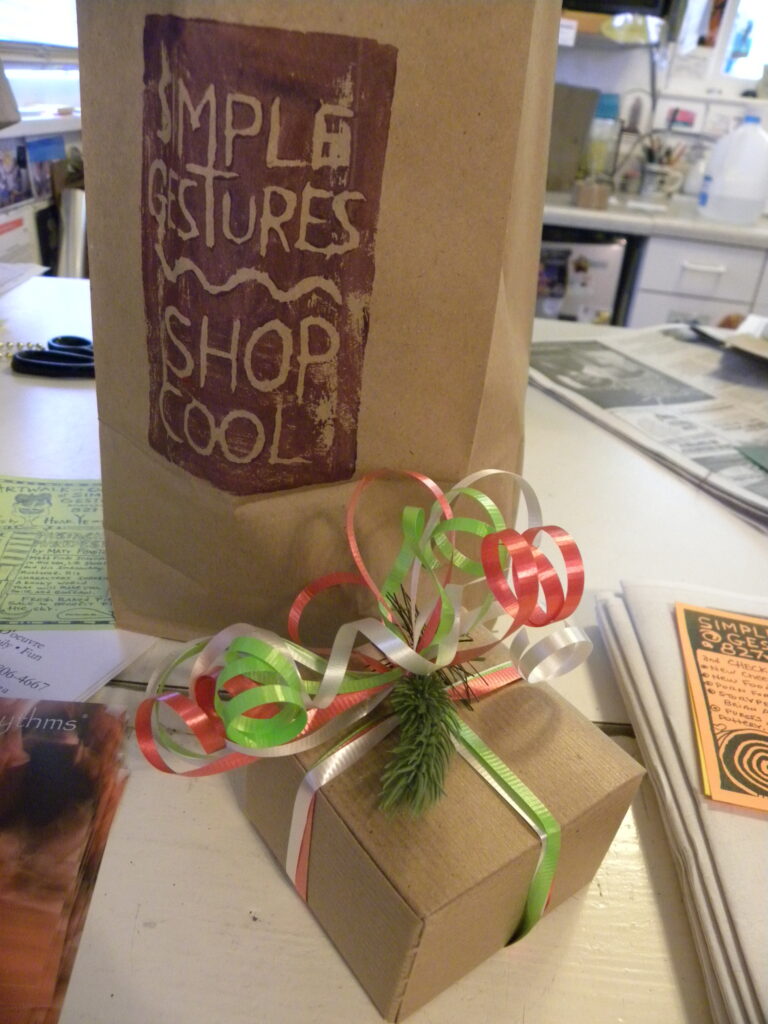 Later that evening Melis' parents took us out on their boat, yet again, but this time with some of their friends Kim, Gary, and David. It was such a fun night! Vickie packed up another great spread of food and drinks, and while we were out cruising we made a pit stop at one of their favorite restaurants to get some food to-go. The weather was perfectly warm, and the company was… hilarious. I don't think I've laughed so hard in a while, there were so many times we were all wiping our eyes from laughing so hard! At one point an empty plastic cup blew away and, naturally, smacked me so hard dead center on my front teeth… Ouch! Thankfully, we all got a kick out of it 😉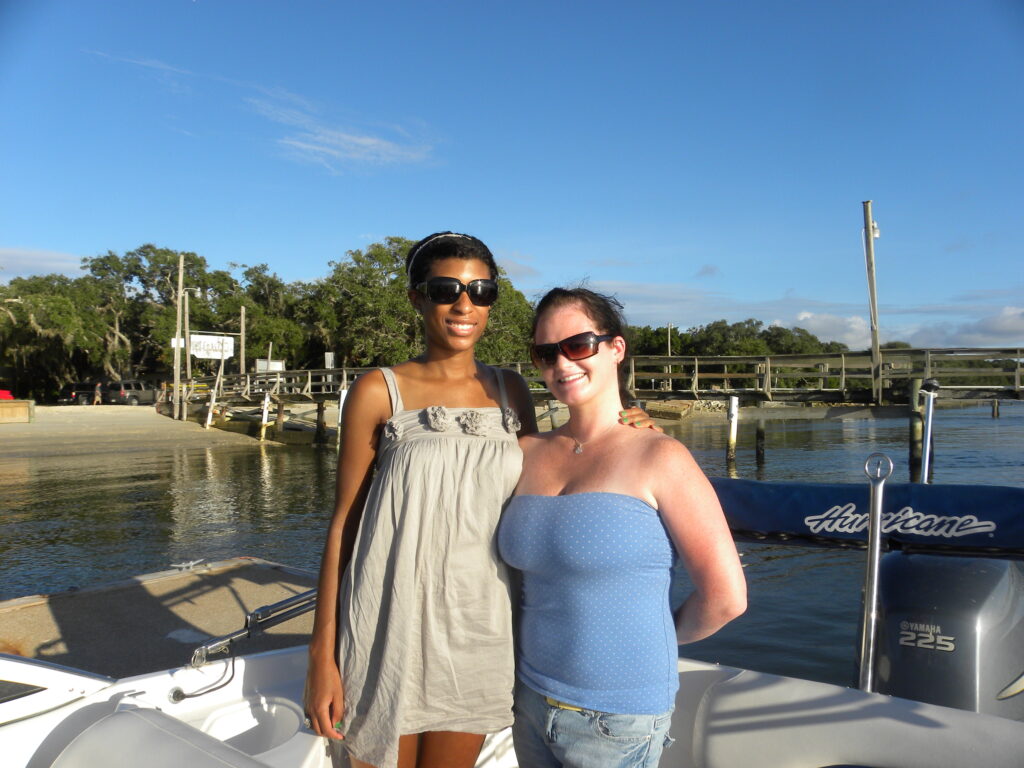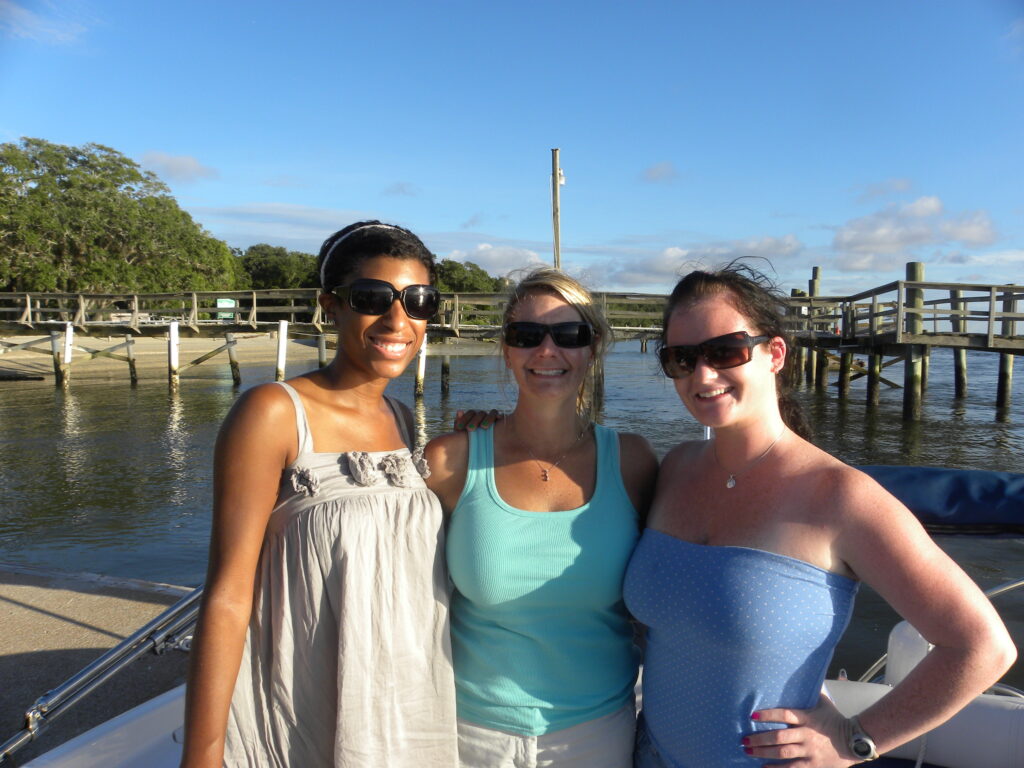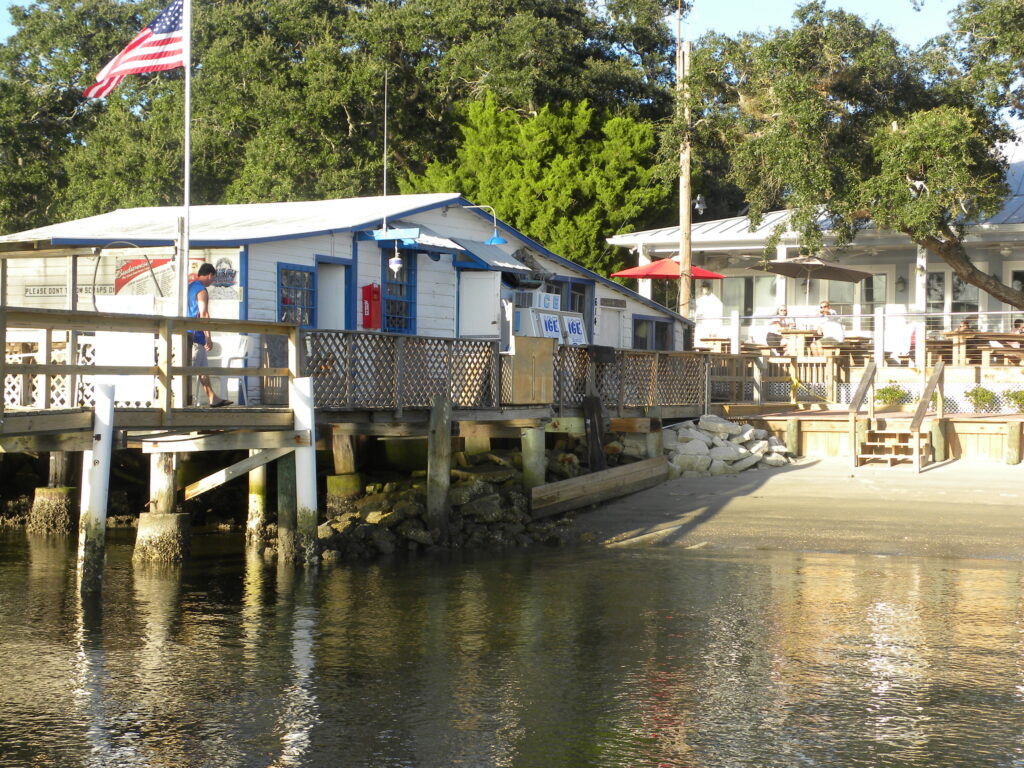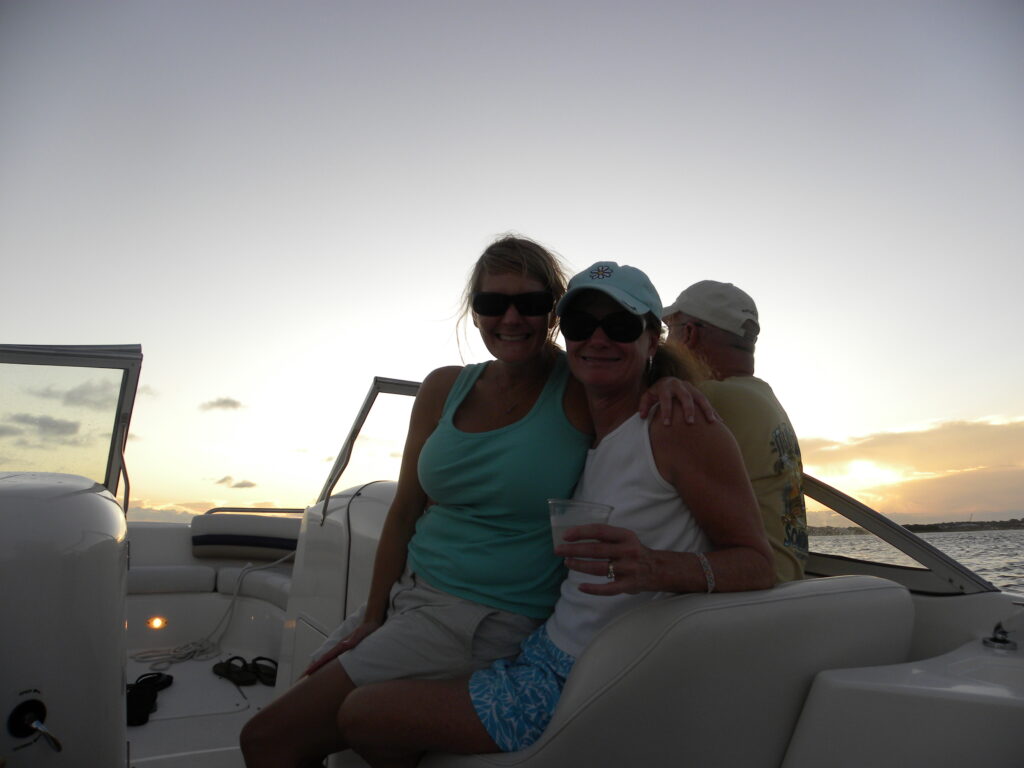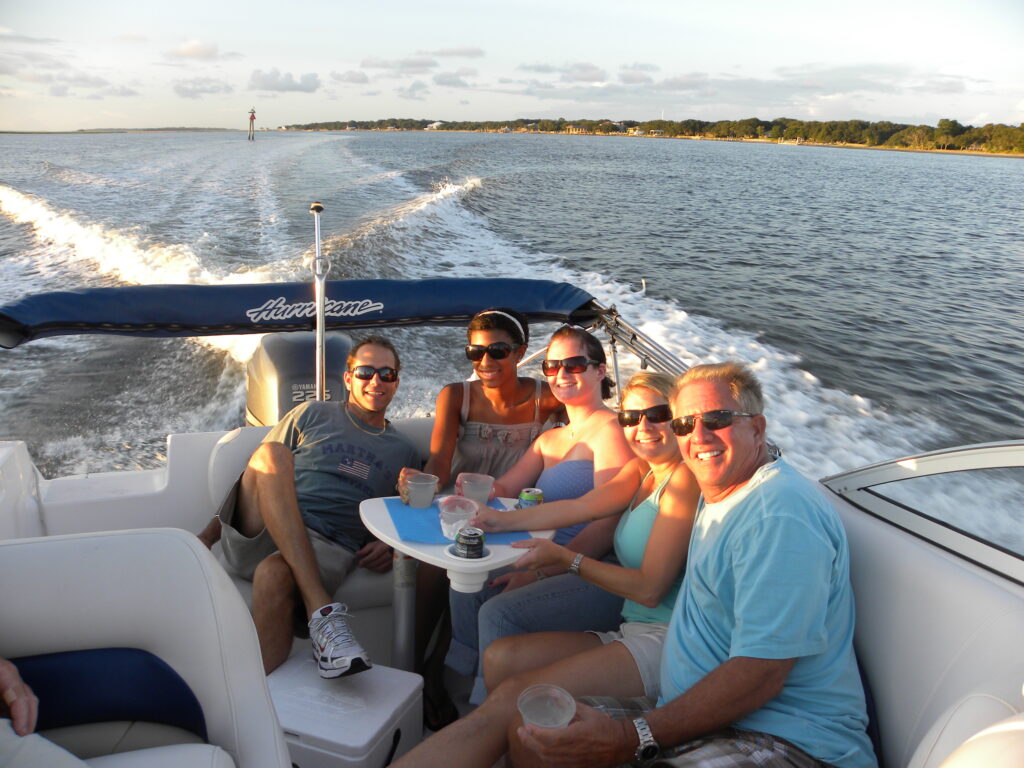 On our way back to the marina we saw a pirate ship! YES!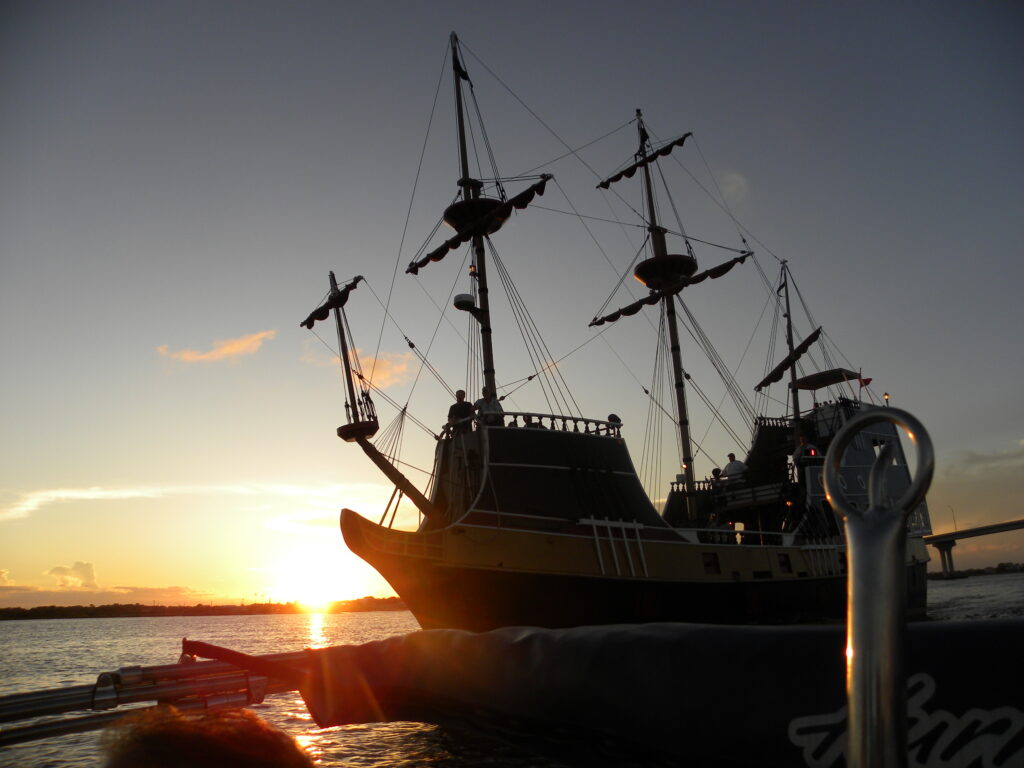 As we cleaned the boat off back at the Cat's Paw Marina we saw the blue eyed Chloe the cat again… I was thrilled! I'm fairly certain I went a little overboard with the petting though because I had a slight allergic reaction shortly thereafter. Woops! She was so much fun, so it was worth it 😉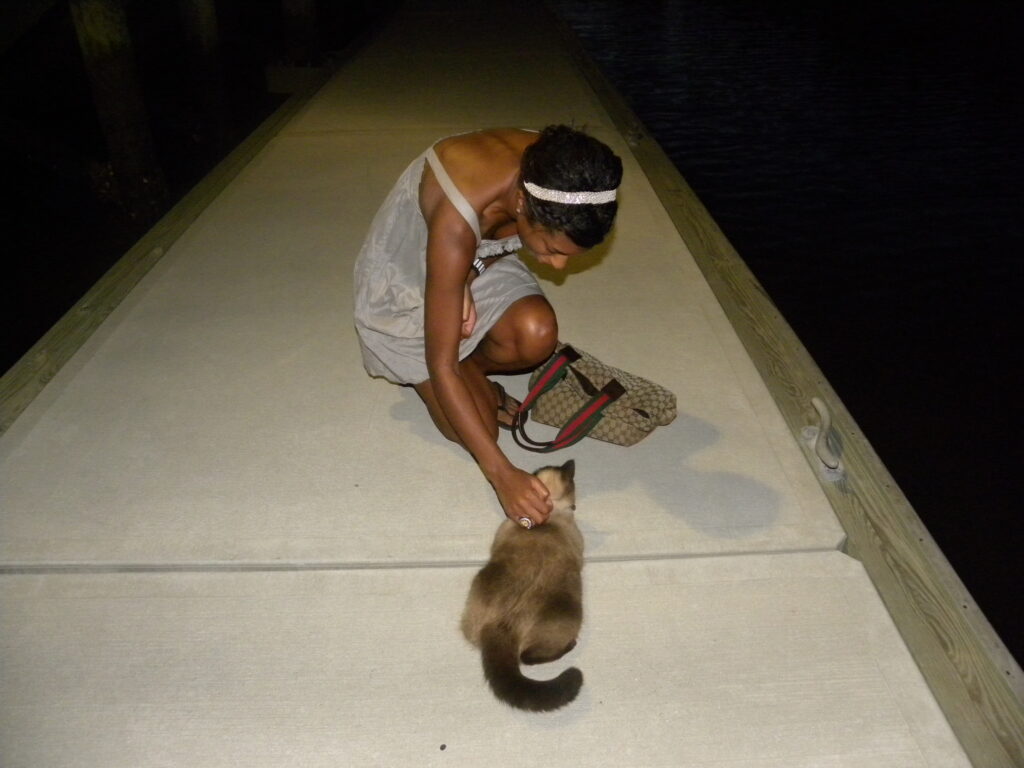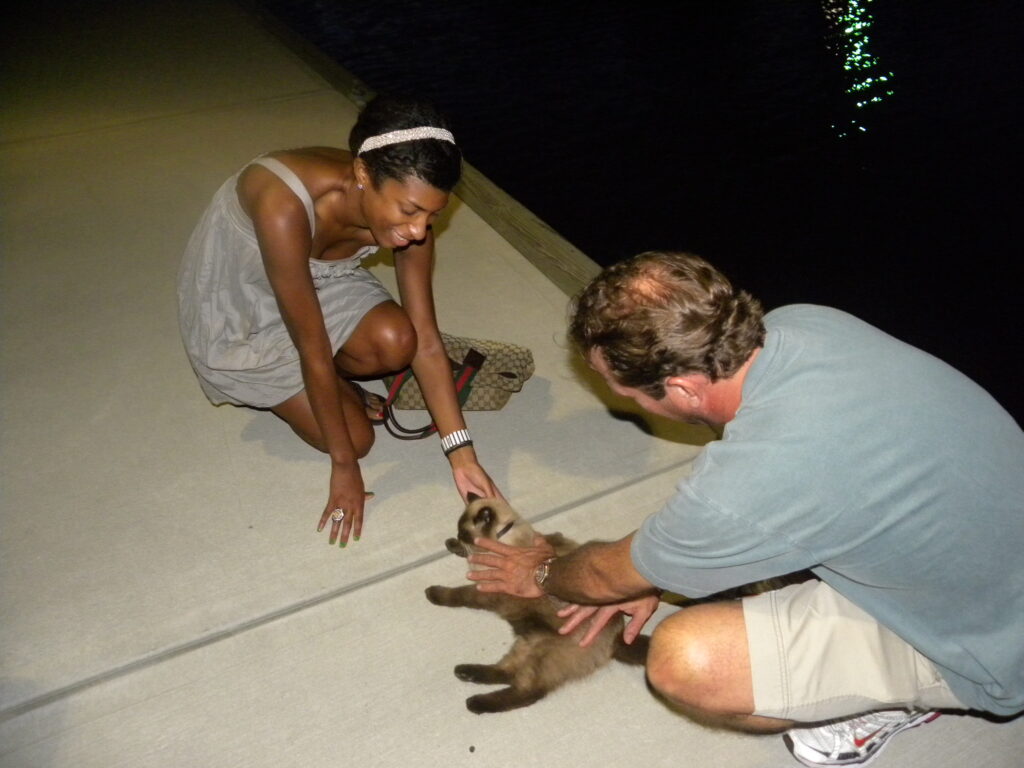 We ended up passing out so early once we got back to the house. I'm talking… I felt like I was in 2nd grade with an extremely early bed time… early. hehe. Guess that's what lots of yoga, sun, food, and beverages will do to you! It was a long day!
On Thursday Melis and I spent most of the morning and afternoon at the beach! It was well into the 80s and there were only a few people out, so it was perfect! The water was nice and warm, too! Grrr, why can't New England be that warm now?
Melis' dad, Paul, had made an early dinner that evening. It.was.so.good! Veal and pasta…yum! I had my newest favorite drink at dinner too, Sweet Leaf Green Tea! So far every flavor I've had has been so refreshing!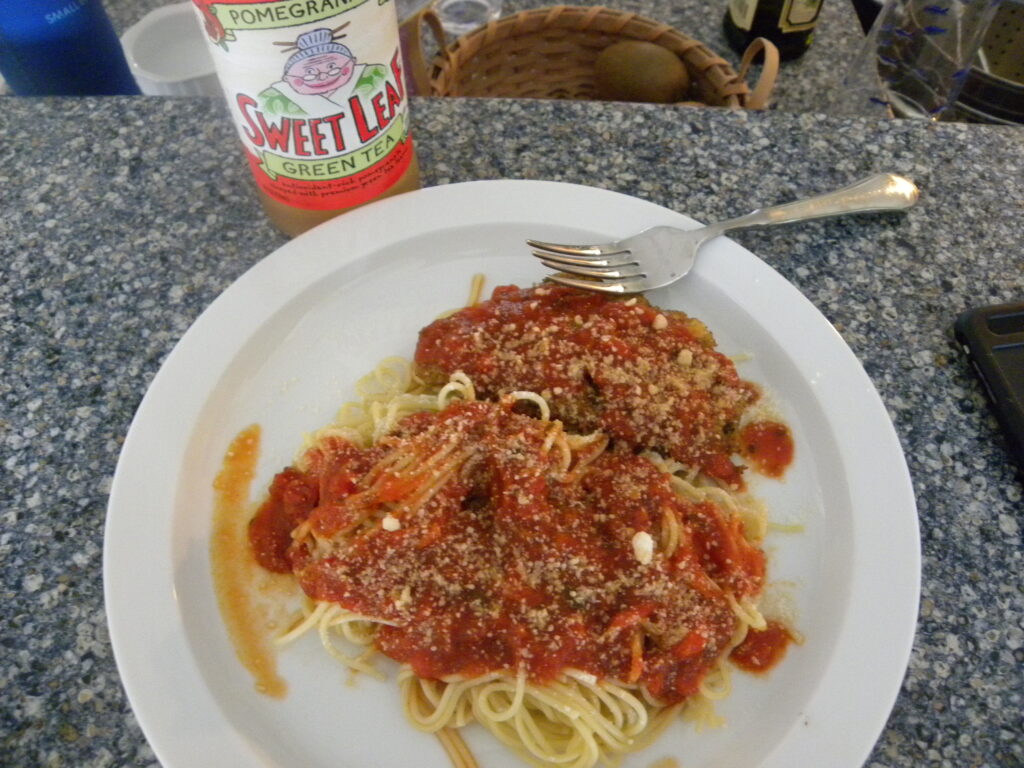 Later that night we decided to go to one of our favorite places, Zhanras, a tapas bar,… word around town it was "Ladies Night"… watch out now. On the way there, one of my favorite songs of the summer, "Party in the USA" came on, which means stop what you're doing and have a dance party… I'm 12.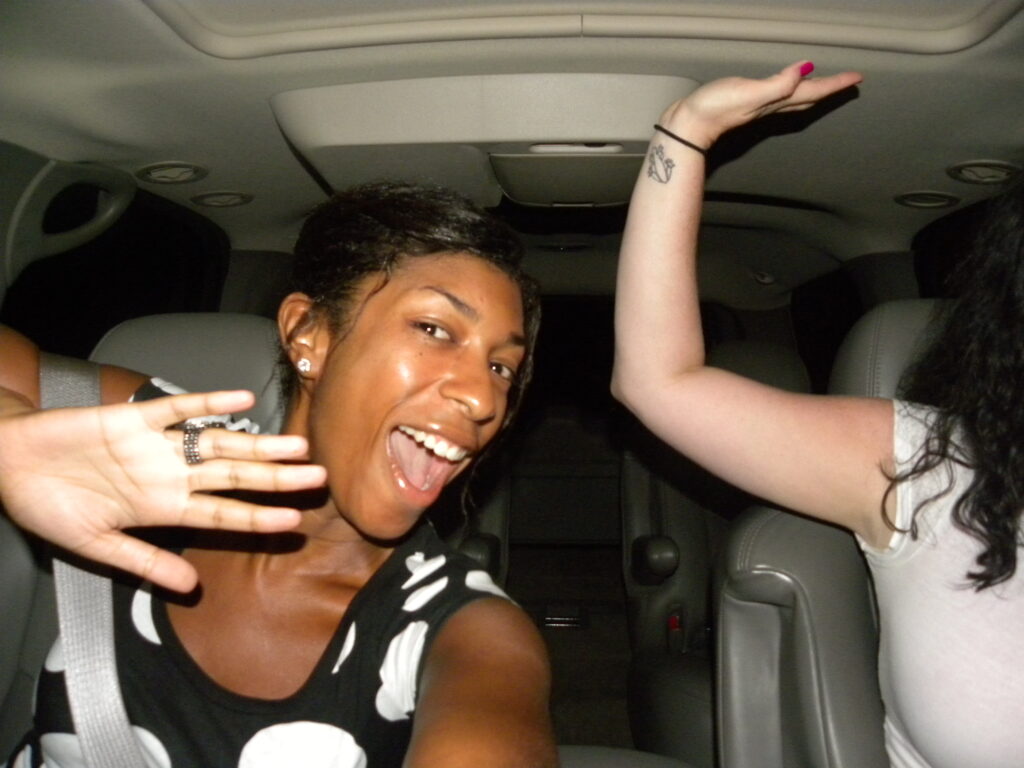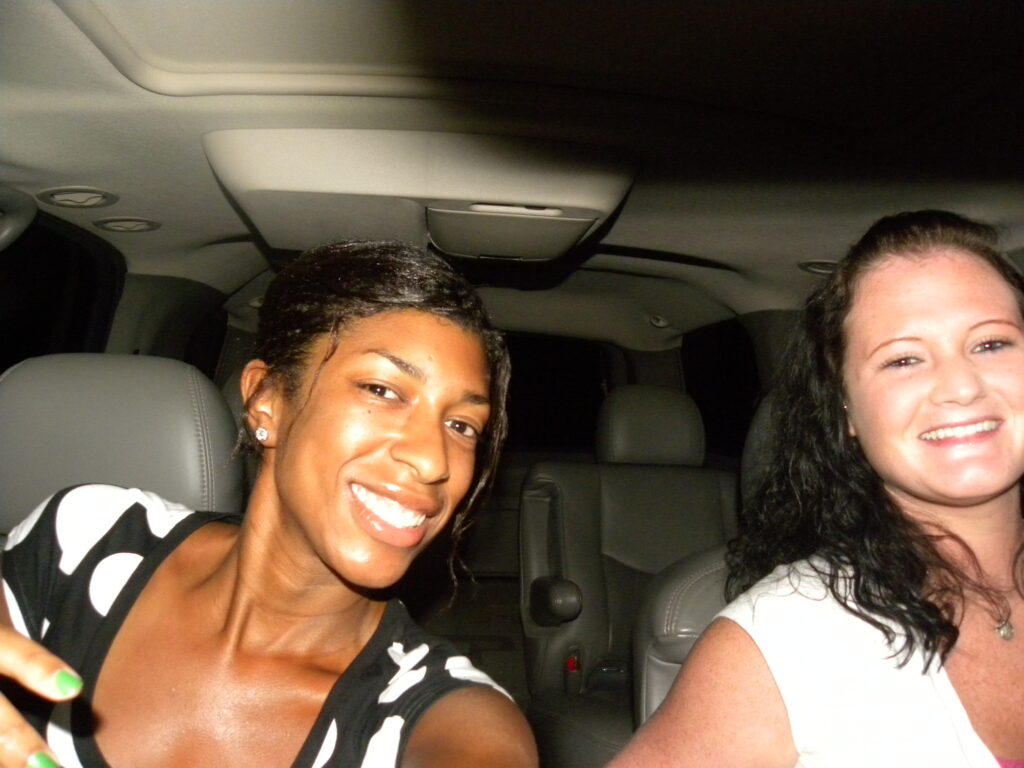 Once we arrived at Zhanras I ordered a Southern Belle; sweet tea infused vodka, lemon and lime… talk about a good choice! For food we ordered some bruschetta and buffalo wings. Our eyes were definitely bigger than our stomachs and we wound up taking the wings home for leftovers 🙂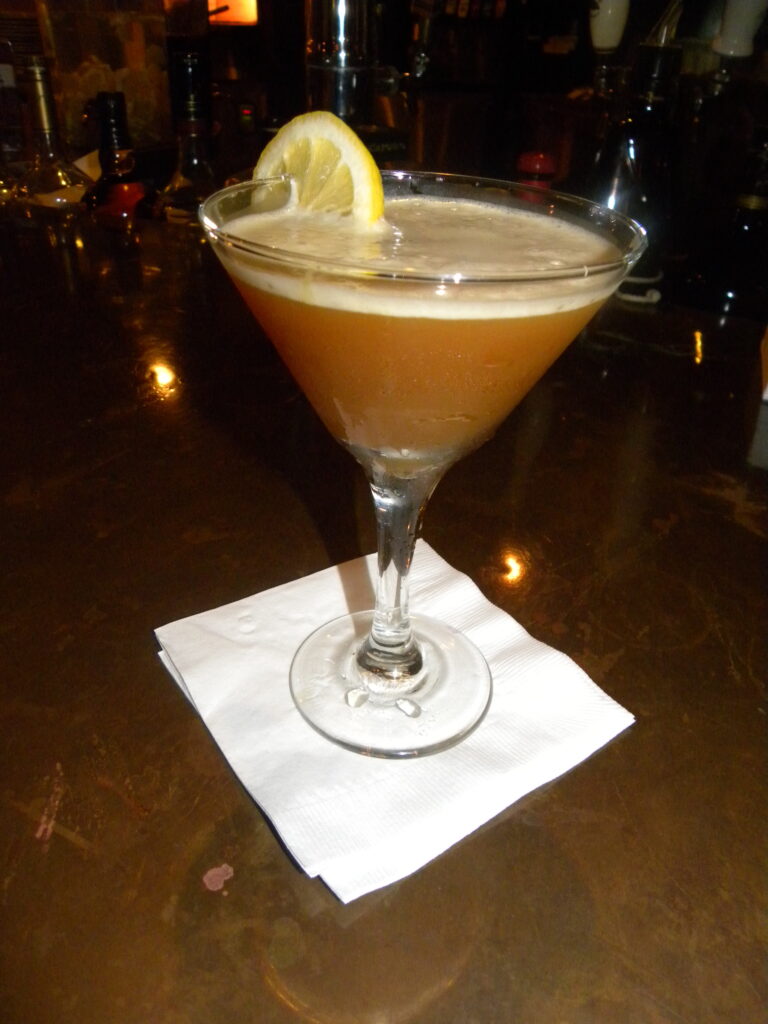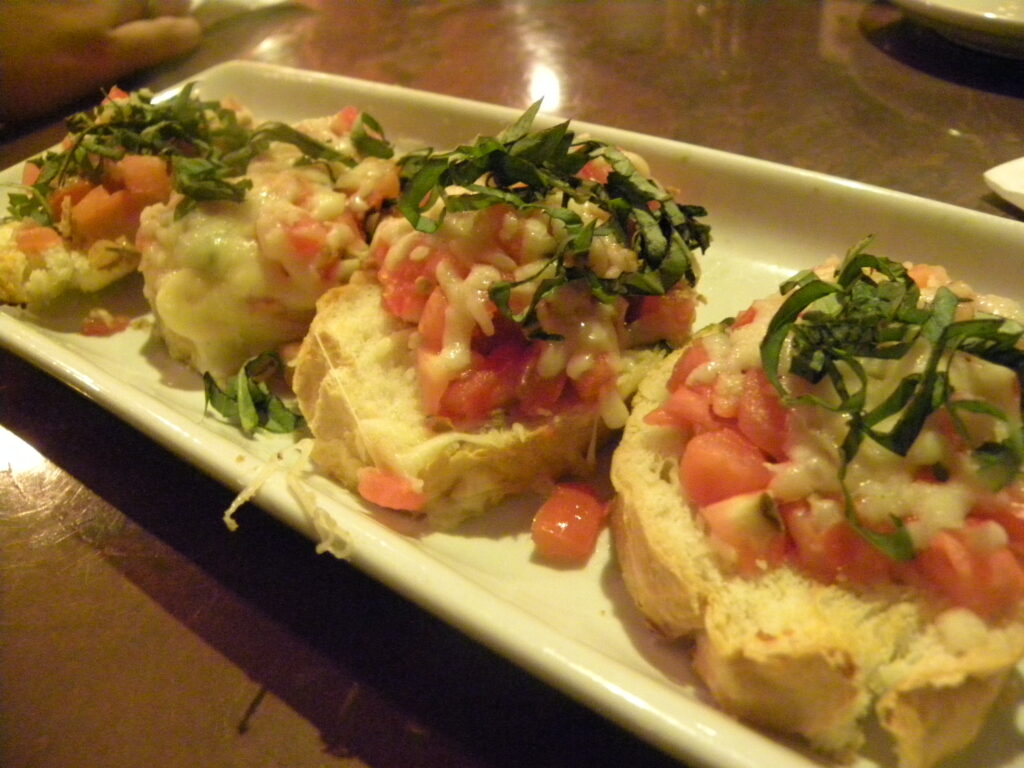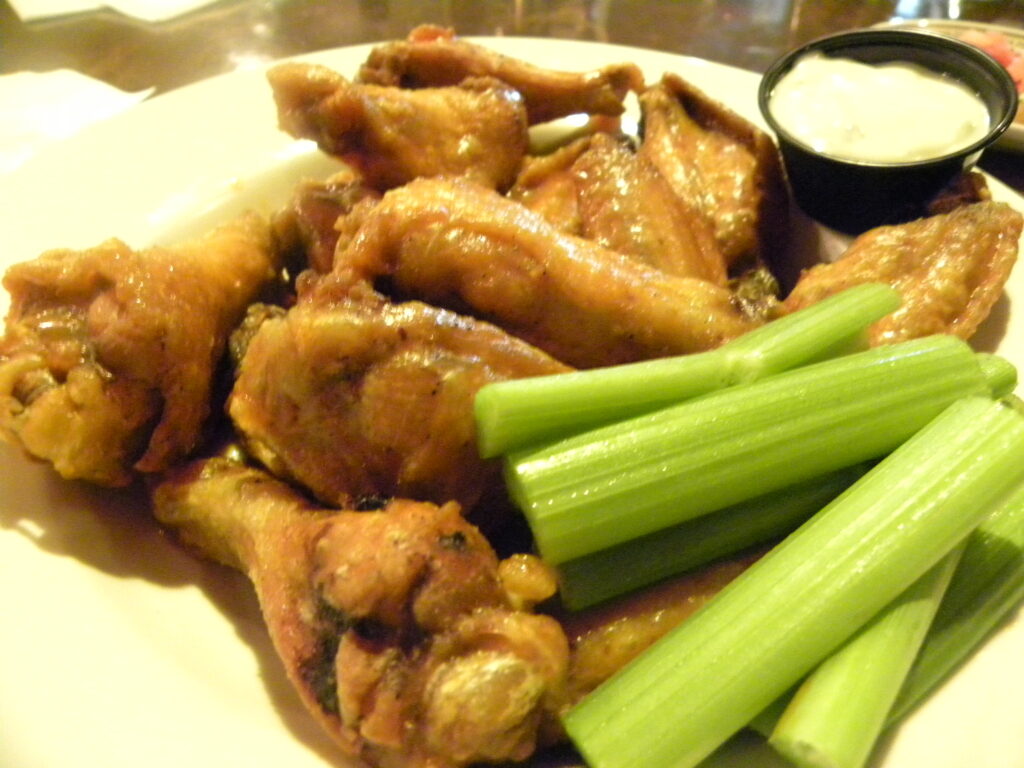 After Zhanras we decided to head back to the beach to see if we could find sea turtles. We're so random. But while we were beaching it earlier in the day we saw a ton of signs saying it was "Sea Turtle Season", so of course, we had to go investigate. The beach was pitch black and there wasn't a soul in the world out there besides us… although I kept telling Melis I thought I saw someone even though I knew I didn't! hehe. At least I got a kick out of myself. I'm very luck to have friends who put up with me! 😉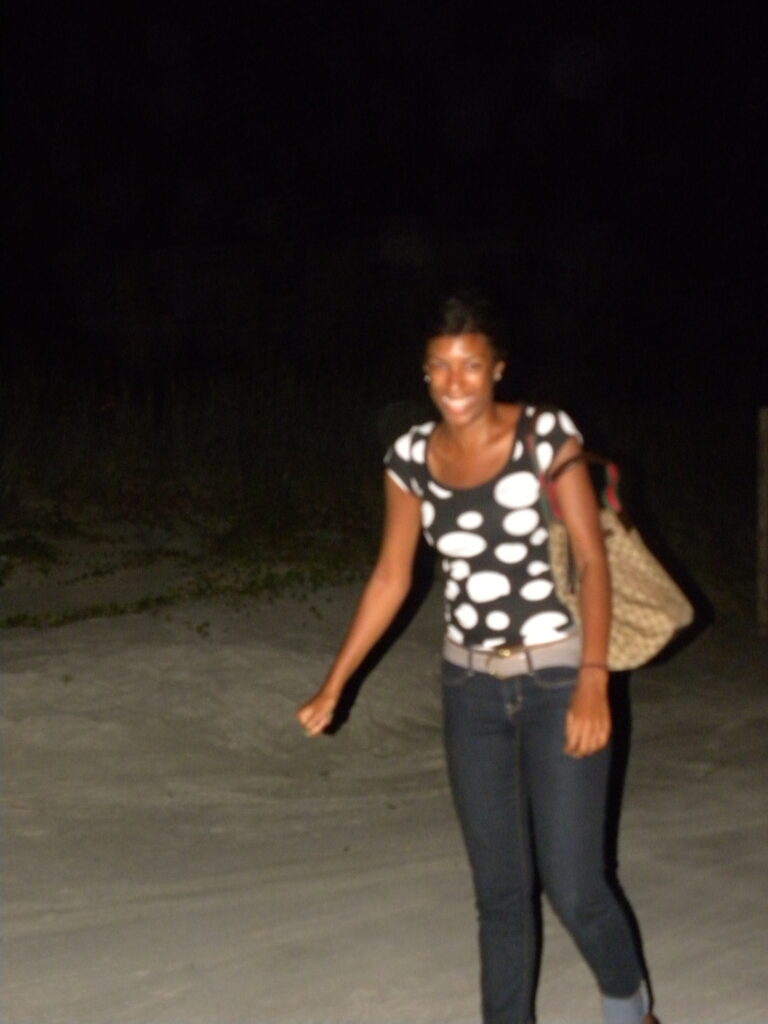 Friday morning we woke up and went to yet another yoga class! After yoga, Vickie did ZUMBA while Melis and I ran a little on the treadmill, lifted weights, and did some balance related workouts on the bosu. It definitely helps to have a gym buddy, now I need to find one at home! We spent the rest of the day walking around St. George Street and doing a little shopping. It was as hot as I don't know what! We stopped in Whetstone Chocolates to get some gelato to cool down. I got a white chocolate raspberry one and it did the trick!
Later that night we went to the patio opening of Zaharias, a local restaurant where Melis' parents know the owner. Their new patio is really fun! They had a great live band, lots of food and drinks, and a great turnout! Everyone seemed really happy… I guess that's what nice weather does to people!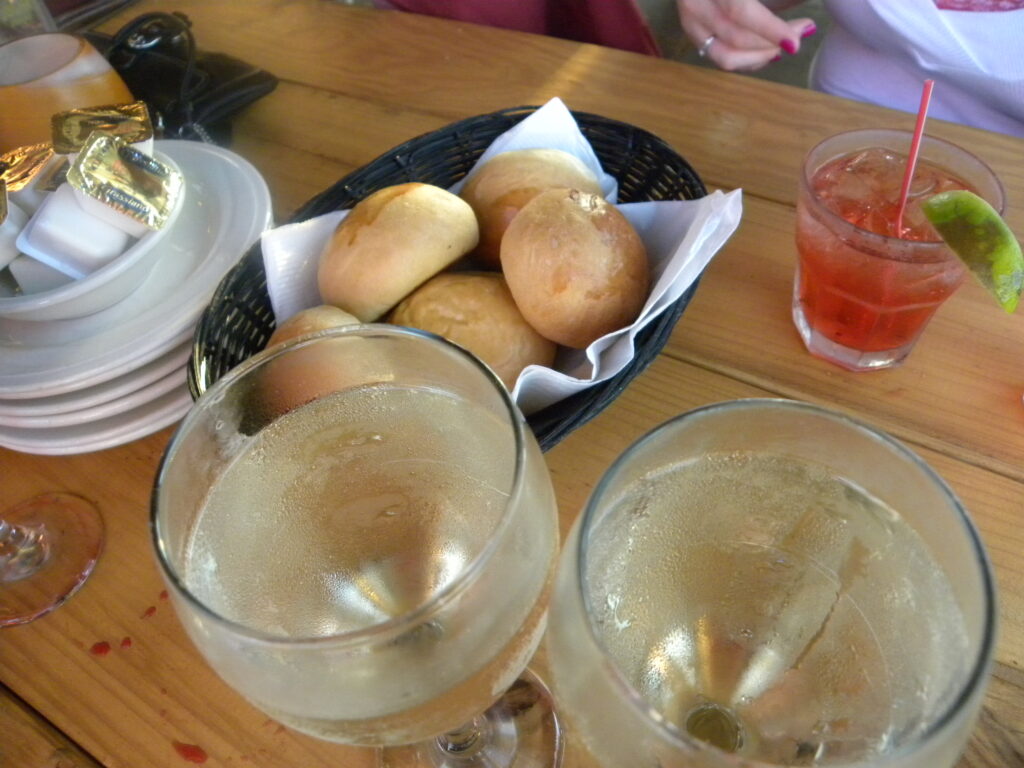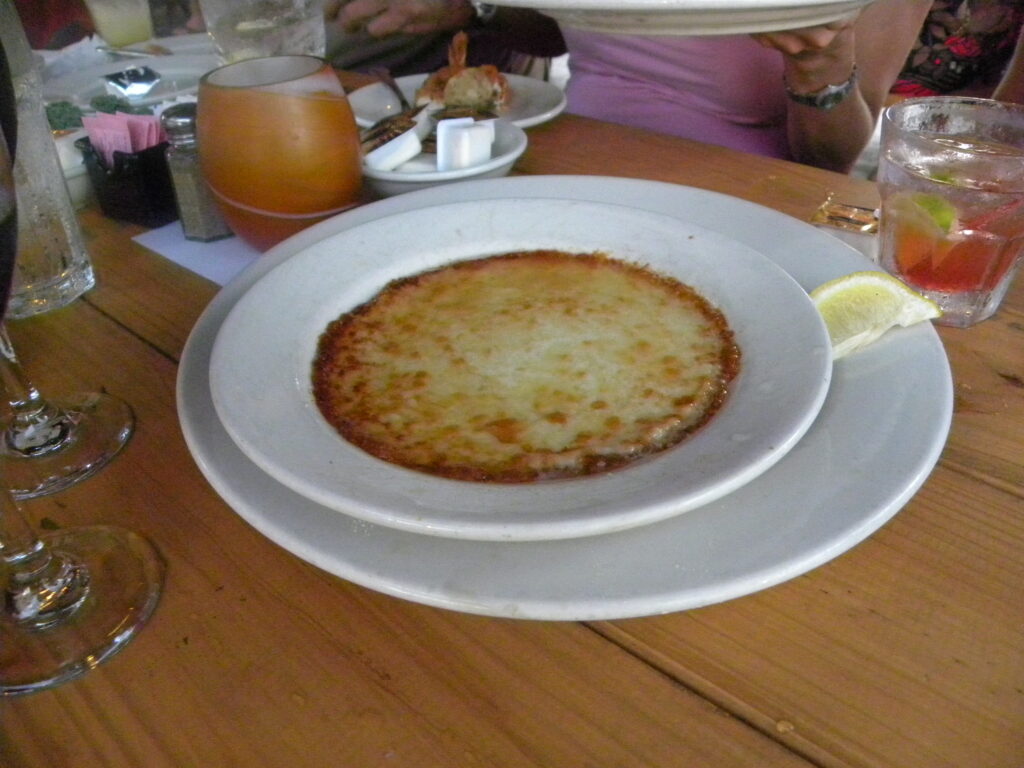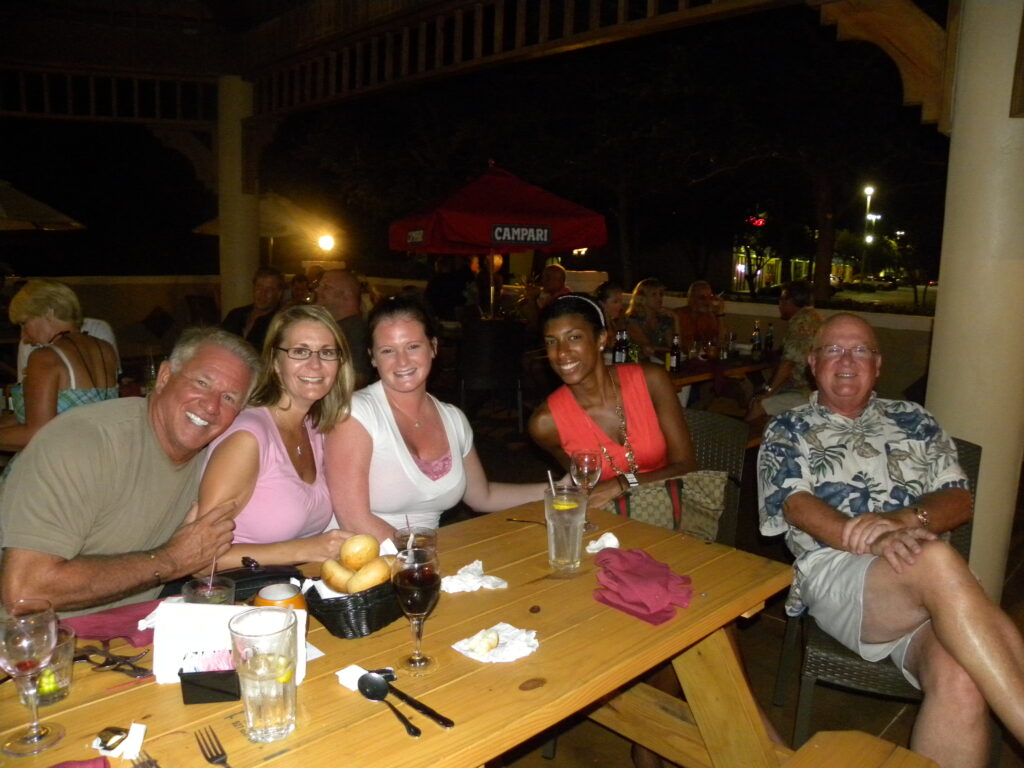 Melis' dad, Paul, is all the way to the right. He and Vickie are always such gracious hosts! I sense a very nice 'thank-you' gift being sent their way! 🙂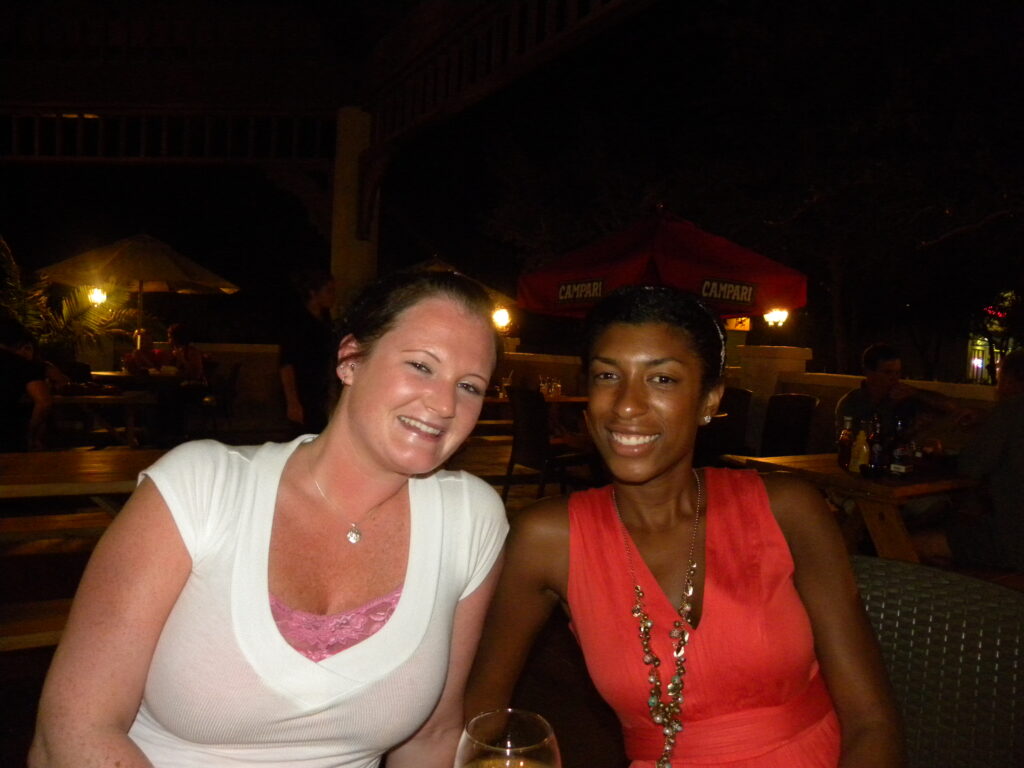 This was a perfect way to wind down a long week in the sun. Just sitting outside, relaxing, with tasty food and good music!
The following morning, as we backed out of the driveway, we looked up and spotted the biggest rainbow any of us had ever seen! It took over so much of the sky. Talk about a picture-perfect ending 😉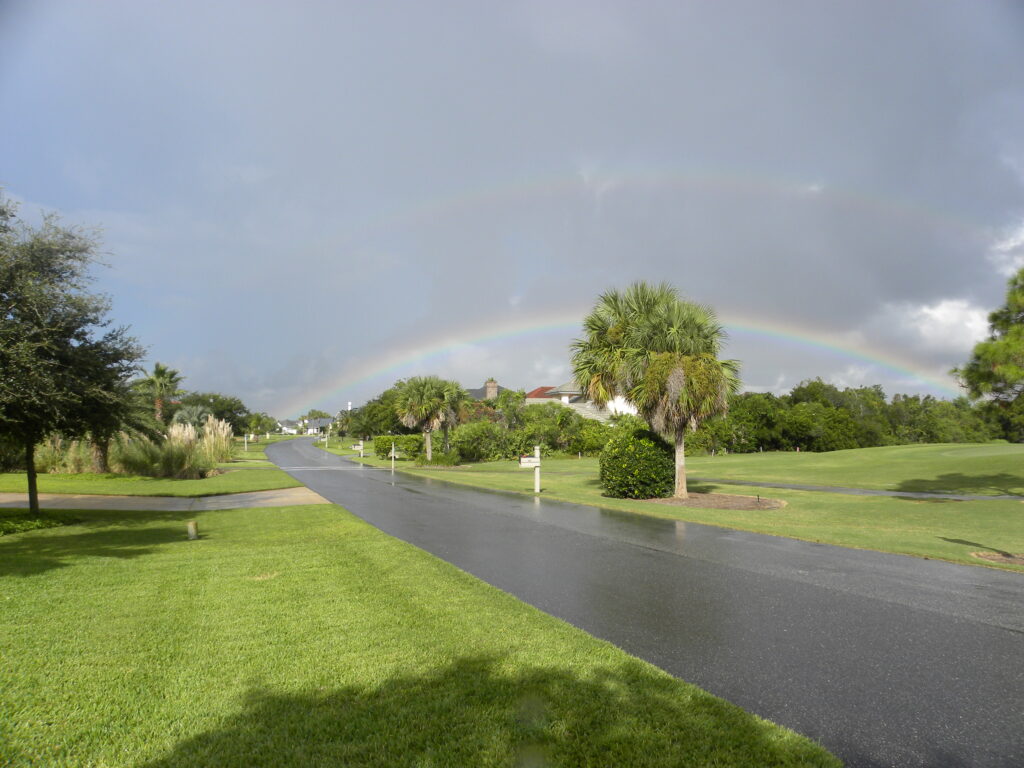 I miss the warm weather already. It was raining and somewhat chilly all day in Boston today! Thank you so much to Paul and Vickie for having me for the week, being wonderful hosts, and making me feel right at home as you've done so well for the past 12 years Melis and I have been friends! Love you!
[Chels]