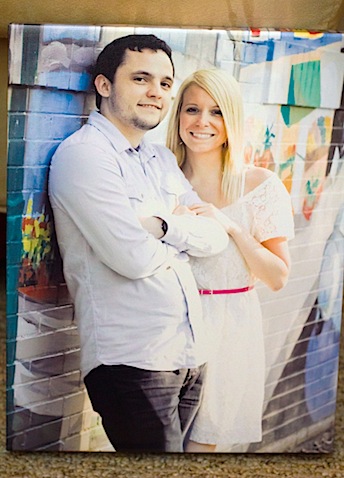 Staples has been good to us lately! In addition to the plethora of beautiful Martha Stewart wrapping essentials (wheee!), I was also recently given the chance to try out their EasyCanvas service. In the past couple years, it seems like canvas-making companies have been popping up by the dozen. Lots of them are pricey and lots of them are Internet-based. So, when I received an email offering to let me try Staples' service, I was curious. First of all, it was a whole lot less expensive than any I've seen before. And second of all, I liked that it was in-person. You bring your file to the Staples copy center and the sales person talks you through the process. Another plus about Staples? It's fast! They do have to send it out, but it generally happens within just a few days. Which means you could totally go today and have your canvas in time for a holiday gift (well, I guess you should probably verify that with your local Staples first to make certain!).
I realized Chris and I didn't have any photos of ourselves in our apartment and since we had some fabulous engagement photos done, I thought it might be nice to get one turned into a canvas. So, I grabbed my coupon and hit up my local Staples.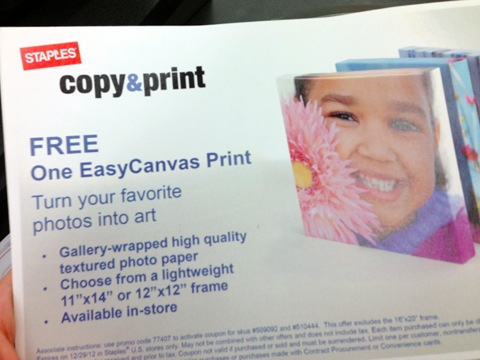 You can get the canvases in 3 sizes, 11×14, 12×12, or 16×20. The 11×14 and 12×12 are only $29.99, while the 16×20 is just $39.99. I couldn't even believe it, considering most canvases I've seen run at about $80 a pop.
My lovely Staples contact also threw in a free photo enlargement, too. It was a $6.99 value and kind of an afterthought for me, so I picked out another fun engagement photo and called it a day. The enlargement? Done in 5 minutes! And when the girl behind the Copy Center counter brought it out to me, I was instantly in love. I generally hate every single photo of myself, but this one makes me SO SO happy. It was taken during out engagement session in front of Coolidge Corner, our old neighborhood.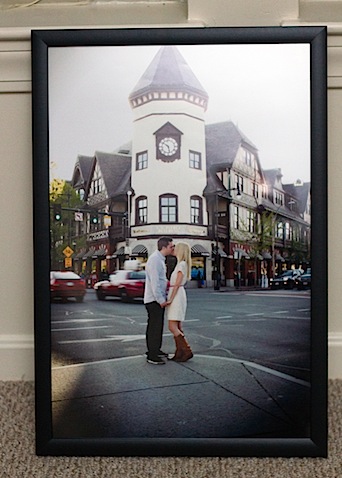 I instantly bought a frame for it (Amazon Prime– here in 2 days!). And then felt a little weird that we went from having zero photos of the two of us in our apartment to two really nice photos of just us. Is that weird? I mean, our apartment isn't that big, but maybe when we have a house someday, it will be a little bit more acceptable.
Anyway, I really want to hang the enlargement up next to this print that we currently have above our couch. It's Coolidge Corner WITHOUT us standing in the middle of the road.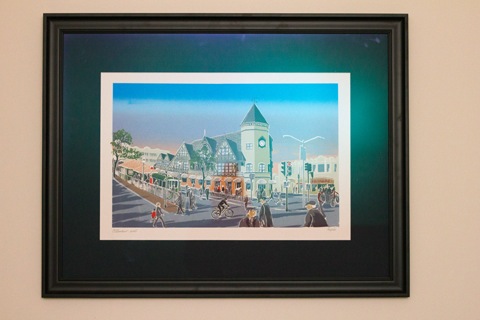 Clearly we're in love with our old neighborhood.
A few days after bringing my file into Staples, my EasyCanvas was done. They even emailed me to double check a couple things and show me the proof.
If you know the Brookline neighborhood, then you probably know where this is. It's right by the pretty mural on the brick wall on Harvard Street.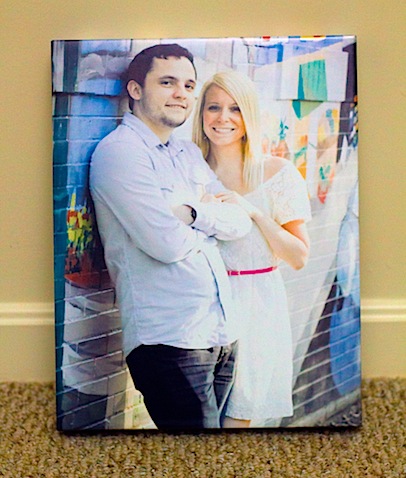 Wait. Would it be weird if I made a thousand EasyCanvases and hung them all over my apartment walls? With some photo enlargements in between? Because I'm kind of obsessed. This was way too easy and inexpensive and totally addicting. I think everyone in my life is going to be getting a Staples Easy Canvas for the next few gifting holidays 🙂 I'll try my best not to make it a canvas of me and Chris (unless you want that and then I can totally make it happen!).
I am totally trying to restrain myself from saying "that was easy." But it so was. Oh wait, I just realized I already said it in the paragraph above. Oops 🙂
Staples Easy Canvas Giveaway!
Now, you can win your own EasyCanvas and photo enlargement from Staples! All you have to do is leave a comment on this post letting me know what you would get on your EasyCanvas. Enter by Wednesday, December 19, at 11:59 p.m. for a chance to win! And for an extra entry, follow @wearenotmartha on Twitter!
Hope your holiday season is merry and bright so far 🙂
[Sues]
I'd also like to express my condolences to all of the victims and their families from Newtown, CT. There aren't really any words that are sufficient for times like these and it doesn't feel right to go on being "merry and bright," though I know we must somehow continue on. When I heard the news, I immediately realized everything I was tweeting about and posting about seemed so trite in light of what was happening and I had to step away from the holiday celebrating and self-promoting. I don't know what's the right thing to do now, but I'm pretty sure it's simply to hold your loved ones close and be so, so thankful for everything good in your life. I know how extremely lucky I am to be where I am and to have the people I have in my life. I think everyone will be taking a closer look at what the holiday means this year and I hope that we can all somehow come together to make the world a better place. If you need a smile or a little extra faith today, check out the Wall of Love.