Ya Fiahed! Kidding 😉
I spent a good amount of time this afternoon shuffling some things around in my closet-turned-office and doing some major organization. So I figured I'd share! To me, organization is sorting through paperwork and getting rid of old bills and mail, giving specific items a new home, labeling things that have been difficult to find the past few months, and of course, redecorating and hanging photos.
My closet-turned-office is already very well suited for what I need it for considering the small size of it: space for my computer (needed for blogging and design work), space for my printer, designated drawers and baskets for all of my paper and design supplies, and bright colors and images to keep me inspired when I'm in the creative zone.
I decided I really needed to label my drawers and baskets since I can't see into them it's difficult at times to remember which storage compartments house which materials. Since I need to draw and write everything down before I actually do it, this is what my "notes" for labeling all the storage looked like. Sheer chicken scratch, but it works to have a point of reference, and that's all that matters!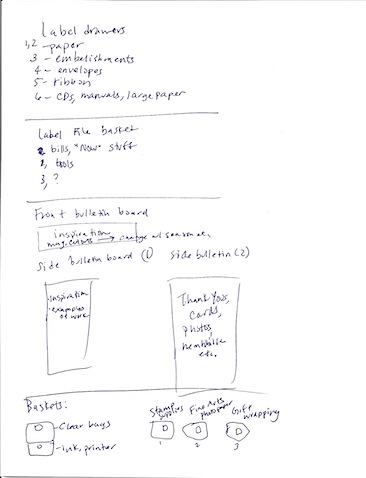 So for the labeling of my drawers, I used this absolutely wonderful little gadget I recently purchased. It's a 2.5″ create-a-sticker machine made by Xyron. So yes, it creates stickers out of anything under 1.5″ wide… Paper, ribbon, fabric! You simply slip the item you want to "stickerize" (made up word alert) through the machine and when you pull it out, it has an adhesive backing. As a crafty person, I don't know how I've lived this long without this machine… stickers will be stuck everywhere 😉 For under $12, it's easily one of the best purchases I've made this decade. The Create-a-Sticker machines actually come in a wide variety of sizes so I will most definitely look into buying a larger size in the near future to work on larger projects.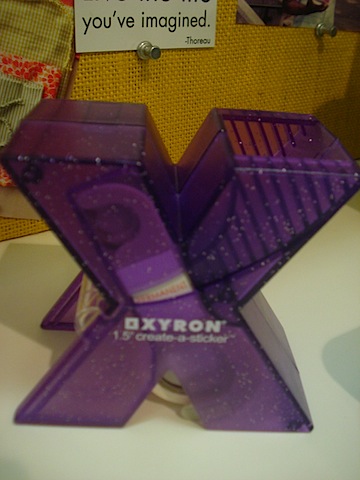 I set up a simple text document in a layout program on my laptop with all of the categories I needed to label my drawers, printed them on a curry colored cardstock, printed, cut, and "stickerized"!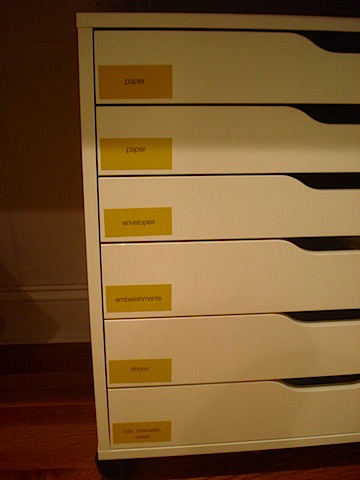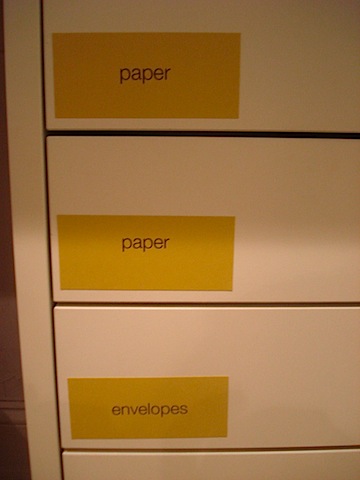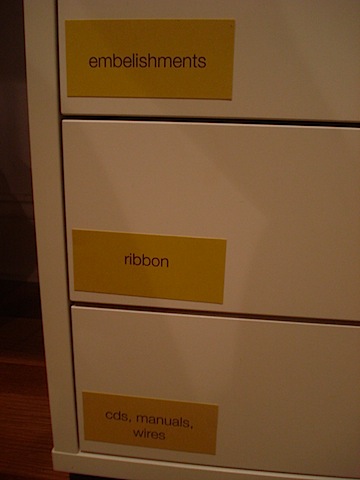 When it came time to label the baskets, I punched two holes at the top of each tag and tied a piece of ribbon to the top of the basket. These baskets are up pretty high so I could never remember what I had in them… labeling definitely helps!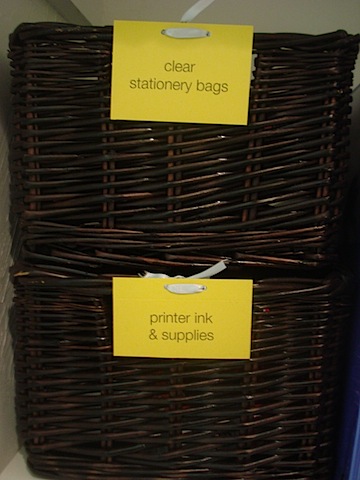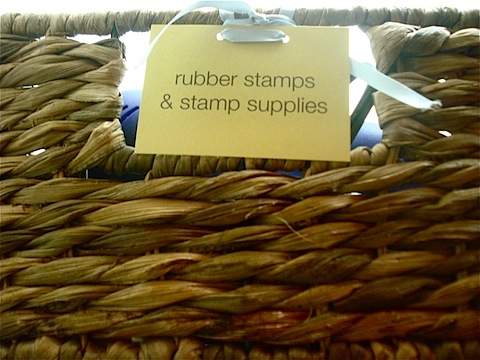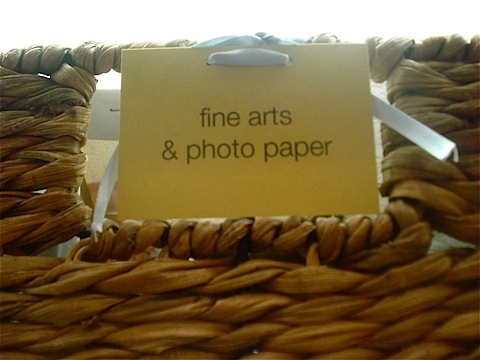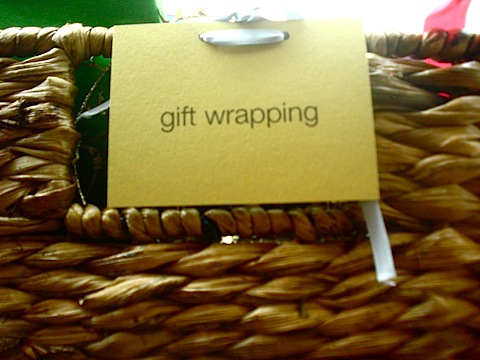 So as far as the actual office goes, not much has changed since I put it together at the end of last year, but I thought it needed a little jazzing up!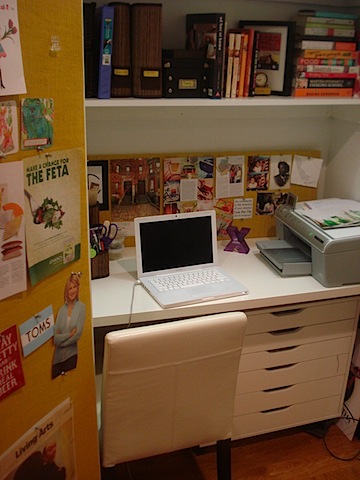 I did, however, spruce up the bulletin board that's hung directly in front of me. I added some photos, clippings from magazines, and drawings as bits of inspiration. Colors, textures, photography styles, and memories that motivate me…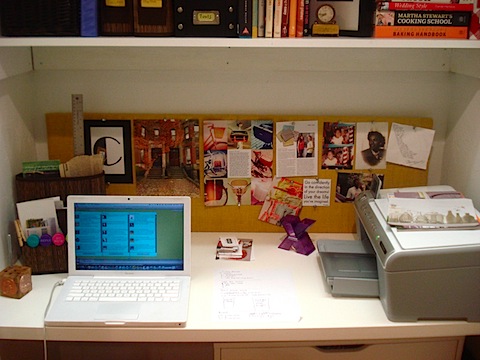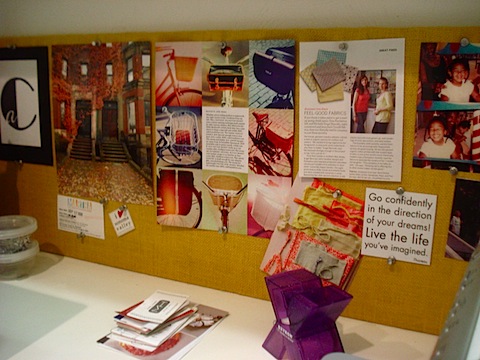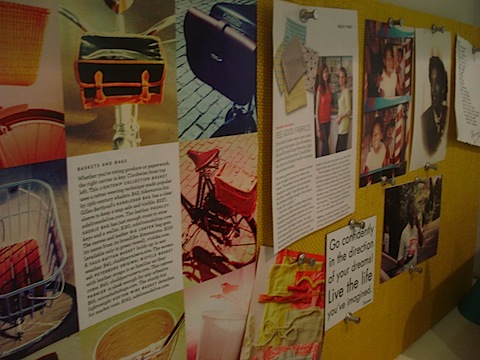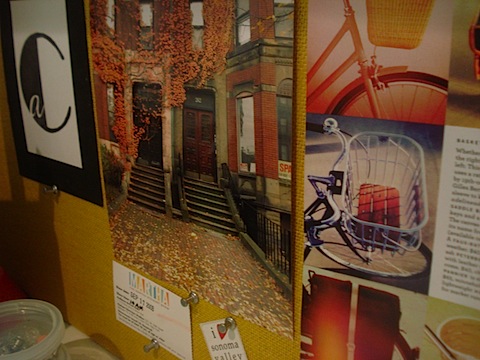 If you remember, when designing the space, I hung two homasote boards (very inexpensive material that can be purchased at large hardware stores) and wrapped them in yellow burlap that I bought at a fabric store to create bulletin boards. A far cheaper solution as opposed to going to an office supply store and buying bulletin boards. The last time I showed you the space these boards were empty. I decided to use the one on the left as a start to a large inspiration board…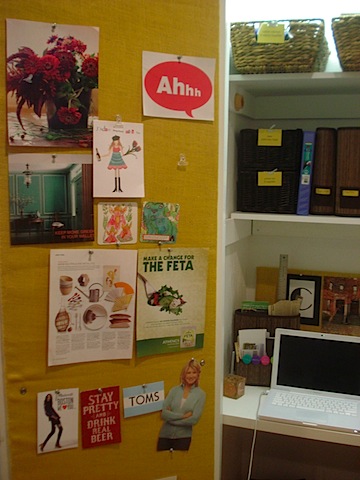 Hi, Martha! I felt kind of weird putting a tack in her head 🙁 If I had the larger Xyron machine I would have made a Martha sticker, though 😉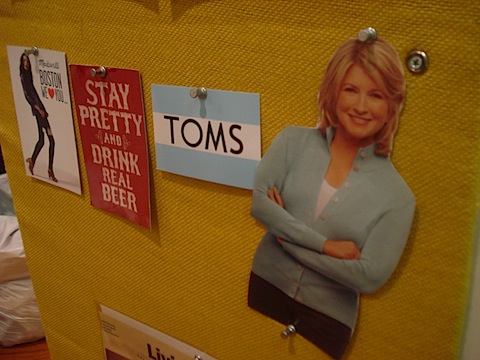 And I used the bulletin board on the right door to hang some of my favorite cards customers and friends have given me, some photos, and other memories. And for the record, most of my favorite cards are from Kate… she always gives me such thoughtful cards that are not only very "me" looks wise, but she writes the sweetest most thoughtful messages in them. I think she's a loyal Papyrus shopper for greeting cards if you want to adopt her style 😉
The pig card on the top right says on the outside "What's shakin' bacon?" I obviously bought that one for myself 😉 I didn't even look at the inside of the card for a long time after I purchased it and I belted out in laughter when I happened to notice that the inside reads "…besides your big butt"… hahaha!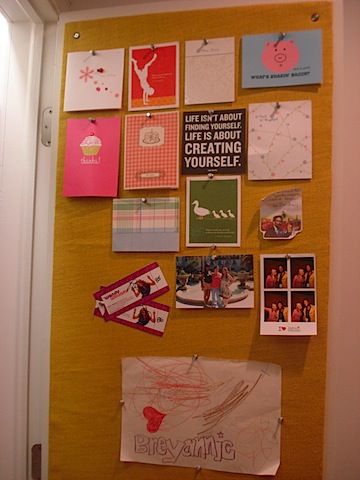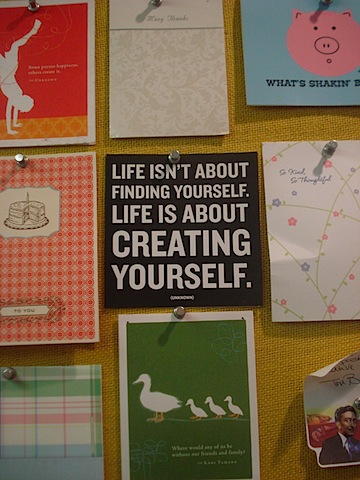 Some other fun accessories are these magnetic clips that I found in the dollar bins at Target. I'm pretty in love with that dollar section, I always find pretty neat stuff on the cheap! Toss, reply, do now, and read magnets are great for sorting mail and important documents.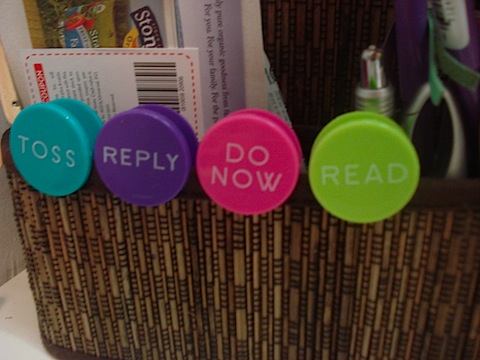 Since the last time I showed you my office back in November, I also added this tin trash can I once had in my bedroom… I want to say I bought it at Marshalls years ago, but it just so happened to match my color scheme perfectly I couldn't help but relocate it!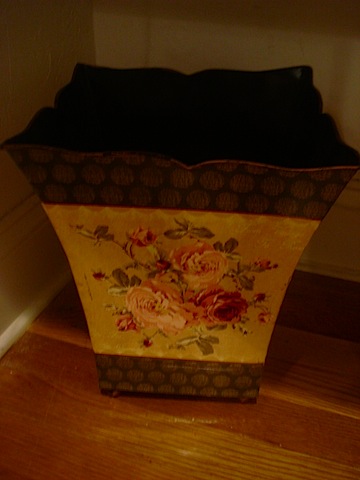 And this pile of business cards, which is probably less than 1/4 of what I really have, are being worked into a REAL fun project for next week…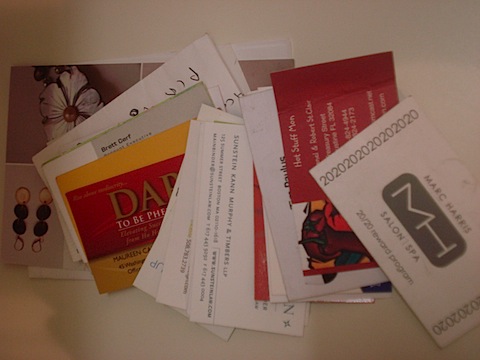 I feel like a new woman now that I can breathe in this space again and everything has it's own place! 😉 It's funny how little things like reorganizing and refreshing a space can really create the ultimate sense of creativity and motivation!
What inspires you to do what you love?
[Chels]