Last night, Chels and I attended our second ever class at Stir Boston. She signed us up for the class as my September birthday gift and we've been anxiously waiting to attend since then! We said it before and I don't think we changed our mind from last time, but attending a class at Stir is one of the best things we've ever done in Boston.
Stir is a demo kitchen and cookbook library. It's tiny and intimate and only 10 people are in each class. It's owned by the famous Barbara Lynch who also owns restaurants like No. 9 Park, The Butcher Shop, B&G Oysters, Drink, and Sportello. Clearly she's one incredibly talented lady (she also just wrote that Stir cookbook you can see on the bookshelf)!
Our class was based on Thomas Keller's cookbook Ad Hoc at Home and was taught by Robert Grant, the Chef de Cuisine at The Butcher Shop, and Molly Loveday, Stir's Executive Sous Chef. Molly was also teaching our last class, so it was great to see her again. Both chefs were awesome and more than happy to answer any questions and show us anything (including a chive-cutting demonstration when we marveled over how finely the chives were sliced).
On to the food! We started off with Chicken Soup with Dumplings and a Farro and Black Rice Salad. I honestly don't think either of us realized soup could be as good as this chicken soup with dumpkings was. It was deliciously rich and flavorful without being heavy or too filling. And the chicken was probably the best we've ever had! It turns out it was Giannone Chicken from Canada. Any chance we can get our hands on some of that?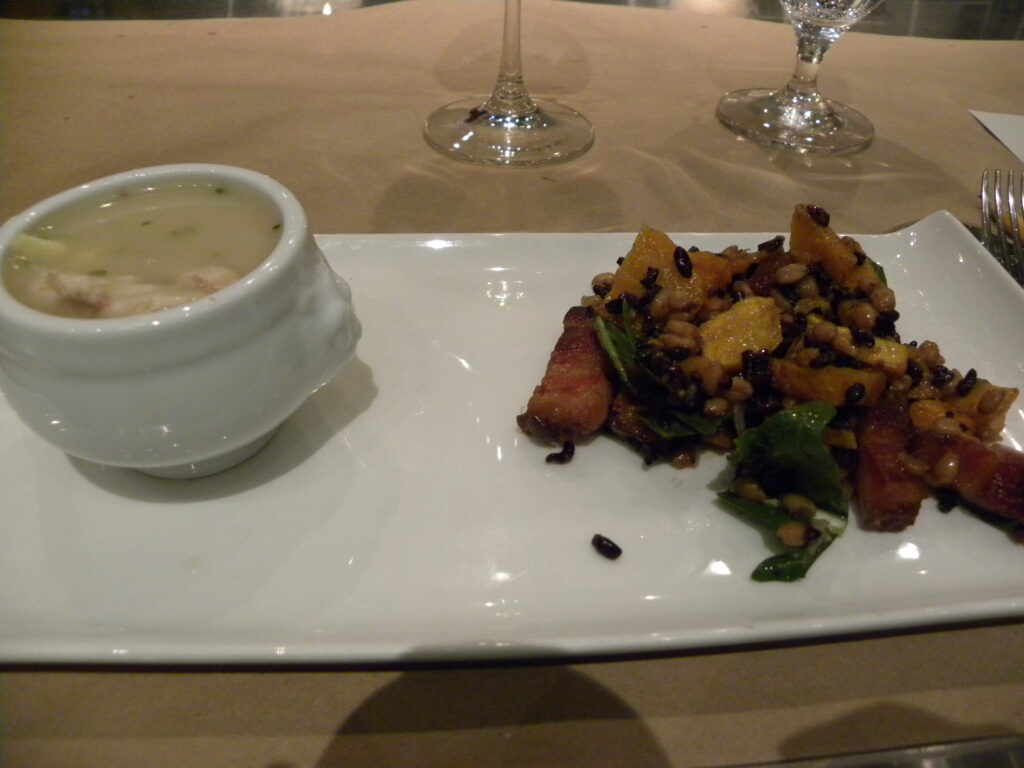 Nor were we aware a salad could be so wonderful. The addition of the squash, dandelion greens, and bacon really made the dish perfect for a freezing cold Boston evening.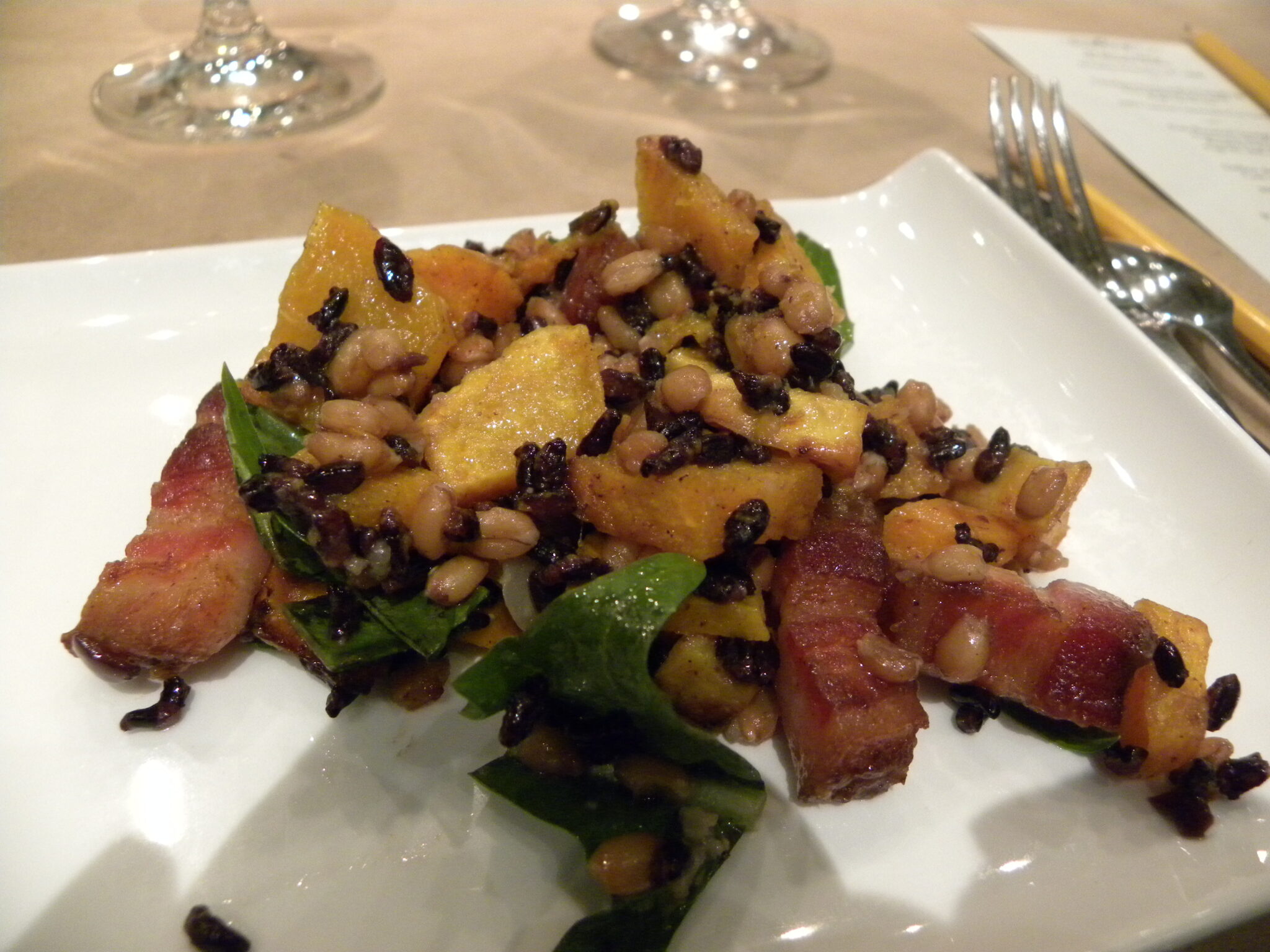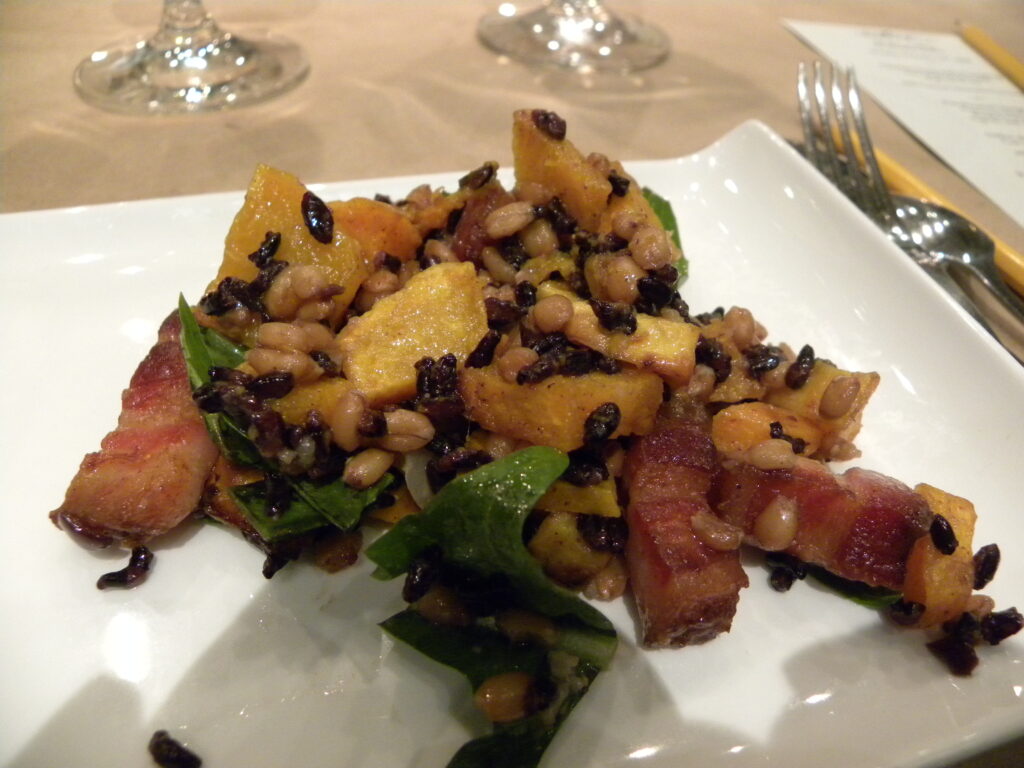 You better believe us when we say out plates were completely clean at the end of the first course.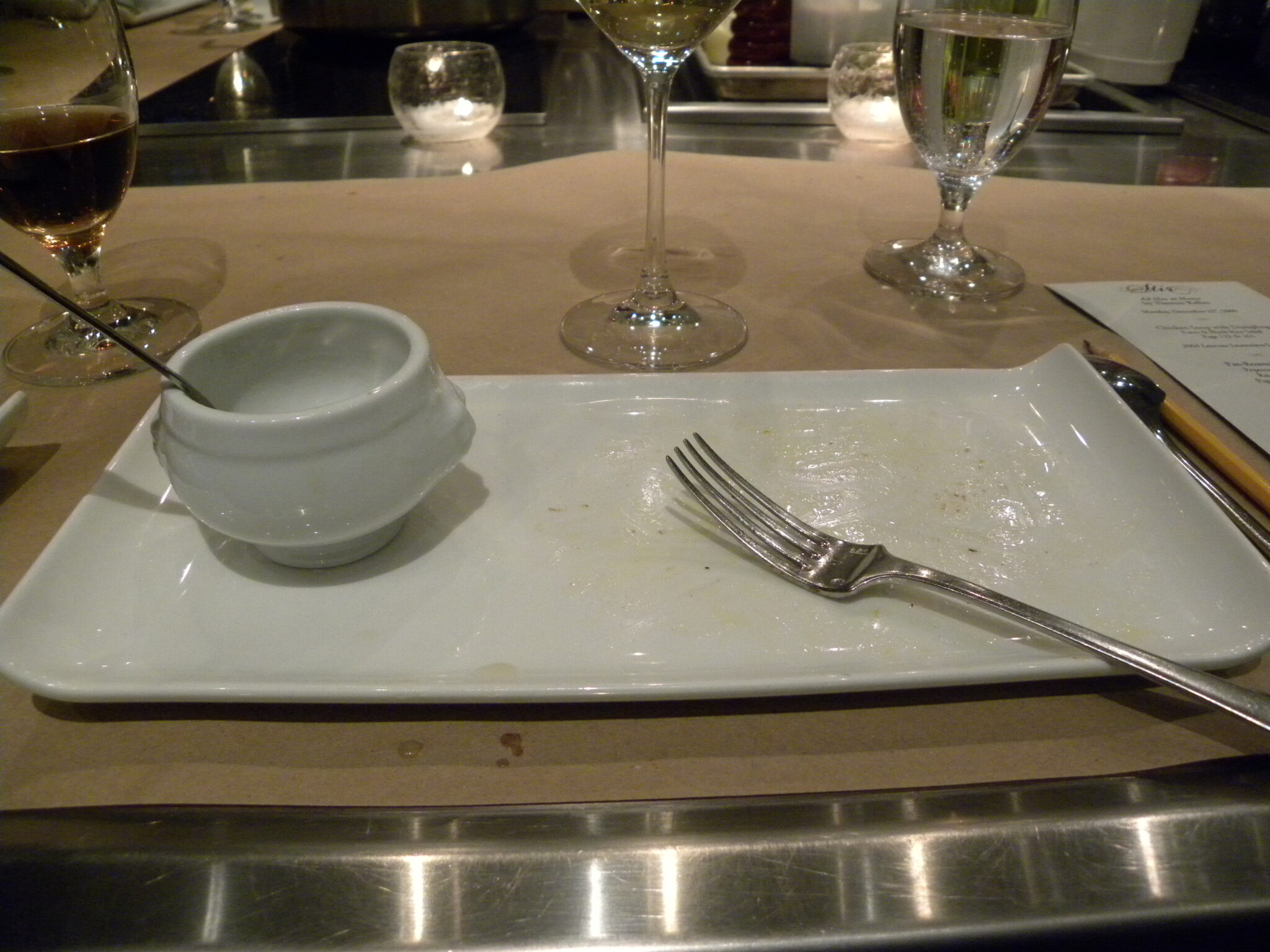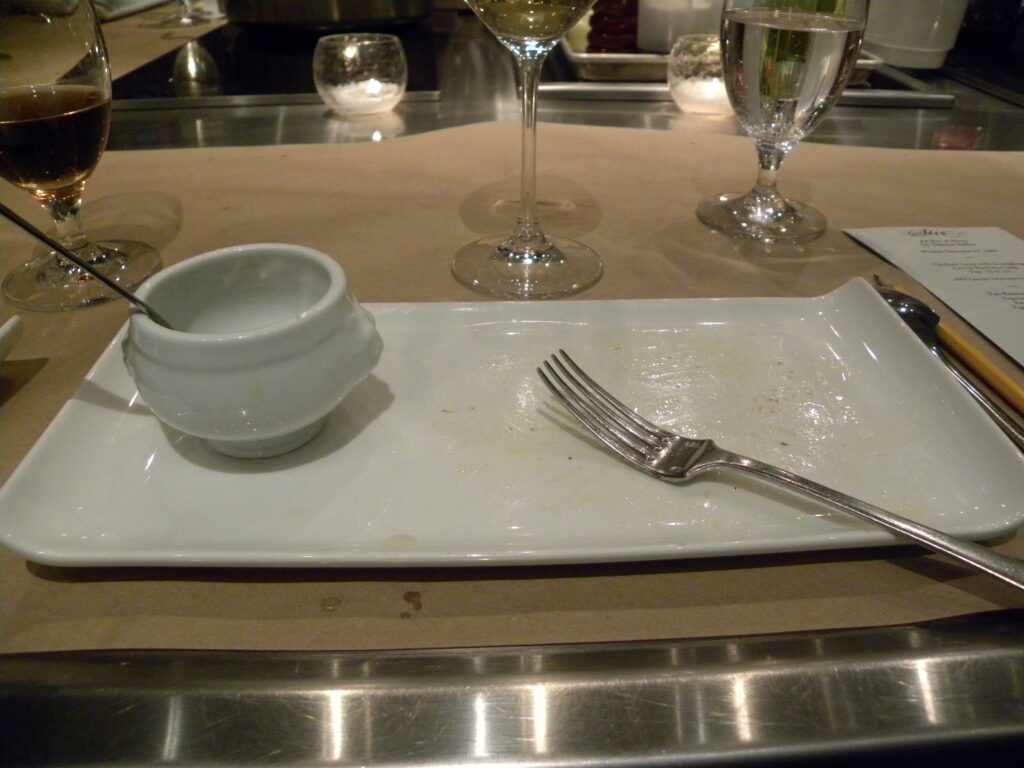 Each course was also paired with a wine. We started with a 2004 Laureau Savennieres. And for our second course, we moved on to a 2007 Lapierre Morgon.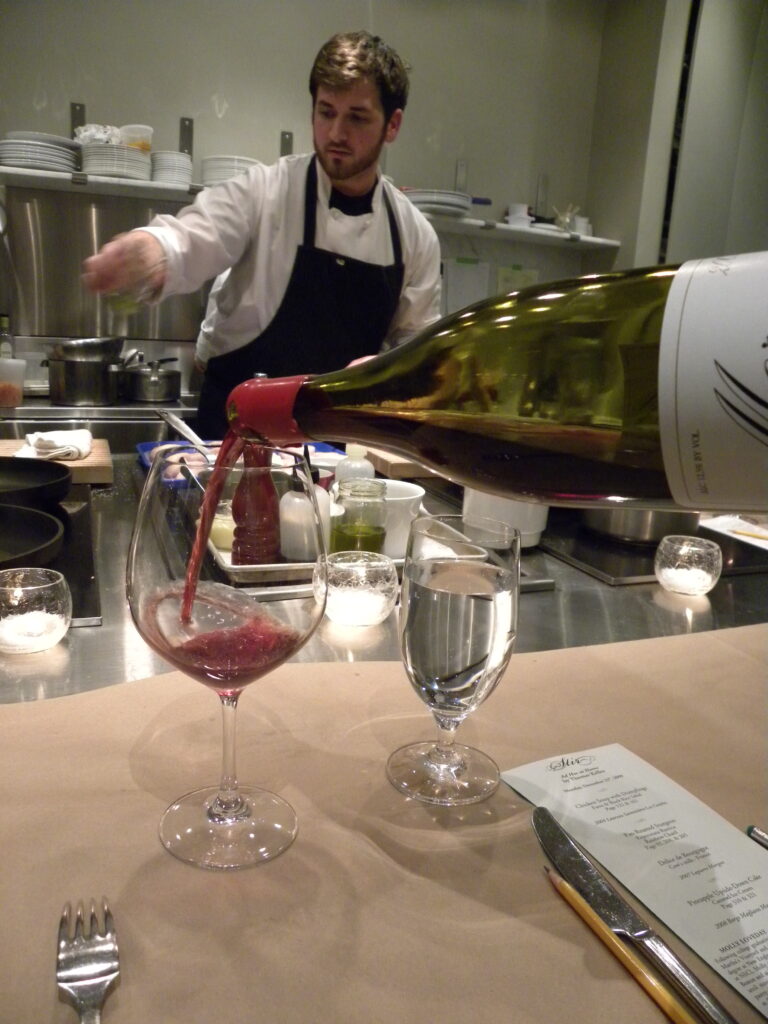 The second course was Pan-Roasted Sturgeon with Peperonata Rutica and Rainbow Chard. Chef Robert showed us a sturgeon Stir had just got in that day and it was huge (and beautiful)!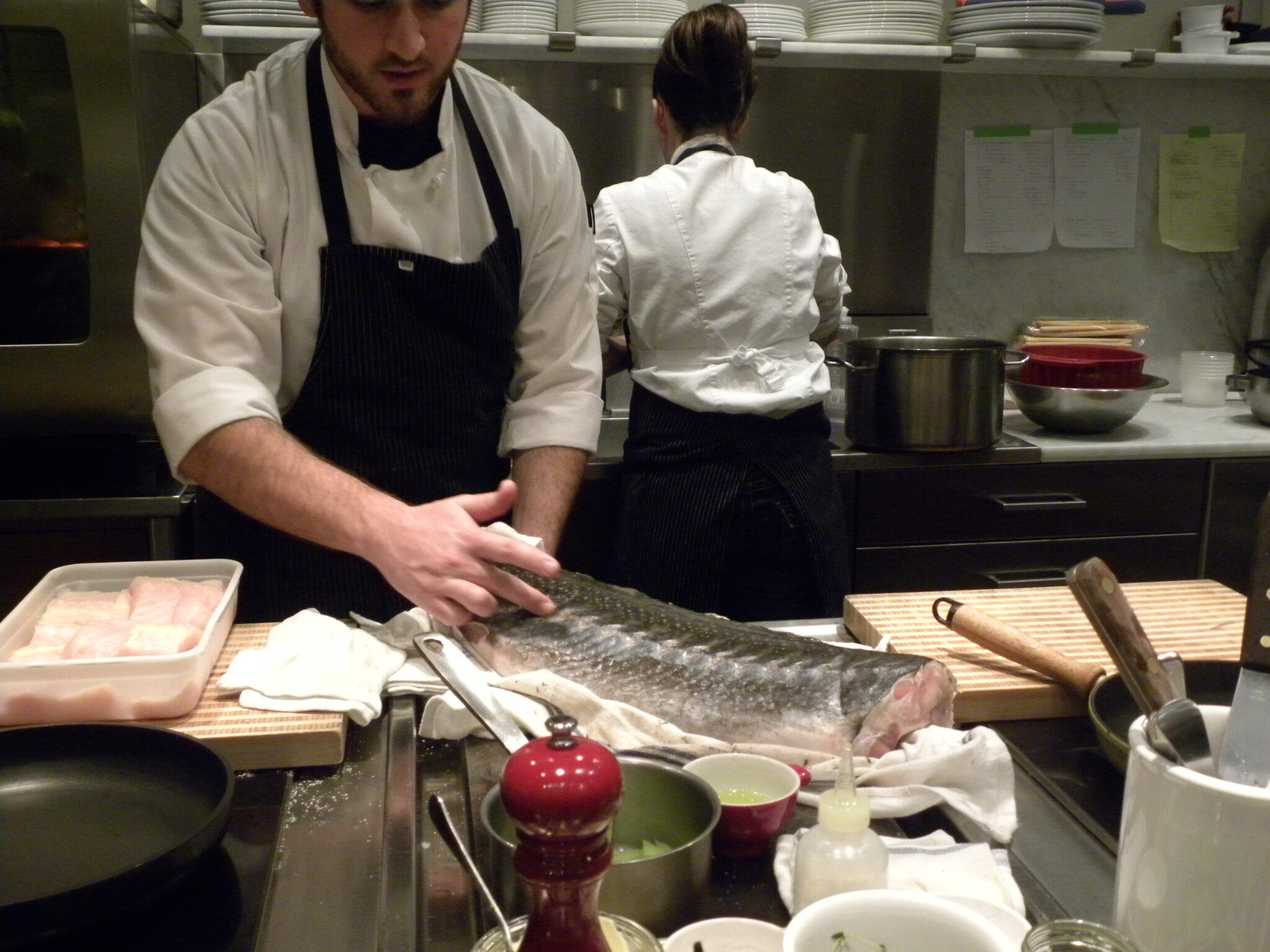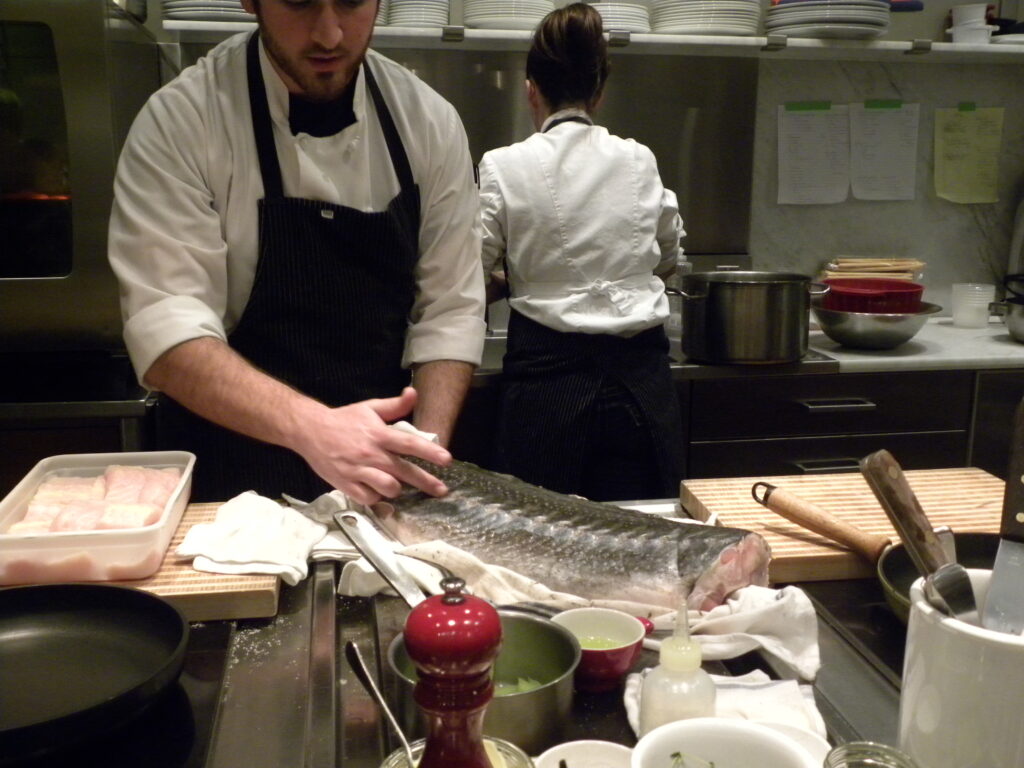 Neither of us have cooked sturgeon before, but it's definitely on my list of must-cook fishes! This fish was incredible! The flavors of the fish, perperonata, chard, speck, and soffritto went so well together and I found myself trying to get a little bit of each in every bite.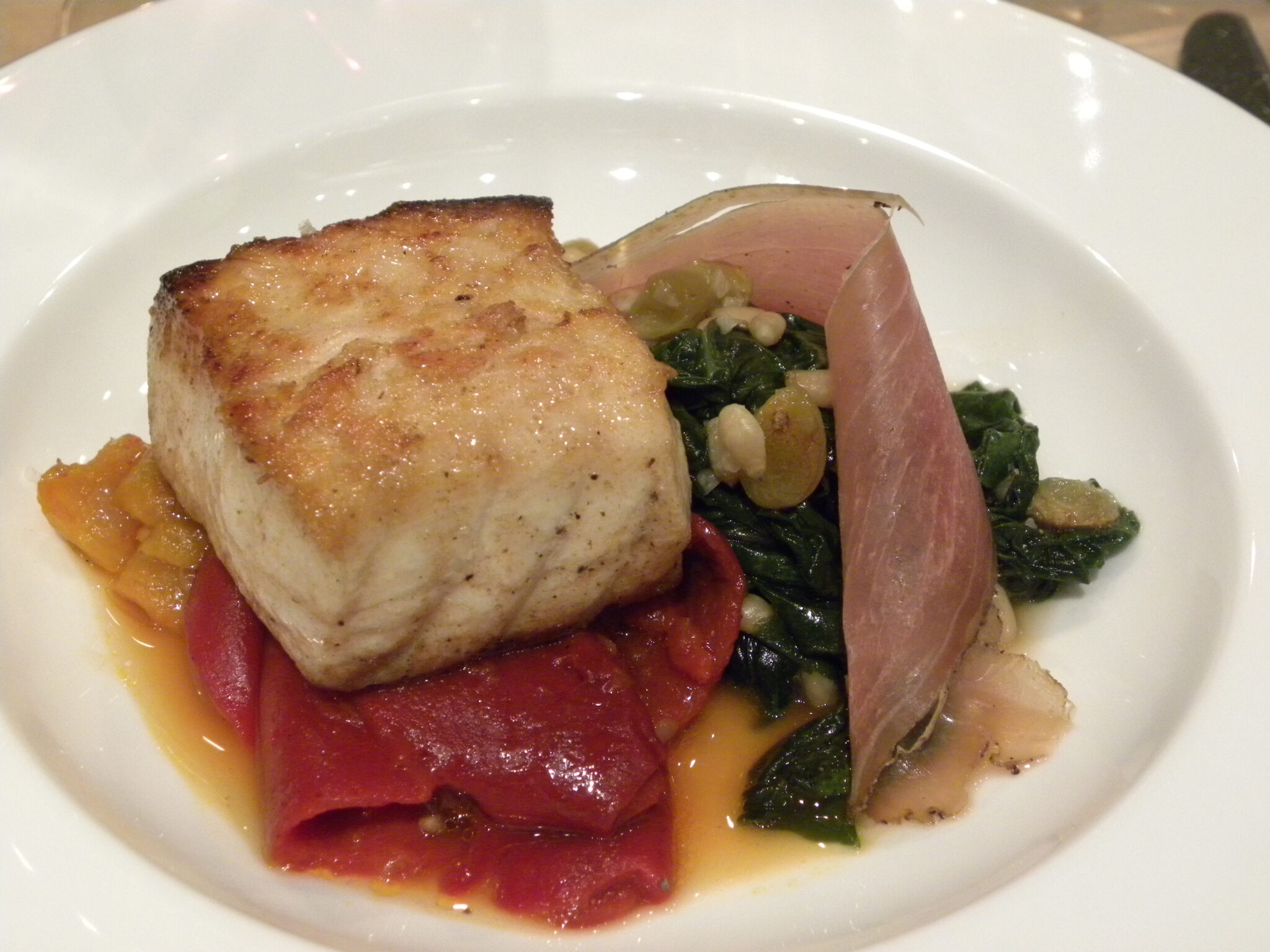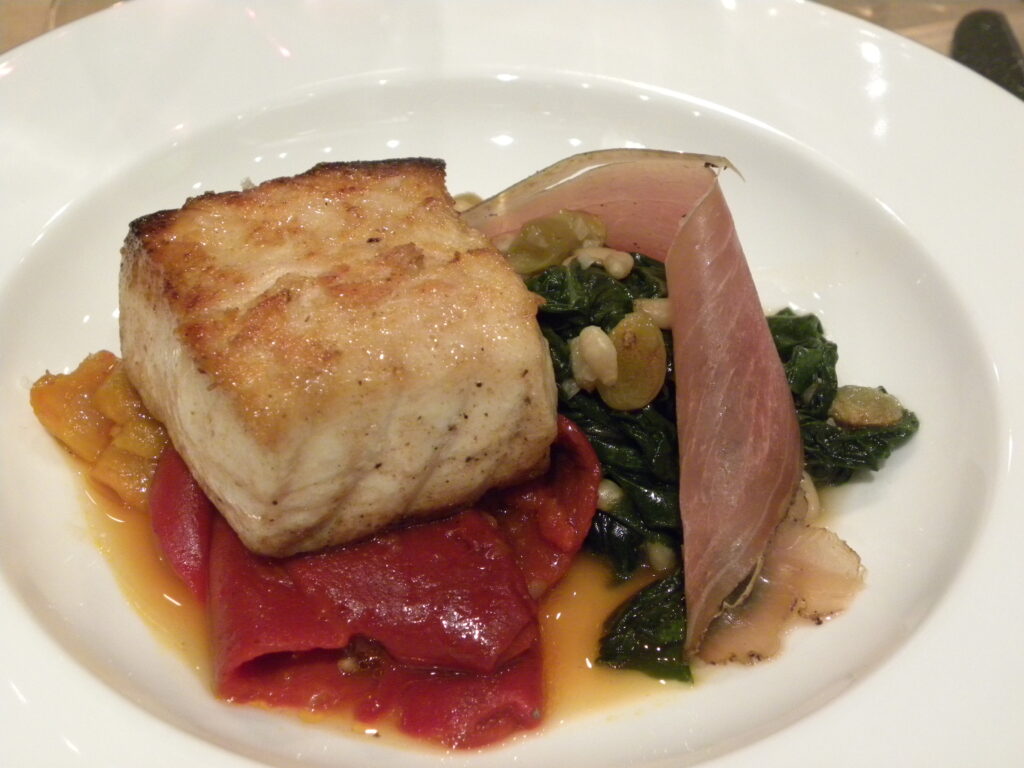 Rainbow chard is one of my favorite veggies, but I've never tasted such an incredible chard with the addition of golden raisins and pine nuts.
And yes, again, plates were cleaned.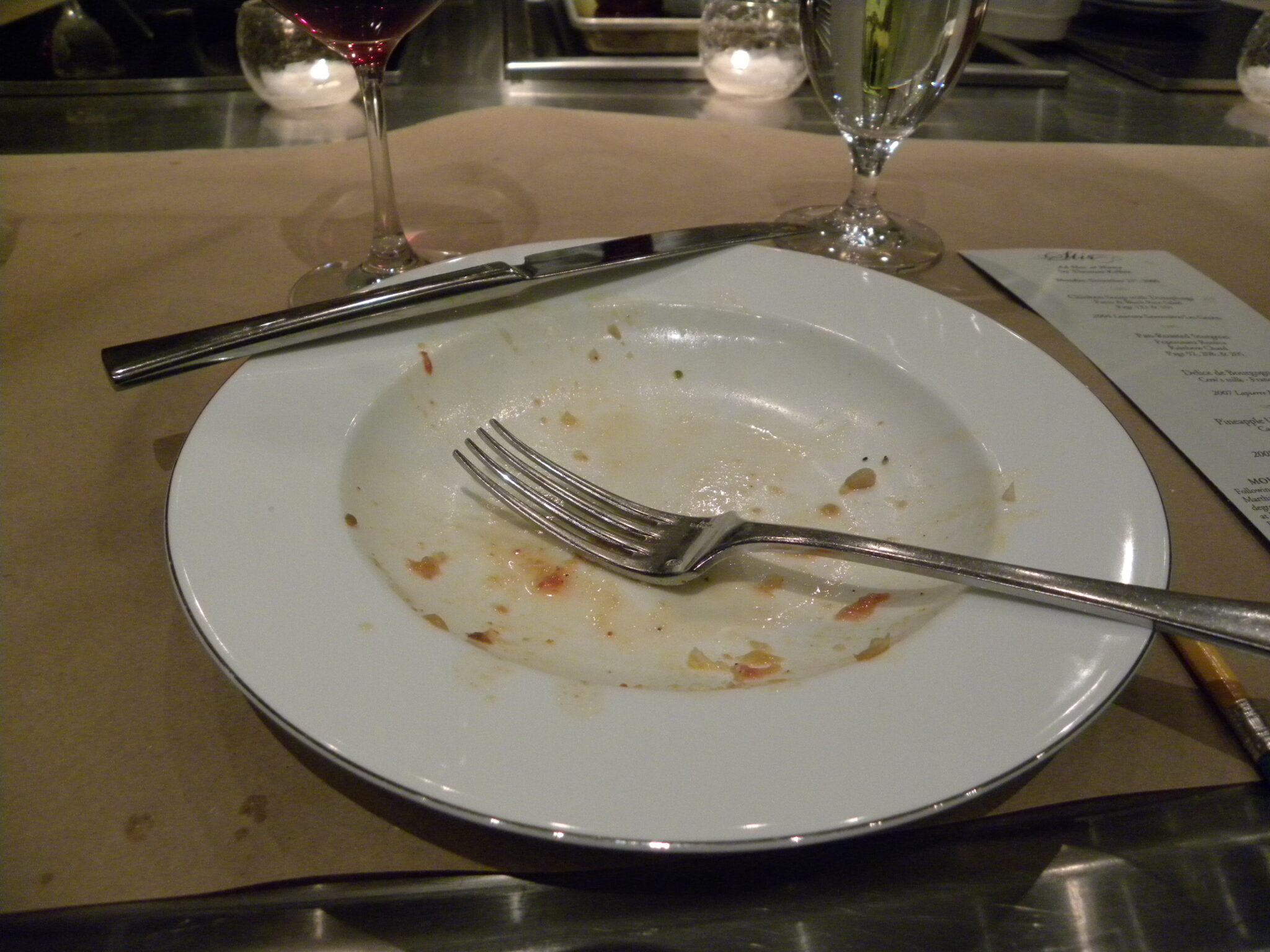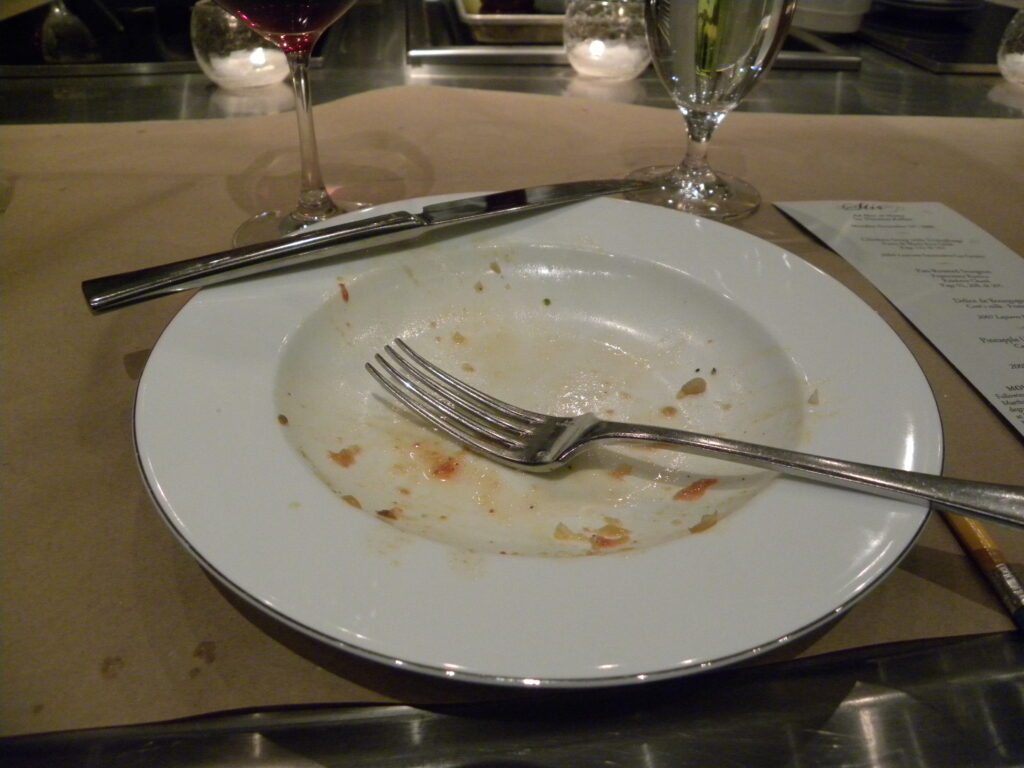 Next we were treated to some cheese, a Delie de Bourgogne. Wow! It was so creamy and could have sufficed as a meal in itself for me (but then, I could live off cheese). There were a whole lot of "mmmms" at this point.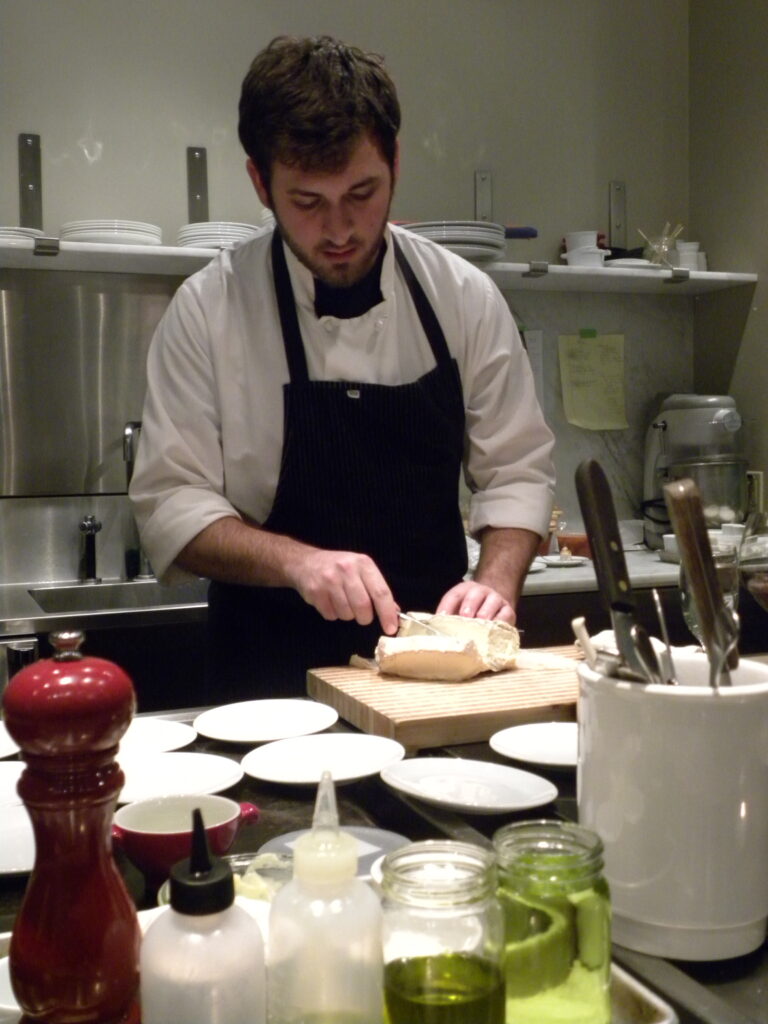 The cheese was paired with candied apricots.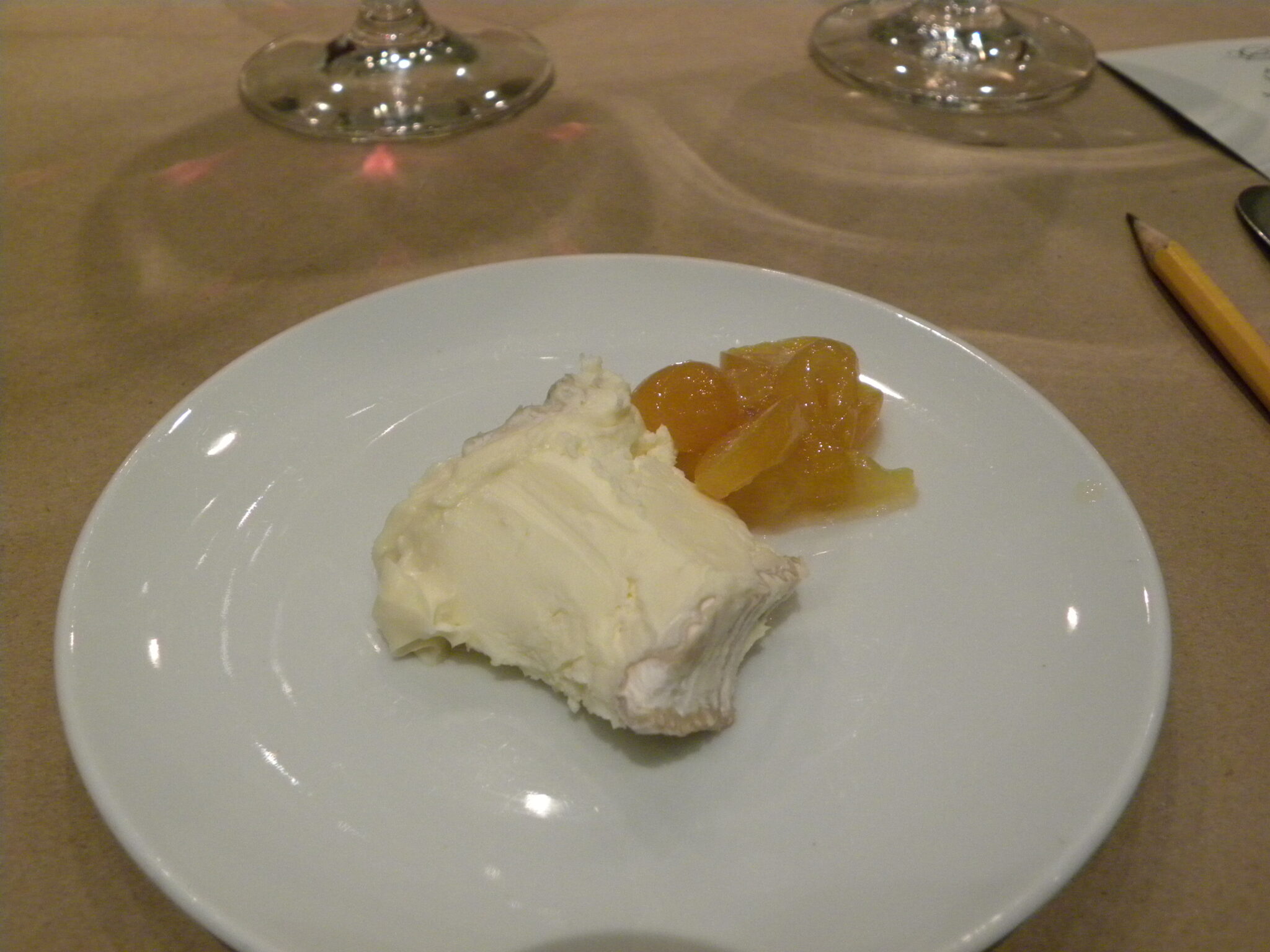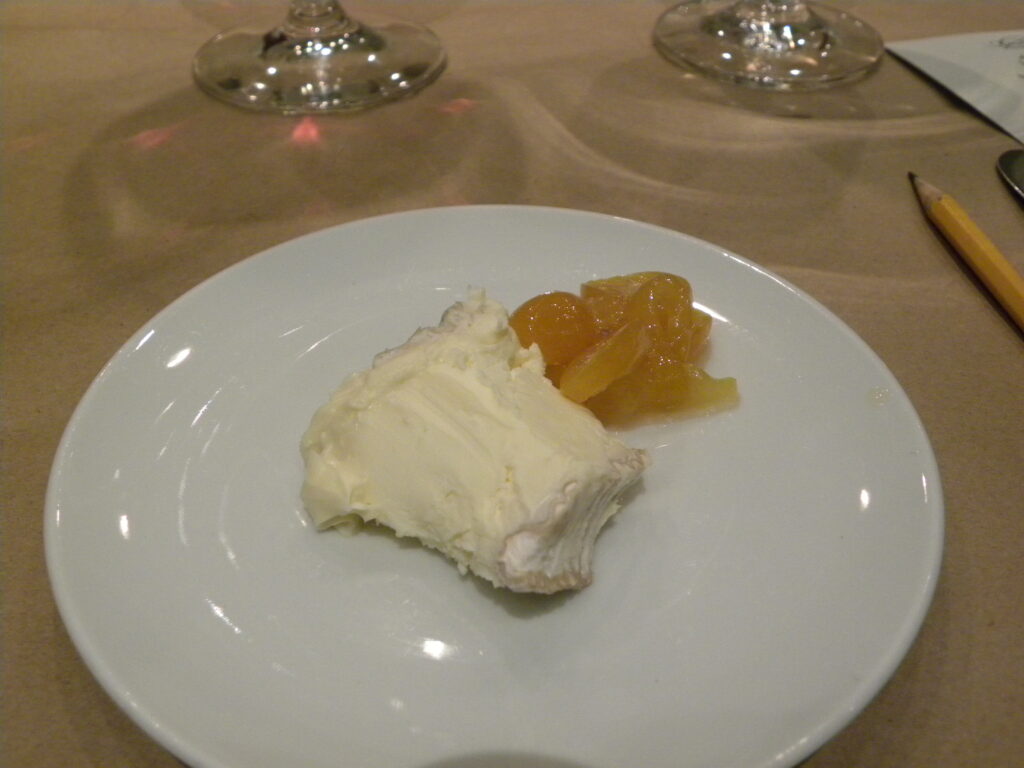 That one was easy.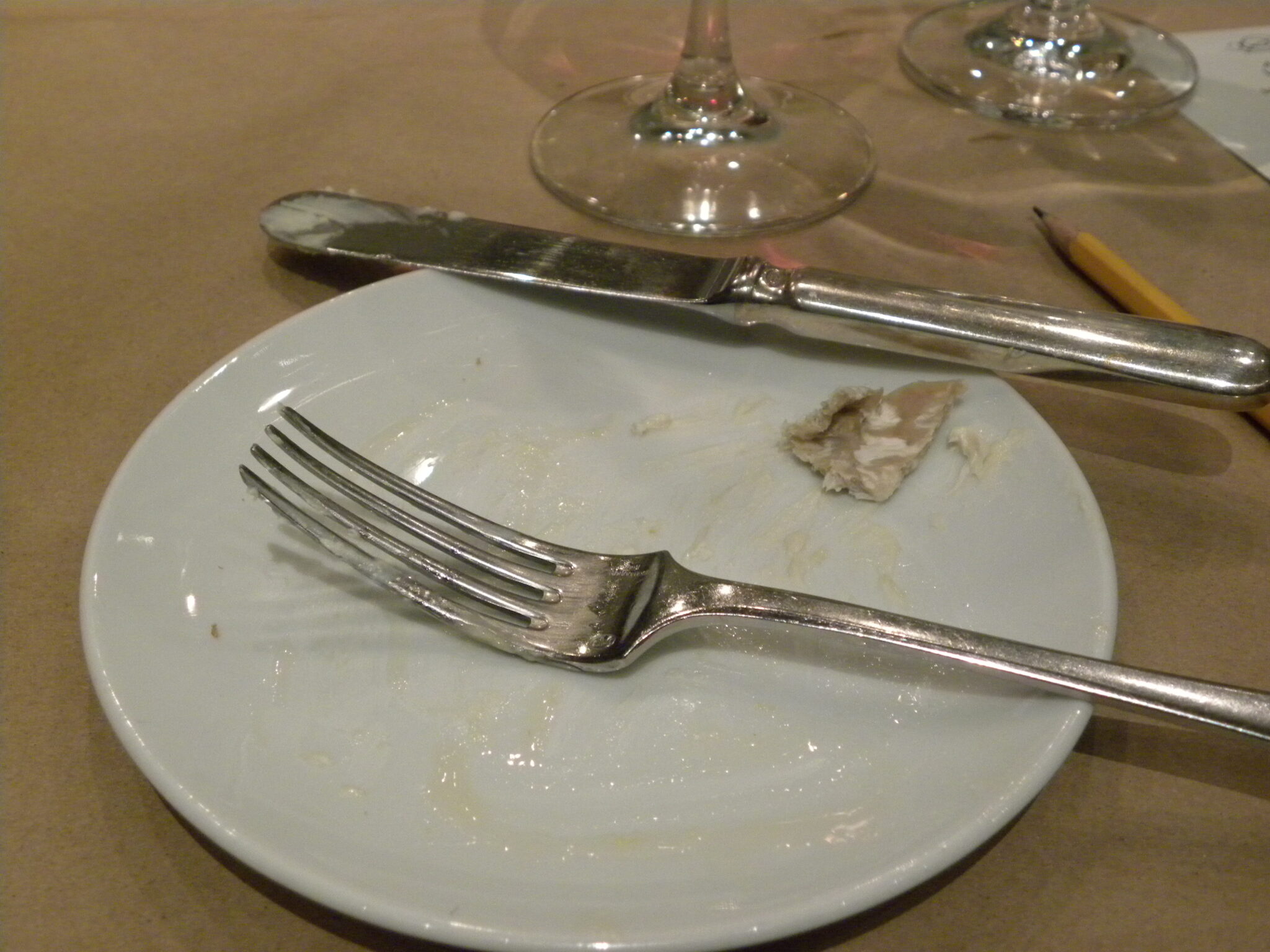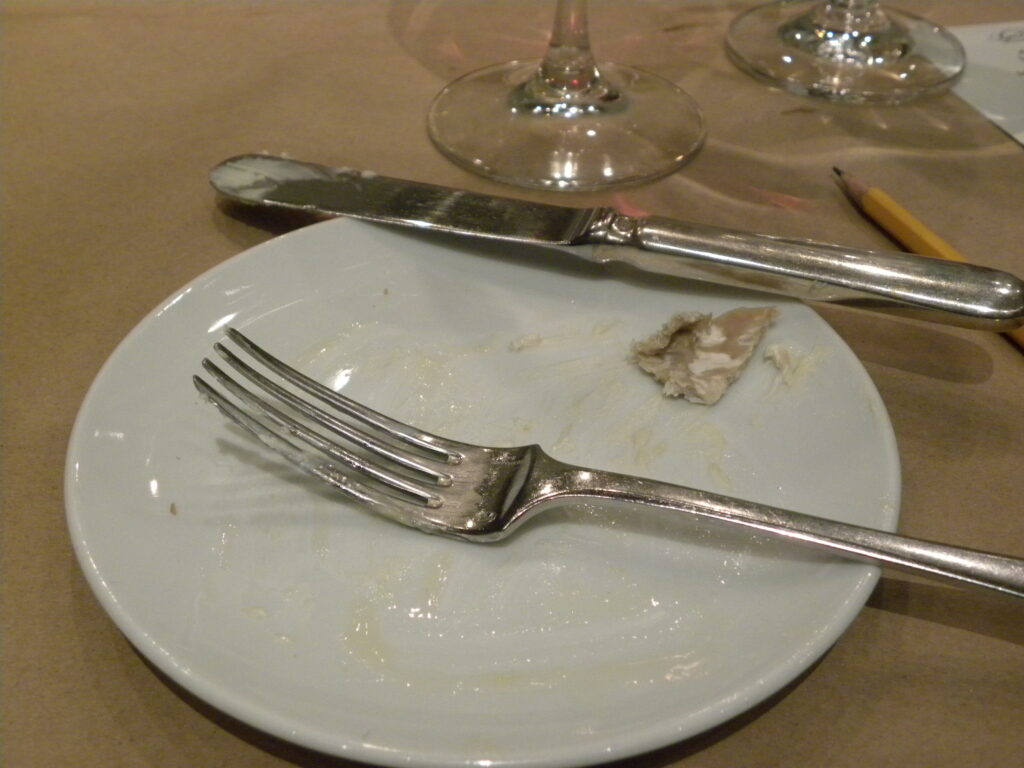 Lastly, we were treated to a Pineapple Upside-Down Cake with Caramel Ice Cream.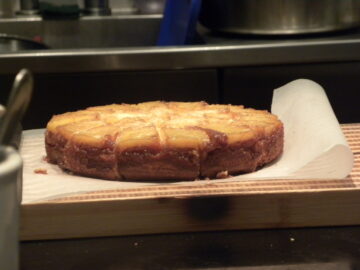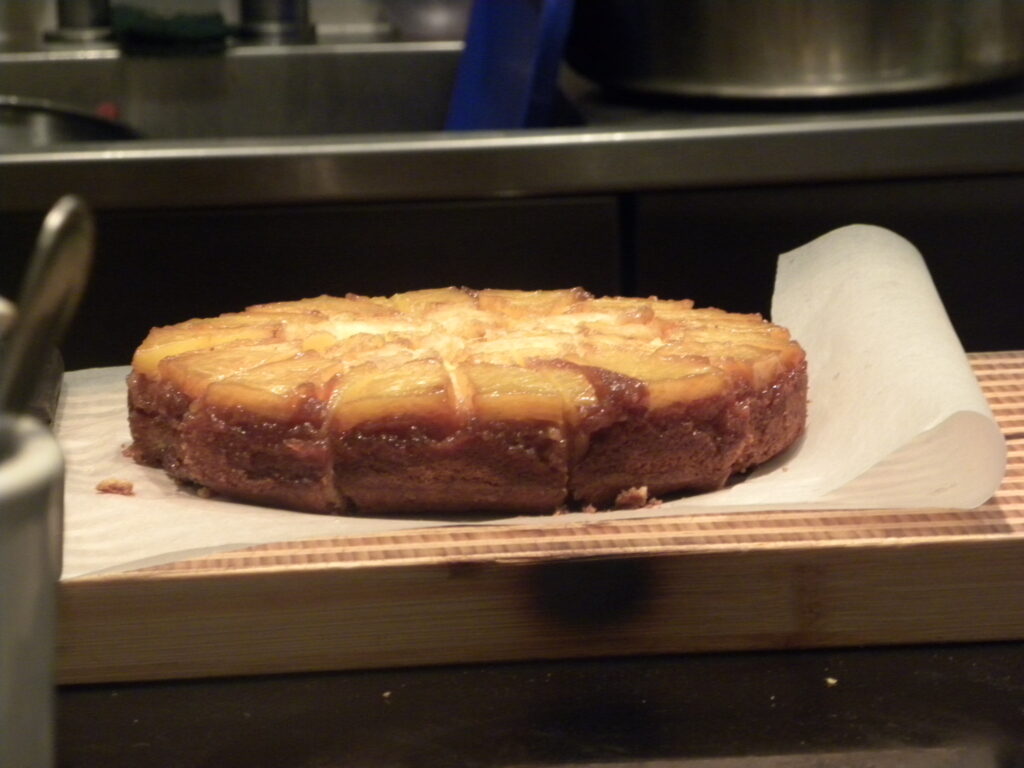 I would never think pineapple and caramel are such a good combination, but they were amazing together! The cake was perfectly moist without being soggy at all. And the 2008 Borgo Magliano Moscato d'Asti we sipped on while enjoying was just the right match.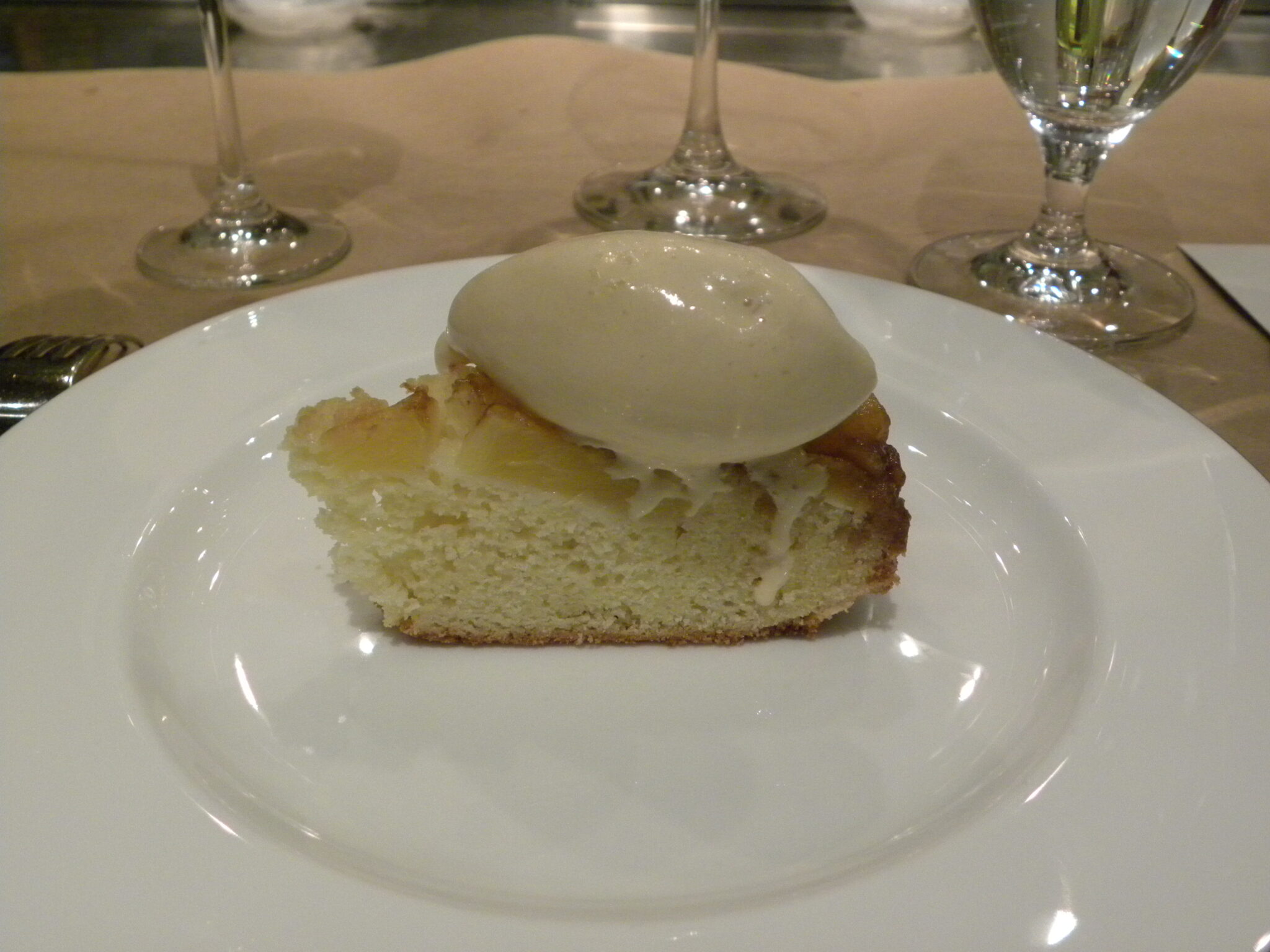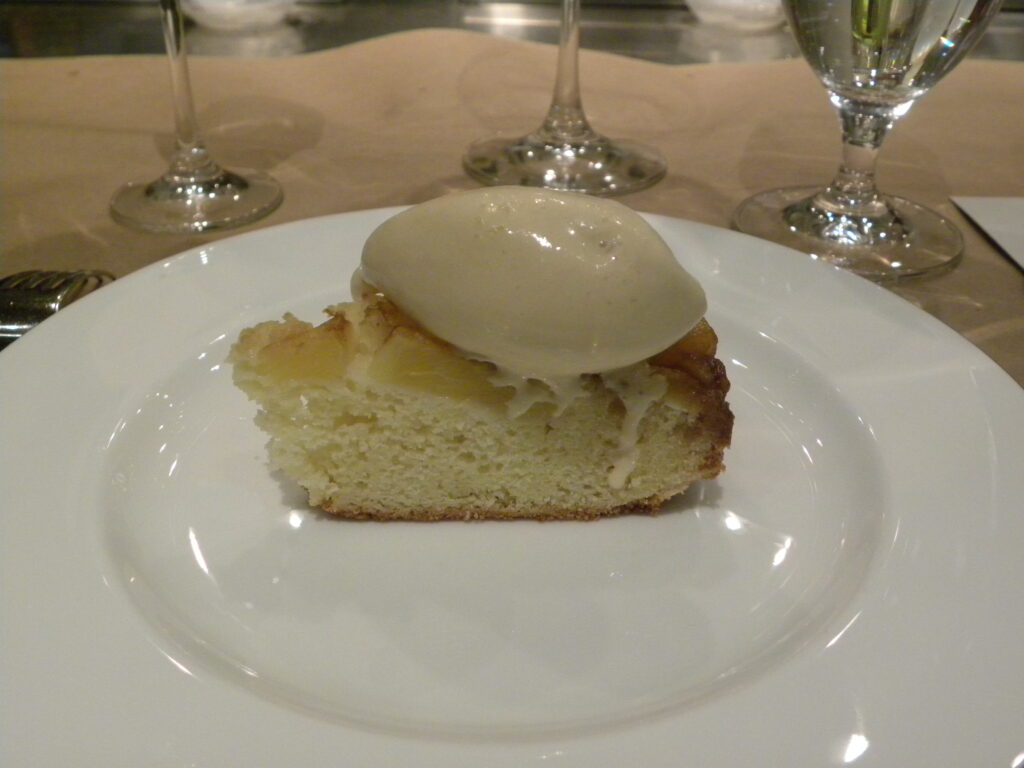 Obviously.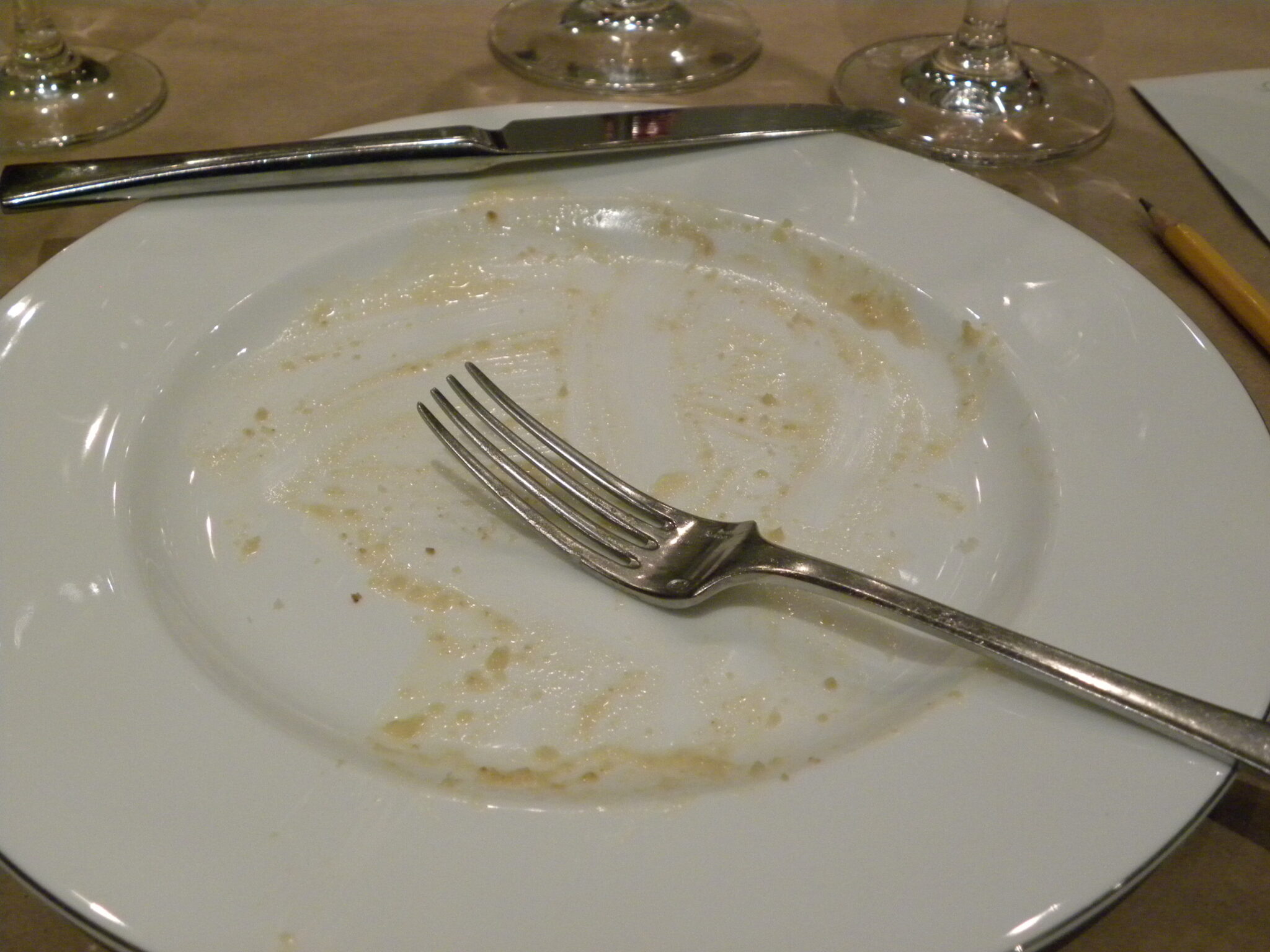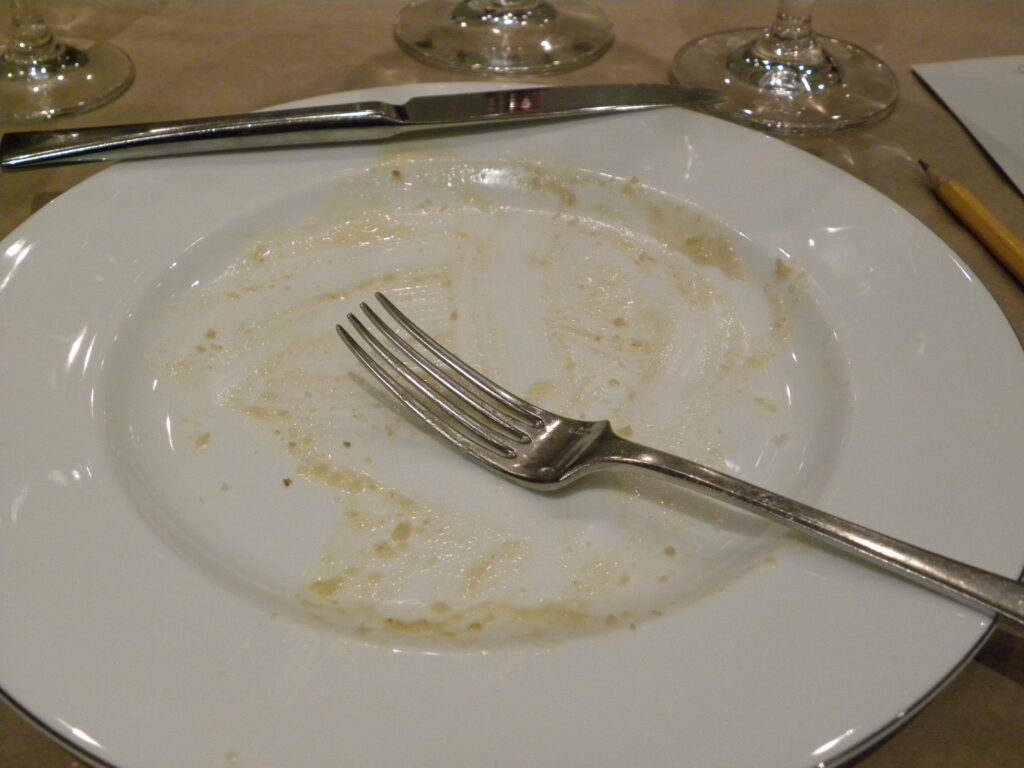 After an amazingly satisfying meal, we chatted with some of the other people in our class. Most of them had been to at least one class before (and many of them are considered regulars); that's how fabulous of an experience Stir is. Once you attend one class, you can't help but come back!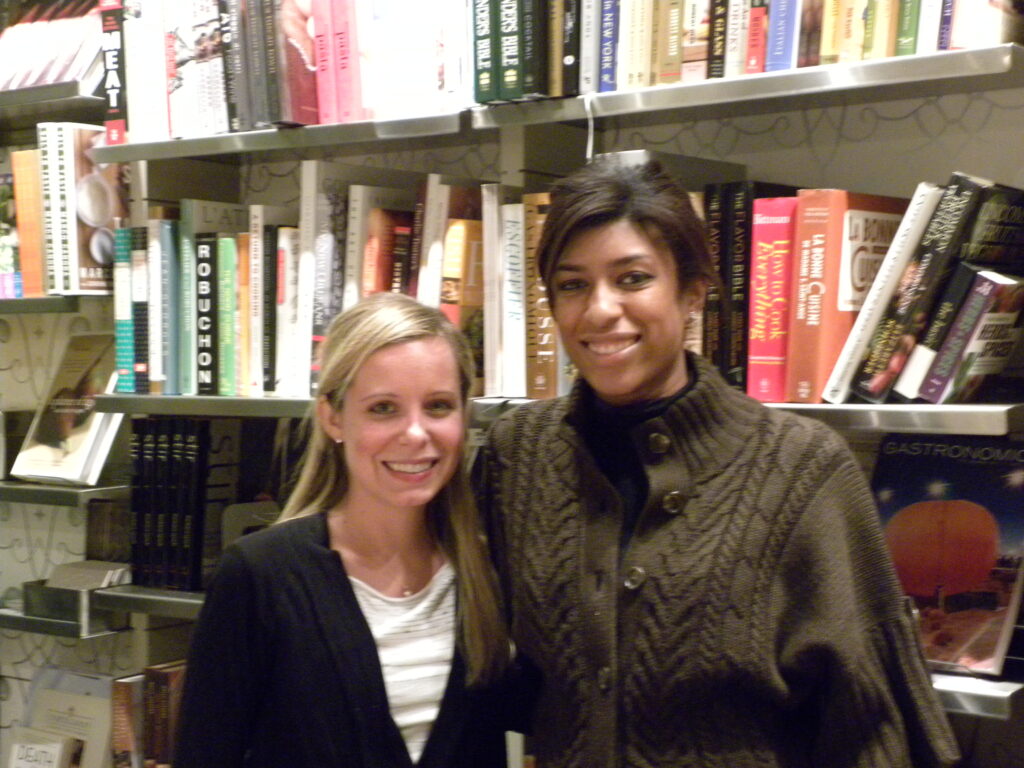 As if the amazing class wasn't enough, we all got to take home a copy of Thomas Keller's Ad Hoc at Home! The book is beautiful and we're both incredibly excited to pick out our favorite recipes and get cooking. Fried chicken, anyone?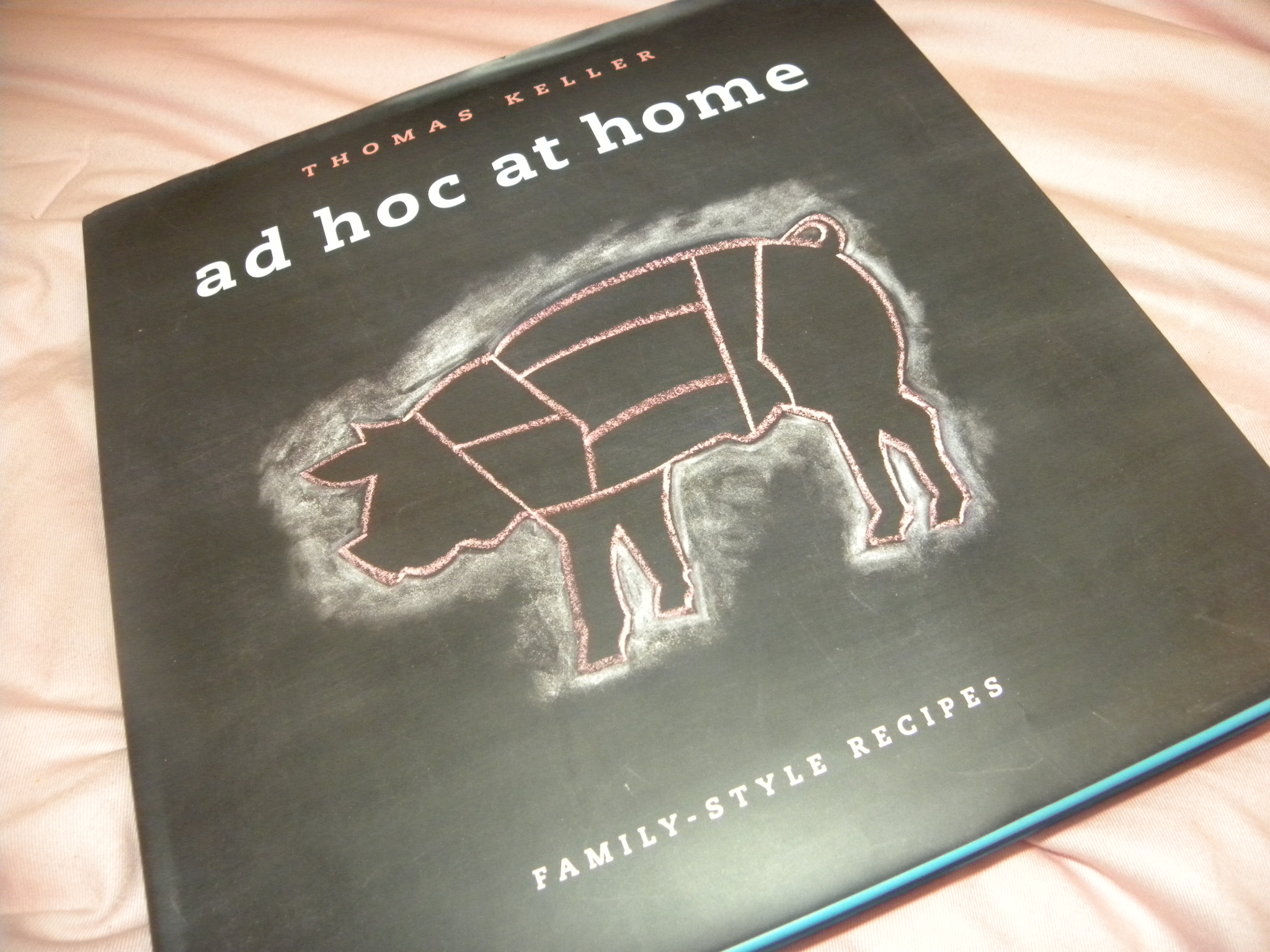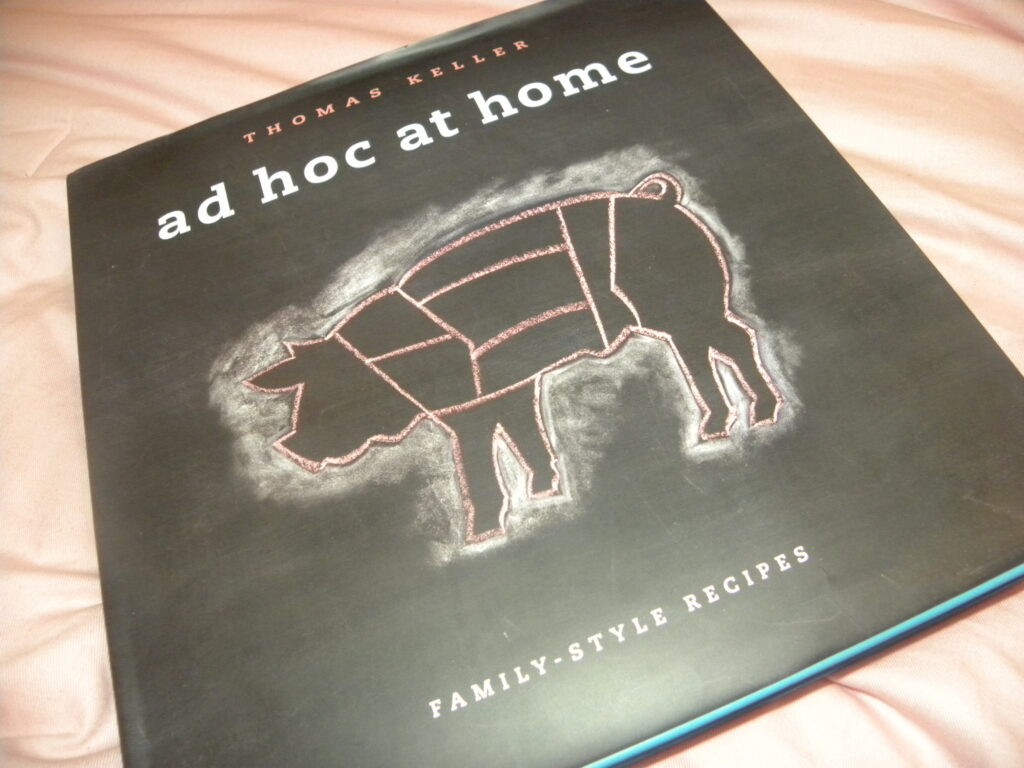 Thank you so much to Chels for allowing us to have this amazing experience once again (yes, this was her present to me last year as well... can you say best friend ever?). One of the best things in life is having friends who share your interests and get completely excited over the same things that you do. With every "mmmm" and "oooh" we uttered last night, we both understood exactly what the other meant.
And thanks to Stir, as well, for letting us partake in another fabulous, food-filled evening. I have a feeling we'll be back!
[Sues and Chels]