Part of the reason we are such good friends is because, not only do we know each other extremely well, but we share many of the same interests. So, being how this has been a pretty big year for us in terms of food, blogging, and lifestyle related things, Chels decided to get Sues the perfect birthday present: a cooking class at Stir. We had never heard of Stir before, but upon investigating, Chels thought it sounded awesome and knew Sues would love it and together we could spread the word.


This intimate demo kitchen and cookbook library located in the South End is owned by Barbara Lynch of
The No. 9 Group
fame, so you already know it's gonna be good. We took the class on Pasta on Friday night. Before attending the class, we scoffed a bit when anyone suggested making their own pasta. It's so easy and cheap to purchase; is homemade pasta really any better? Um, yes. Now we see how and why homemade pasta is way better and will never again look at boxed pasta the same.
Chef Ben Elliot was an extremely informative, entertaining cook (
great
sense of humor!) and made us see how simple everything was to make. He encouraged the class of 9 to ask any and all questions and was constantly making sure we were satisfied with our dishes. His assistant, Molly, was beyond friendly and professional, plus she made the most amazing passion fruit mousse for dessert. A little extra that wasn't even on the official menu! By the end of the night, a few of us in the class decided we could see Ben and Molly as contestants on Bravo's Top Chef! 🙂
The wine was perfectly paired with each dish and flowed freely all night. I don't think either of us could have asked for anything more (except maybe a doggy bag) and have a feeling we'll be back at Stir for more as soon as we can. To make it even better they gave us recipe cards with all of the courses that were made throughout the night, so now we can go home and practice ourselves.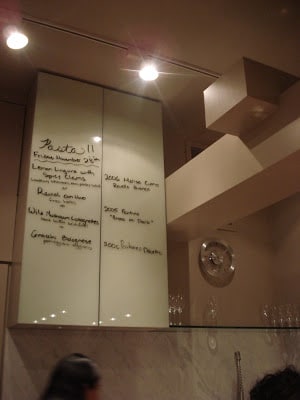 (PASTA! The menu written on the cabinets… loved this)
(hello, this is how they started us off. Mix of meats and cheeses and our favorite, homemade ricotta cheese with pomegranate seeds… brilliant)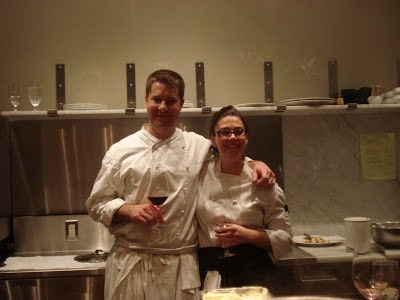 (Our lovely chefs for the evening, Ben and Molly. They made a great team!)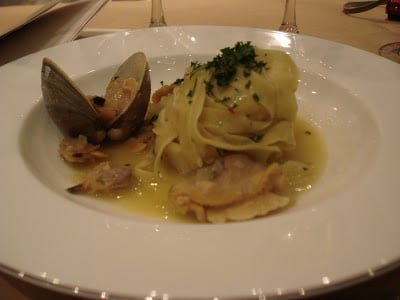 (1. Lemon Linguine with Spicy Clams: Woodbury littenecks, extra virgin olive oil, parsley salad)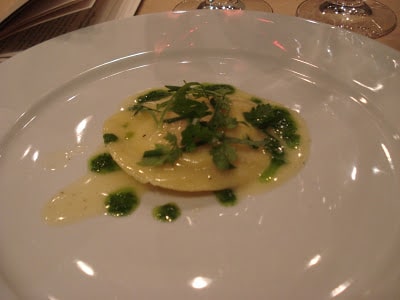 (2. Ravioli Con Uovo with fine herbs)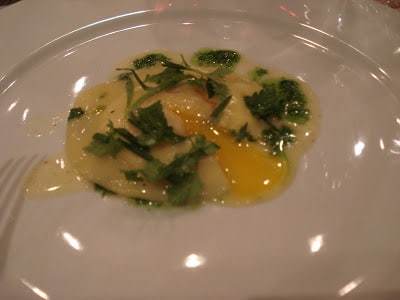 (Ravioli Con Uovo with fine herbs, egg yolk in center, probably one of our favorites!)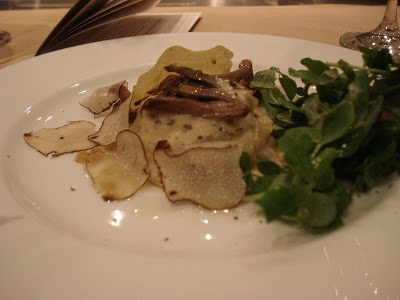 (3. Wild Mushroom Lasagnettes: black truffle bechamel… yes they fed us truffles… words can't explain how this whole dish blew our minds. If we recall correctly, the only sound out of people was "mmmmmmm".)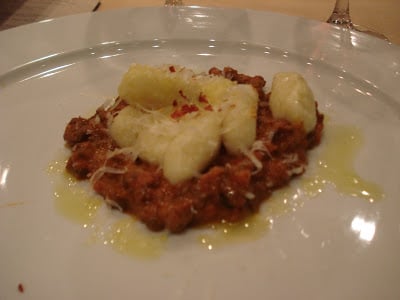 (4. Gnocchi Bolognese with parmaggiano-reggiano)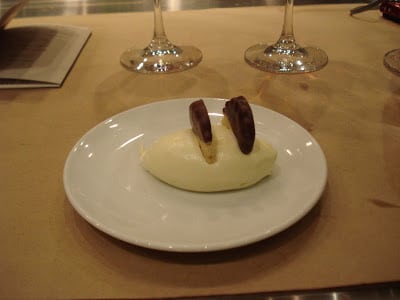 (Molly's passion fruit mousse… the perfect way to end the evening)
If you're in Boston or planning on visiting and love cooking (or just eating!), signing up for a class at Stir is a MUST. We can honestly see these classes becoming extremely addicting. We want to go to all of them. Check out their website and soon-to-be-announced winter class schedule (classes fill up fast so don't hesitate!) With the holidays approaching we're thinking this would make the perfect gift for the food lover on your list.
In the meantime, Sues and Chels will be purchasing pasta machines and reproducing all we learned at Stir… and obviously sharing it with all of you!
Stir Boston
102 Waltham Street
Boston, MA 02118
617.423.STIR
info@stirboston.com
www.stirboston.com
[Sues and Chels]