There's a lot to love in life right now. The 80 degree temperatures (and sunny!) in Boston this weekend most definitely made life easy to love. Of course, Boston's little water issues had some of us down, but you know, it's really not so bad. Considering the millions of people in our world who NEVER have fresh water, I think we can manage for a few days. I mean, at least we have the option of buying bottled water. Plus, boiling water isn't that hard. It kind of makes me feel like I'm living in a different time and is probably just what we all needed to start appreciating the things we take for granted. And I still managed to have plenty of fun this weekend.
Silk Soy Milk
And since we can't chug down water (though before we heard about the issues, I chugged quite a bit of water. Oops), I'll just drink Silk. The first time I tried soy milk years ago, I was not impressed. But then I tried it again. And I tried chocolate. And I tried vanilla. And YUM. Now I'm obsessed. And FYI the light versions are amazing. My favorite thing to do it mix the light chocolate with the light vanilla. It's kind of like a milkshake (my name is Susie and I have a milkshake obsession). Also, I often eat Cheerios for breakfast and love adding some light vanilla soy milk in.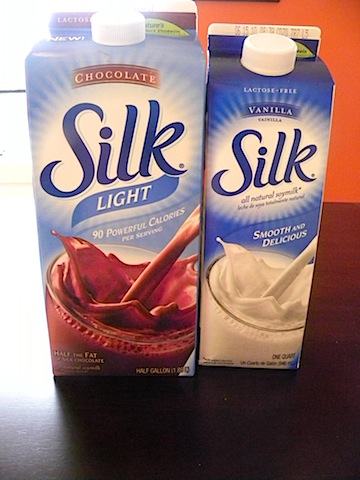 Friends!
On Saturday evening, we went out for a goodbye celebration for our friend Nina who got into a postbac premed program and is moving away from us (but we're so happy and excited for her!). We had a lovely dinner at Antonio's in Beacon Hill…. the food was delicious, but the best part was when the waiters had the entire restaurant singing happy birthday to Nina (her birthday is in December!). Then we went to Alibi in the Liberty Hotel for some drinks, dancing, and chatting it up. And we do have 2 birthdays to celebrate this week- both Katie and Erin! Happy early birthday, girls 🙂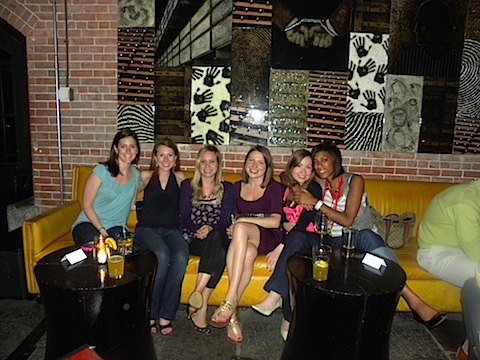 Mushrooms
OK, OK, so you have probably already realized both Chels and I are lovers of mushrooms. And we're thrilled to announce that we're blogging for The Mushroom Channel! If you want to head over there at some point today, you'll see a lovely little mushroom-filled meal I cooked up. You can get the recipe there and I recommend you make it this Friday night:
Michael Ruhlman
I've talked about him before, but I have a serious love for food writer Michael Ruhlman. He's been on fire with some of his writing lately and when Susan from Transient Travels sent me this article, I almost started crying at the last sentences. I know, I'm a geek, but I just love this:
"But I know for a fact that spending at least a few days a week preparing food with other people around, enjoying it together, is one of the best possible things in life to do, period. It's part of what makes us human. It makes us happy in ways that are deep and good for us. Fast and easy has nothing to do with it."
Read the post and love it. Of course, I don't agree with everything he says (I, for one, love Jamie Oliver and see the merit in Rachael Ray, too), but his overall message is perfect. Food is a part of life and it matters so, so much. Quick and easy isn't the most important thing… But here at We are not Martha we like to focus on the delicious, make you feel fabulous, meals that aren't ridiculously hard and won't take your whole evening. But it's fun to challenge yourself sometimes, too. Cooking dinner shouldn't be a chore; it should be a joy.
I hope you all enjoyed your weekends and are getting some lovely spring weather. We both have weeks packed with lots of fun stuff, so we look forward on reporting back to you.
What did you do this weekend?
[Sues]