I've been cooking up a STORM! And have about a billion recipes to post. But since it's Monday, I want to talk about some of my favorite things instead. Because we need to ease into the week. Plus, some fun was had this weekend and I must talk about it!! What did you guys do?
Brand About Town and Nintendo (and Julie Q!)
On Saturday, Chels and I attended the Nintendo Book Club with Julie Q and Brand About Town at Upstairs on the Square.
In case you haven't heard us say it enough, we're obsessed with Brand About Town. They're the marketing firm that let us throw a Gap party and lets us hold amazing Gap giveaways. They also throw other parties for bloggers and we've been lucky enough to attend the Nintendo parties for Julie Q and Susan in the past.
This weekend? We attended another party for Julie Q. But first we were sent brand new DSi XLs! And the Classic Books cartridge. Did you know you can actually read books on DSis now? Yup! And it's much easier now that they make an XL with a much bigger screen size (93% bigger to be exact). We were told to read Pride and Prejudice for a book club that would take place at Upstairs on the Square.
This is how the brand new DS was sent:
And upon opening:
Yay! Seriously exciting packages.
Have you ever been to Upstairs on the Square in Harvard Square? It's the cutest restaurant EVER. Not kidding. Even from the outside, you can tell it's going to be adorable.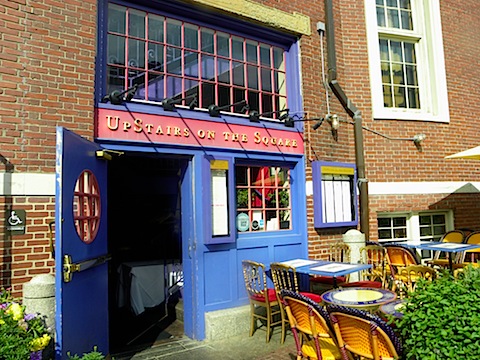 Each of the restaurants rooms are so fun and quirky. Ours looked like it came straight out of Alice in Wonderland… Fit for a tea party!
Of course, we dug into the delicious tea sandwiches and desserts.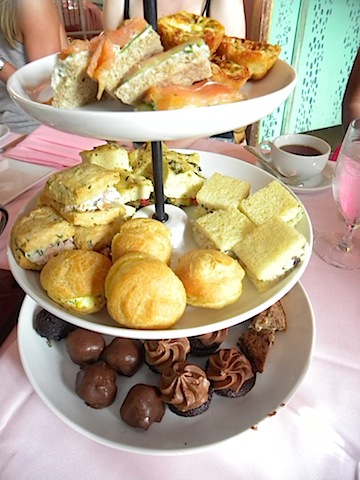 The egg salad sandwiches and parmesan crisps were personal favorites.
And that round chocolate dessert? It was filled wit nuts and sugar and amazingness. I NEED the recipe.
The table was filled with bloggers and we spent a couple hours sipping tea and chatting about Jane Austen's Pride and Prejudice. It was one of my favorite books from high school, so it was nice to take another (more grown up) look at it. It was also super fun to meet some brand new bloggers!
If I had a bit more time, I would totally start a book club of my own… Maybe we should do an online/Twitter book club? I'm always reading something and would love to chat with friends about books.
Also, I need to go have a real meal at Upstairs on the Square STAT.
Anyway, it was a super nice, sunny day. Hence why I can't open my eyes, I'm sure.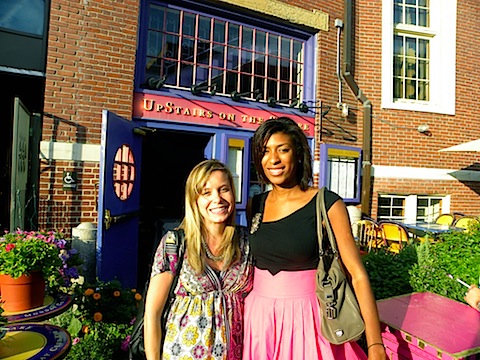 We are not Martha with Julie Q! Thanks for inviting us to another of your amazing events, Julie 🙂
Brunch at Eastern Standard for Chels's birthday
On Sunday, a few of us headed to Eastern Standard for lunch to celebrate Chels's birthday!! Her actual big day isn't until August 22, but since she'll be away, we celebrated early.
If you ask me where to get the best cocktails in Boston, I'll most definitely name Eastern Standard- the bartenders are AMAZING. But, though I've been wanting to for the past 2 years, I've never had a meal at ES. So, I was super excited to try out their brunch!
They have tons of fabulous-sounding brunch cocktails. But I, of course, opted for the bloody mary. I'm never one to turn a bloody mary down!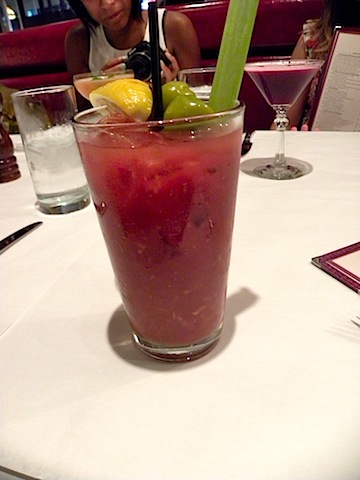 We all ordered different drinks and had to line them up because they were all so pretty together! Hey there, birthday girl!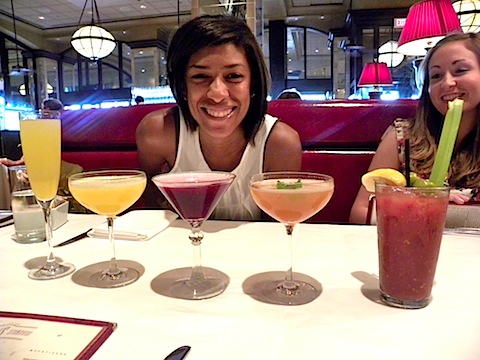 I also cannot turn down eggs benedict if it's on the menu. It's probably my goal in life to try it (with a bloody mary) at every brunch spot I go to. Aren't goals fun to make?
Chels says I got her obsessed with eggs benedict. And she got me into ordering it with bacon instead of ham. I mean, if you have to choose between bacon or ham, what would you choose? Duh.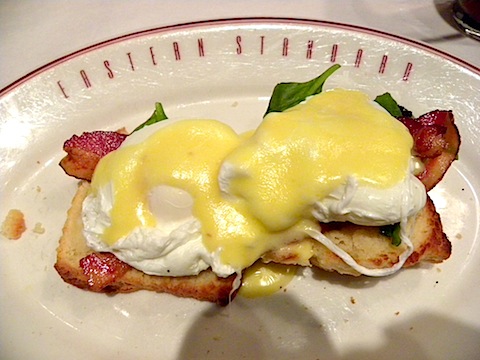 Eastern Standards eggs benedict was awesome. I loved that it was served on a biscuit instead of a plain old english muffin. I also loved that it was served with some spinach.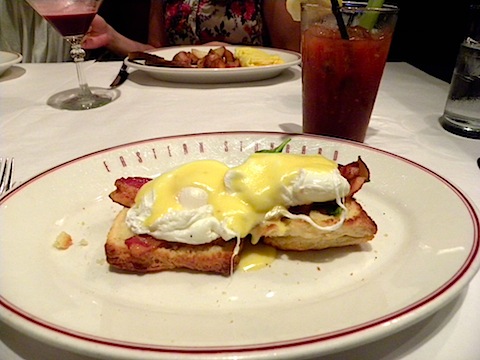 Perfect brunch and everyone was happy with their meals! I'll definitely be back for another brunch (and force myself to try something else!!) and hopefully dinner sometime soon.

Sangria
After brunch, Chels, Katie, Libby, and I headed back to my apartment. When we arrived, Chris had a pitcher of sangria sitting in the fridge for us! You might say it's been a very sangria-full summer. Which is exactly how it should be, yes? We've been drinking red sangria the past few weeks, but this time, Chris made a delicious white.
It was supposed to be super sunny and nice out but instead was overcast and windy. But still, we sat outside and continued chatting.
It was an absolutely perfect weekend! I also had my parents, sister, and Adam over for bunch on Saturday and I'll be posting about our feast later. Like I said, I have tons of recipes to share… Get excited!
What did you do this weekend? Also, feel free to share your favorite summer drink recipes!
[Sues]