The Holidays:
I can't even believe the holidays are actually here. As in, tomorrow is December! I'm honestly not sure where this year went, but last time I checked it was December 2009. Life is seriously scary. Anyway, last week, I had one of the most perfect Thanksgivings ever, since my whole family was actually together (my parents, sister, brother-in-law, Chris, and my neighbors Joan and Jim!).
Of course we had a glorious Butterball turkey 🙂 That my dad brined and expertly carved. Even after eating all that turkey at Butterball University, I was still totally ready for more.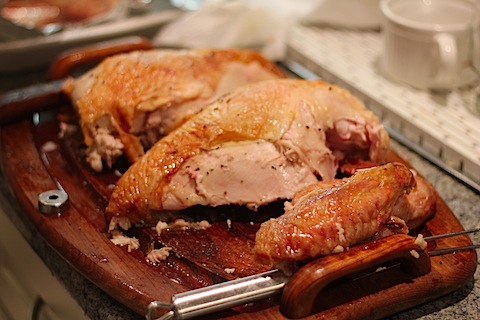 See? Just looking at these photos is making me want another plate full!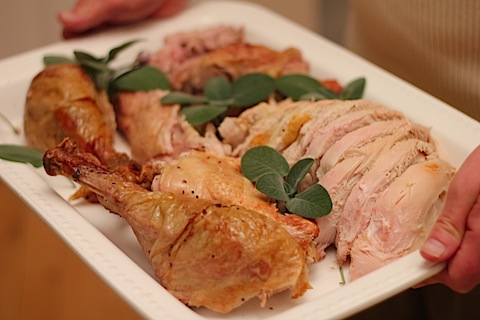 We always eat Thanksgiving dinner in the dining room :at my parents' house. Fancy!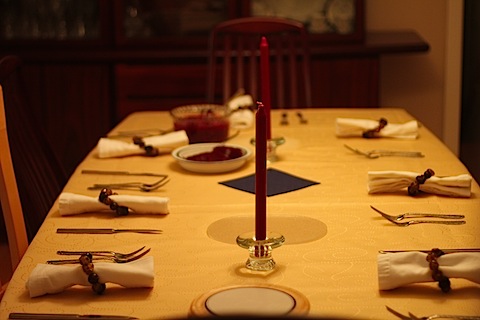 And we stick to pretty much the same basic menu each year because we just love it too much to change it: turkey, stuffing, whipped sweet potatoes, garlic mashed potatoes, green beans with caramelized onions, and cranberry sauce two ways.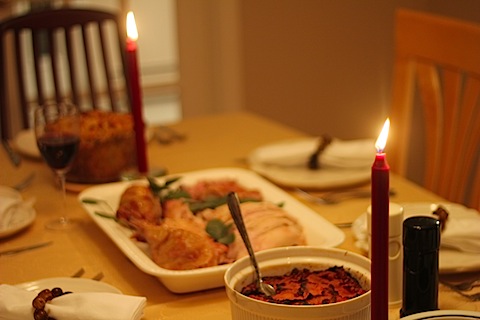 And obviously lots of gravy.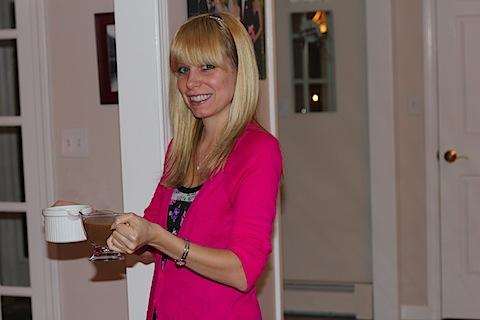 Oh, and wine. Duh.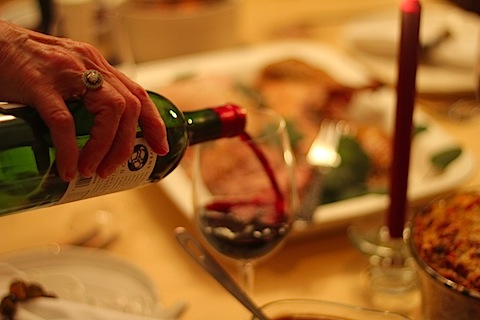 I ate about 3 plates like this. not even lying.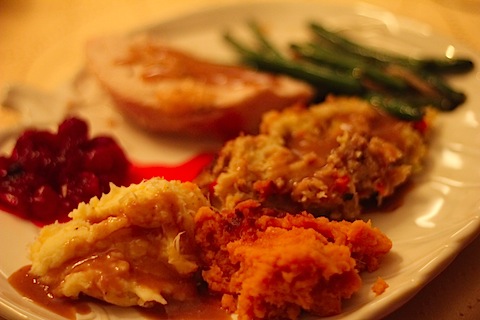 I was so happy Chris could join us for Thanksgiving, too 🙂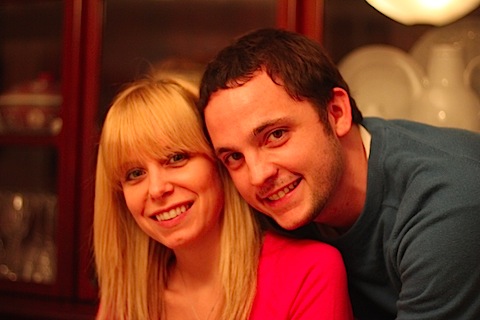 Thanksgiving is without a doubt my favorite holiday. Family, food, and friends are pretty much the only things I need to be happy in life.
Silk Mint Chocolate Soy Milk:
Speaking of the holidays, have you guys tried this stuff? It's awesome! I'm not a huge fan of egg nog… But sometimes I drink it anyway just because it gets me in the holiday spirit (does that make sense? I think I like the flavor, but don't love the actual drink). But now? I have this! I already love chocolate Silk soy milk, but with the mint added in, it's like a holiday in a glass! There's also an egg nog version AND a pumpkin spice one. This is definitely my drink of the season. Plus, it's way better for you than egg nog. Win-win!
And this reminds me that I totally need to come up with a holiday cocktail soon. Peppermint, perhaps? Sounds like a project for this Friday night!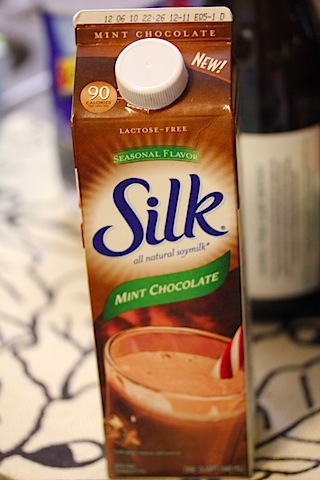 My New Parsley Plant:
After my dad read my post about my parsley obsession, he potted up some parsley for me to take home. And it's already been growing! I'm so psyched to see how much the parsley plant will grow… and to hopefully have plenty of parsley for all my cooking (and snacking) needs. If I don't kill it first, that is.
Could parsley be involved in my new holiday cocktail? Hmm. Probably not.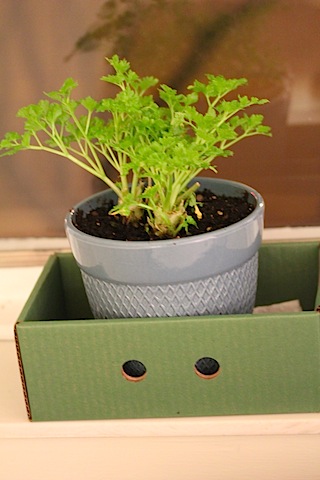 WANM Tech Support:
I'm going to be super cheesy right now and call out Chris as one of my favorite things! You might have noticed that WANM has been having some serious issues the last week. We were hacked in a major and totally annoying way. Luckily for us, Chris does programming. And he spent about 20 hours straight trying to fix our site over the weekend.
All I know how to do is freak out about website issues. I'm really, really good at that. But Chris actually knows how to sit down and fix a problem. And doesn't stop working until he does. And trust me, this wasn't the first time he saved us. He's super smart… And cute, too 🙂 So thank you, thank you, thank you to Chris for helping us with all our website issues!
Mitzi:
Any time I happen to be dogsitting while I'm writing a favorite things post, I obviously have to include Mitzi. I always think it's weird when people post endless photos of their pets to their blog, but then when I'm with Mitzi, I kind of get it. I just think she's the prettiest! I could seriously photograph her all day.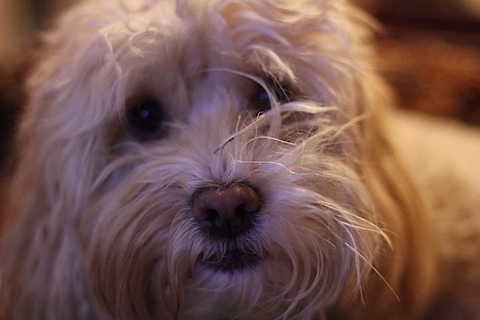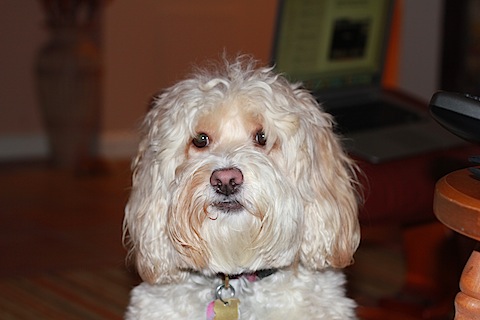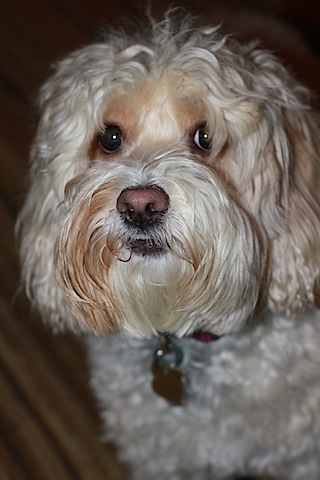 Now I'm off to cuddle with that dog and get some sleep 🙂 Seriously though, she's a crazy cuddler.
Oh, and speaking of the holidays one more time, stay tuned because I'm working on a totally awesome Holiday Gift Guide for Food Lovers and should have it up soon. Hope it gives you some good gift advice for the food people in your life (I don't like the word foodies!).
What's your favorite holiday drink?
[Sues]