I tend to wait way too long on my Favorite Things posts. And then? I have a huge plethora of Favorite Things and I must. tell. you. about. every. one. of. them. This is actually more like a favorite days posts, with a bunch of "things" thrown in there. I hope I don't overwhelm you as I might get a little out of hand. I guess life is just very happy right now!
Gloucester, MA (day trips)
One of my very favorite things is taking day trips and this year Chris and I have decided we want to take as many as possible. There are so many cool New England spots that we can drive to and back from Boston in one day. My schedule is already getting super packed for the Summer, so I'm glad we were able to fit in a trip to Gloucester, MA, last month. I haven't been to Gloucester since i was a kid, so it was fun to be back.
Of course, we had to make a stop at the Cape Ann Brewing Co.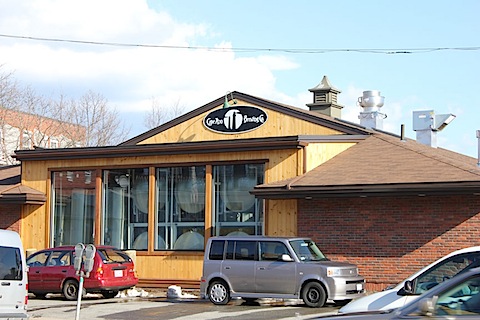 They're the brewery who makes Fisherman's beer and they had tons on tap during our visit. I absolutely loved the Tea Party beer, which is a barley wine consisting of 3 types of tea.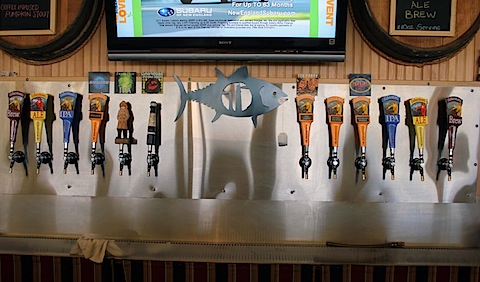 Chris had the Coffee Infused Pumpkin Stout, which was obviously amazing! We ended up buying a growler to take home with us.
Chris started a beer blog at Beeriety.com and is most definitely the biggest beer fan I know. I love it though because it means touring around to breweries and always having a new beer to try.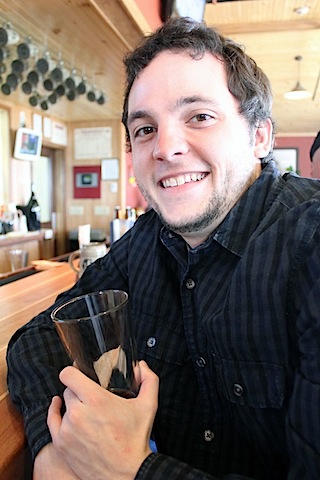 We asked if they did tours at Cape Ann and they said, "yes!" Well, they did, but Cape Ann Brewery is so tiny, it was the shortest tour ever. Still, it was nice to see the inner workings of the brewery and go on an ultra private "tour."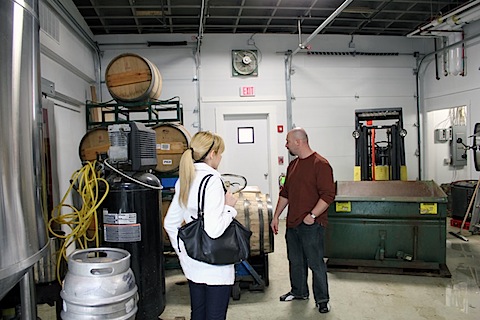 We spent the rest of the afternoon wandering around Gloucester. Dogtown Books was an amazing used bookstore with tons of unique, first-edition books. Lots of fun cookbooks, too. I could have spent all day there, except when the owner yelled at me because I had my cellphone IN my hand (it was on vibrate and I wasn't on it/looking at it). Meanwhile, his friend's cellphone was ringing and he answered it! I'm not bitter or anything... But when the people who work at a place are downright mean to the customers, it bothers me. I'm smart enough to know you don't talk on cellphones in bookstores, thank you very much.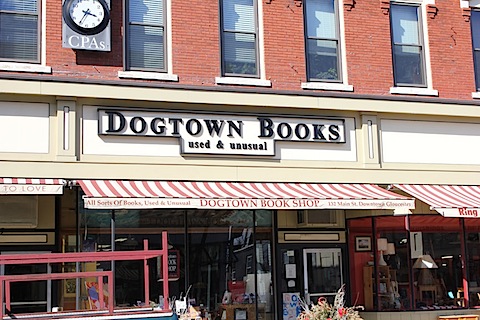 When we were ready to go home, we stopped and pick up some lobsters, so we could head to my dad's house for dinner. My mom was on a trip, so we went to visit my dad who cooked up the lobster, so we could enjoy a wonderful meal together!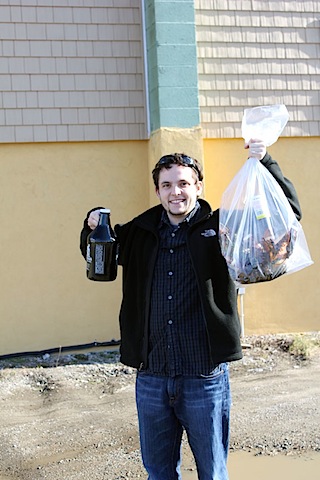 Our New Car
Part of the reason, we wanted to go on a mini road trip so badly is because we just got a new car! Chris and I got a Mini Copper, which were super excited about. It's perfect for the city and I might even be able to park it. Maybe.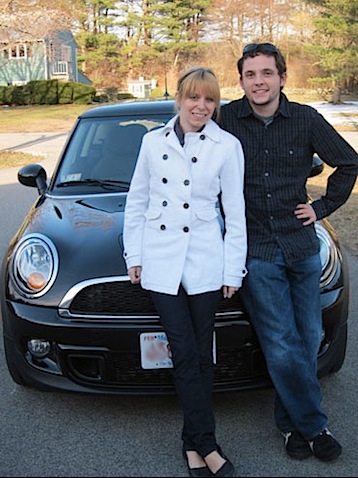 Chris had an standard before and I honestly had no interest in learning to drive it, especially in the city! So we got an automatic... But I still haven't driven it 🙂 I haven't had a car since I've lived in the city and I'm slightly nervous, though I love driving in the suburbs. But still, I'm definitely loving the new car!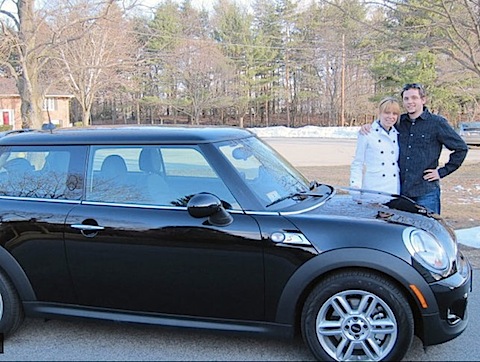 Playing Tourist in Boston/New England
This past weekend, Chris's mom came to visit us from Virginia. We had an awesome time, showing her around the city and New England area. And playing tourist in our own city, which is always a good time. Our first stop was to The Colonnade where we're getting married. Of course, we wanted Chris's mom to see where the big event will be taking place!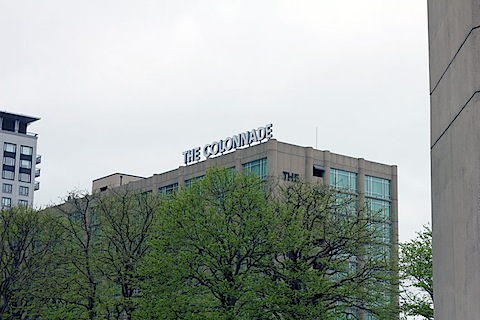 We stopped by the Top of the Hub for a drink (and an amazing view!) and then headed to our favorite spot in the North End, Giacomo's for an awesome dinner.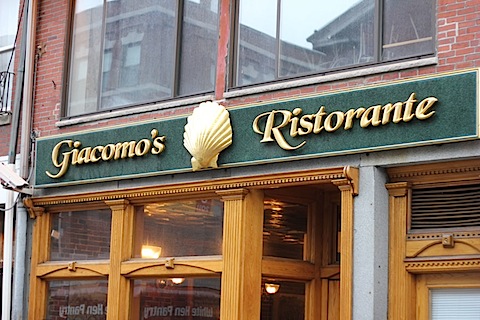 Of course, we knew we had to take her to Ogunquit, Maine, during her visit, too. Chris has only lived in the Boston-area for a few years, but Maine has quickly become one of his favorite spots. Since I've loved Maine since I was a kid, this is just fine with me. Out first stop was the Cliff House to check out the beautiful ocean views.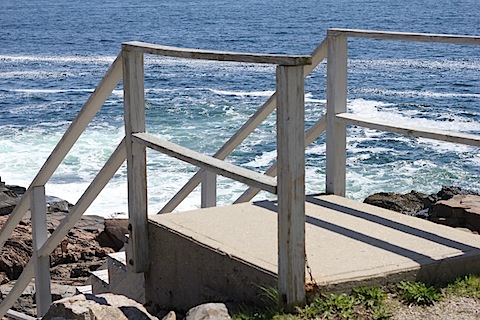 I grew up playing on these rocks with my sister, so I always feel so happy to go back.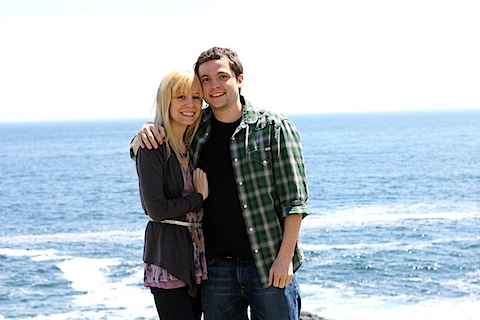 My mom joined us on our day trip and it was great that our moms got to know each other!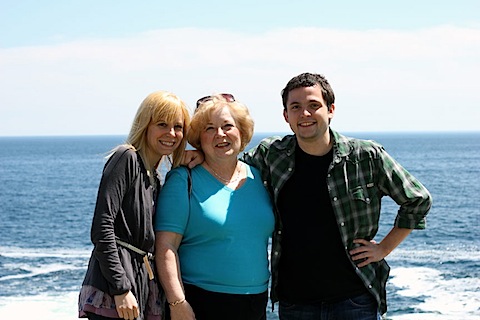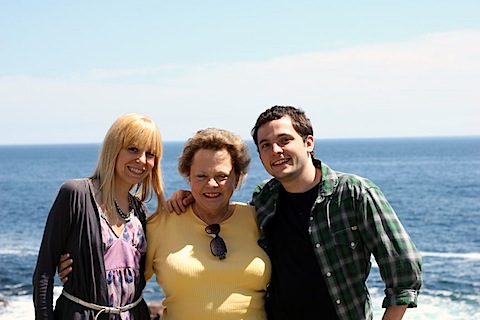 Then we stopped at Barnacle Billy's, of course. There are so many amazing restaurants in Ogunquit, but we honestly go to Barnacle Billy's every single time we're there. We can't help it!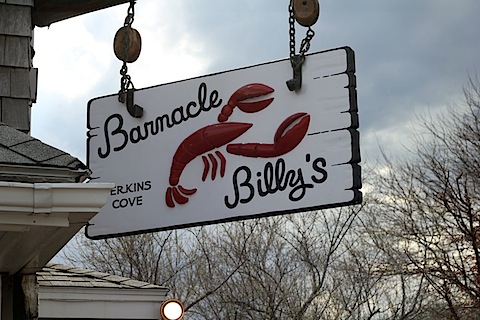 I had my first lobster roll of the season!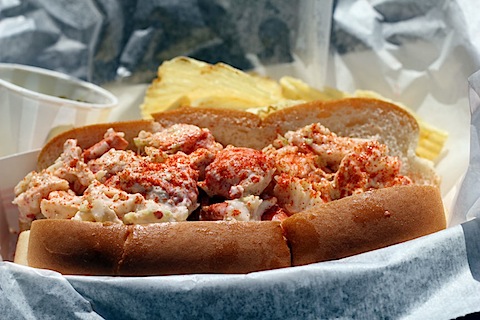 And Chris had a lobster.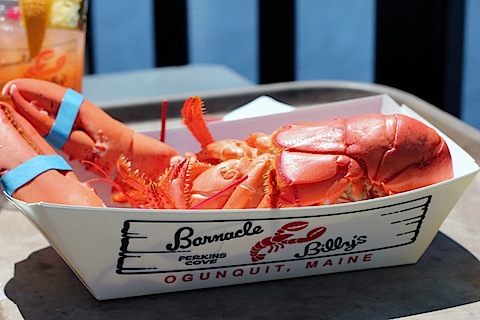 Rum punch for all!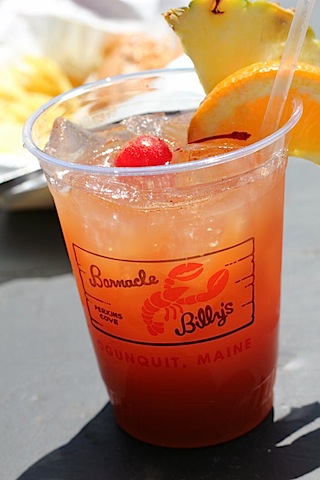 Chris's mom was super happy (and slightly frightened) the people behind the counter asked if she wanted to hold a 3.5 pound lobster 🙂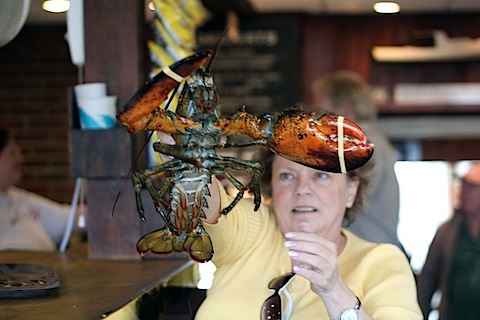 My absolute favorite spot in all of Perkins Cove is Perkins Cove Candies. I have such great childhood memories of this place!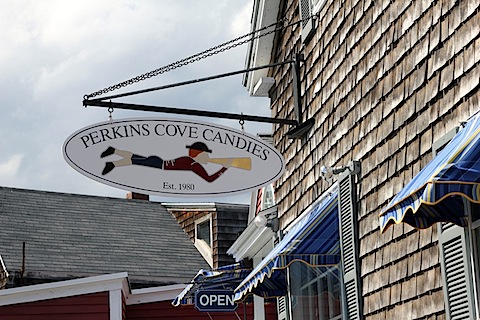 And the Marginal Way, of course 🙂
We spent Saturday in Faneuil Hall and touring around a bit before going to my parents' house for dinner. Things got a little wild 🙂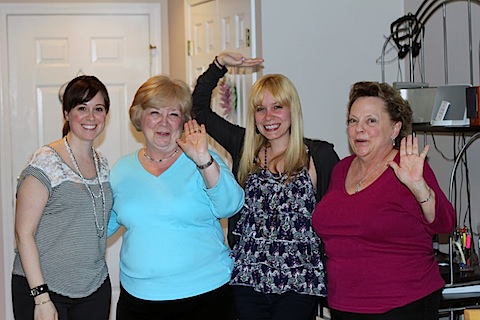 The boys!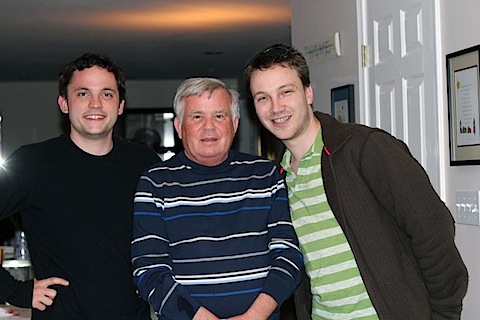 And Sunday consisted of a duck tour. Have you been on a duck tour in your city?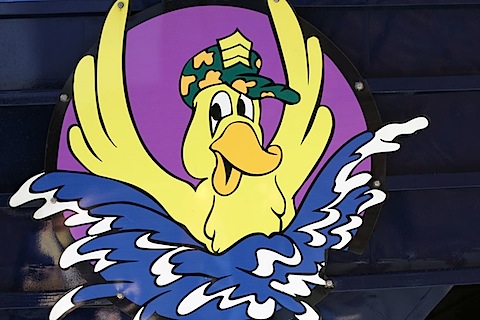 I've been on A LOT of tours of Boston and duck tours are by far my favorites. They're always entertaining and super, super informative. And despite the fact that I've been on a ton of them, I always learn something new.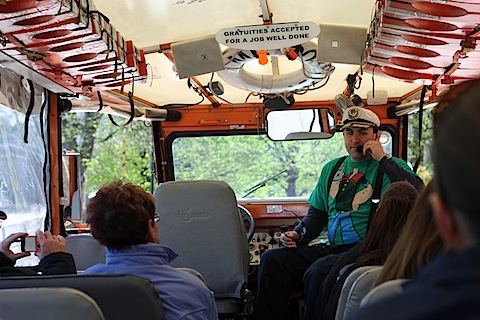 For instance, I had NO idea that Boston is home to the very first jelly bean. I think I died laughing when I heard this because Chris has a huge jellybean addiction. And it's true... Wikipedia says it., which makes it true 🙂
Chris drove the boat when it hit the Charles!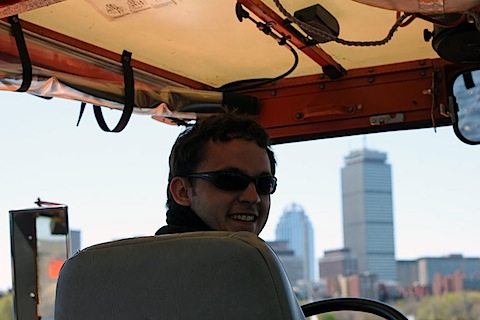 And, so did I. For all the times I've been on a duck tour I've never driven the boat. But to be honest, I was so busy answering the tour guides questions, I didn't even touch the steering wheel once. Awesome boat driver I am!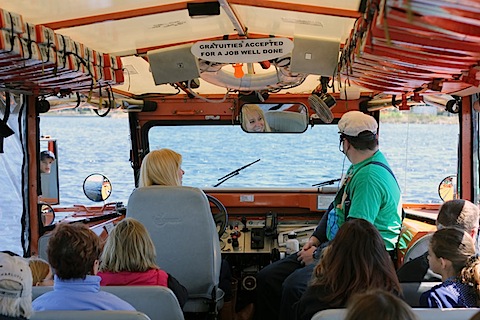 We took a walk around the Public Gardens and though the day was a bit chilly, I have to say this is the prettiest I've EVER seen Boston. I'm SO happy we got to walk around. Everything was in bloom.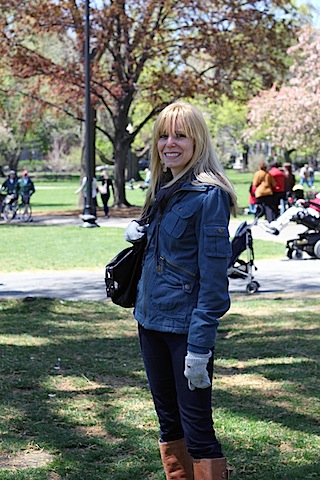 The the city of Boston did such an amazing job planting tulips EVERYWHERE. I've never felt so happy to live here as when I saw how beautiful everything looked. Can this last forever, please? Also, maybe we should have gotten married in May? Tulips are my very favorite flowers 🙂 Has anyone else noticed how beautiful Boston is right now?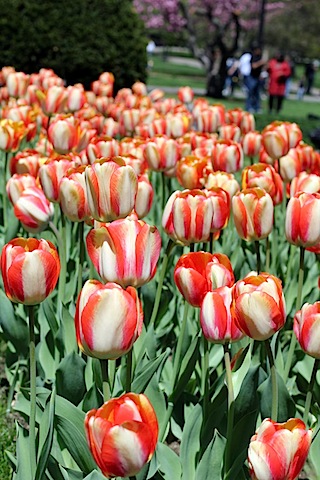 We stopped at the new Max Brenner for lunch. And though it was still a bit cold, we decided to eat outside because the people-watching on Boylston Street is pretty amazing.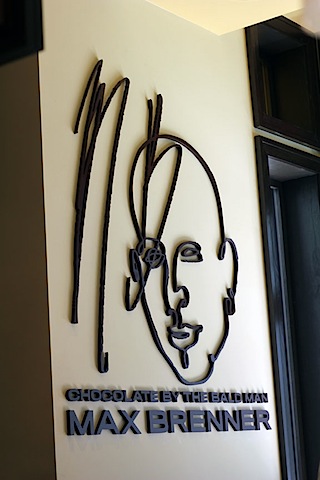 I really, really wanted a Max Brenner milkshake, but I needed a warm-up so I ordered a Mexican hot chocolate. Good decision. It was perfectly spiced and rich without being overly heavy. LOVE the mug, too!
For lunch I ordered the BLT with avocado (BALT). It was also really good, as were the waffle fries, but I found the prices to be a bit high.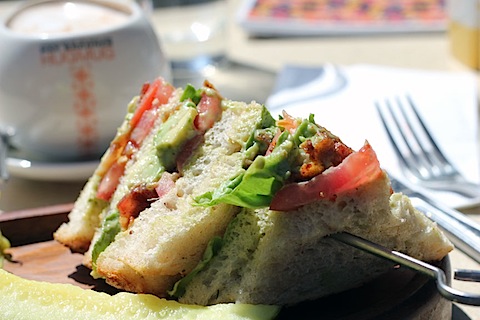 But I think you're really paying more for the cool experience and Max Brenner is a lot of fun.
New books!
Ever since I got my iPad I've been going eBook crazy. I never thought I'd do the eReader thing but as someone who reads A LOT of books (at the same time), it's so nice that I can travel around and have all of them with me. Plus, I can take out library books and not have to pick them up and return them (or get germs... I have library book issues). So, I haven't bought an actual physical book in a long time. But a couple months ago, I was invited to join the Amazon Vine program, which means they send me advance copies (and recently released) of the books I choose. And I'm loving it!
Here's my newest stash. I'm a huge Megan McCafferty fan and am super excited to read Bumped, though it's not a Jessica Darling book. And if you've never read Lisa See, you need to get on that! She's one of my all-time favorite authors and I can't wait to dig into Dreams of Joy. I'm currently immersed in Johan Harstad's Buzz Aldrin, What Happened to You in All the Confusion? Johan is a Norwegian writer and his 2005 novel was just translated to English and I'm SO happy it was. I'm ¾ of the way through and it's quickly becoming one of my favorite books. Harstad reminds me a bit of Milan Kundera who is one of my all-time favorite writers.
Anyway, books make me incredibly happy, so the Amazon Vine program is definitely one of my favorite things! Plus, it's nice to have a stack of books on my bedside table again, and not just on my iPad.
I told you this post was going to be a doozy. I guess it's a good thing to have this many favorite things, right? I actually have several more things I want to add, but um, I think this post is long enough!
Wait, I do have one more favorite thing: Just a couple hours until it's Friday!
OK, now it's your turn- What's your favorite thing right now? I can't get mad if you name a few things. Or write a 5,000 word essay.
[Sues]