I currently have total and complete vacation brain. First thing tomorrow I'm embarking on a family vacation to Lake Chautauqua in Upstate Western New York. Can we talk about how excited I am? It's going to be a week filled with sitting in the sun, catching up with relatives, checking out breweries and wineries, playing golf, and just plain relaxation.
Yes, somehow I was peer pressured into playing golf. It's one of those activities I've never been interested in at all, but with Chris, my sister, and Adam all wanting to play, I finally gave in and took a lesson. I'm pretty awful, but figure it's a good way to spend time outside and it's the kind of sport that allows you to basically stand around talking. Which really is my kind of sport, so I can't complain too much. Plus, I got a super cute golf glove and am already dreaming up fun golf outfits. What? I need to find some way to get excited about it.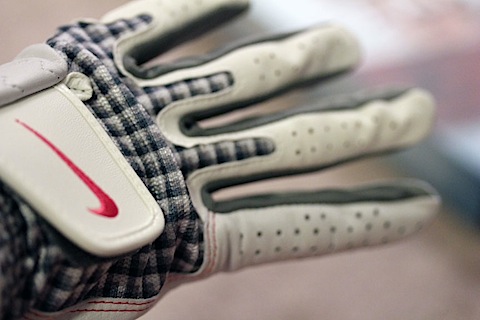 I'm especially excited to head to Ommegang Brewery on our way up to Chautauqua tomorrow. And also to hit up one of my very favorite breweries, Southern Tier while we're vacationing. Plus, my family is holding our own little event called Wing Fest, which will consist of a little family reunion packed with buffalo wings. Love my family!
Since I've got vacation on my mind, I'm posting my favorite things today. I've been letting them pile up for quite a while, so here goes nothing!
Cabot Private Stock Classic Vermont Cheddar Cheese:
OK, it's no secret I'm obsessed with Cabot Cheese. Not only is the cheese awesome, but the entire company is made up of just plain good people. They send us cheese often and are always willing to help us out in all kinds of ways. I honestly think they're one of the very best companies around today. But of all their cheese I've had (which is probably every single variety- except the smoky bacon one, where can I find the smoky bacon one?? ), the Private Stock Cheddar is my ultimate favorite. OMG I could eat an entire block of this in one sitting. It's super sharp and flavorful and I don't think I can enjoy a burger anymore unless this is topping it. Or an egg sandwich. Or a grilled cheese. Or life.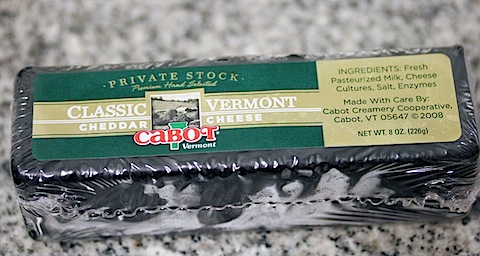 Blueberries in Ice Cubes:
Chris and I caught a segment of the Today Show recently where they made a cocktail with blueberry ice cubes and we immediately did it ourselves. It's super easy and makes every drink a lot more fun. Just put blueberries in your ice cube tray and fill with water.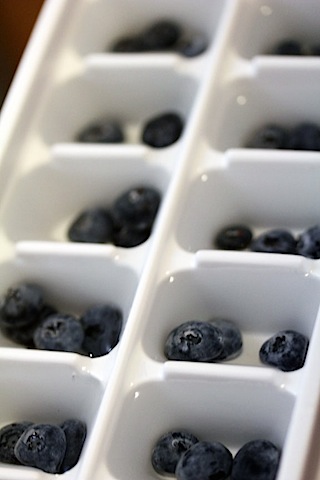 Freeze! And use ice cubes like normal.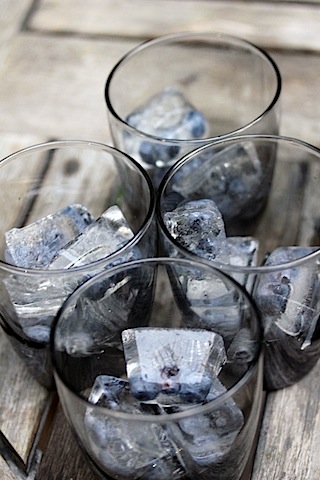 I especially recommend using the blueberry ice cubes in lemonade with vodka. But they make water 100% better, too!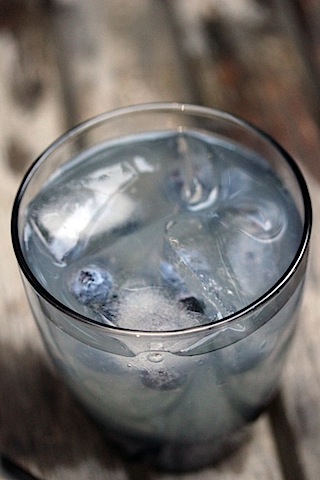 Martha Stewart Glitter:
Martha Stewart. Glitter. Could anything on Earth make me happier? I think not. It might be my new goal to have this Martha Stewart Glitter in every single color in my collection. Could I add that to our wedding registry? Look out because I'll have a little project featuring this glitter coming up on the blog soon!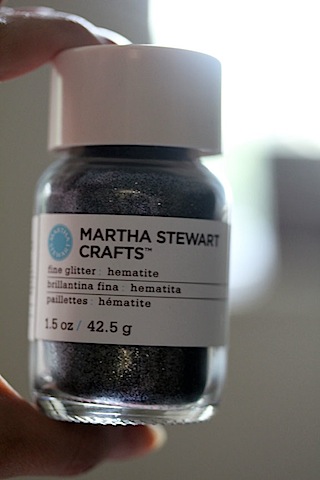 The Rattlesnake Bar and Grill:
Chels and I are obviously HUGE fans of Poe's Kitchen at The Rattlesnake. As we've mentioned before, the food used to be really subpar at the Rattlesnake and we would never go there. But once Brian Poe started as the chef, he totally turned things around and now it's some of the BEST casual dining in the city. We hadn't paid Poe a visit in quite a while, so a couple weeks ago, we gathered some of our friends, had a drink on the roof deck, and then headed in for some food.
Poe brought us out a few appetizers, like this flatbread made on naan with grilled peaches, prosciutto, and goat cheese. Swoon.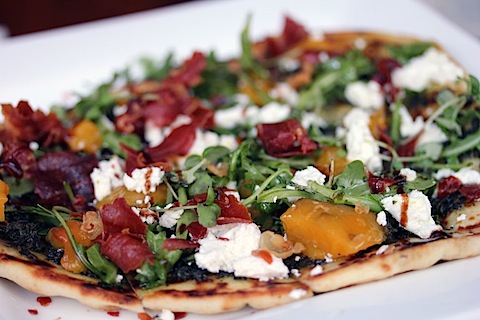 And this grilled avocado with lobster.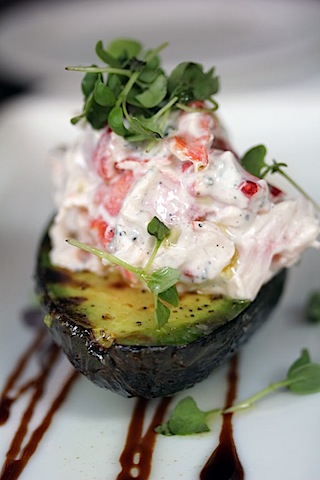 Some of his famous corn bread (seriously, this stuff is amazing. If you only order one thing, make it this!).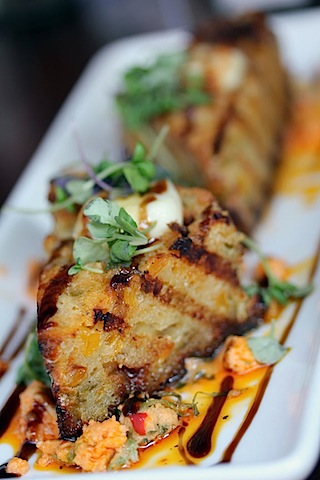 We also got some meals to nibble on. Susan claimed this jalapeno clam chowder was the best clam chowder she's had in the city (and she's tried a lot!). It was absolutely stuffed with clams and had a pretty stunning presentation.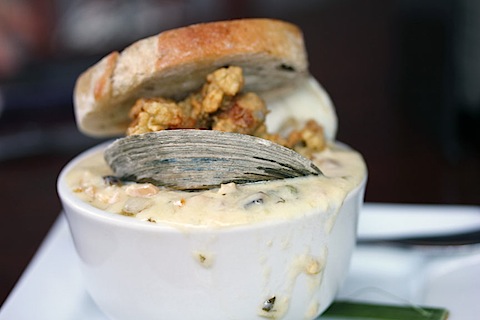 Becca loved her steak quesadilla made with garlic naan.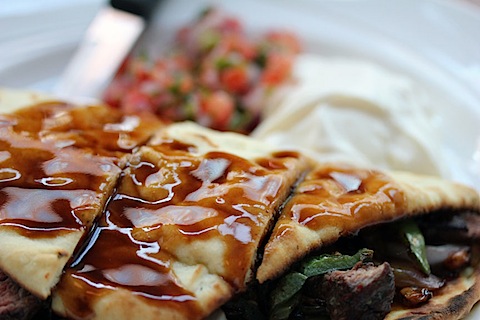 Chels and I shared some of the famous fish tacos.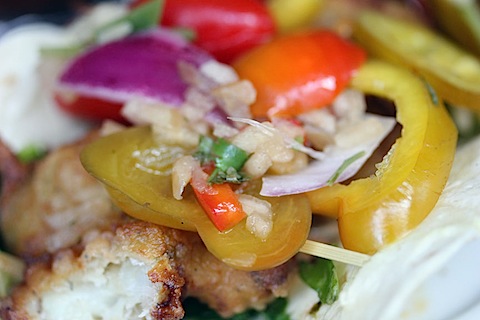 Somehow I missed getting a picture of Alison's burger, which may as well be named Best Burger in the World right this second. Let's just talk about the fact that it's a Kobe Beef Burger stuffed with LOBSTER, FOIE GRAS and BLACK TRUFFLES. Also it has whiskey bacon and Irish porter cheese on it. Can you even imagine a burger with so much amazingness in it?!
Poe surprised us with dessert, too. Strawberry shortcake kebabs with minted black truffle ice cream. Also known as heaven on a plate. I mean, have you ever had minted black truffle ice cream?? No? Do it. Now.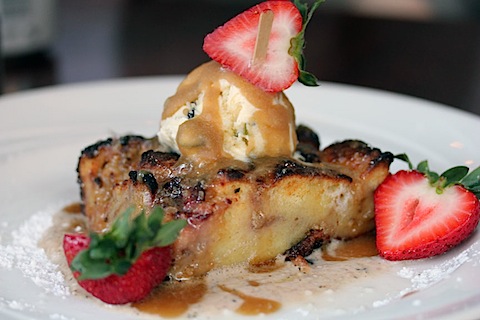 Though Poe brought us the appetizers and desserts complimentary, I can 100% say all opinions are our own… and they are very strong opinions 🙂 We choose to talk about the Rattlesnake so much because we think it's SO underrated and not enough people realize how awesome the food really is. Plus, they have a roof deck and sweet patio seating, too. On prime people watching real estate.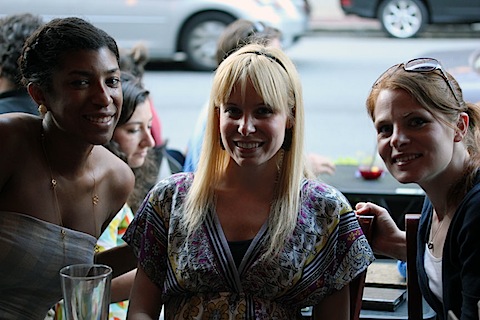 Starbucks Iced Coffee
The other day, I got a super fun surprise in the mail. Starbucks sent me some items from their iced coffee collection. Yippee!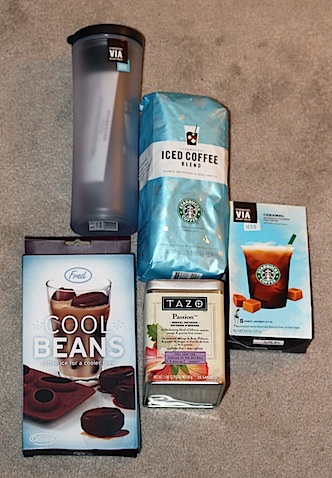 Starbucks new VIA Iced Coffee. Can we talk about how awesome this is? All you have to do is mix it with water and ice, shake it up, and sip away. It's perfect for iced coffee on the go and with the incredibly sweltering weather we've had in Boston the last couple days, I've been enjoying it quite a bit.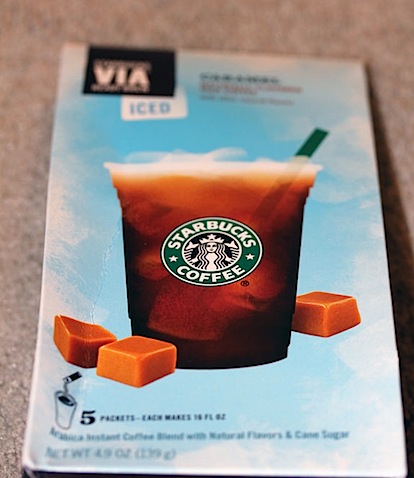 Especially since Starbucks also sent a travel mug specifically meant for their iced VIA. It even has a pop-up straw. It's a shaker for ice coffee.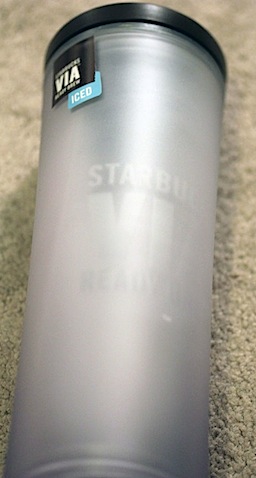 And? Cool Beans. Ice cubes shaped like coffee beans that you make with coffee. No more watered down iced coffee!
How cool? Beans?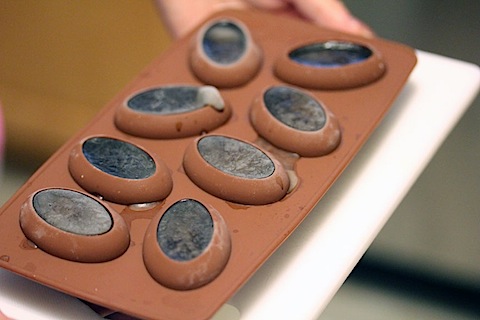 The easiest iced coffee ever. And the caramel flavor is awesome!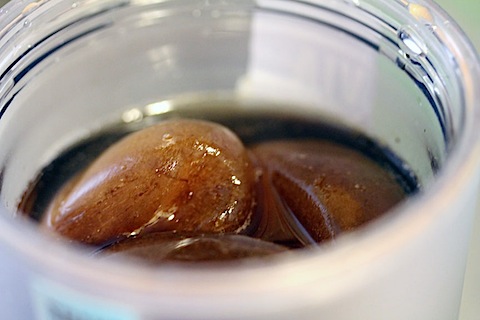 I haven't broke into the bag of coffee beans specifically meant for iced coffee yet, but I can't wait to brew some up.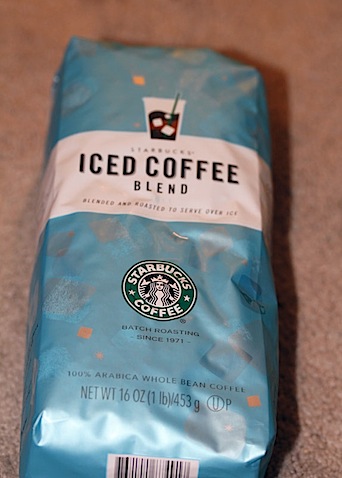 And Tazo Passion Tea that I'll be making some lovely iced tea with 🙂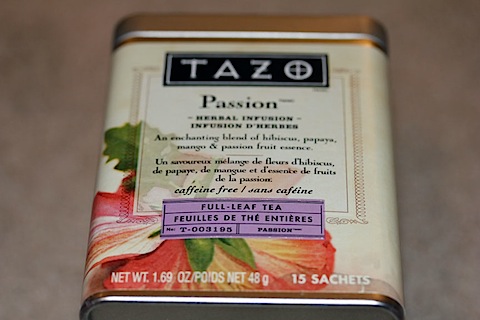 Dinner with Bloggers:
As you know, one of my very favorite things about blogging is meeting so many amazing people. Last weekend, I got to go to dinner with one of my favorite bloggers and tweeters, Kristin from Camels & Chocolate. Kristin is a California-based travel blogger and writes about her amazing tales traveling around the world. She and her husband were in Boston on a family trip and Chris and I went out to dinner with them, along with Susan and her husband. In case you don't know Susan of Transient Travels, she's a Boston-based travel blogger and was one of my very first blogging friends. Chels and I met Susan, Becca, and Julie Q over 4 years ago and though we all blog about different things, we've been friends ever since 🙂
Anyway, Kristin, Susan, and I (and our men) headed to 94 Mass Ave for some small plates and LOTS of chatting. I'm pretty sure we could have sat there (or stood outside) all night talking. I'm so excited I finally got to meet Kristin and hope to see her when her travels bring her around again!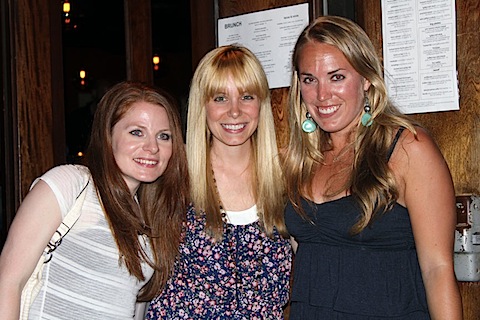 Summer Music:
Do you have a song of the summer? You know, like a summer anthem? My anthems of summer are definitely all country music this year. Most specifically Jason Aldean's "Dirt Road Anthem." And Zac Brown and Jimmy Buffet's "Knee Deep."
Are you a country music fan? One of my biggest pet peeves about living in Boston is that people seem to hate country music here. Ask people what kind of music they like and they always seem to answer "I listen to anything BUT country music." Why?! I think it's the most fun music EVER.
OK, I'm off to finish up work for the week, pack about 10 bathing suits in my bag, bake about 4 dozen cookies, and hit the road! I've got some posts queued up for next week and I'll hopefully be posting some vacation updates, too 🙂 Be sure to follow us on Twitter at @WearenotMartha and my personal account at @Susie, too. And if you have any recommendations for fun things to do in the Lake Chautauqua area of New York, let me know!
Have a super happy weekend!
[Sues]