Good evening! I'll be making this one nice and short and sweet. With less than 2.5 weeks to go before the wedding, I've become a crazy person. A crazy person who vowed to get enough sleep in the weeks leading up to the wedding. And who most definitely isn't. So far, I'm powering through, but I want to be all bright-eyed and bushy-tailed for the big day and will need to force myself into bed the next couple weeks. Like, tear myself from the 28032 things I have to do and just demand some light's out time. I don't know what I have such a difficult time with this. But for now, I have a few favorite things.
Wedding Fun!:
Obviously. You knew that was coming. But really, no matter how crazy and stressful it gets, I'm trying to enjoy it all. Even if our apartment does look like it was hit by a wedding monsoon. I don't even know what a wedding monsoon is, but I imagine it's some sort of storm that drops wedding stuff everywhere. That's our apartment right now.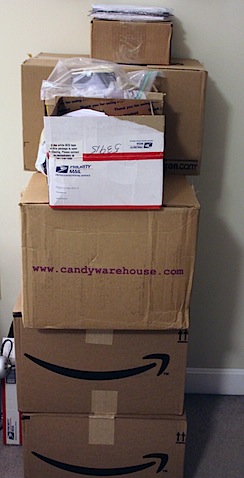 Which is especially fun since we're moving in July and our apartment building needs to show our unit on a daily basis. Um, I hope they manage to rent what essentially looks like a wedding factory.
Aside from tons of boxes, there are wedding crafts absolutely everywhere (side note: this also means there is glitter everywhere). It's not as bad as it could be, though. When we first got engaged, I wanted to do everything I possibly could for the wedding. Like instead of hiring a florist, I wanted to make paper flowers. Like, I wanted all of our flowers to be paper. But then time went on and I only made a total of 6 paper flowers. And they looked like this: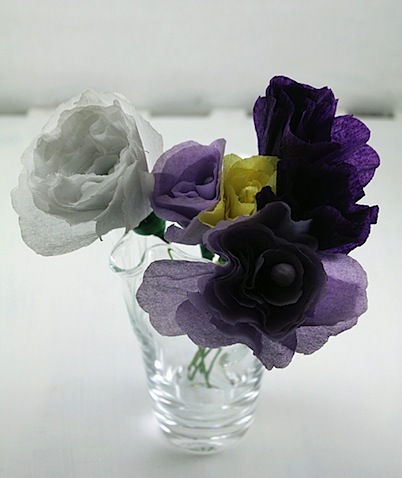 And thus, we hired an awesome florist who is arranging real flowers for us. And now my apartment doesn't have thousands of paper flowers in it. But there's still glitter everywhere. I'm not sure which is preferable.
The Cookie Dough Lover's Cookbook:
Have you heard of this one yet? The Cookie Dough Lover's Cookbook
 comes from Lindsay Landis of Love and Olive OIl fame and will be officially released on June 5. I got a sneak peek at it and am totally obsessed. I mean, everyone knows cookie dough is about a billion times better than actual cookies. And Lindsay has a recipe for cookie dough that's safe to eat. In and on everything. Like ice cream, french toast, truffles, cannolis, and more.
The photos are stunning and I want to make every single recipe in the book and then die from cookie dough overload. I'll be doing a bit more with the book next month, but wanted to give it a shout-out now. I have a feeling this book will be making many, many people very happy.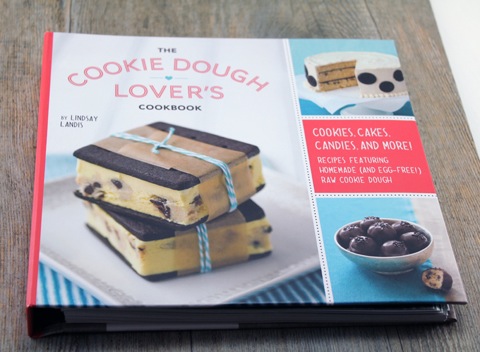 Beach reads:
Not going to lie- I'm pretty excited about sitting on a beach in the sun, indulging in some good reads when we head to our honeymoon. I'm in the Amazon Vine program, where I get access to lots of advance copies of reads. This month I was thrilled to get Emily Giffin's new one, Where We Belong
. Definitely saving this one for vacation.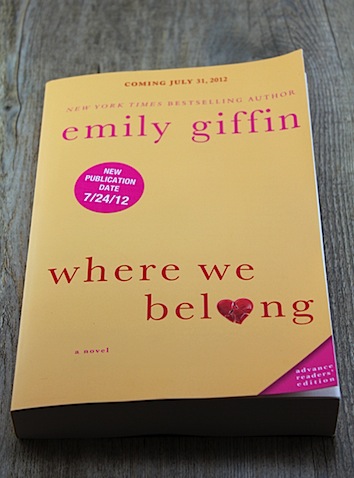 But what else should I take with me to read in the sand? I need some recommendations! And to be clear, I'm still totally confused on whether or not I should read 50 Shades of Grey. Is it amazing? Is it horrible? Is it horribly amazing? Everything I hear is so contradictory!
More surprises:
I'm a self-proclaimed surprise hater. But the past couple months, I've had a bajillion of them. And they've all been absolutely delightful. Besides my fabulous shower and bachelorette party, a few of my favorite girls took my out to jm. Curley to celebrate. Believe it or not, I met Julie, Becca, and Susan through blogging way back when (5 years ago when I just had a little old personal blog!); they were my first blogging friends and are still my very favorites! Who else doesn't get offended if you're staring at your phone tweeting your way through dinner? But I swear, there's more to our friendship than that!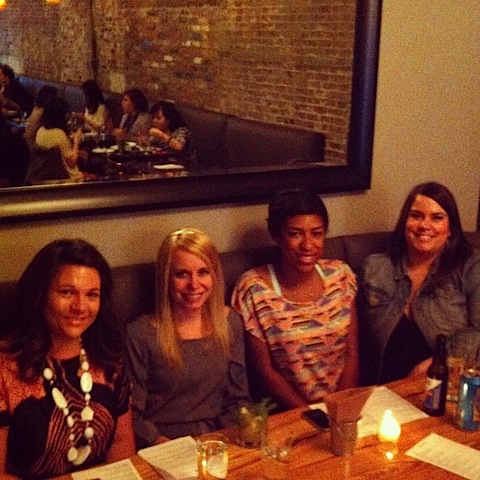 Tonight, all of the ladies I work with threw me a surprise party, too! They tricked me into heading to Nebo (a client next door to my office who I thought needed help with something) where they were all sitting at a beautifully table covered in purple and yellow decor. We enjoyed wine, dinner, and a nice little getaway from the office. The girls also got me a couple super fun gifts that are right up my alley. First? A table setting filled with brightly colored dishes that will be absolutely perfect for all my food blogging needs this summer. I'm obsessed with these colors and have a feeling you'll be seeing these around the blog quite a bit in the coming months.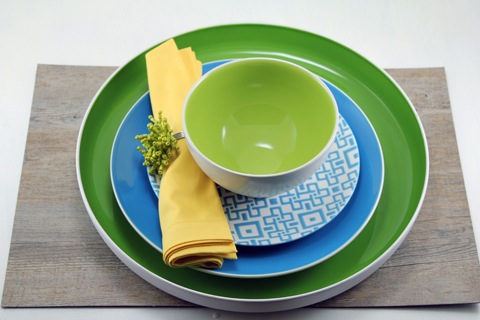 They also gifted me with the Eye-Fi wireless memory card
, which I've been wanting for a couple years now and am so so excited to try out! Basically, with this card, you can take photos and have them automatically upload to your computer. No more plugging my memory card into my computer and uploading batches of photos whenever I need them. I'm so excited to try this one out! Seriously the sweetest gifts 🙂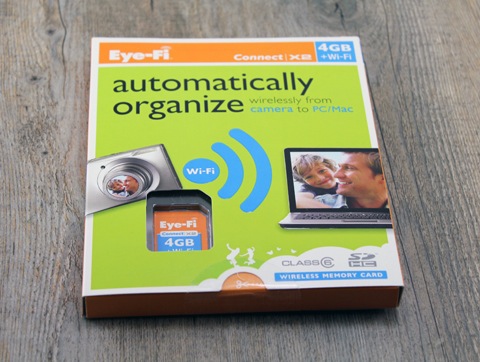 A HUGE thank you to everyone who's played a part in my wedding celebrations in the past couple weeks. Thanks for making everything so special for me! It's been absolutely unreal and definitely makes me realize how very lucky I am 🙂
And now, I'm working on that get some sleep goal. Wish me luck!
What are your favorite things this week?
[Sues]