I was totally going to write an entire favorite things post today. But then I spent the day relaxing and online shopping and basically having the best day off from work ever (can we do this every week??) and realized everything that happened the day before was my favorite thing. Thanksgiving is my favorite holiday in life and I get way more excited about it than any other day of the year. This year certainly didn't disappoint, as it was my first Thanksgiving as a married lady and I got to be with my parents, sister and brother-in-law, and dear neighbors. Just the way it should be! Oh, and we had one other guest this year…
I'm seriously thankful I have this beautiful lady in my life.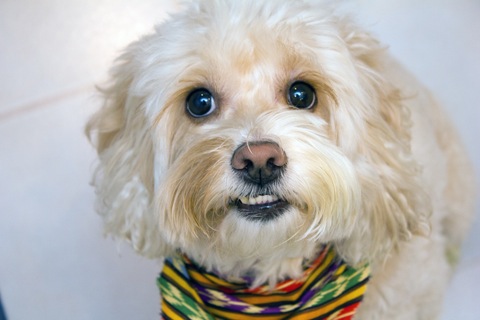 Chris and I have been dog sitting for Mitzi and brought her to my parents' for Thanksgiving dinner where she happily received tons of attention and had the opportunity to play ball pretty much non-stop the entire day (I've never seen a dog as tennis ball-obsessed as Mitzi!).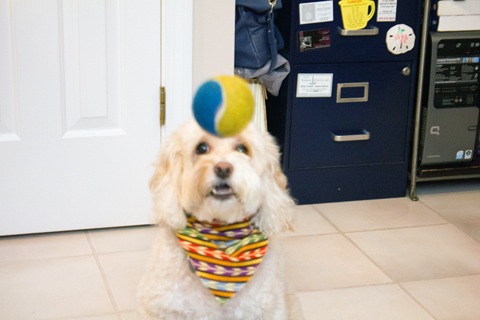 But she's just as content to snuggle up, too. And watch our every move.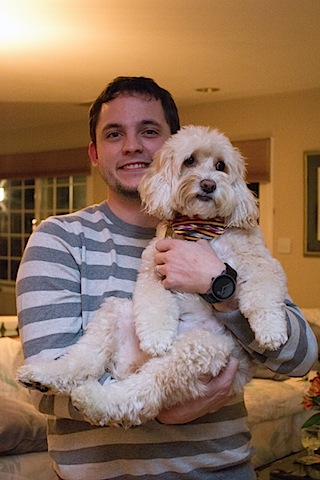 We started our evening off with lots of shrimp.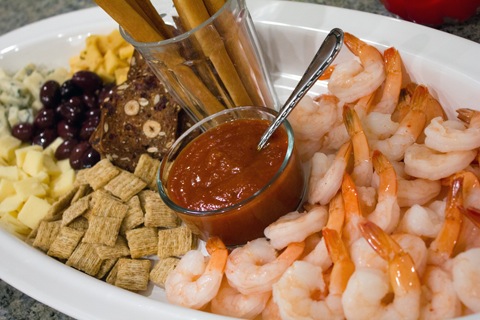 And cheese and crackers and olives. I struggle with balancing eating an entire cheese platter and knowing that Thanksgiving dinner is coming up within the hour. It's a life battle as I'm a huge sucker for a good cheese plate. But I tried to restrain myself so I wasn't too full for a rather large turkey dinner.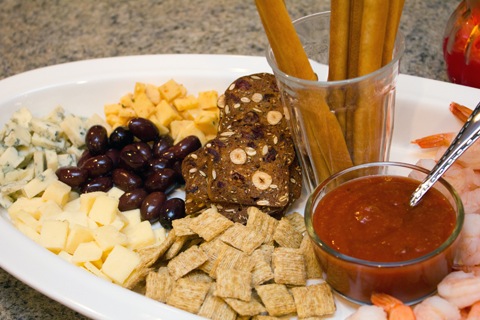 My mom made my cranberry simple syrup, so some of us had some seasonal cocktails.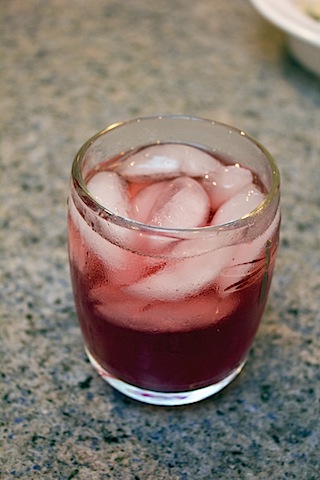 As always, the table was set with extreme care and looked fabulous!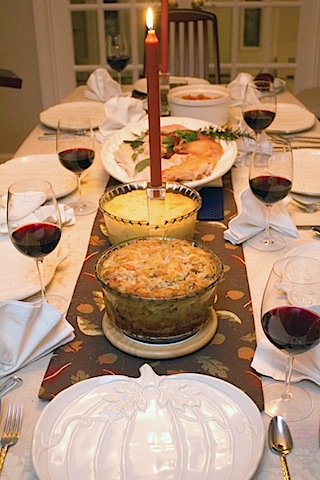 This year was extra special as my brother-in-law folded the napkins into turkeys. What talent! Seriously. We asked if he could do "something festive" and he said, "let me look it up" and ended up with these: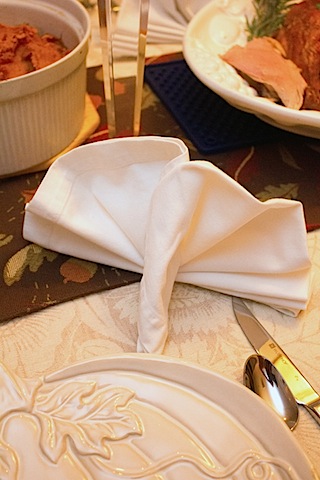 I was impressed. And they looked fabulous alongside my mom's pumpkin plates!
Of course, the Butterball was beautiful!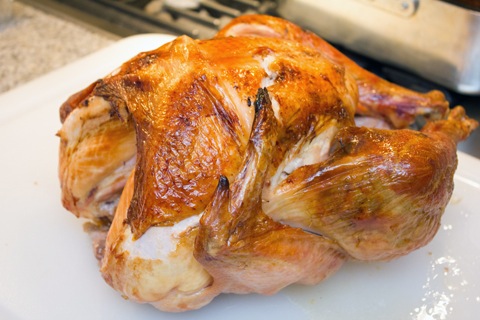 My dad is the most awesome carver ever and always plates the turkey in a splendid way.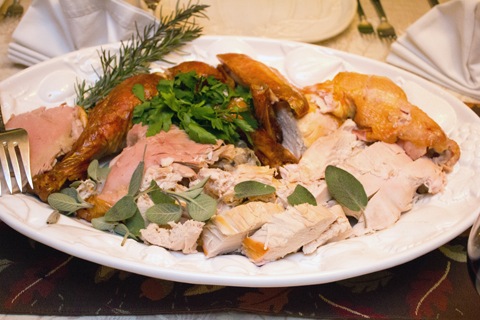 I spend 364 days a year looking forward to this stuffing. Well, maybe a little bit less since I'm always sent home with a nice bowl of it. But what I'm trying to say is that it's the best stuffing ever (I know everyone says their mom's is the best, but mine really is. And I will volunteer her to compete in a stuffing-off if need be!).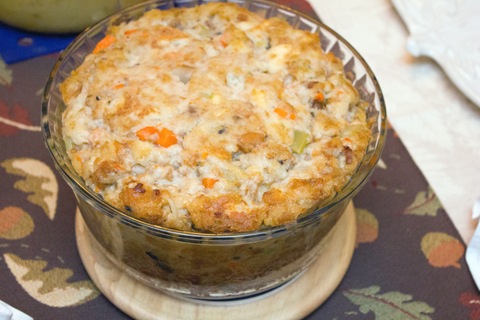 Between spending last weekend in Portland and being at my Aunt and Uncle's house dog sitting this week, I didn't have a whole lot of time to spend in the kitchen. But when I saw this brussels sprouts dish from Cara's Cravings, I knew they would be my contribution (with pomegranates and maple candied pumpkin seeds… And I added Butterball turkey bacon, too!). Even some of the non-brussels sprouts lovers were enjoying these.
Another one of my favorites: Fluffy as clouds sweet potato soufflé. I could live off this stuff.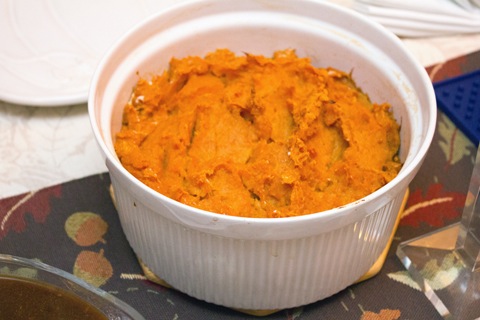 You absolutely cannot have Thanksgiving dinner without mashed potatoes! Try to tell me otherwise. I can't buy it.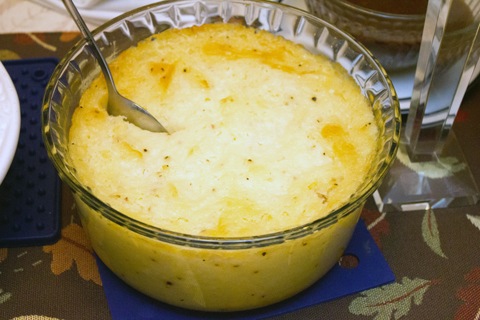 My sister's famous cranberry sauce that she's been making since she were about 12. Another dish I could live off of. (I still insist we have the canned stuff too because it's tradition and so totally not like the homemade stuff).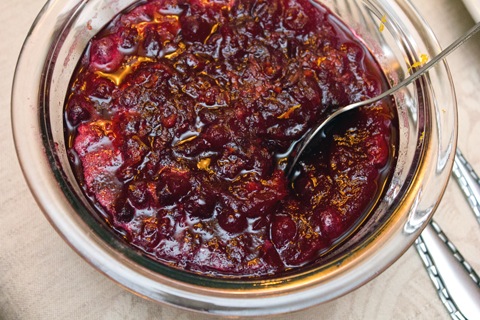 And, of course, green beans with caramelized onions. Green beans are one of my favorite vegetables and it's always good to have a little bit of green at the table.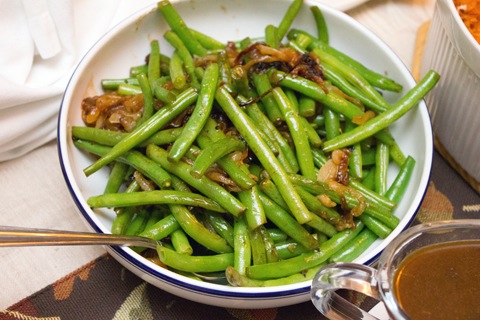 My plate #1 packed full!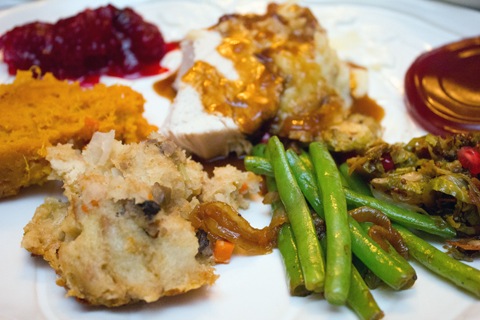 Thanksgiving dinner really is a big conglomeration of all my favorite foods and it makes me the happiest ever!
We kept dessert simple this year with my sister's apple pie (of which I took a photo of after it was half cut into). It was perfectly tart and sweet all at the same time, which I love.
And my mom's pumpkin pie (with heath bar topping!). I've honestly never had a better pumpkin pie.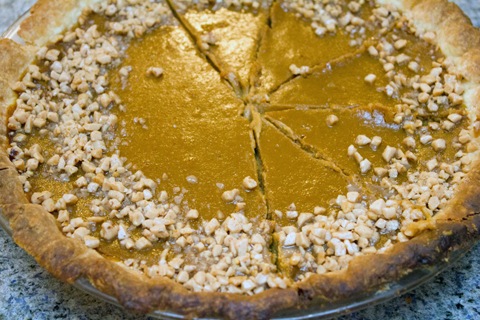 Full? Is an understatement. Content? Is another understatement.
No matter where we were the whole evening, Mitzi was close by with her ball.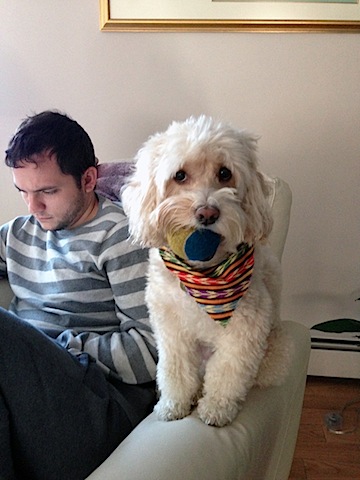 No doubt what I'm most thankful for in life and my absolute favorite "things" of all!
My parents.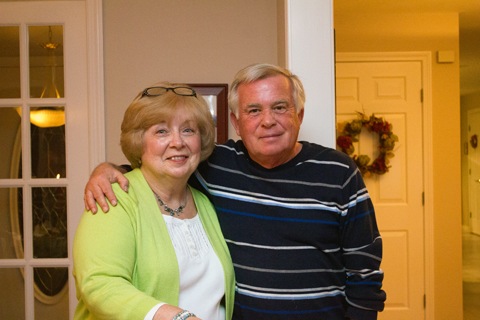 My sister and her husband who are also our best friends.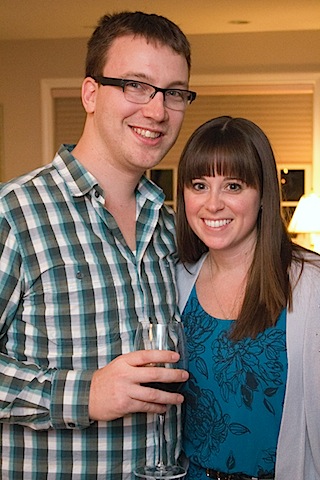 Joan and Jim who I grew up living next door to and who really are family.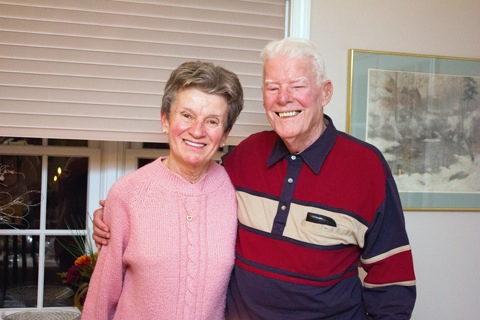 And, of course, my husband who I will be spending a million more Thanksgivings with (this one counted as our fourth!).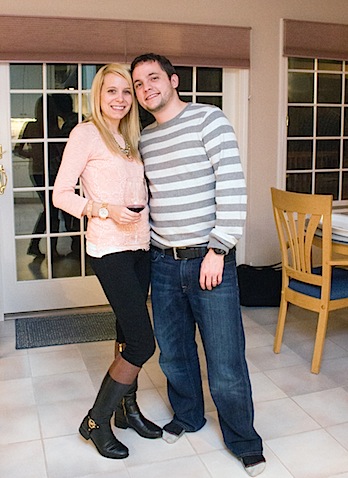 Family photo 2012?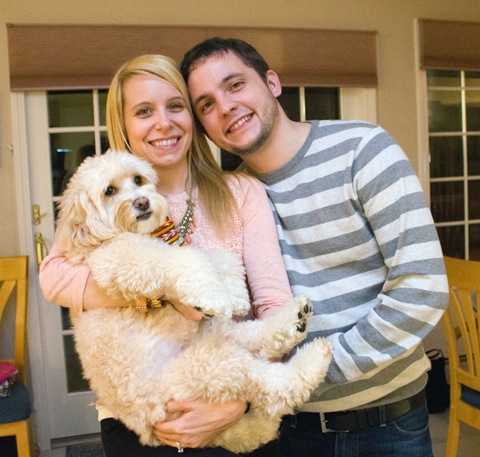 And to conclude this edition of my favorite things… What do you do if you just experienced an absolutely incredible and busy Thanksgiving? Well, you totally pass out, of course.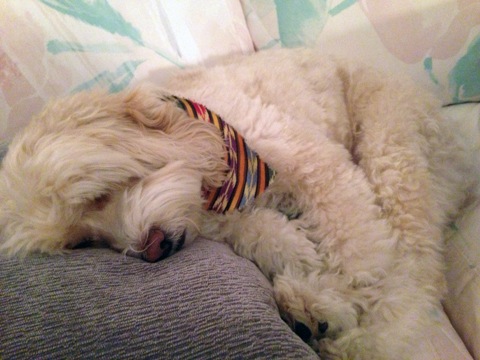 Hard.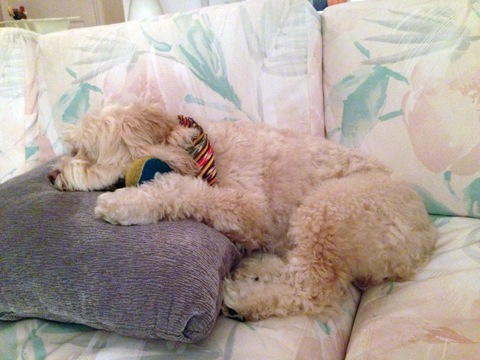 And don't wake up until it's time for the next meal.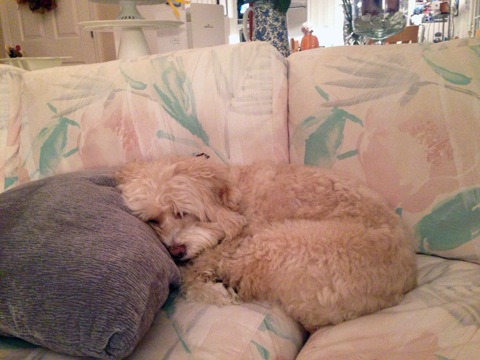 I probably looked exactly the same way. I'm just glad nobody had a camera and was taking photos of me while I was getting my shut eye.
Sorry, Mitzi. But it was too cute to resist!
I hope you all had your best Thanksgivings ever! I promise I'll be back with some recipes next week when I'm back in my own kitchen. I'm still in full-on fall mode and can't wait to get into some holiday stuff, too!
How was your Thanksgiving?
[Sues]