It's Hump Day (am I the only one who hates that saying?? Not sure why I just proclaimed it here, where it will live forever) and I think it's the perfect time for another edition of my Favorite Things. I'm going to try to get one up every month, so consider this the February edition. And consider this still my kind of sort of break from cooking (can I get a couple more hours in the day, please??). I'm planning on spending some time in the kitchen this weekend, so let's hope I'm back in action next week!
New Chobani Flavors: Pear and Banana: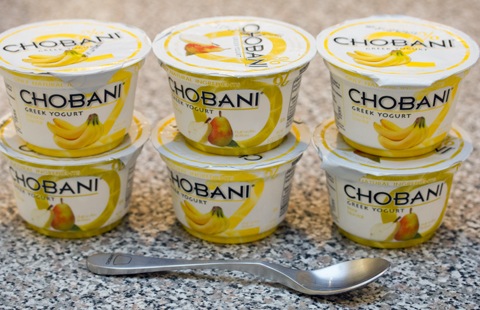 Have you spotted them yet? I was incredibly lucky to get a box of the new Pear and Banana Chobani flavors sent to my doorstep (complete with an actual yogurt spoon!) and I'm telling you, they are awesome! I've been obsessed with pear yogurt ever since Dannon came out with theirs… But it's seasonal and not Greek. Now I can get my pear Greek yogurt all year round! I might have done a cheer when I realized one of Chobani's new flavors was pear. And banana? It's equally delicious (I think in part because it's not artificial-tasting), especially with a little extra sliced up banana added in. Welcome to the family, Pear and Banana. Prepare to see the inside of my fridge quite often.
Bliss Blood Orange and White Pepper Products: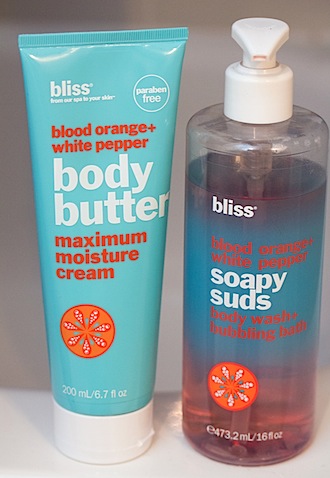 Sometimes you just need a little extra reason to get up in the morning. You know, besides the fact that you love your life and you know each and every day is going to be a fabulous one. Because, really, is anyone that positive and upbeat first thing in the morning? If they are, I want nothing to do with them. Ever. But if you lather up with some Blood Orange + White Pepper products from Bliss, I'll completely understand if your mood is amazingly positive when you get out of the shower. Because this stuff is downright heaven. I may overuse it just a bit, but it's the perfect combo of fruity and spicy and it gives me a morning boost of energy. Now that I know a sugar scrub also exists, everything is about to change.
Mitzi in a blizzard: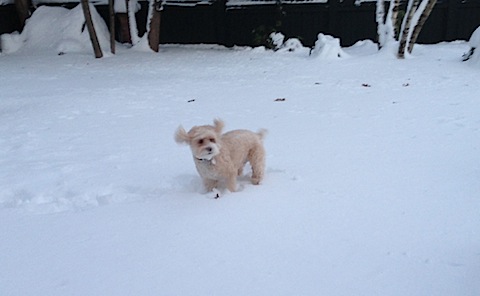 Is there anything cuter than a dog in the snow? I honestly don't think so. Really, the best thing about the blizzard we got in Boston last weekend was being with Mitzi and taking her out to play. We went on a nice walk on Friday night when the blizzard was at its height. The streets were absolutely void of cars and Mitzi was loving her run through the snow. It was weirdly quiet, until we came across a bunch of other dog owners with the same idea as us.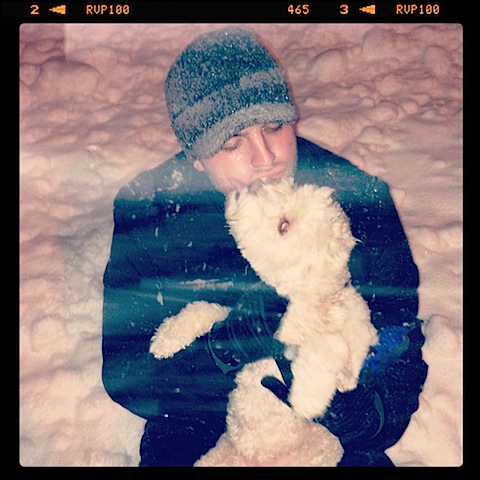 Chris will probably kill me when he sees I posted the above photo. But it's one of my all-time favorites. So cute!
Mitzi's so light that when we went out on Sunday, she went bounding through the unshoveled part of the yard and managed to balance on top of the couple feet of snow. She had a blast chasing snowballs until she realized she couldn't find them once they landed!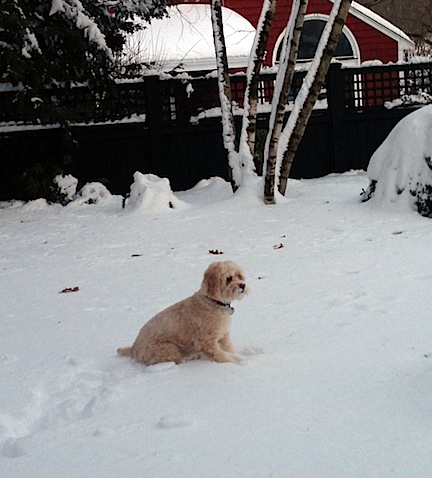 C.O Bigelow Lipgloss:
Have we talked about my lipgloss issue here before? No? Well, I have one. A serious one. I've been obsessed since about first grade, all starting with Bonne Bell, and I still am (though I moved on a bit from BB… and sometimes onto lipstick, but if it's not the perfect shade, it looks pretty horrible on me). For the past several years, I've been addicted to C.O. Bigelow. I'm fairly certain they manufacture these lipglosses with drugs that get you addicted. Even writing this, I'm starting to get cold sweats over the fact that I don't have one of these beside me. They have a huge variety of flavors, but my favorites are currently the shimmer tints and Bubblemint. In love.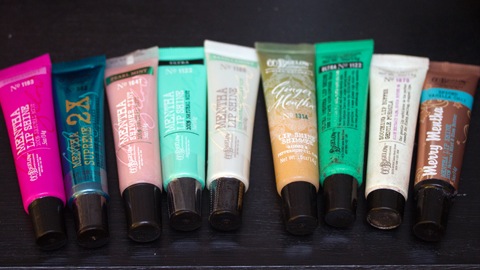 I recently cleaned out my gloss collection after realizing a) I have far too much and b) It's probably not good to keep lipgloss around forever.
And yes, that is a Dogfish Head chapstick sitting there on top. Some people know me really well 🙂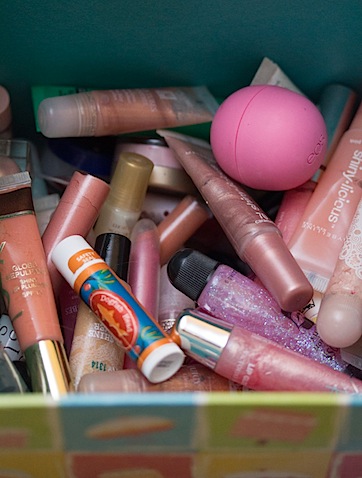 Ballet Flats: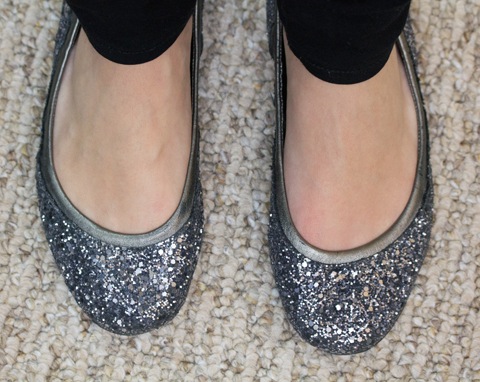 This is more just to say, I CANNOT WAIT TO PUT MY BOOTS AWAY AND WEAR BALLET FLATS AGAIN!! My love for riding boots knows no bounds… except for mid-February. I am so ready to put boots (and socks!) away and break out the ballet flats and peep-toes again. I wore my ridiculously huge snow boots to work the other day and then changed into ballet flats when I got there and felt sweet freedom all day. Until I stepped back out into the Boston winter. Anyway, I have a pretty awesome collection of ballet flats (the above Cole Haans are some of my faves) and can't wait to rotate through them once warmer weather hits.
Peanut Butter Toast Crunch:
I mean, right? I originally saw @yngmarriedchic talking about Peanut Butter Toast Crunch on Twitter and stocked up on a box before the blizzard hit. It tastes pretty much exactly how you imagine and has been my late-night take a break from work treat this week. I'm pretty certain every food should come in a peanut butter version. It would make the world a better place.
What's making you happy this week?
Also, Happy almost Valentine's Day!! 🙂 🙂
[Sues]