Hola! How was your weekend?? As always, it went by way too quickly for me, but now I'm back and ready to tackle the week. At least it's light out?? I'll say that until about 4:30 this afternoon when you'll find me at my desk crying because the sun is disappearing. So, I thought I'd start this Monday off on a positive note with some fabulous favorite things. I'll warn you that this is a long and random list, but full of what I think is just plain awesome. Which is exactly why they're vein called my favorite things. And it's about all I can handle for a Monday morning.
StitchFix-
If you're in the blogging world even a little bit, I'm pretty sure you've heard of StitchFix already, right? It seems like everybody is doing it and I couldn't resist joining in on the fun. So, what is it? Well, it's basically a personal shopping service. You sign up, fill out some forms saying what your style is like, and wait to receive a selection of clothing and accessories that your "personal stylist" picks out for you each month. You keep what you want (and pay for it, obs) and send the rest back. Basically, you sit on your couch and someone shops for you. Something I can definitely get behind since a) I love shopping, but hate the actual process of shopping and b) I'm super picky and have a hard time finding clothes that fit me well. You don't have too much to lose with StitchFix… You do have to pay a $20 styling fee for each shipment, but if you purchase anything in your box, the $20 is put toward that.
Now that I've received two StitchFixes, I thought I'd write a little review. Long story short, I've been really happy with what they've sent me. In my first "Fix," I kept three of the five items. You can see in my little handy dandy collage below, I kept the top left polka dot blouse because I LOVE it, I kept the fun green and blue necklace, and I kept the black and white dress. I had to force myself to send to little black coat back because, while it was adorable, I didn't think I'd get much use of it. And the red top just wasn't me at all.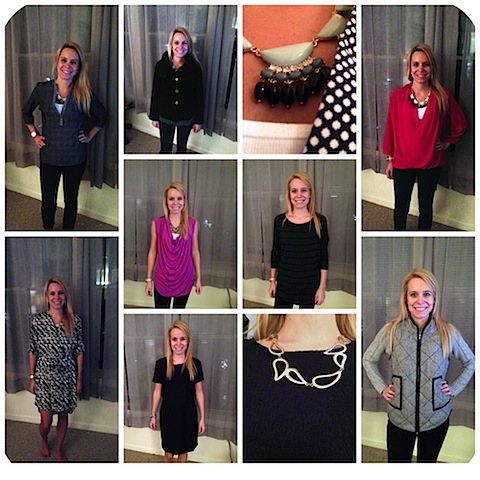 For my second Fix, I only ended up keeping the necklace. But it wasn't because I didn't love anything else… It's just that nothing really fit me right. The pink top was huge on me and was basically just fabric, the middle photo (which is kinda hard to see) is a long dark green top which just hung weirdly on me. And the navy dress was cute, but again, huge. The vest? It pained me so much to send it back because I know they chose it for me because of this vest that I put on Pinterest (and LOVE). But it was also really baggy on me (though it doesn't look so bad in the picture) and didn't have the fab collar my pinned vest had. But I DO love that they are actually looking at my Pinterest and trying hard to find stuff I'll love. I made it clear after my second fix that I can't do baggy, flowy clothing, so I'm excited to see what comes in my third Fix!
Do you do StitchFix? What do you think? If you want to sign up to try it, feel free to use my referral code! Now enjoy sitting on your couch and letting someone shop for you!
Deep Eddy Ruby Red Vodka-
I first heard of Deep Eddy Vodka when I was in Austin, Texas, for BlogHer Food in June. A bartender made me a Deep Eddy Ruby Red Vodka and soda one evening and I immediately said, I need to find this in Boston! I kind of forgot about it for a while, until my mom gave me a bottle of it for my birthday. She had no idea I'd had it before, but it was most definitely the perfect gift!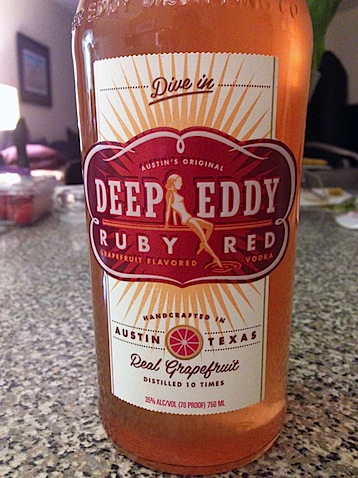 I haven't done anything too crazy with it yet… Just vodka sodas with lime. But I'm loving it as the vodka is nicely flavored with grapefruit without being sickly sweet. If you're a fan of Greyhounds, this is definitely the vodka for you!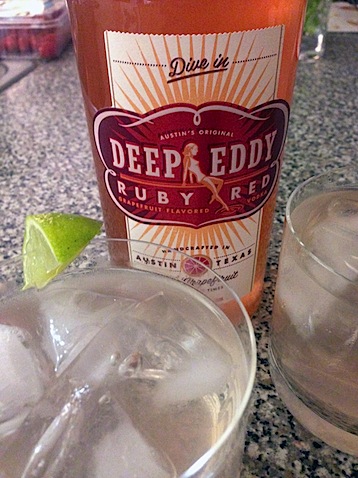 Between Deep Eddy and Tito's, I'm pretty convinced Austin, Texas, makes the very best vodka.
Polar Seltzer's Winter Flavors-
I've gotta give a shoutout to Polar Seltzer's new limited edition winter flavors of water. Seriously, my favorite part of the year is when Polar puts out their limited edition flavors. And while I've been sobbing over the fact that eggnog didn't make a comeback (whyyyy?), I'm pretty psyched over the new lineup. I drink at least one per day. Don't judge me.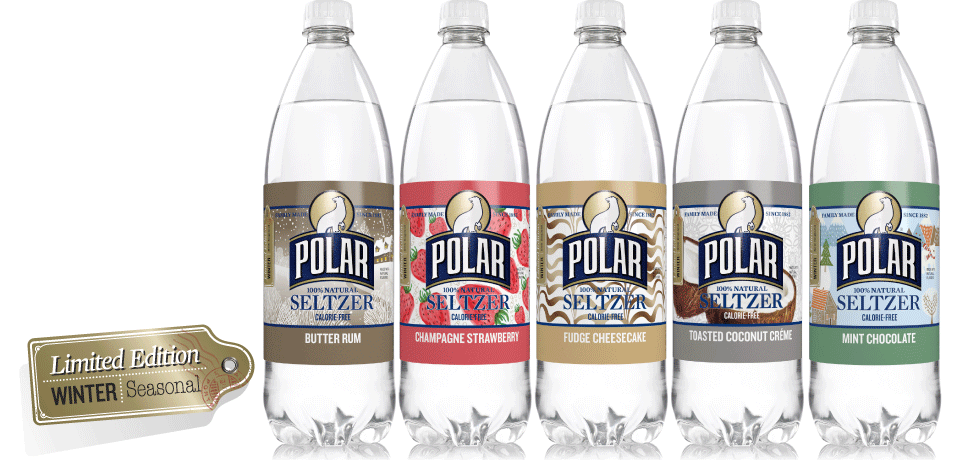 The only one from the new lineup I don't really love is Fudge Cheesecake… I'm especially obsessed with Toasted Coconut Créme and Strawberries and Champagne.
Polar Seltzer's new flavors will get me through the long winter days at work with early darkness. And is it bad to say I'm already excited to see what the Summer 2014 flavors are??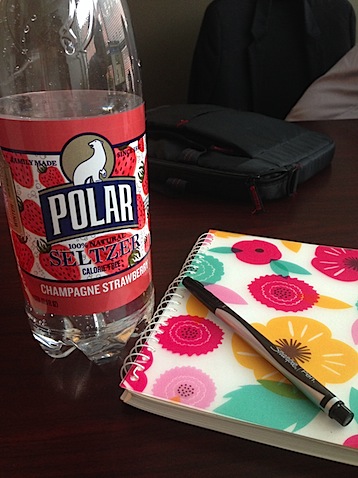 Stonewall Kitchen's Pumpkin Harvest Hand Soap-
I take my bathroom and kitchen hand soaps really seriously. I just love having fun soap in every room in my apartment (which means 2 rooms… one kitchen and one bathroom) and am now in love with Stonewall Kitchen's Pumpkin Harvest hand soap. I took a class at Stonewall a couple weeks ago (they have the BEST classes! You must go!) and bought this along with a few other fun things. And now, i can smell like pumpkin all day long. They had hand cream and a candle too, but I refrained from going too wild and crazy.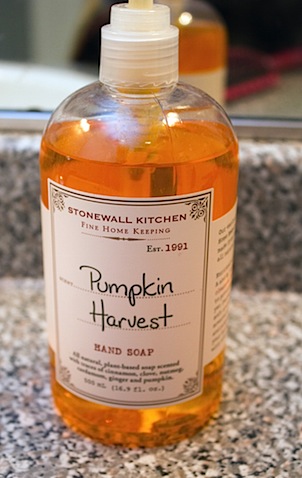 Not Your Mother's Dry Shampoo-
Have you fallen into the dry shampoo craze yet? It took me a little while. I used to be an obsessive hair washer and couldn't imagine leaving the house without washing my hair first for pretty much my whole life. But I finally came to the terms with that fact that I was damaging my hair by washing, drying, and straightening it every single day and that the less I washed it, the less I'd have to wash it. And thanks to the magic of fry shampoo, I can now go a couple days in between hair washing. I've tried a few different kinds and have to say that the less expensive ones have worked best for me. I mostly use Not Your Mother's Clean Freak Dry Shampoo, but also think Suave's is pretty awesome. Dry shampoo is my savior and this comes highly recommended.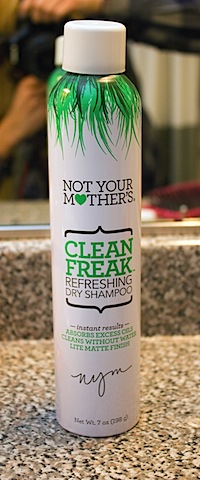 Ann Taylor Signature Fragrance-
My friends over at Anne Taylor let me know that the brand has a brand new fragrance out — the Ann Taylor Signature Fragrance. They sent me a little sample of it and I've been using it pretty much every day. I'm the kind of person who finds a perfume and sticks to it basically forever… First it was Lacoste Pink, which I used for years and years. Now I use DKNY's Be Delicious (oh, and in high school, it was Tommy Girl… Hello 90s!). It takes a lot to get me to make a switch and I'm super picky, but I am loving the new one from Ann Taylot. It's a nice light fragrance and doesn't feel overpowering at all (my number one fragrance rule!). The company describes it as "plum, dewdrops and magnolia, highlighted by notes of jasmine, sandalwood, vanilla and vetiver." I have to say… It's the perfect holiday gift!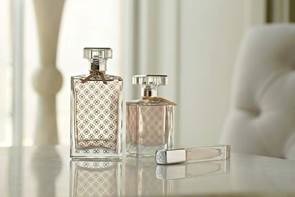 Butterball Indoor Electric Turkey Fryer-
Yes, I'm pretty excited about it. No, I haven't used it yet. But I will most certainly let you know when I do. In case you've never had fried turkey, you should know it's one of the best things on the planet. And it doesn't taste greasy fried; it just tastes perfectly tender and juicy. And I can't wait to make my own!! (disclosure: Butterball sent me the turkey fryer, but isn't requiring me to write about it!)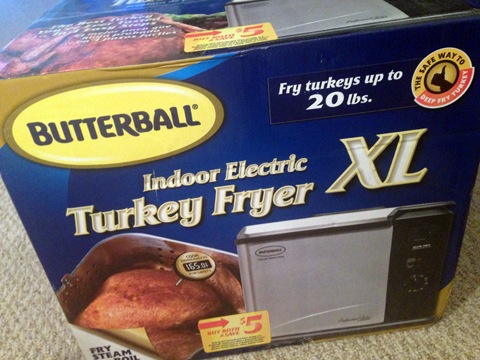 Way Better Snacks- Pumpkin Cranberry Tortilla Chips-
Tell me you have a Pumpkin Cranberry Tortilla Chip and I am so there. Way Better Snacks reached out to me to see if I'd want to try their new tortilla chips… Hello, yes. The chips are "way better" in part because of their simplified ingredient list, including, Stone ground non-GMO corn, sunflower oil, cranberries, pumpkin, organic sprouted flax seed, organic sprouted quinoa, raspberry, and pure sea salt. Simple and delicious. I love the idea of a seasonal chip and thought the pumpkin with slightly sweet cranberries was the most perfect chip.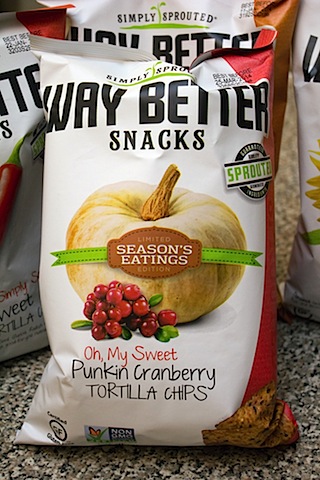 I also received a few more bags of the other flavors and am convinced I found my new favorite chip. The only problem is that while the chips are "way better," it's probably still not appropriate to eat an entire bag of them. Oops.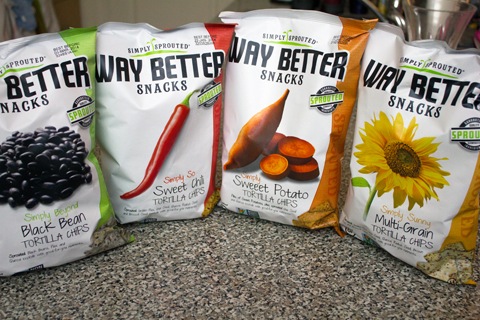 Phew! And those are all my latest favorite things. And now Monday doesn't feel so bad.
What things are you loving this week?
[Sues]