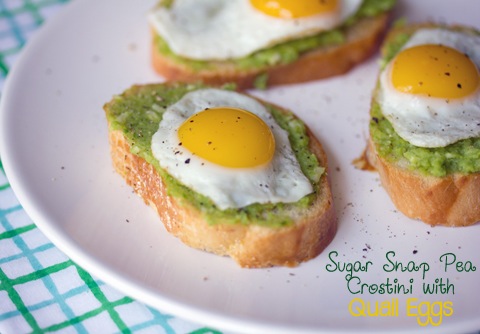 I think I scared everyone at my local Market Basket when I squealed with delight over the fact that they now carry quail eggs. Oh well. I have no shame. That ship sailed long ago. Probably back when I cried over the fact that they didn't have pre-washed and chopped kale in bags for two weeks in a row. Kidding. Kind of. But is there actually a mint shortage going on right now? Because my well-stocked grocery store basically never has it anymore. And I haven't been able to buy my annual mint plant.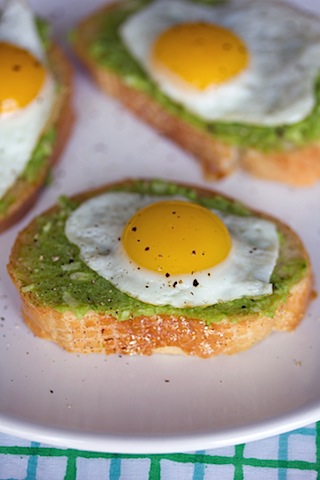 But I mean, quail eggs. How cute? I bought them having no idea what I'd do with them but knowing I'd figure something out. And what better to do with quail eggs than put them on little pieces of toasted bread? Case closed. I whipped up these delightful little crostini for my latest Parade post and now my fridge will always be stocked with quail eggs. Unless Market Basket stops carrying them in an attempt to ensure that I'll have another hissy fit in the dairy aisle.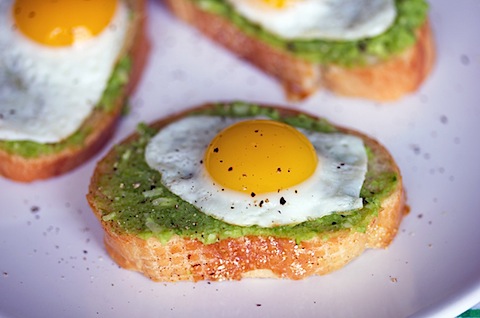 Oh and that green stuff? Sugar Snap Pea purée. With mint, too. Because I finally managed to find them. But sugar snap peas in purée form? I don't know why I never thought of it until I realized the actual peas were too tiny to purée.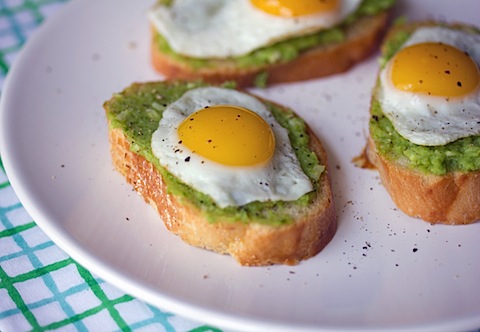 Hooray for quail eggs, sugar snap pea purée and an appetizer that will make pretty much everyone happy. And also hooray for the fact that it's almost the weekend. Because the week after vacation is never going to be the best week ever. And when it's 100 degrees out? I really just want to be outside soaking up the sun. Because I'm crazy. And want to live in a sauna. Or a hot tub.
I hope that you'll check out my recipe on the Parade website and maybe even make it for your next summer gathering. In the meantime, enjoy the end of your week!
Have you ever cooked with quail eggs?
[Sues]
Ninja Frying System giveaway winner:
I'm finally announcing the winner of the amazing Ninja Frying System! It's Lisa C. who said, "I would love to try making this onion recipe, and that famous "flowering" version of it! Oh and I hear beer battered pickles are amazing as well."
Congrats, Lisa! I'll email you for your shipping info. tomorrow. Yay frying!!