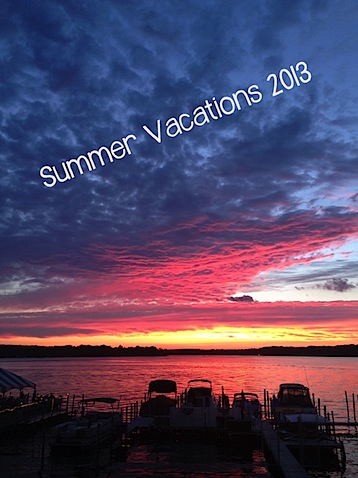 I've been meaning to write a favorite things post for basically forever now. And I just went through my photos and realized I have no fewer than 8935 favorite things and um, too many for one post. So, I'm breaking it down! No, not in a dancing way… in a blog post way. I'm starting with a couple of my recent "travels" and then next week, I'll do a favorite things post, which will actually consist of "things." This one is all about the places and the people!
First, my little anniversary weekend in Ogunquit, Maine. I was on a work trip in Austin during me and Chris's first wedding anniversary in early June. It was definitely a little bit sad to be away, but a few weeks later we jetted off to Ogunquit, Maine, for a belated celebration. And when I say jetted off, I mean we drove the 1.5 hours there and spent a lovely day and evening.
We stayed at the Cliff House, which is the hotel I stayed at many, many times growing up. As the name implies, it's right on the ocean and is, in my opinion, the best place to stay in the area. Then again, it's the only place I've ever stayed, so take that as you will. It's not walking distance to much, but a super short drive to downtown. Plus, there's plenty to do at the hotel. Like sitting on the patio with a strawberry mojito and a view.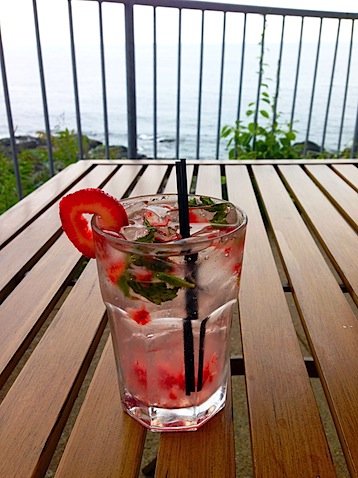 It ended up being a little rainy when we were there, so we spent some time in the hotel hot tub and at the bar, too. We visited the game room my sister and I spent a lot of time in as kids and Chris got to see what a pro ping pong player I am. Really, though. I guess he has really low expectations for me when it comes to "athletics," so my ping pong skills seriously impressed him. Learning something new in our marriage every day, I suppose 🙂
Like we do EVERY time we visit Ogunquit, we had lunch at Barnacle Billy's in Perkins Cove. It isn't summer if you don't have a Barnacle Billy's lobster roll!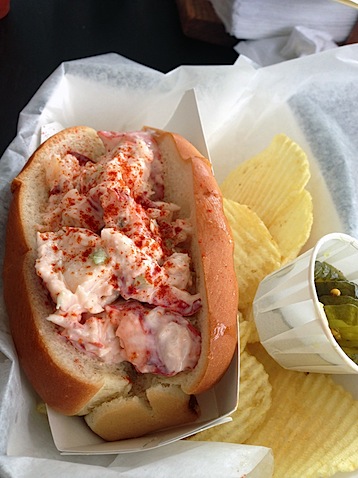 I usually order the rum punch, but this time I went with a nice cold glass of rosé and it totally hit the spot.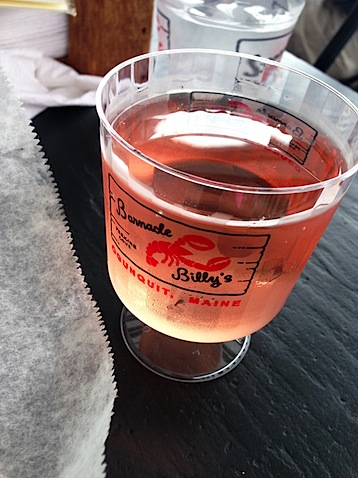 That evening, we had our anniversary dinner at an adorable little place called Roost, which just moved it's location from Cape Neddick to Shore Road in Ogunquit.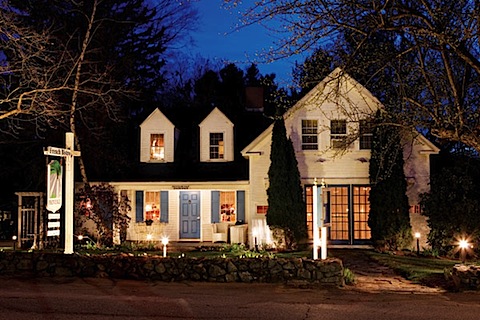 I didn't take photos of the entire meal, but everything we had was exceptional and I'm still thinking about my grilled swordfish kabob. The service wasn't exactly top-notch (our waitress was rude at several points), but I'd definitely go back for the outstanding ambiance and food.
And the dirty martini.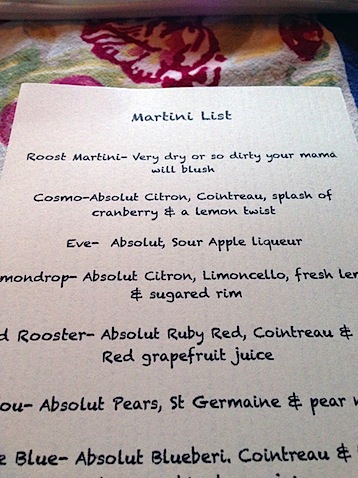 How cute is the little martini bucket?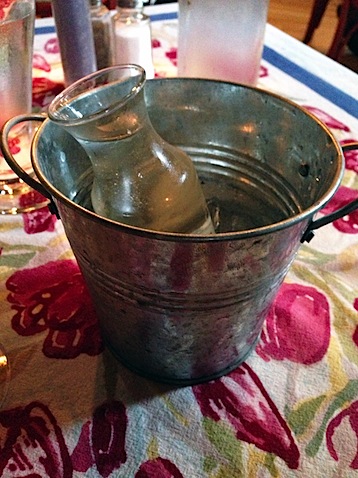 I'm also in love with the tablecloth on our table.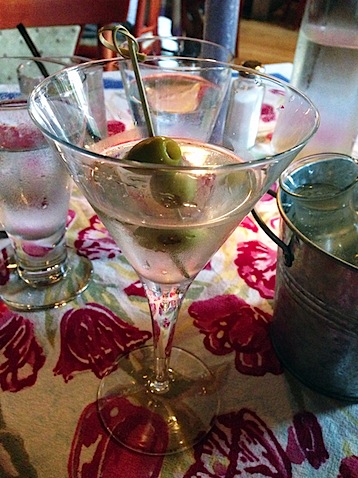 The next day we had lunch at MC Perkins Cove because Chris wanted another lobster roll and this one was voted as one of the best by Food & Wine magazine. I wasn't really in the mood for another lobster roll, but was majorly jealous when his came out. We could totally see what it's thought of as one of the best ever!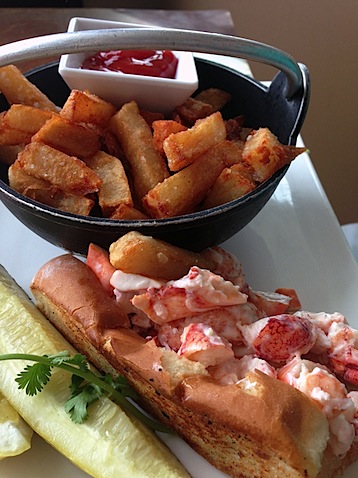 Luckily, my fish tacos were out of this world, too. Definitely some of the best I've ever had.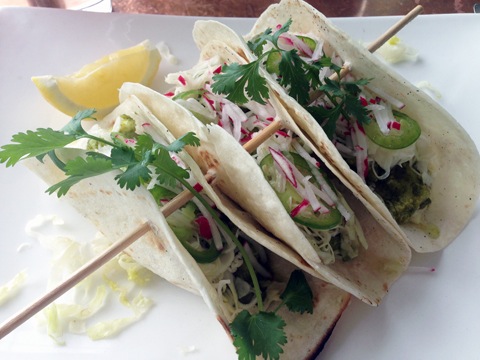 On our way home from Maine, we stopped at Congon's Doughnuts because I heard very high praise and will always drive out of my way for good doughnuts. ALWAYS. I would even consider taking a "doughnut vacation" in which I travel around the country all to seek out doughnuts. What am I even saying I'd consider it? You know I'd do it. OK, now I'm just dreaming.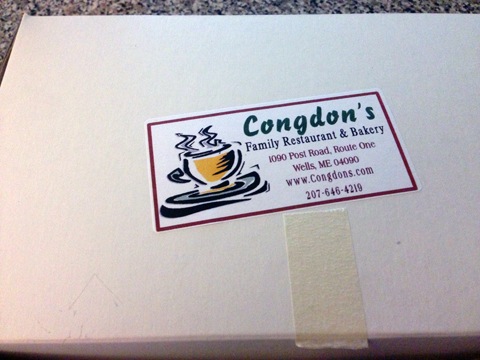 Congdon's Doughnuts aren't the prettiest ever, especially after we made it home with them on a hot, muggy afternoon. But when it comes to doughnuts, we don't really care about looks.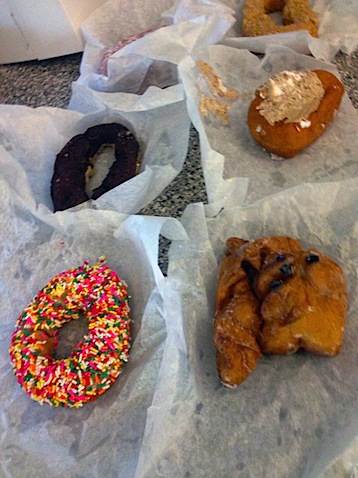 We care about taste. And this Maple Cream doughnut tasted like a dream.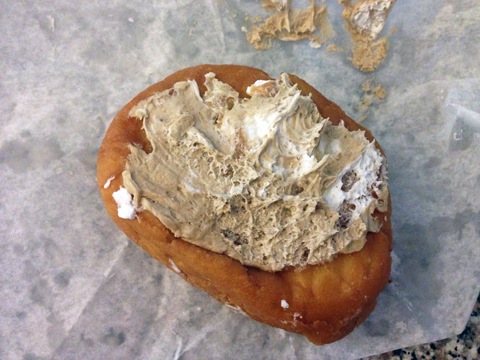 While I guess not technically a "doughnut," I was obsessed with this blueberry fritter, too. Now I'm on the hunt for the best fritter recipe!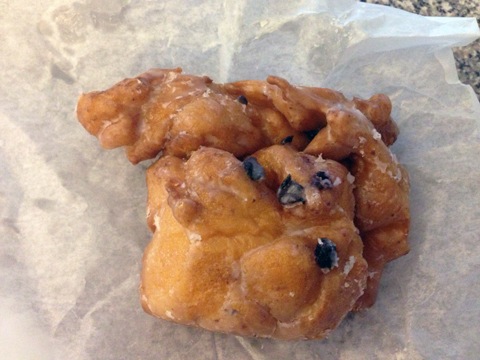 I'm definitely heading back to Congdon's the next time I'm in the Ogunquit area. And dreaming about these doughnuts until I can go back.
It was a lovely little anniversary getaway and I'm looking forward to having many, many more of them with my husband!
And now onto Chautauqua. Since I have lots of family in Western New York, we vacation at Lake Chautauqua pretty much every year. We skipped last year because of the wedding, but made our return this year. It's always just a really nice time to get away for a little bit and relax and spend time with family.
Chris and I drove the 9 hour drive with my sister and Adam and I can't even begin to tell you how excited and relieved we were to be on a real actual vacation. For an entire week!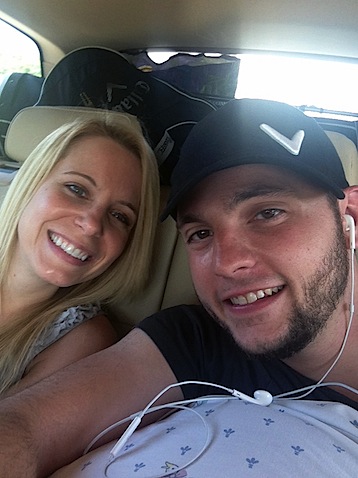 We left on Friday afternoon and stopped halfway to the lake, in Syracuse, New York. Pretty much every person we told we were staying in Syracuse told us we HAD to go to Dinosaur Bar-B-Que. You didn't have to tell us twice (or 15 times!). We pulled into Syracuse around 7:30 and went right to the restaurant we've heard so much about.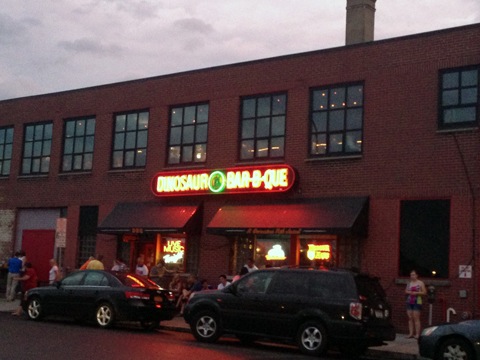 We knew we were going to love it from the second we got there. After a brief wait (with local beer!), we ordered a summer staple, fried green tomatoes.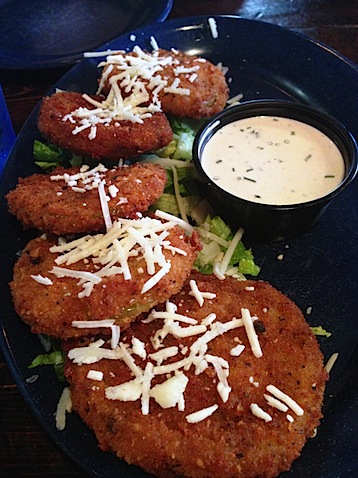 For my meal, I got the pork and brisket plate because I wanted to try a little bit of everything. The pork was so awesome! I was also pleasantly shocked by how delicious the mac and cheese was.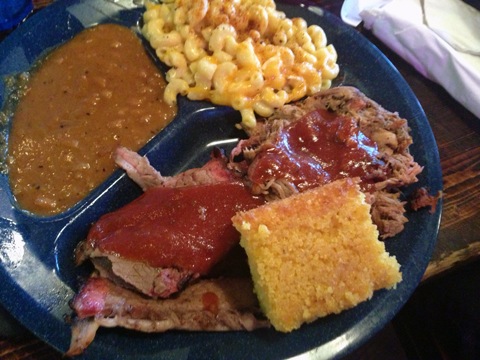 Chris got ribs and I'm pretty sure i never saw him eat so much in my life.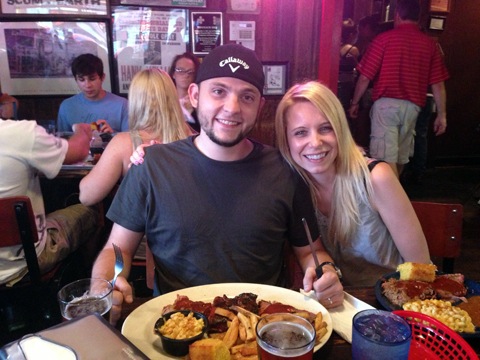 We didn't get to see much of Syracuse, but from what we heard, we saw the most important part 🙂
The next day, we made it to the lake in the afternoon and got settled into our condo. It was our first year in a whole new location and I think we all agreed it was pretty perfect. Right on the lake, but also with a glorious pool and hot tub. My kind of vacation! Our place was also in walking distance to restaurants, bars, and ice cream!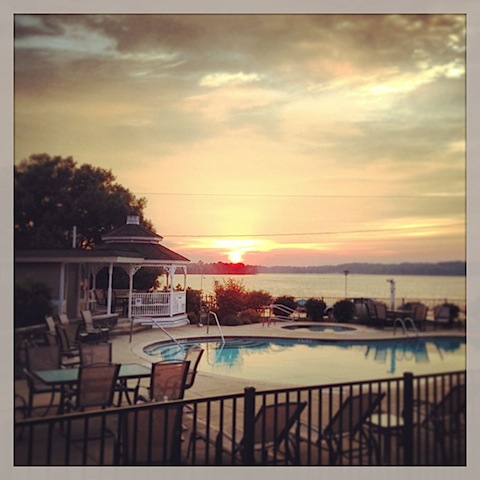 Our first night, we had dinner at The Italian Fisherman. A dirty martini to kick vacation off (major bonus points for having gorgonzola stuffed olives!).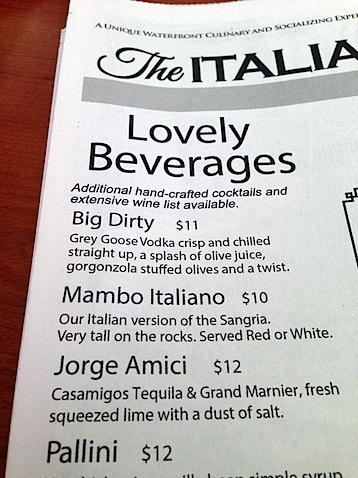 Not everyone loved their meals, but my mahi mahi hit the spot.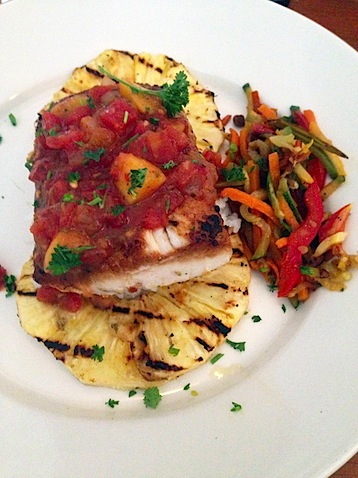 On our way to relaxation! Also, my entire family was coincidentally wearing pretty much the same color that evening.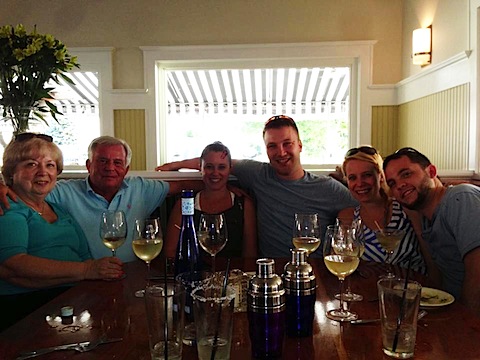 Our condo was also right across the street from the floating stage that had a different type of entertainment every night. When we were walking back from dinner, an Eagles cover band was playing.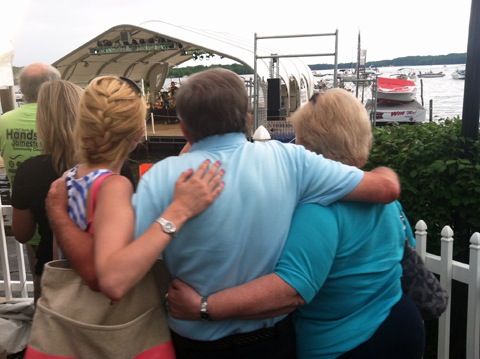 I didn't document most of the vacation because most of it was spent either by the pool or hanging out with my relatives, but we did do a few fun little activities. Like visit Southern Tier Brewing Company! It's been one of our favorite breweries forever, so when I discovered it was right in my vacation area a few years ago, we started going.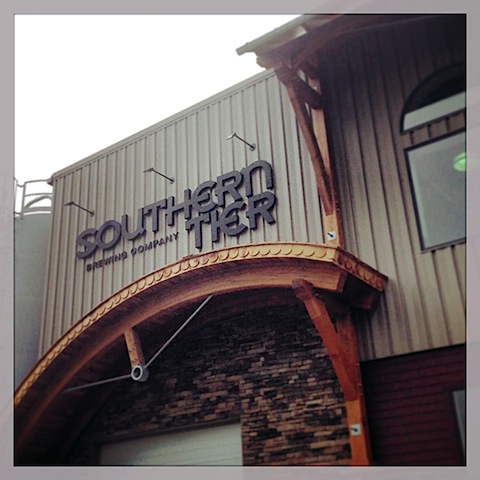 This time we went with some of my cousins and had a blast sipping our samplers and catching up.
The ladies!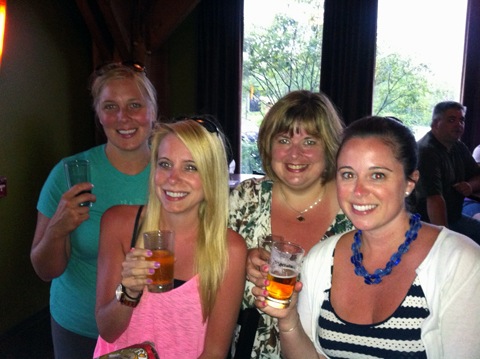 Sisters 🙂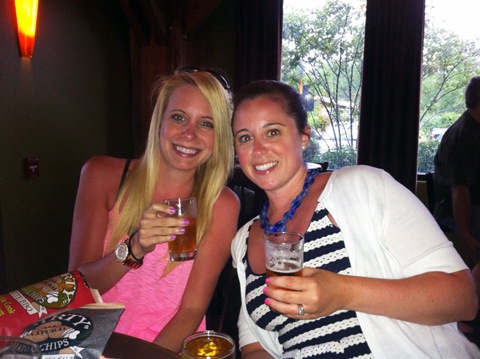 I was happy to get to try Compas and Sonnet, two new-to-me beers. Of course, we all had to sip a little bit of the old Southern Tier standby, Creme Brûlée.
Chris was basically in heaven.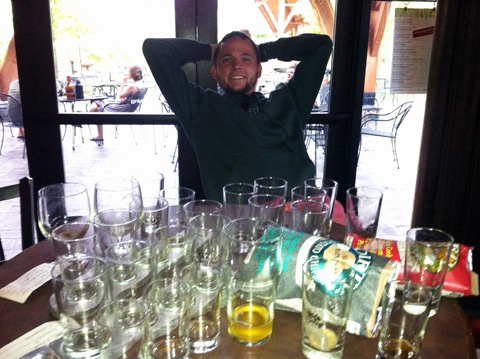 I mean, we all were, but purchasing a sweatshirt was pretty much the first thing he did when he arrived.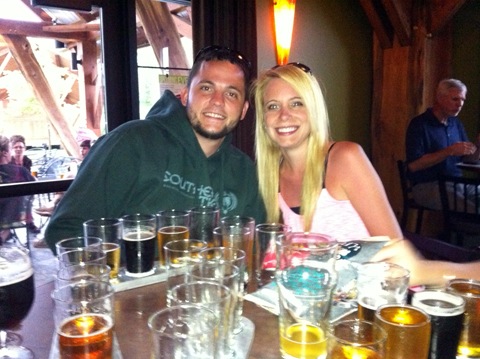 But then we all got jealous and many of us decided to get some apparel of our own. And obviously had to take a photo.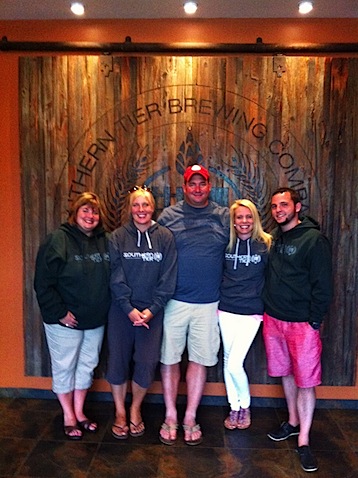 Other highlights of the trip? We went out to dinner a few times, but also had some great family dinners in. My sister and Adam made cod with zucchini, squash, and tomatoes one night.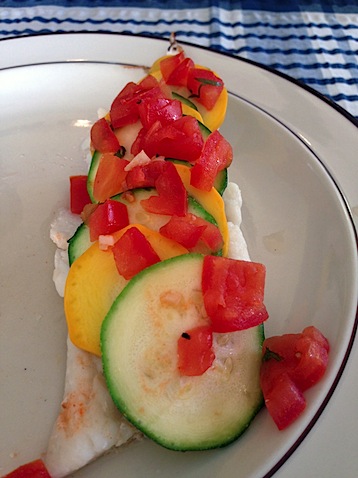 We also had breakfast at the Bemus Point Inn, where we had a ginormous cinnamon bun.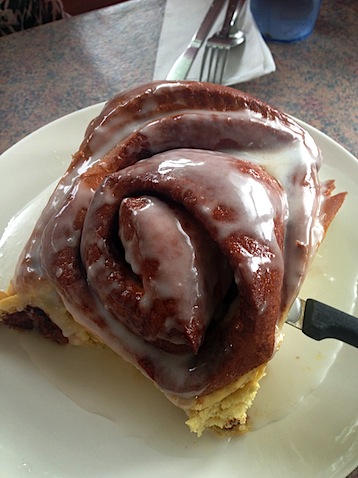 \
Even though it was pretty hot out every day, we still tried to get in some hot tub time. This is probably the least vacationy-looking photo ever as we're all in the hot tub working on various projects. At least we have drinks? Also, this could be a pretty awesome Mac ad 🙂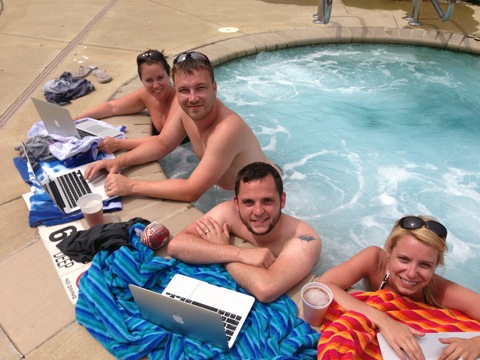 The sunsets were beautiful pretty much every single night. This is the kind of photo you put on Instagram with the "no filter" hashtag because you want everyone to know it really actually looked like this!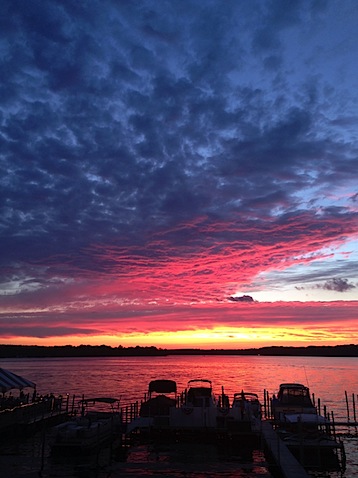 On our last evening, we were all sufficiently tanned and well-rested.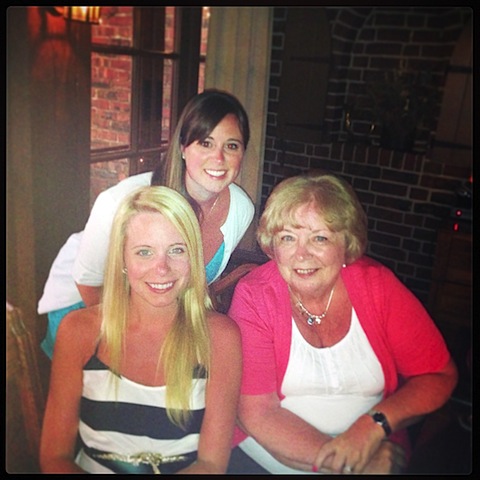 While we didn't stay anywhere overnight on our way home, we did make a little pit stop at Brewery Ommegang. Another one of my favorite breweries ever, and it just so happens to be not very far off our path home. If you ever get a chance to visit, you must. It's in the most beautiful location (in Cooperstown, NY) and is basically a little piece of heaven.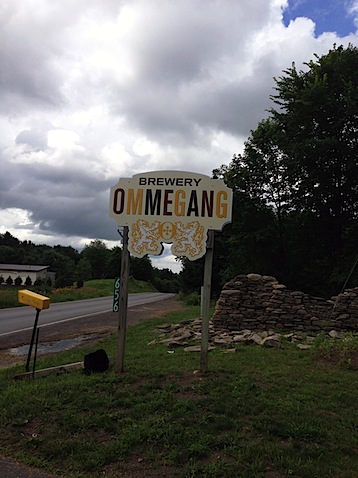 We didn't do the brewery tour this time (it was SO much more crowded than it was two years ago when we visited) and just got lunch and some beers!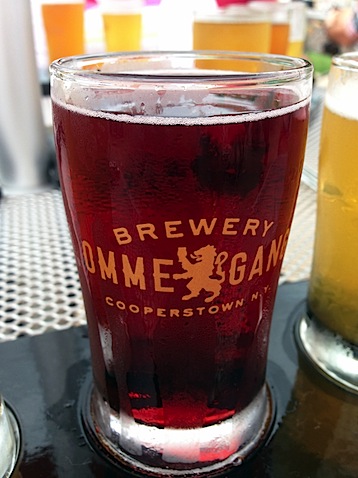 A sampler is always a good idea when visiting a brewery. Three Philosophers has long been one of my favorite beers, but I love trying new selections, too, like the BPA. I really wish they had their Game of Thrones beer available!
We were absolutely starving after driving all morning, so we ordered a giant charcuterie plate.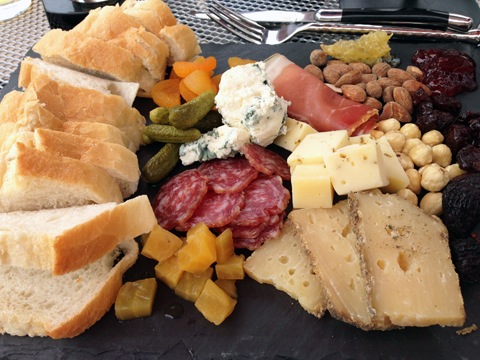 And frites! It just happened to be "National French Fry Day," so we felt like we had to.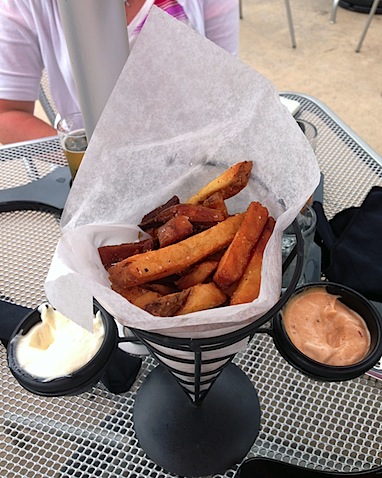 The lamb sliders were so worth the drive off our path.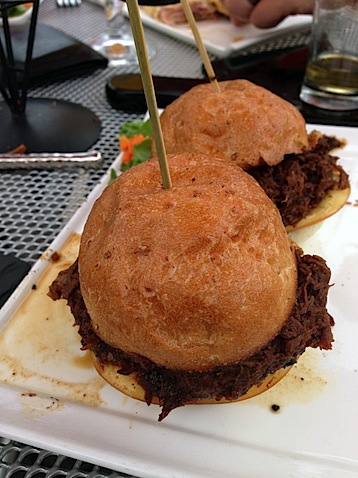 And Chris loved his chicken and waffle.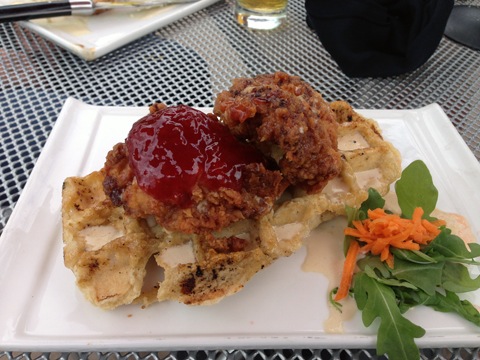 Pretty sure that won't be our last time at Ommegang!
I loved the Frank Zappa quote on the door: "You cannot be a real country unless you have a beer and an airline. It helps if you have some kind of football team, or some nuclear weapons, but at the very least you need a beer."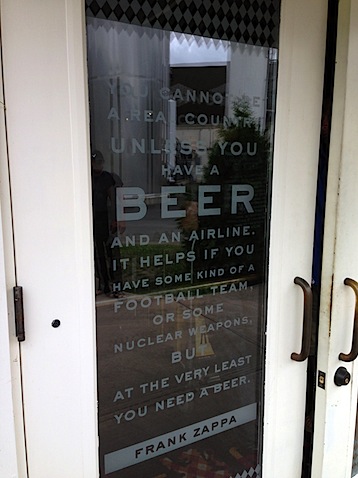 It was so nice to spend a week with my immediate family, my aunts and uncles, and lots of my cousins and their kids (who I also refer to as my cousins). We don't get to see each other nearly enough, so it's always nice for a getaway together.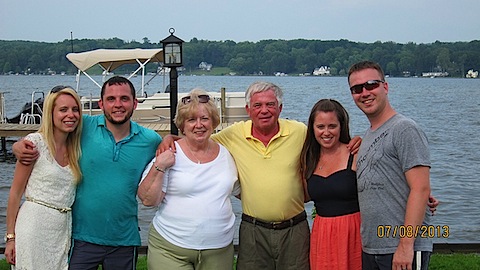 And now I will begin dreaming about my next vacation…. Whenever and wherever that will be!
Have you been on any vacations this summer?
[Sues]