If you're trying to maintain your figure this summer, may I suggest a healthy little treat?
So, I tend to be a huuuuge snacker. I'm always grabbing chips or cheese balls (YUM!) or popcorn to get me through the day or to my next meal. Ummm yeah… my mom even calls me "crunchy" sometimes and my sister called me a "squirrel" this afternoon when I was on the phone with her, since I'm literally always crunching on something haha.
On a recent trip to Russos (not to be mistaken for Heaven) I bought myself some seedless black grapes which I have fallen in love with. For some reason, I feel like they're far more juicy than purple or green grapes! I volunteer at a gym and decided it probably wasn't so appropriate to be encouraging women to work out and eat healthy foods while I'm stuffing my face with (delicious) salty snacks… so I resorted to bringing these grapes instead!
Earlier this week I decided to freeze the grapes just to switch things up a little. I'm pretty confident that they're one of the most refreshing things eat. To best describe them, texturally they are like mini poscicles!
It's really extremly simple, but here is what I did:
• Wash all of the grapes as you would normally
• Pat them all dry with a paper towel
• I chose to pick them all off of the vines, but I'm pretty sure they'll still freeze the same way (and come off the vine easily after they freeze) if you leave them on the vines.
• Get a large ziplock freezer bag and lay the grapes flat in the bag and then place in the freezer.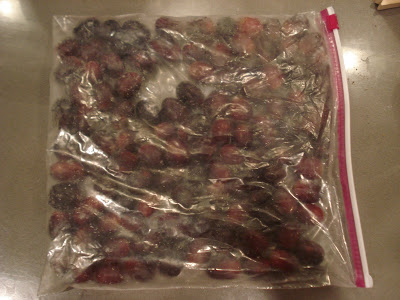 • Allow the grapes freeze for a few hours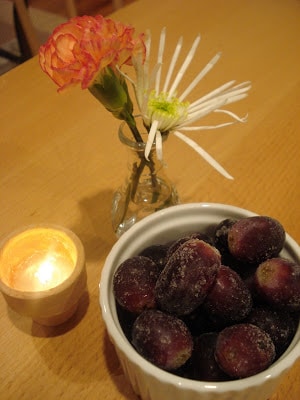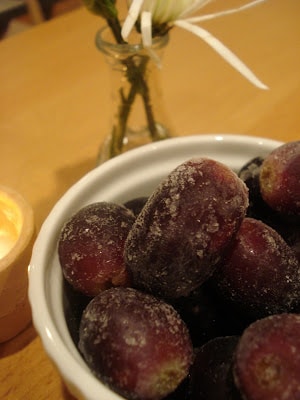 These are a great cool down snack for the Summer heat (if it ever really gets here!) or even serve them in a bowl if you're entertaining! I have certainly been munching on these all week which has, thankfully, made me reach for the "bad" snacks a little less!
[Chels]