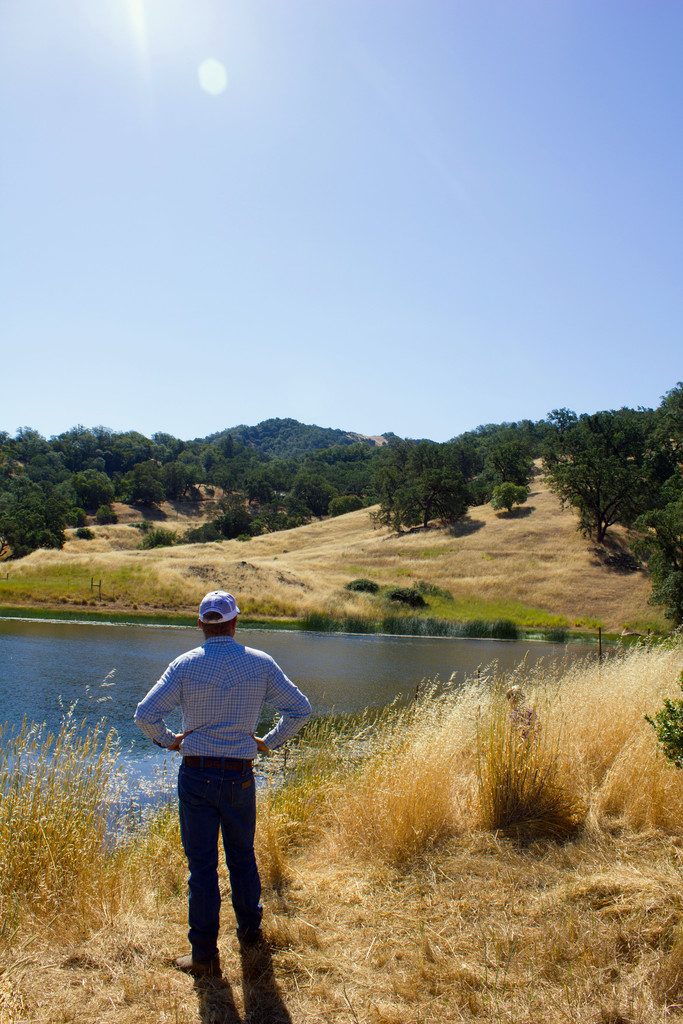 I'm back to tell you about the rest of my Northern California trip with Superior Farms and at this point, all I want to do is go back. Chris and I actually just planned a trip to San Francisco/wine country to visit some dear friends, so now the countdown is on to October! But for now, I have about 11 million photos and just as many good memories from my trip. I've said it before and I'll say it again, I feel SO incredibly lucky that I'm given the opportunity to have these experiences; I get to visit places and learn things I never imagined I'd have the chance to do.
One of my biggest, "omg what is my life" moments during this trip (and there were a lot!) was during the dinner we attended at Gracianna Vineyard, a Russian River Valley "fruit-first" winery.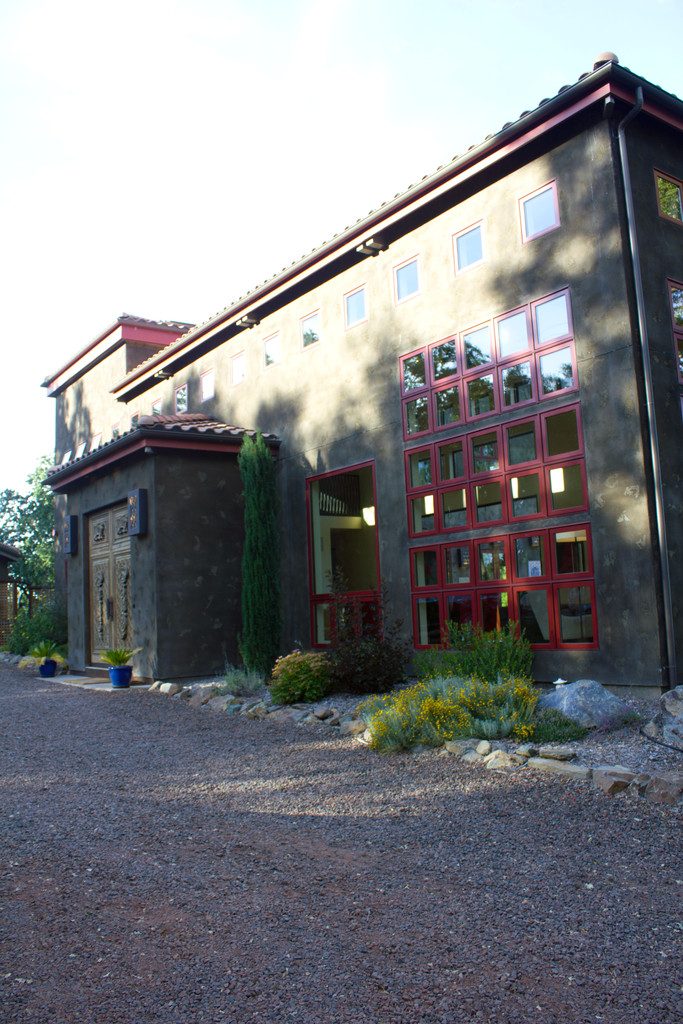 When I heard we were having a vineyard dinner, I was excited... But I had no idea the vineyard was actually the home of Lisa and Trini Amador and that we were literally dining in their house. And um, this was our setting: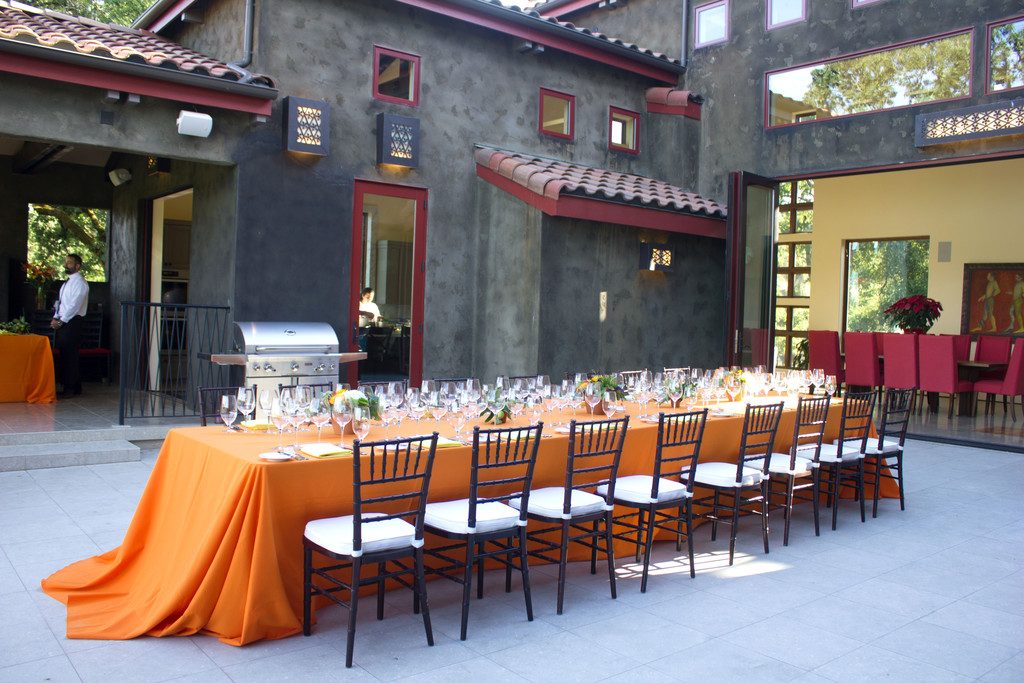 You can see that the table was set on their patio (which overlooks the vineyard) with the doors to their beautiful home open. I'm pretty sure we all walked in with our mouths wide open by the beauty of it. Lisa was kind enough to give us a tour of their home; the home that she and her husband spent 17 years designing and bringing to life. Their home is the stuff dreams are made of and I knew I had reached new levels of insanity when I found myself taking photos in their bathroom (all white marble!!) and bedroom. I won't share all of my creepster pictures, but you do need to see the windows in their bedroom: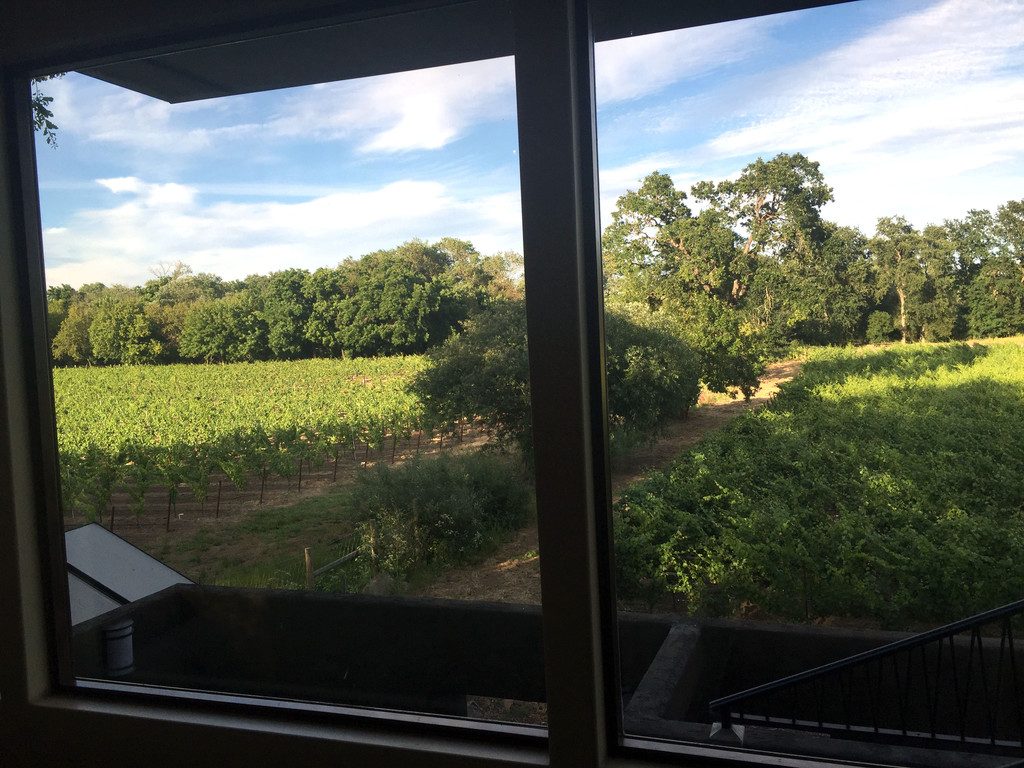 Imagine waking up to that view every morning?? While there was so much to love about the house, my favorite thing was the plethora of windows and all the natural light oozing into the house. Also, the Amadors have some incredible artwork, which basically all came with a personal story.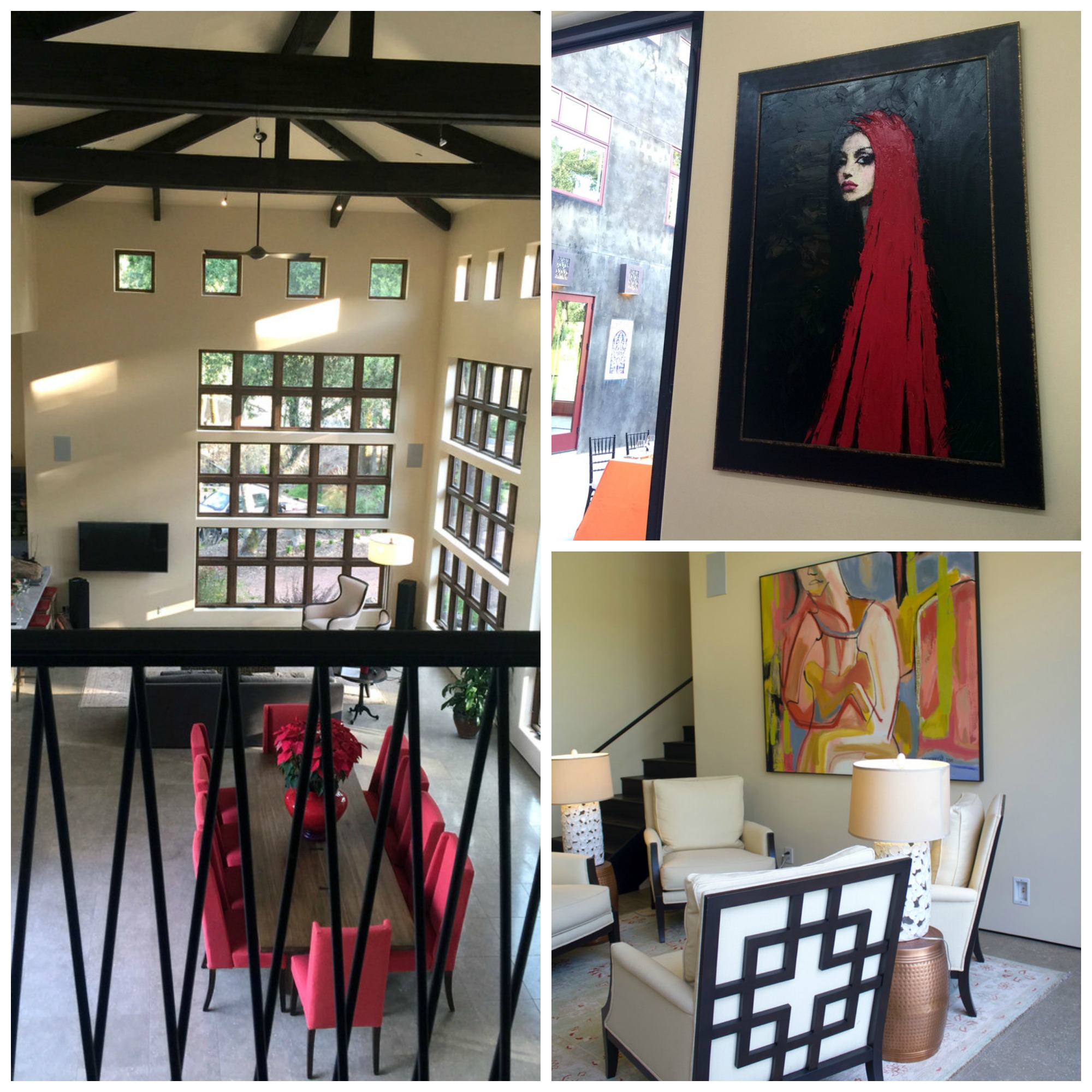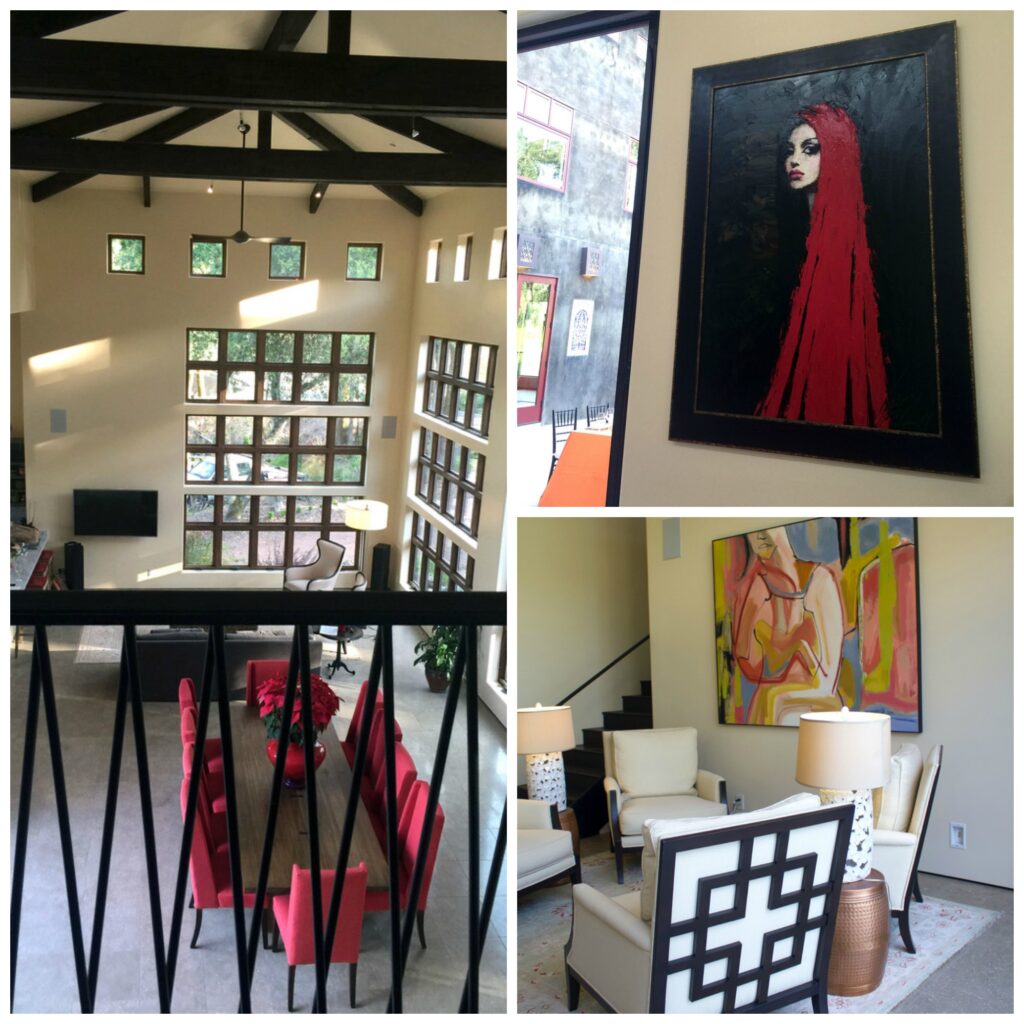 Anyway, I guess I should probably talk about the food! We started the evening with some delightful appetizers prepared by Chef Tom Schmidt and, of course, Gracianna wine.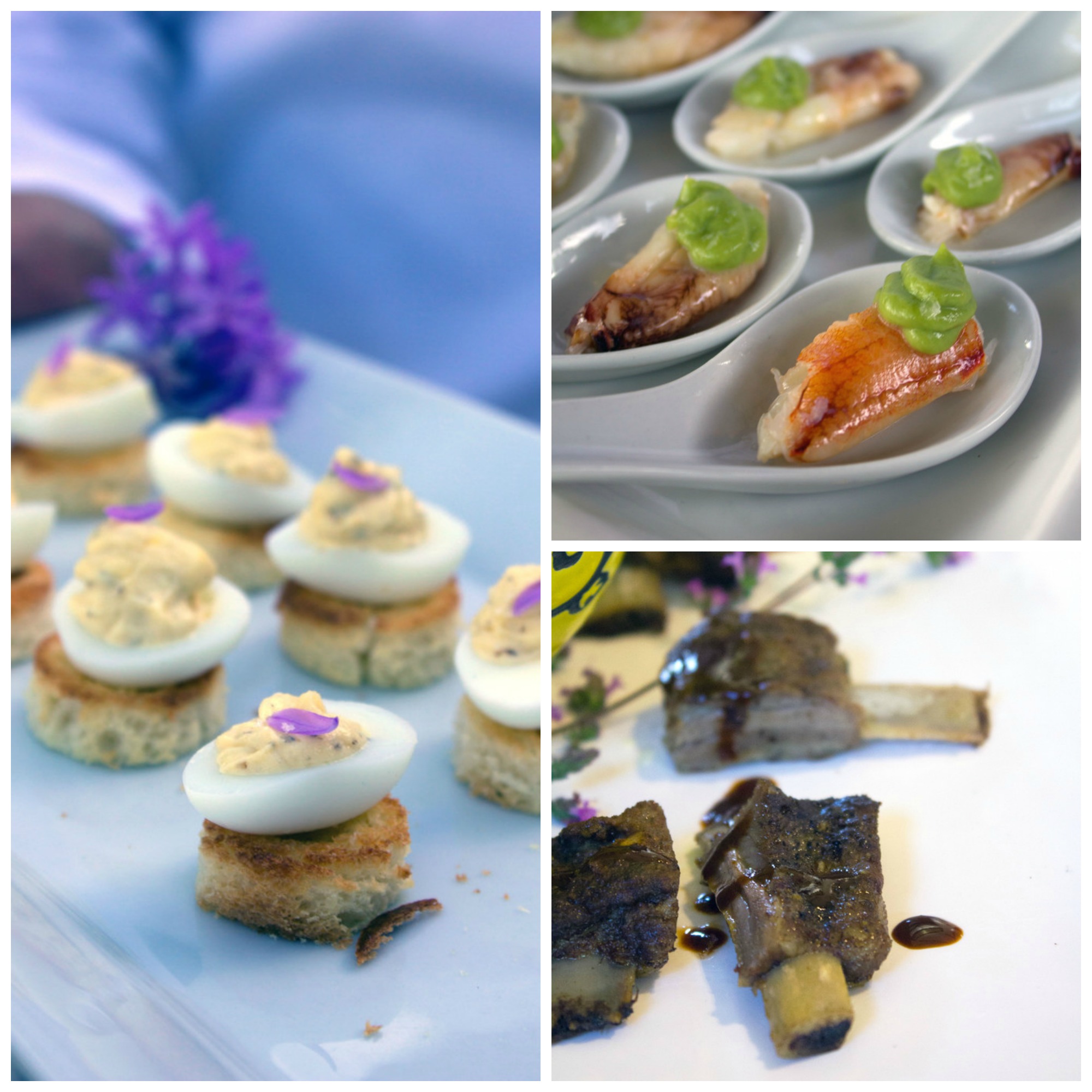 The only worry in the world we had was attempting to get the perfect photo of the scenery and food, while also actually indulging in the food (and simultaneously holding a glass of wine!). Again, part of the reason this trip was so lovely, was the company I had in Lizzy and Ericka.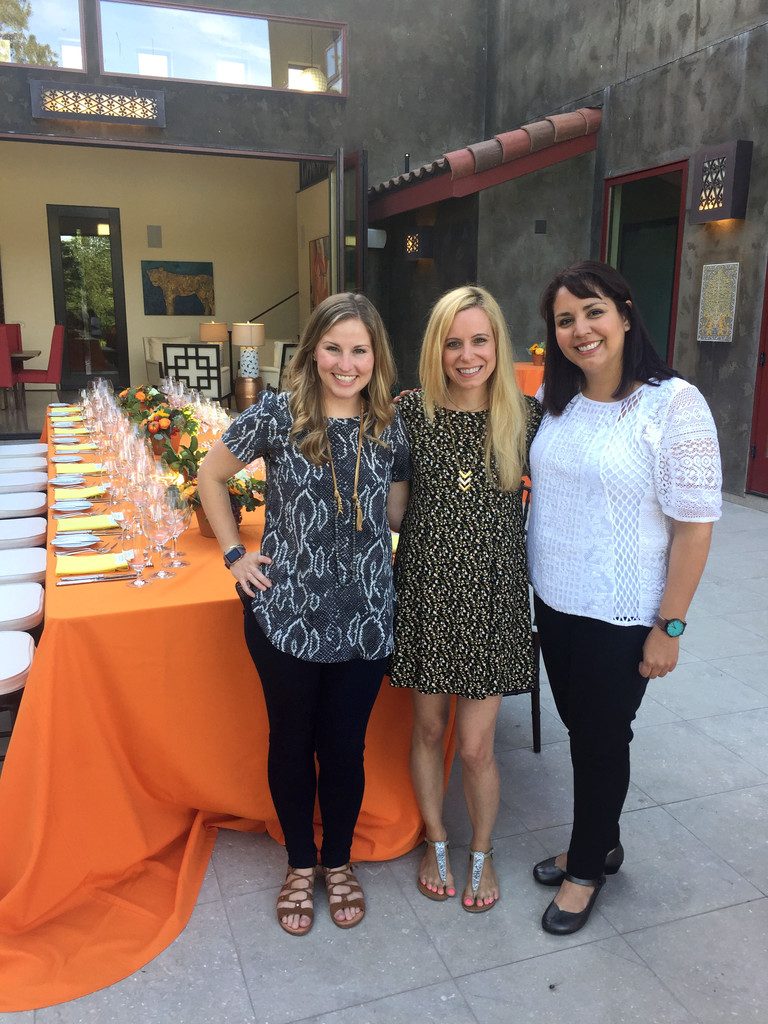 We spent a little time watching Chef Schmidt in the gorgeous kitchen: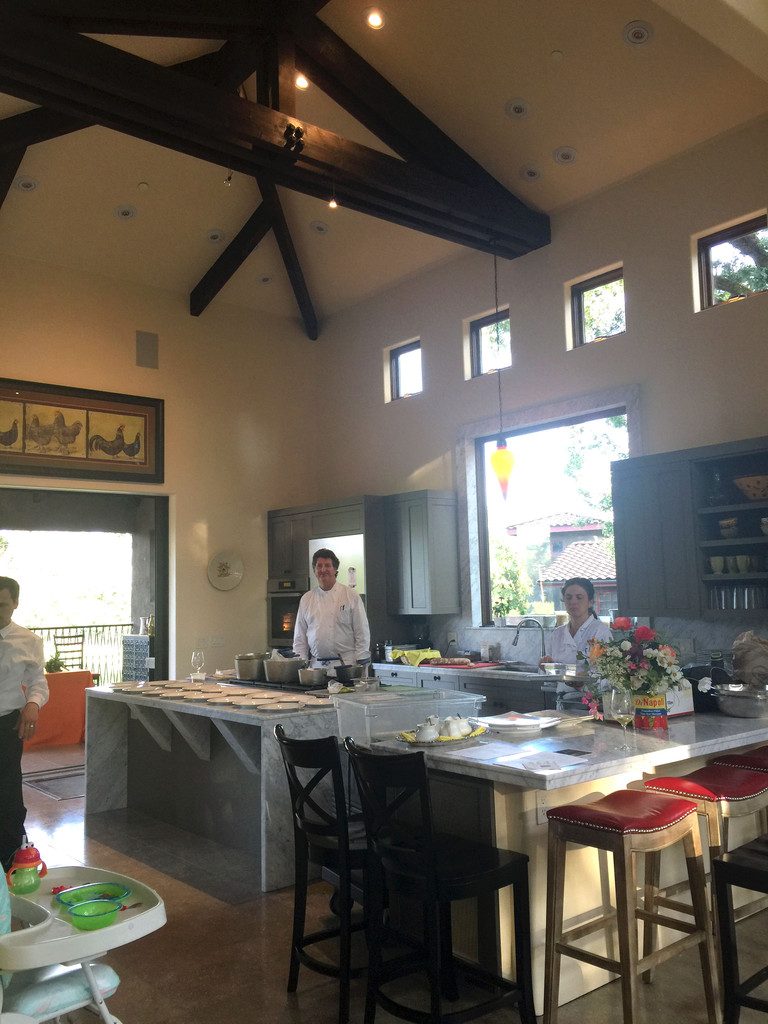 And then sat down to dinner. Can I show you another photo of our dinner table? Good, because I only have about 500 of them saved.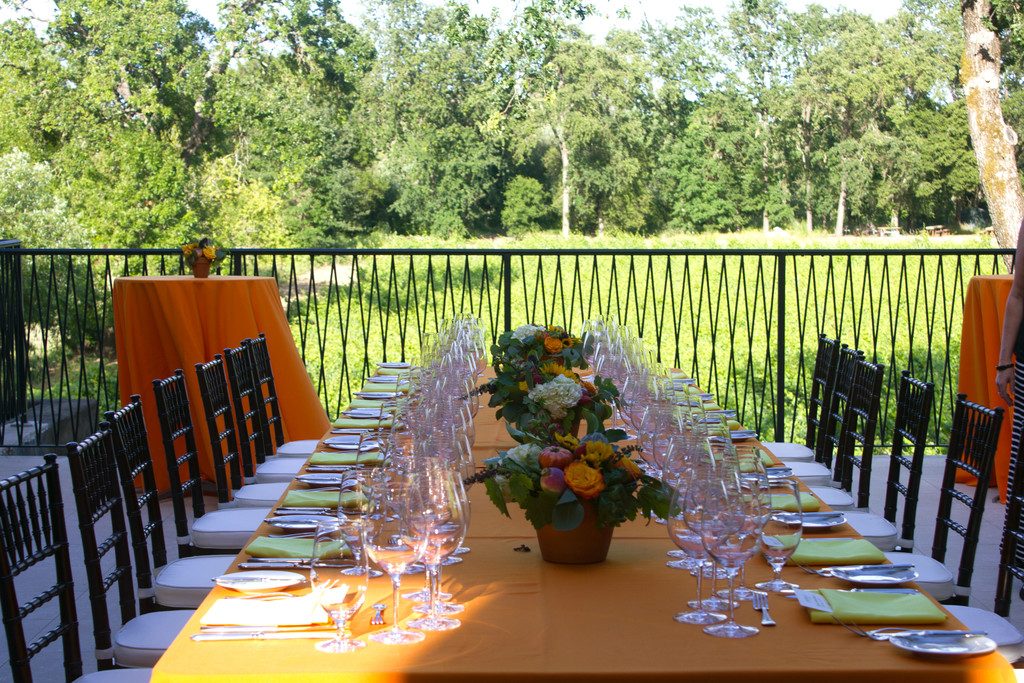 The table was obviously set to impress, with plenty of wine glasses: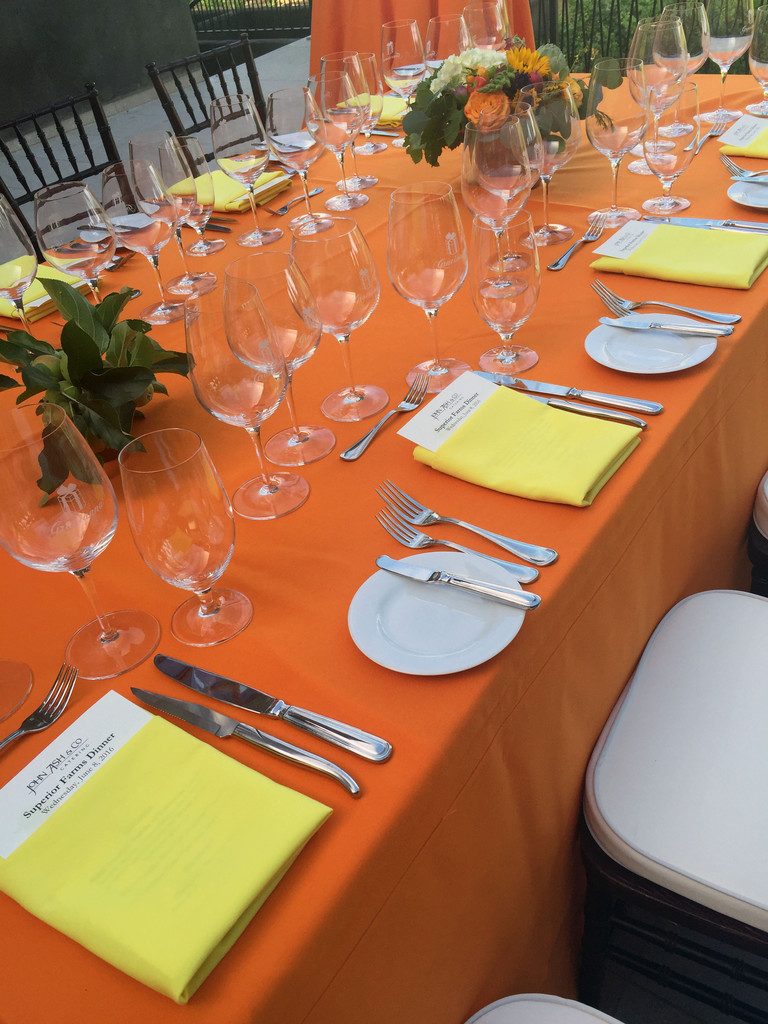 Dinner started with a mixed green baby lettuce salad (with Bellwether Farms Pepito!), served with a 2014 Gracianna Sauvignon. It concluded with a chocolate mousse dome with zinfandel stewed plums, served with a 2012 Gracianna Zinfandel. Both were incredible and I'm pretty sure that chocolate mousse has entered my dreams a few times since I've been home.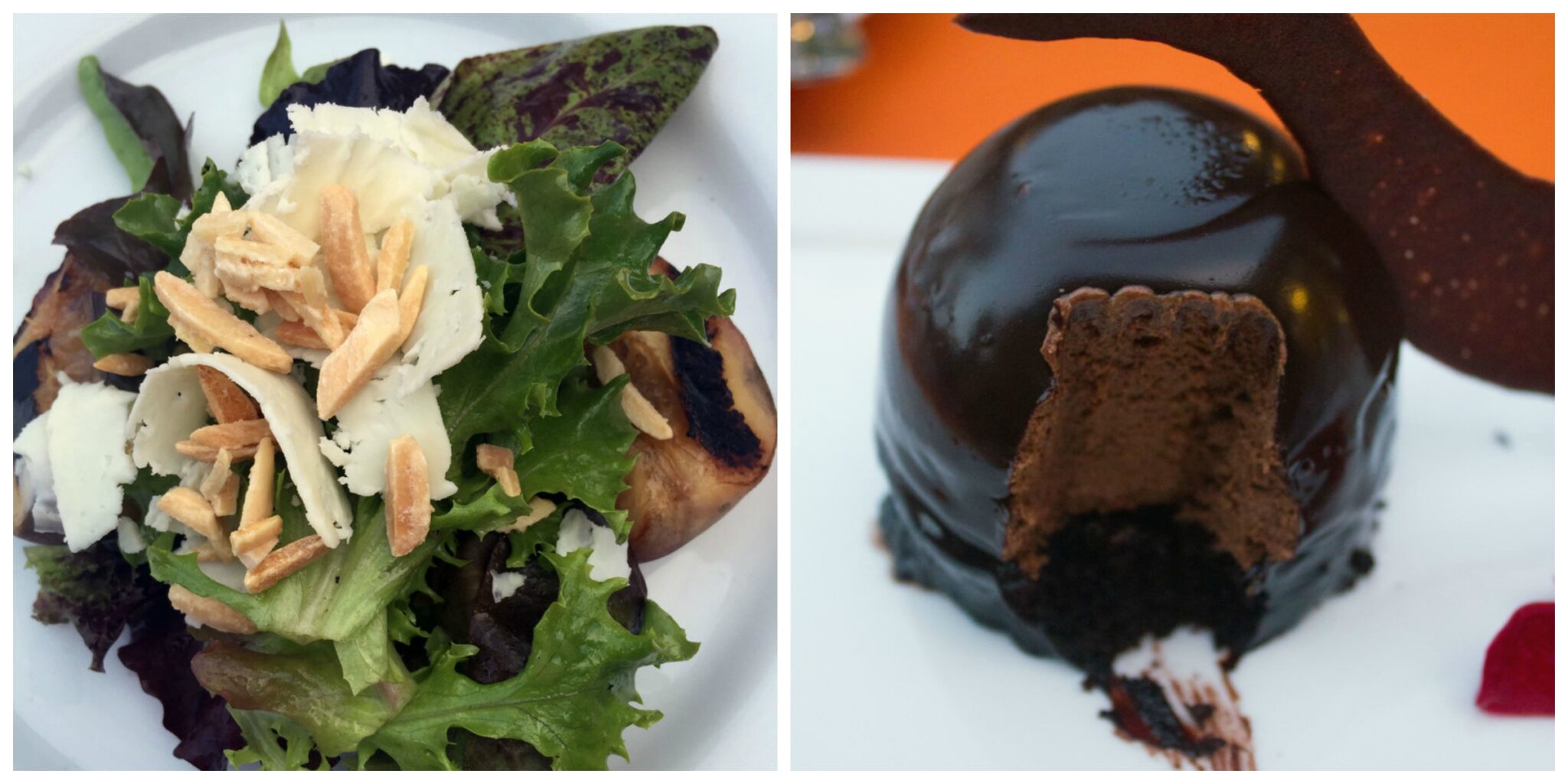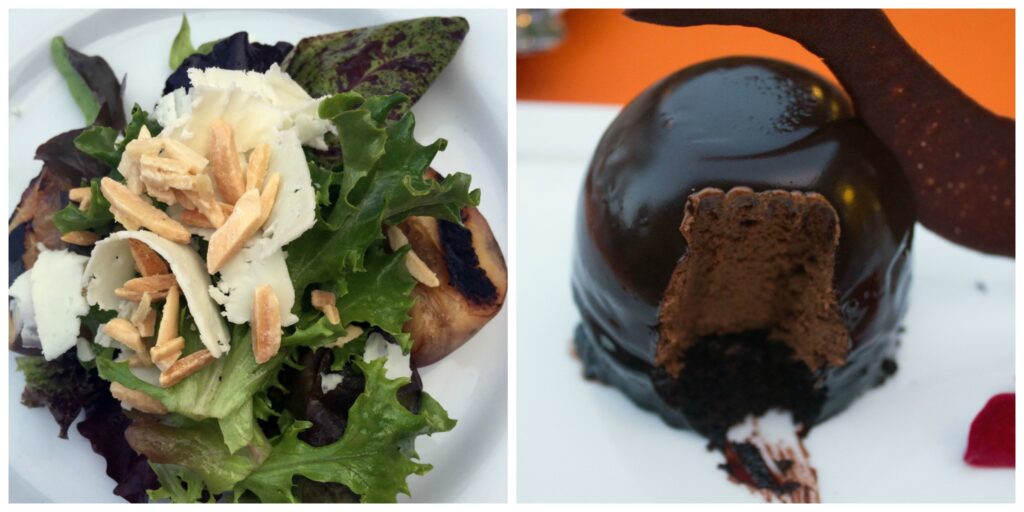 But the real star of the show? The herb-crusted saddle of California lamb, with sautéeed morels, romano beans, sweet onions, creamy Front Porch Farms red floriani polenta, and Gracianna Pinot jus. The main course was served with two wines, a 2012 Gracianna Pinot Noir and a 2012 Gracianna Estate Pinot Noir (my favorite!!).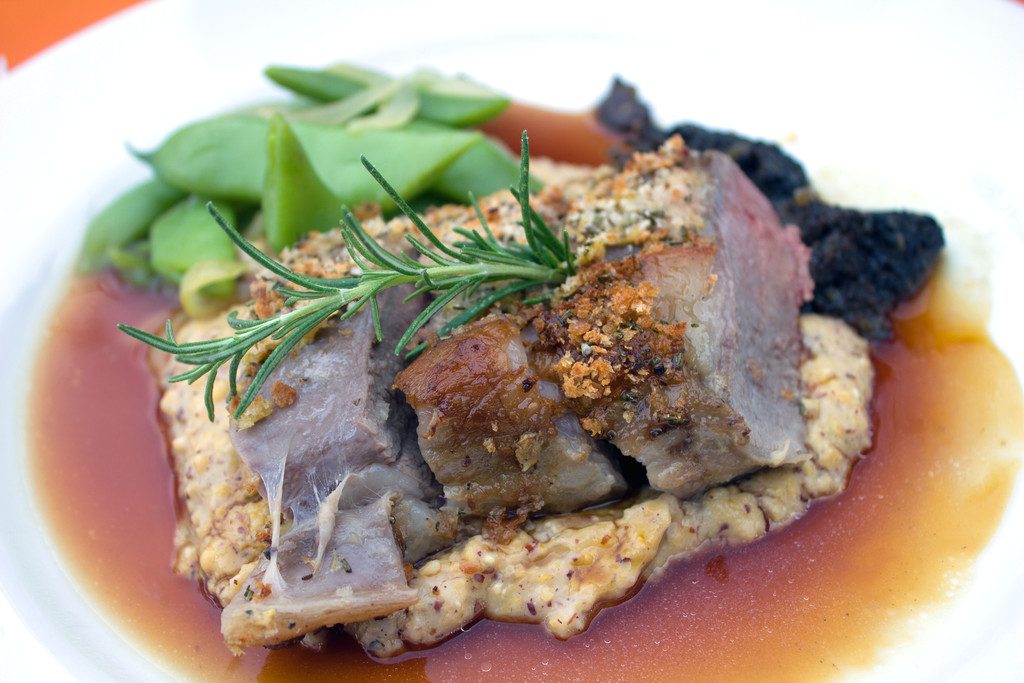 I've never cooked saddle of lamb before, but I'm definitely going to recreate this dish in my home soon. Despite how fancy it looks, it's actually quite simple to make and very approachable for home cooks. Check out the recipe on Lizzy's blog! And that polenta?? Omg.
I can't thank our friends at Superior Farm, Lisa and Trini, and Chef Schmidt enough for this once-in-a-lifetime dinner.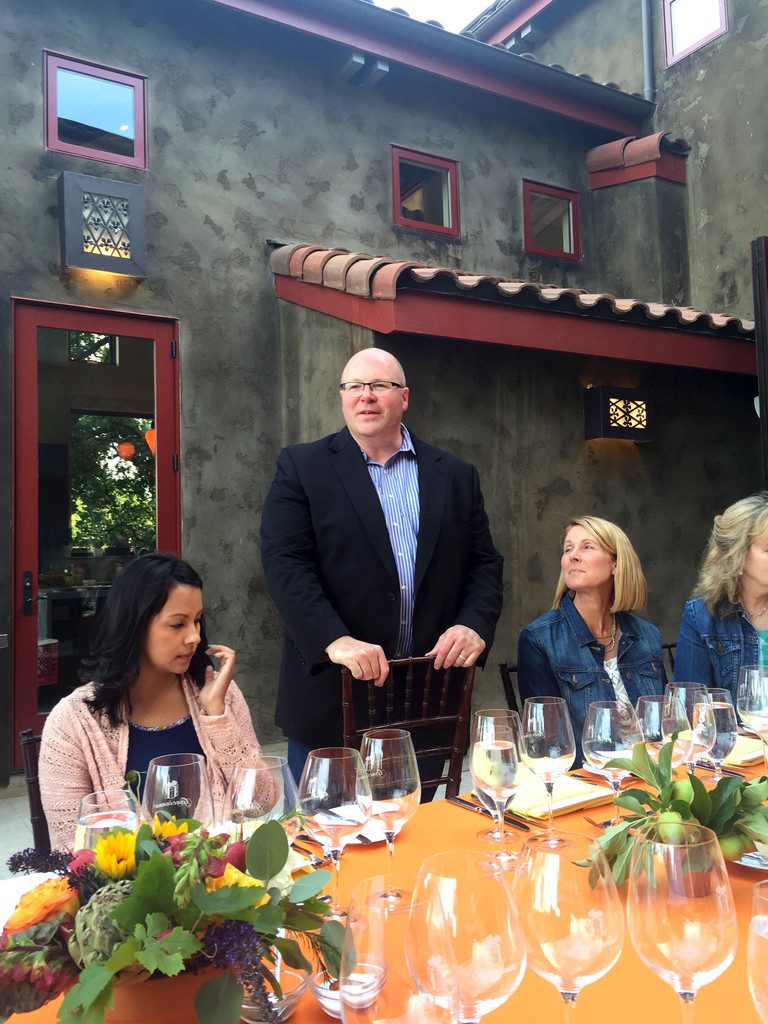 To the Amadors, the name Gracianna means grace, graciousness, and gratitude. They are so thankful for everything in their lives and want to share that gift with friends and family. If you're ever in the Healdsburg area, I urge you to make a tasting room appointment at Gracianna Vineyard. You won't be disappointed in the wine, the setting, or the company.
That night, we stayed right in Healdsburg Plaza and the Healdsburg Inn on the Plaza. This adorable little inn is located right in the center of the town action and was the perfect spot to rest in between wine drinking.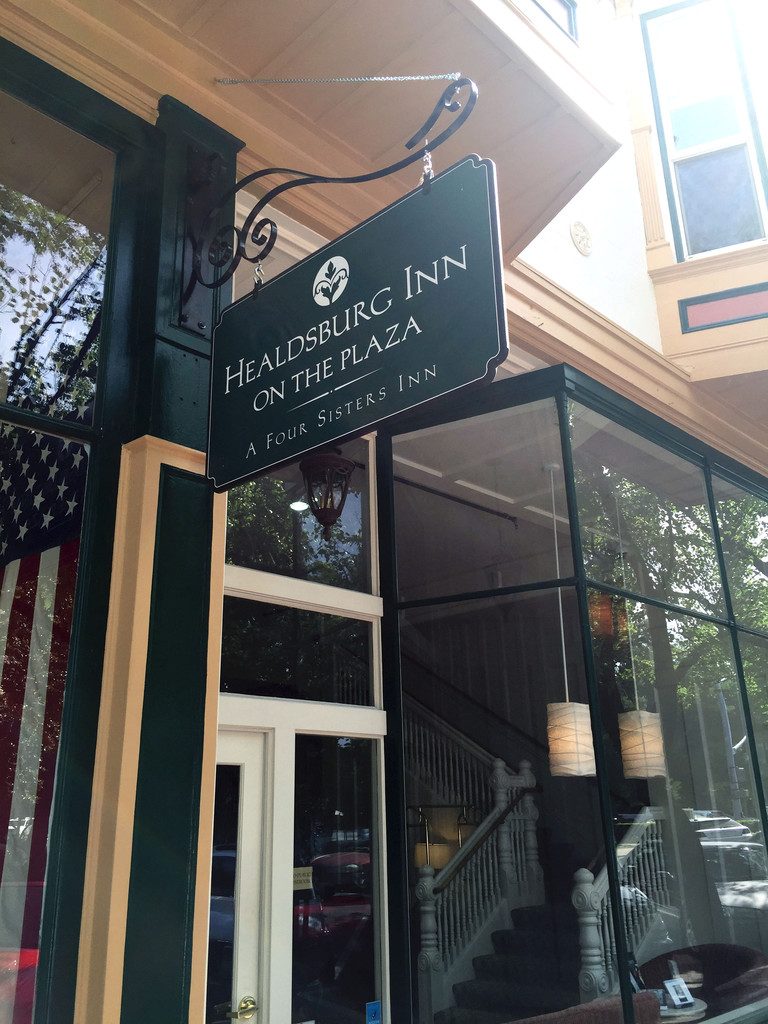 The inn is sweet and quaint, but with all amenities, including a home cooked breakfast in the morning. My room was adorable and my only regret was that I couldn't spend a little bit of time in that tub! Or on the deck with my morning coffee.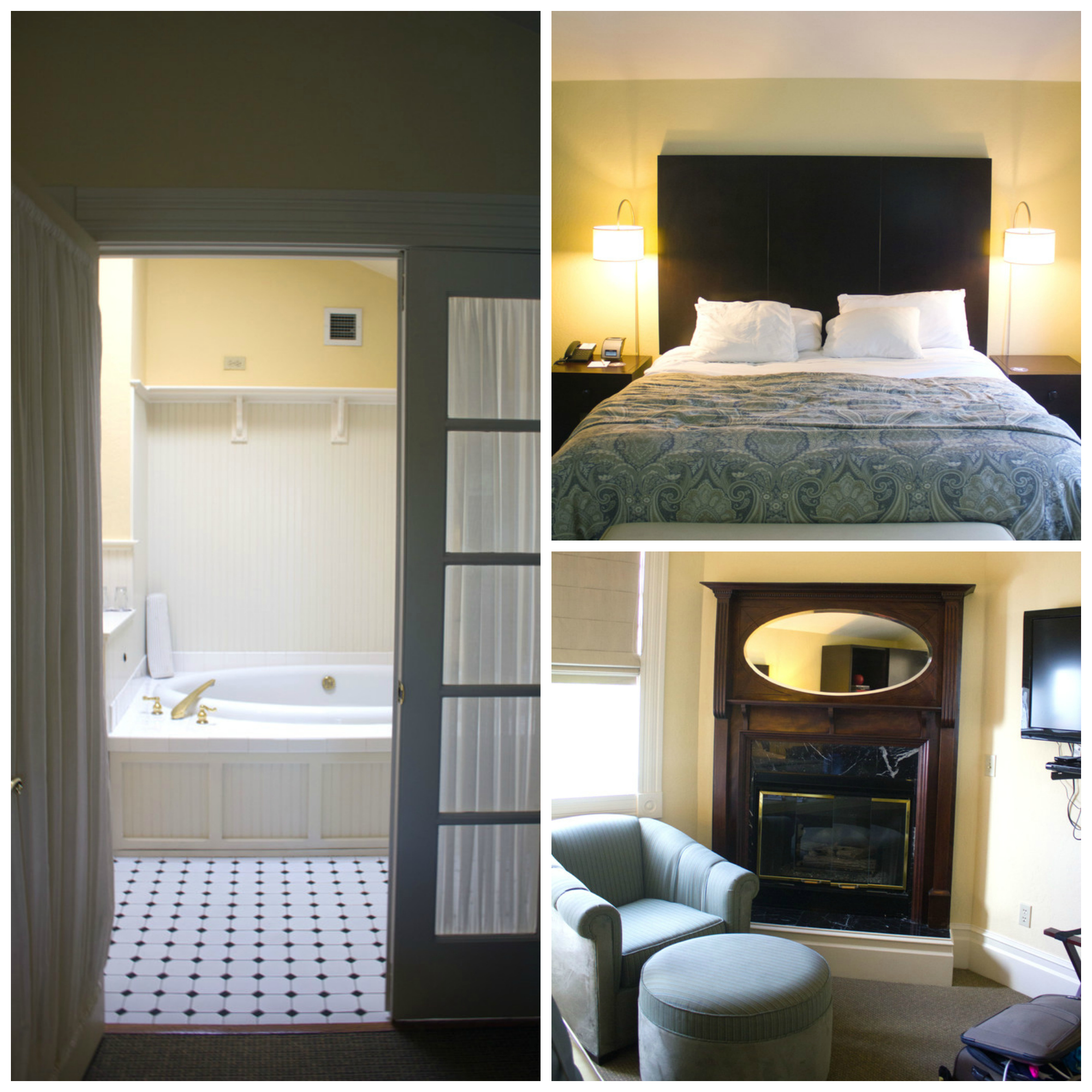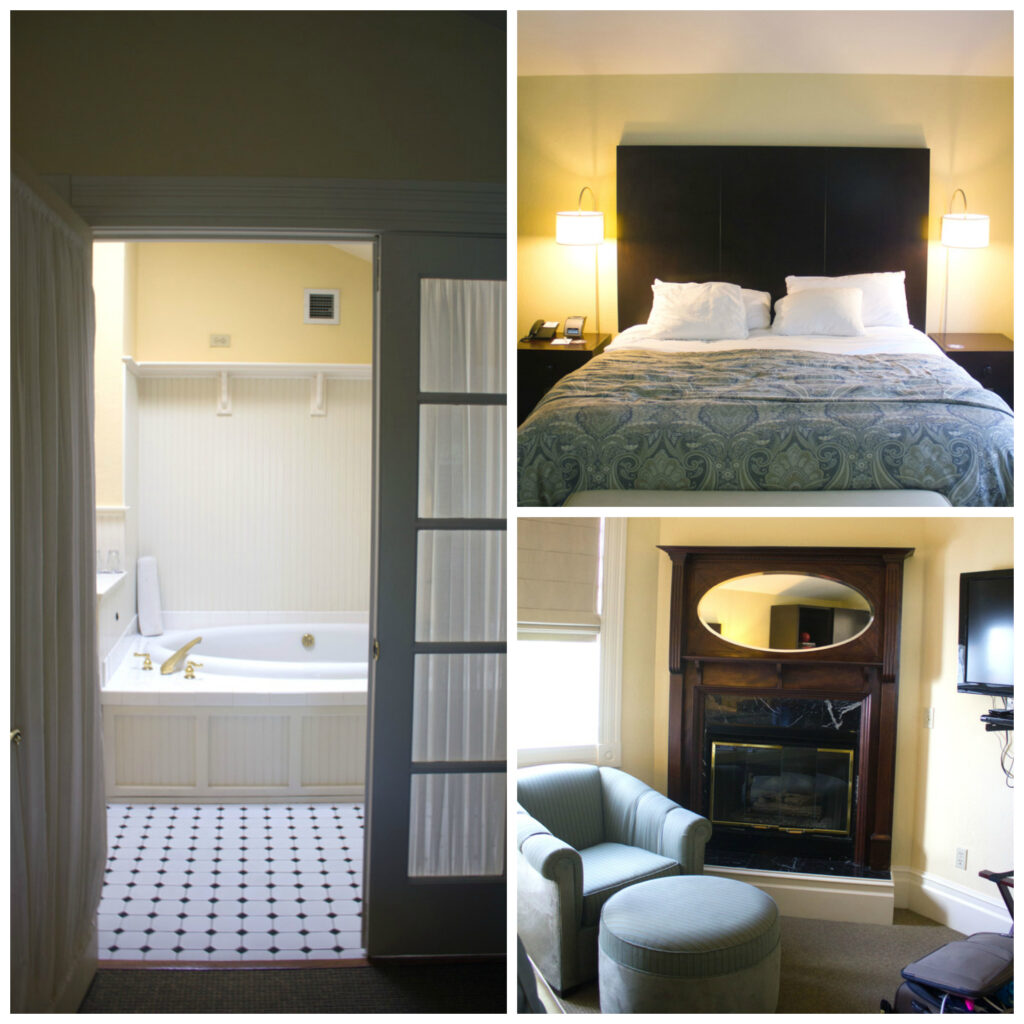 But we didn't have time to waste in the morning because we were on our way to visit lamb rancher Robert Irwin! I had no idea what to expect, especially when we met up with Robert at a nearby gas station and he invited me and Lizzy to ride over in his truck (so long as we didn't mind getting our clothes a little dirty... For a second, I thought we were going to be riding in the trailer with the lambs!). First, Robert took us to his flock (apologizing profusely for the fact that he only had about 100 sheep for us to see). The trek over was beautiful.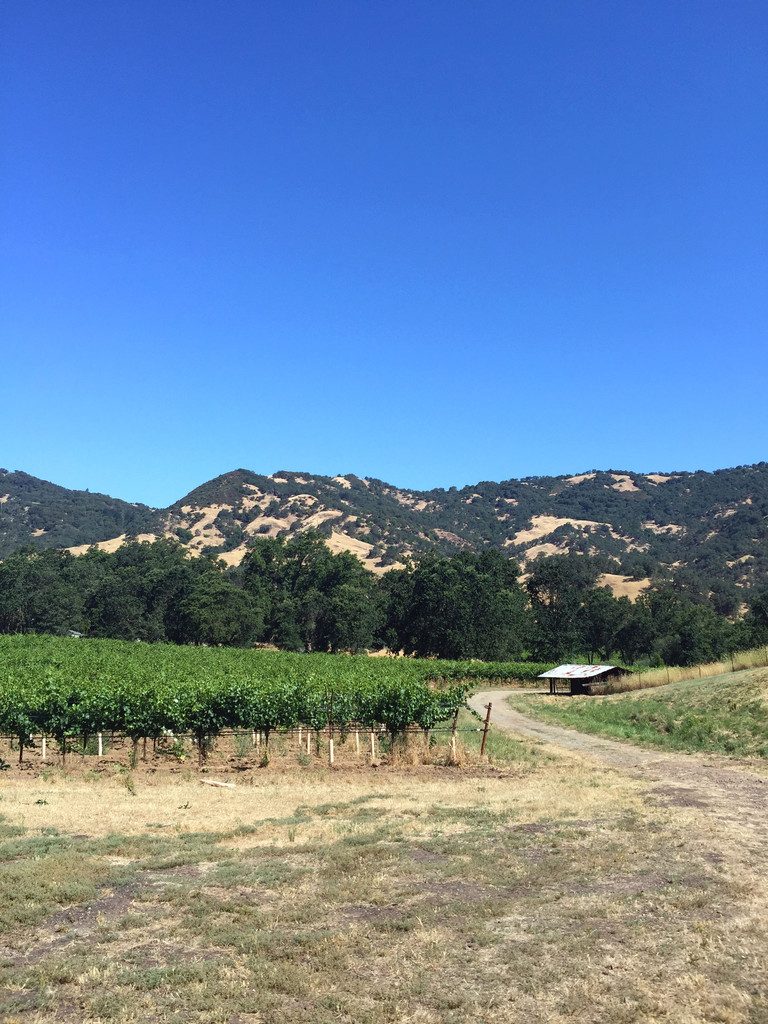 And then we got to experience Robert working with his dogs to herd the flock. This was honestly one of the most incredible things I've ever experienced. The dogs set off and with simple "left" and "right" commands, they brought the sheep to us. Check out this video of Robert in action!
Robert Irwin Sheep Herding from Chels and Sues on Vimeo.
Here they come!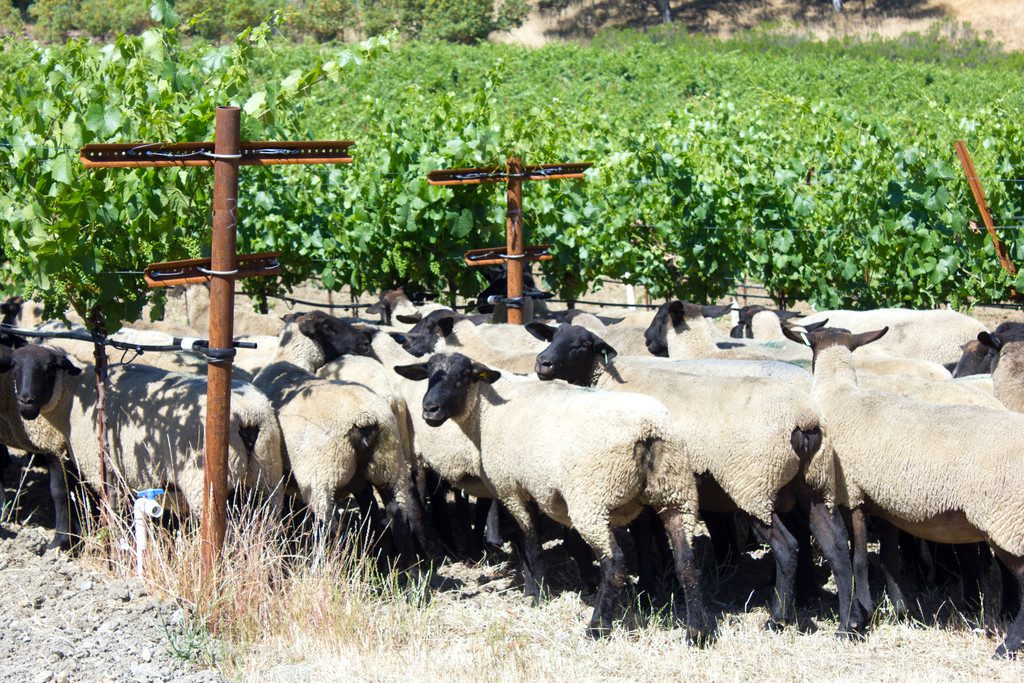 And into the vineyard they go. You may be wondering what the lambs are doing right in the vines. Well, this is what Robert's business is all about. He partners with various wineries, like Bonterra Vineyard, as part of a biodynamic sustainable program that has the lambs doing the work of tractors and other farm machinery. The lambs graze the vineyard grass and leaf-pick, as well. And believe it or not, they leave the grapes alone. The sheep help vineyards save money, as well as allow the vineyards to practice sustainable vineyard management. Robert's wife is currently conducting research into how the sheep affect the soil and they have a feeling the results will show a positive affect!
Life on the ranch is definitely not easy, but there was something absolutely beautiful about seeing Robert and his wife and their adorable 3-year-old daughter interact with the sheep and dogs. I think we were all just as obsessed with Clare as we were with the dogs. How refreshing to see a child truly happy out in nature, running around and talking about her family's work with just as much passion as her dad.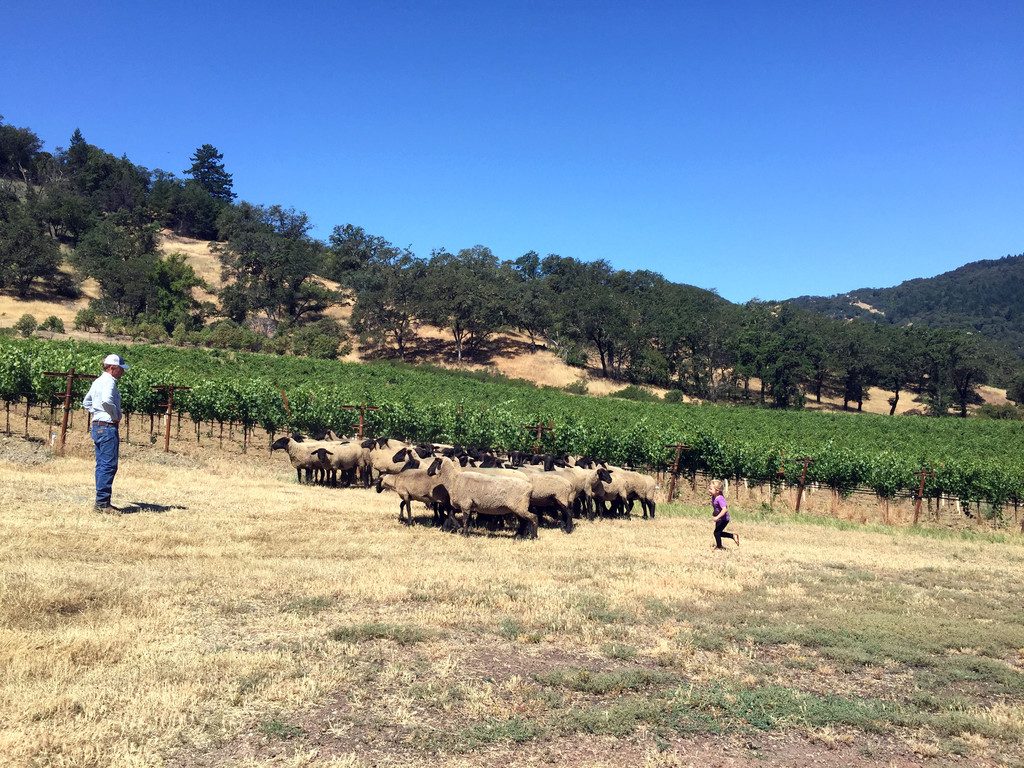 And those dogs!! Robert told us a story about a focus group that was once conducted regarding how people choose wine. When asked about what was most in important to them in learning about a vineyard, something like 70% of them chose the quality of life of vineyard dogs. I can see why and we pretty much asked Robert about 50 questions about his dogs.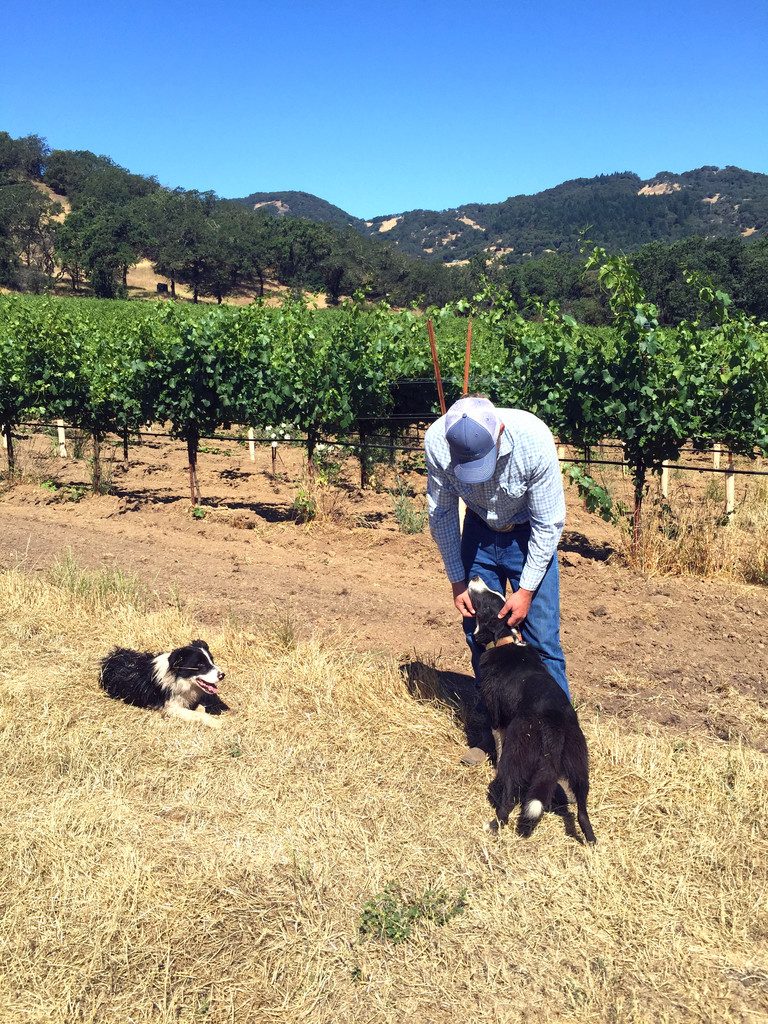 The dogs followed us around for the day, rolling in the grass and jumping in the water, basically living the life.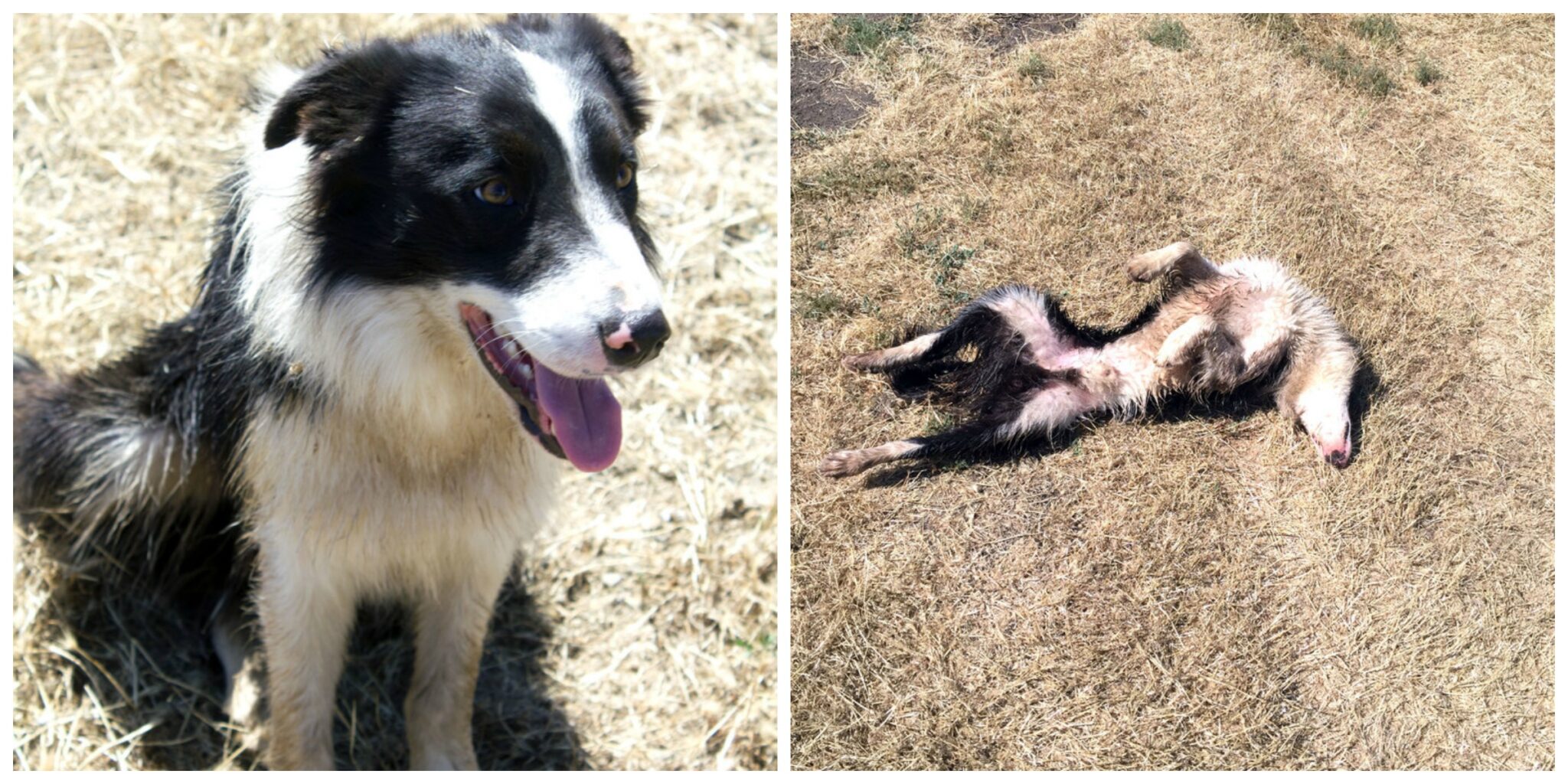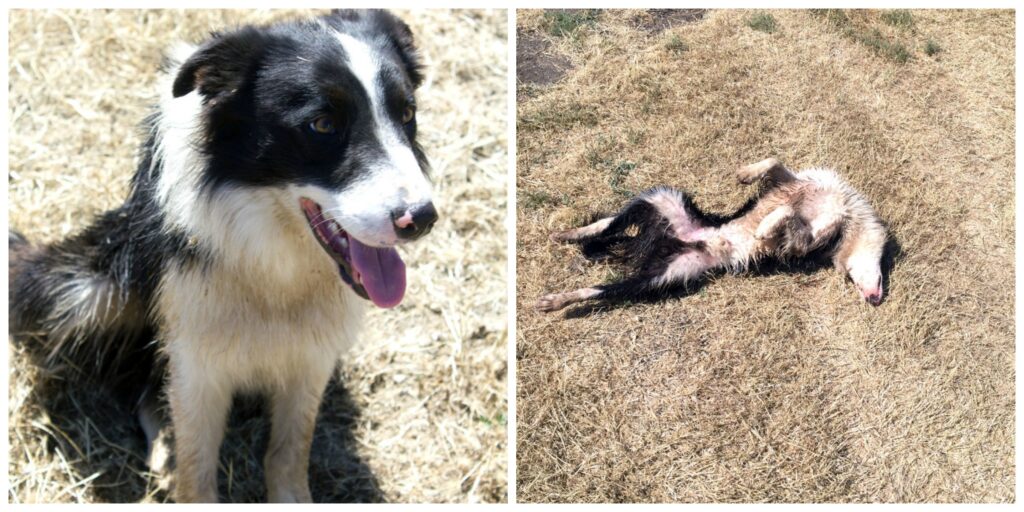 But let's not lie... We were living the life, too!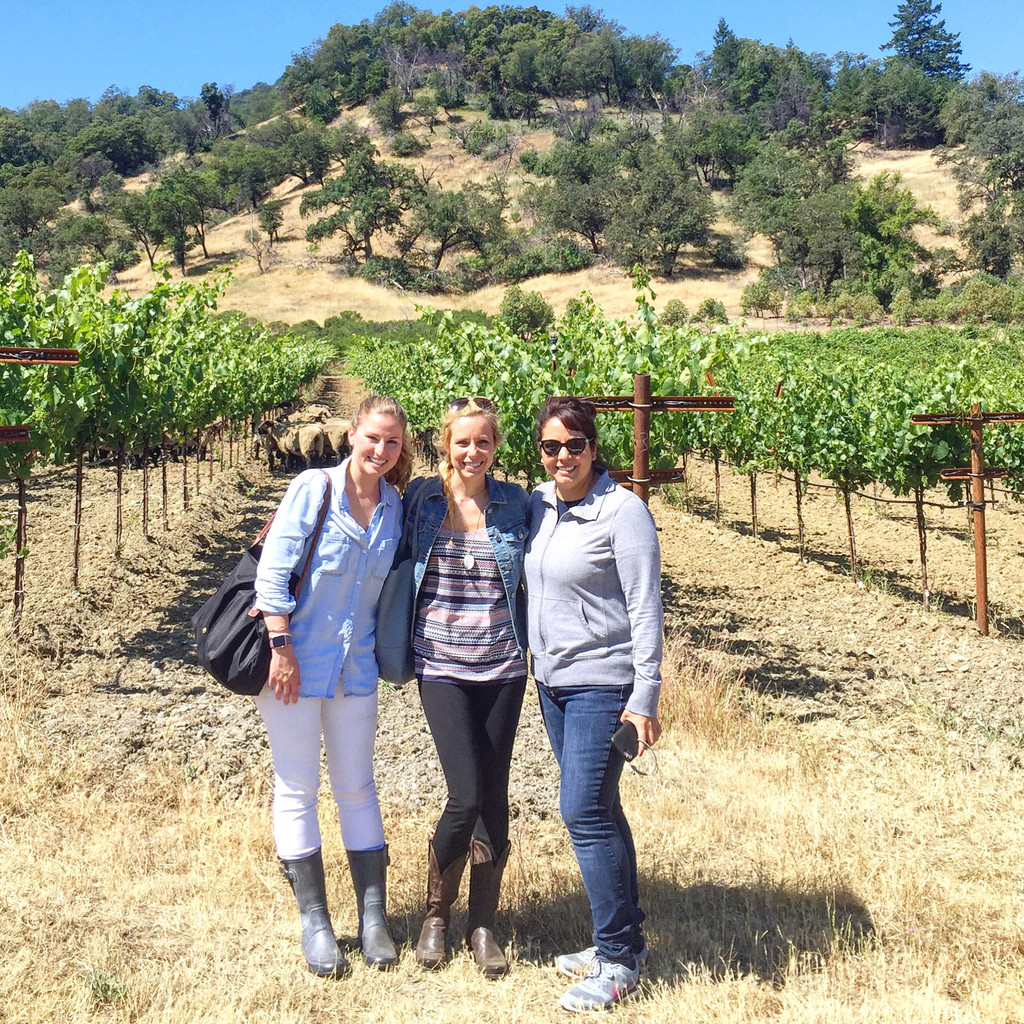 After we were done obsessing over the sheep and dogs, we made our way to the farmhouse for a tour and lunch at Bonterra Vineyard.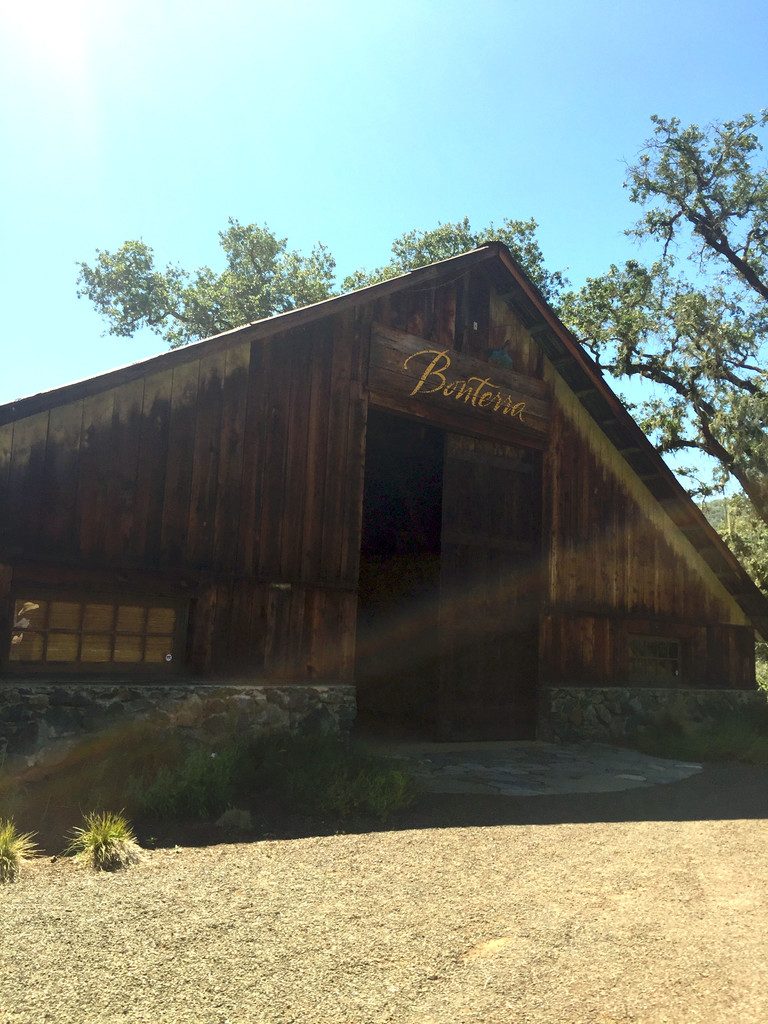 I couldn't get over the setting we were in. I've spent a bit of time in wine country and Northern California, but Bonterra most definitely wins the prize for prettiest vineyard grounds.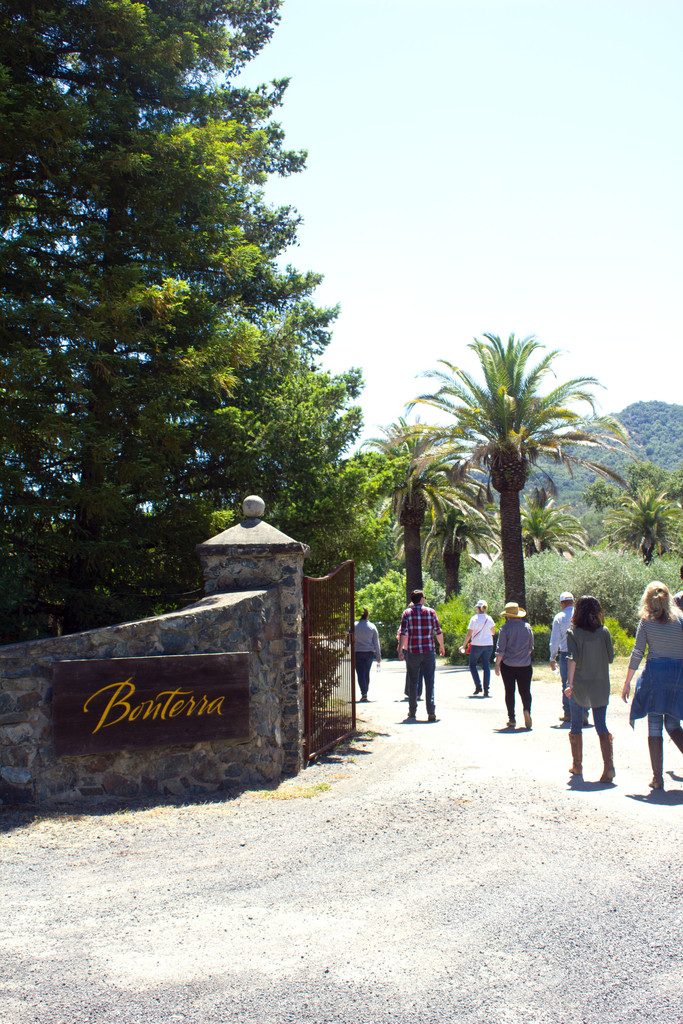 A pizza oven was brought in and a seemingly never-ending array of pizza and salad was served to us by Chef Olan Cox.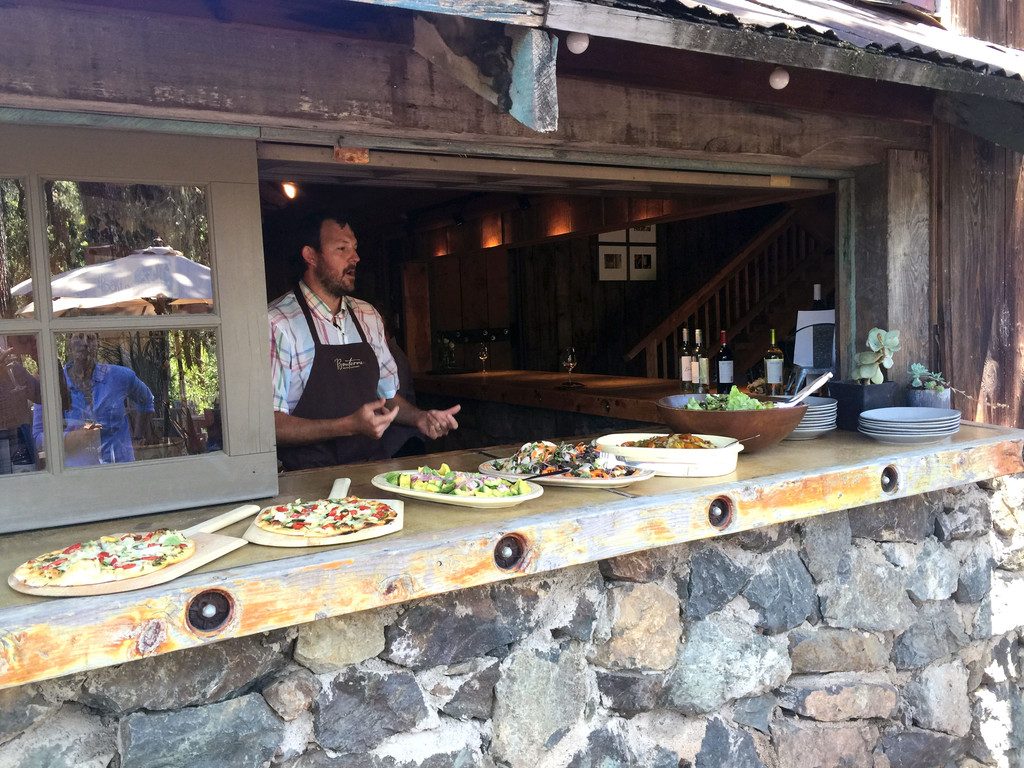 Hi, could you please set another gorgeous table for us?? Why can't I have lunch and dinner like this every day?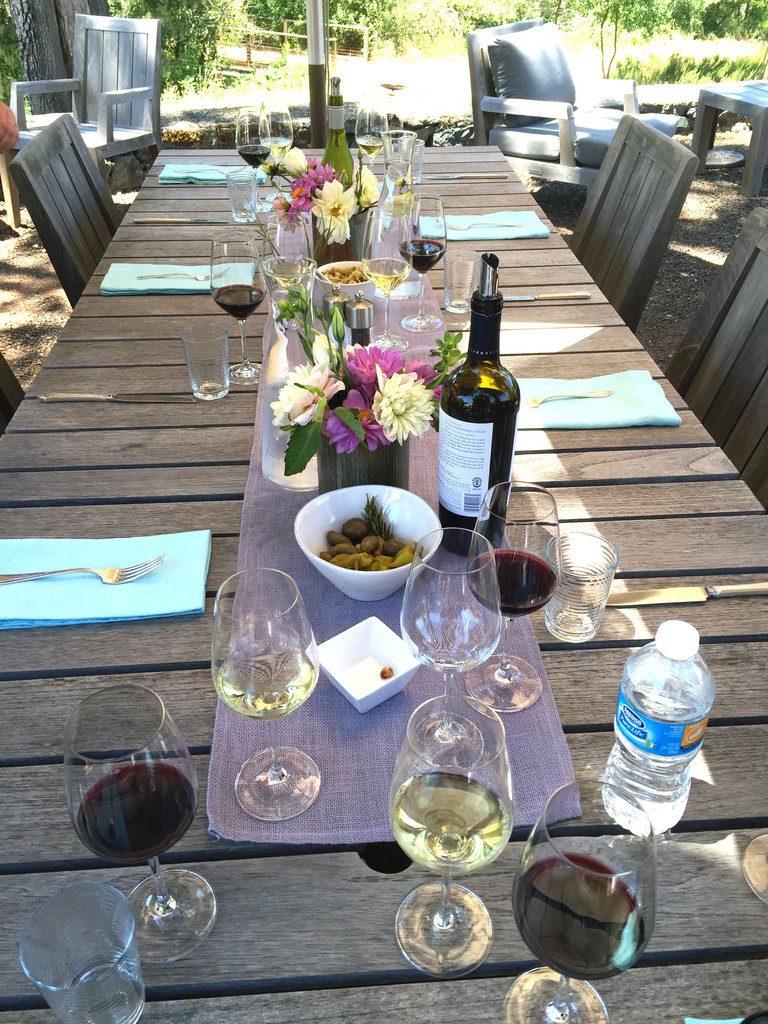 And food like this served to me every day??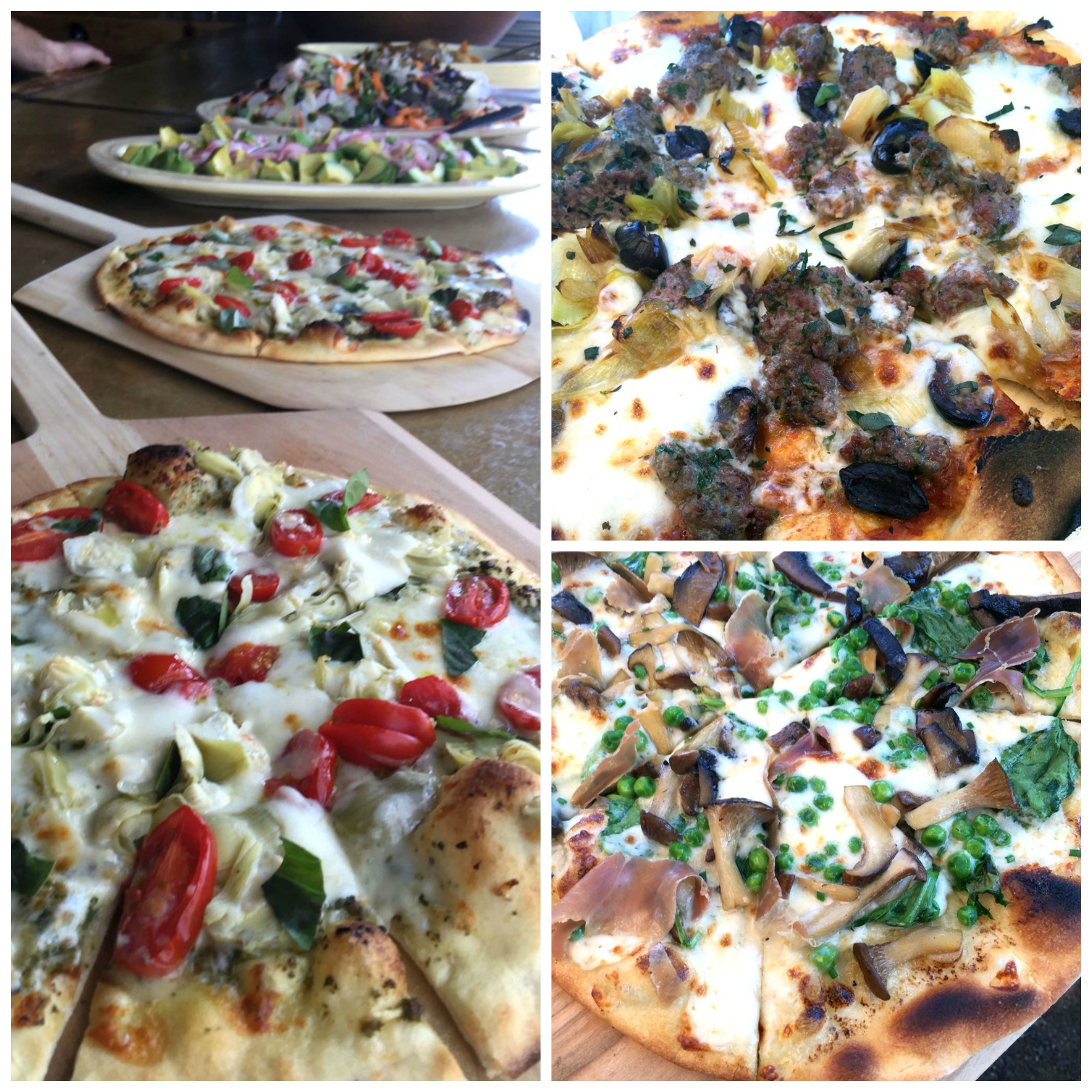 The chef brought each pizza out (with Clare's help!) and encouraged us to keep eating and eating. And drinking and drinking the delicious organic wine from Bonterra (who needs scientific research to tell you the sheep grazing is helping wine quality?? It's all in the taste!).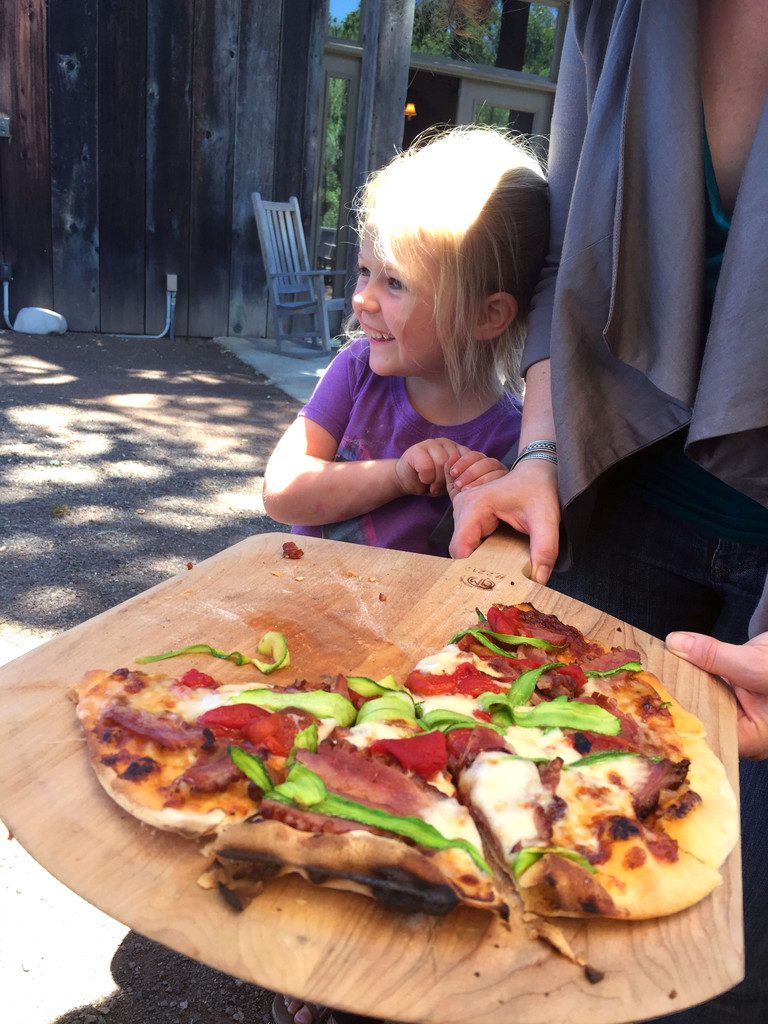 And before long, I think we were all feeling like this guy:
But really, I can't even believe how much we packed into just short couple days. When we left Bonterra, we headed to the airport where I awaited my red eye flight back to Boston (I'm sure I smelled just lovely after being on a sheep ranch all day).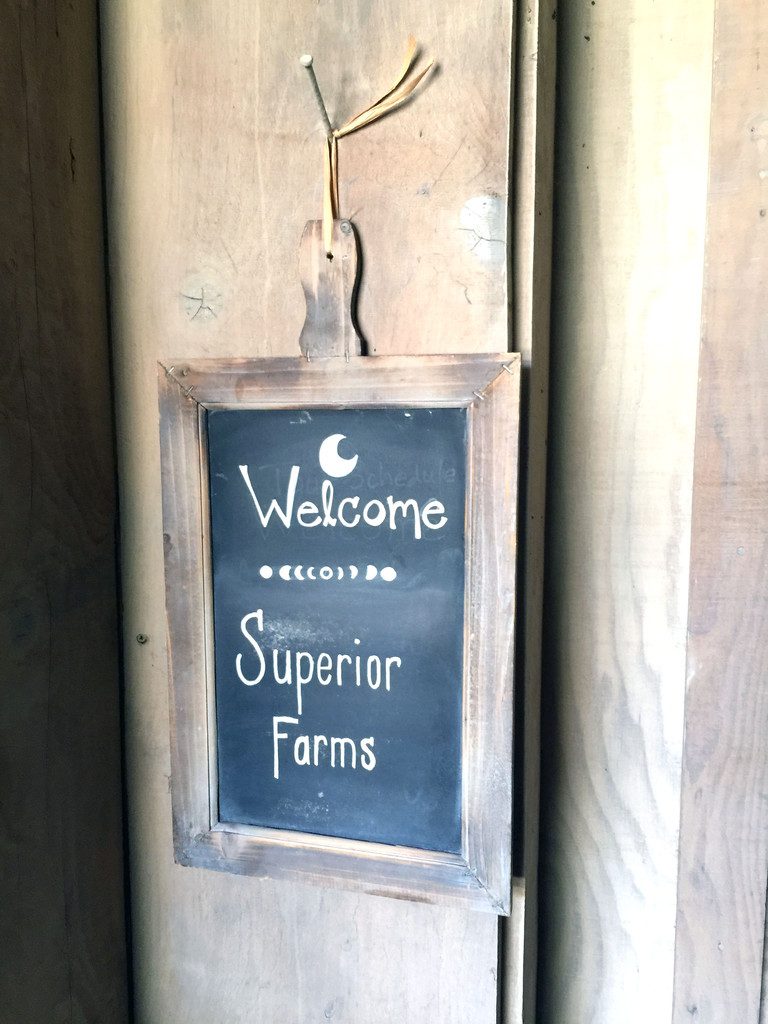 This trip was the true definition of not knowing what you don't know. Even when I learned we were going to visit a sheep ranch, I had no idea we would see how lambs help make vineyards sustainable. It really makes you realize how much awesomeness is going on in the world, whether you're aware of it or not. Robert promised that the next time we visit, he'll put us to work on the ranch and I think I'll be taking him up on that!
Full Disclosure: Superior Farms sponsored this post and everything I wrote about above was gifted to me. As usual, I only work with companies I truly believe in and love.