I consider myself somewhat of a sushi fanatic. When I was a kid, I wouldn't even eat fish and if you told me some day I'd be eating it raw, I would have LOLed in your face. But I started getting into sushi in college (there are some great sushi places in Portsmouth, NH) and have never looked back. But one thing I've never done is make my own sushi. Until now. Yup. I made my own sushi!
For my birthday (way back in September!) my sister and Adam enrolled us in a sushi-making class at the Cambridge School of Culinary Arts. I've been totally looking forward to this since September and the class finally occurred last Friday evening.
I was a tiny bit nervous for the class just because it was hands-on and I hate people watching me cook. I know, it's weird, but I just like to do my own thing in the kitchen. BUT our instructor, Elise, was seriously awesome and didn't laugh at us or yell at us or make us feel dumb. In fact, she didn't even seem slightly annoyed with my 100s of questions. She answered all of them with a smile 🙂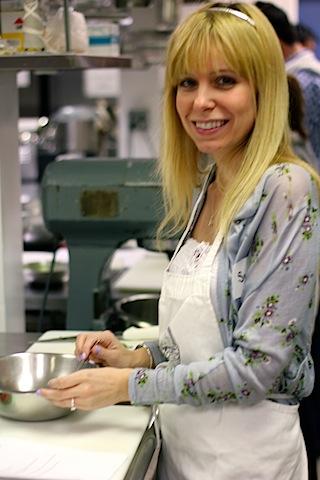 Chris was my sushi-making partner! This was a couples sushi class... I don't know if that means you have to bring someone else, but our class was made up of about 6 couples.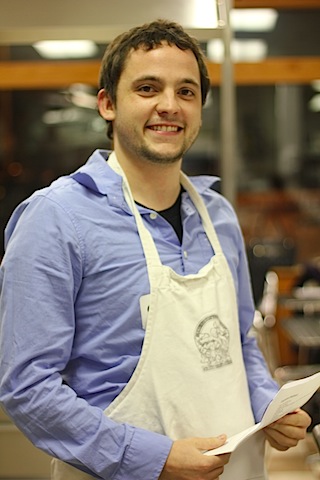 The two of us were assigned the spicy tuna roll filling, which is one of our very favorites. We actually had it pretty easy, though. There wasn't a whole lot of chopping and we got to work with this beautiful piece of tuna.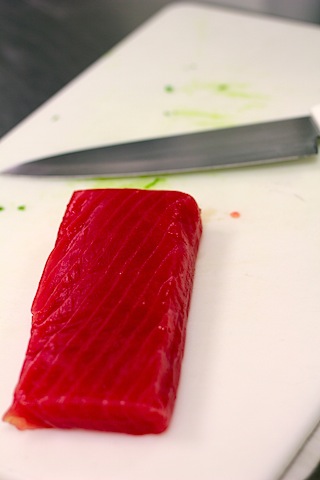 And the knives at the Cambridge School of Culinary Arts were absolutely lovely and perfectly sharp. I almost put one in my purse to bring home with me (shh) 🙂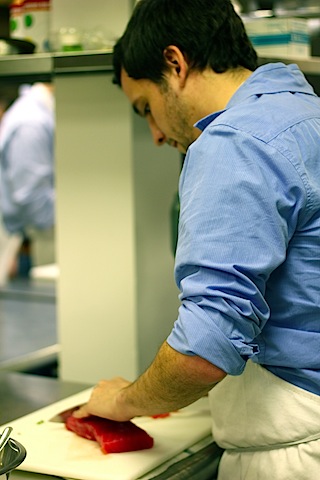 The tuna was like butter!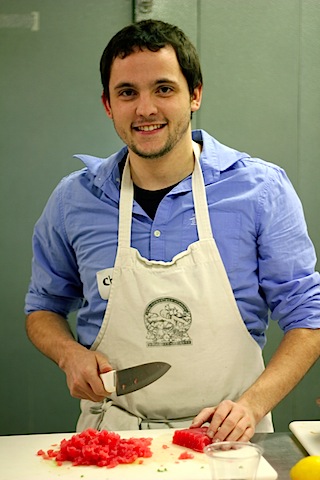 I wouldn't have minded chopping a thousand veggies with this beautiful knife.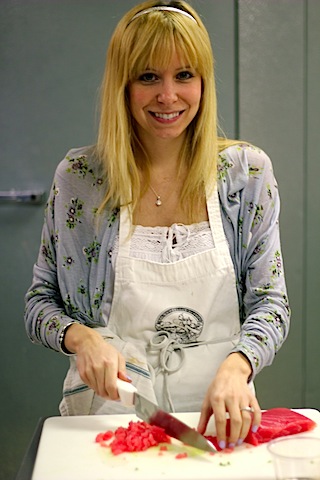 Our end result after mixing the tuna, chili paste, japanese mayo, green onions, fish roe, Mirin, tenkatsu, and lemon. Perfect spicy tuna roll filling!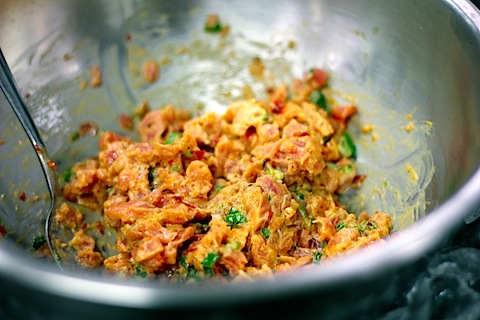 Beth and Adam were assigned the shrimp tempura roll, which was probably the most intensive roll of all!
Not only did they have to chop a ton of vegetables, but they had to tempura all of them in egg, flour, and panko: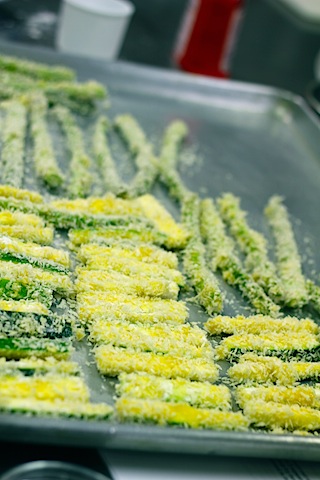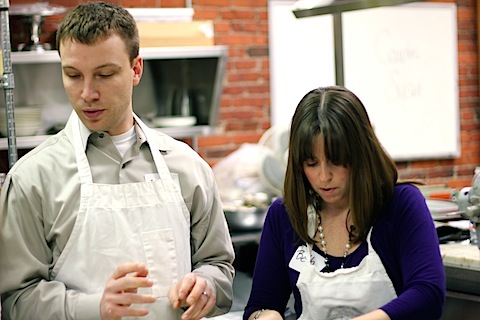 Then they had to clean all the shrimp and put the batter on those, too.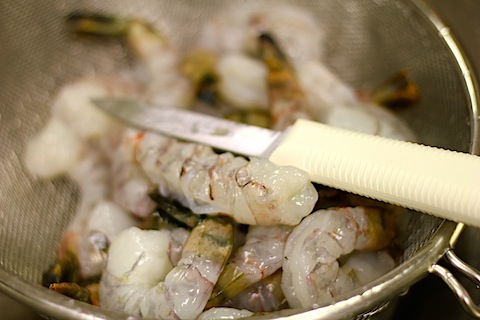 They made a fabulous team!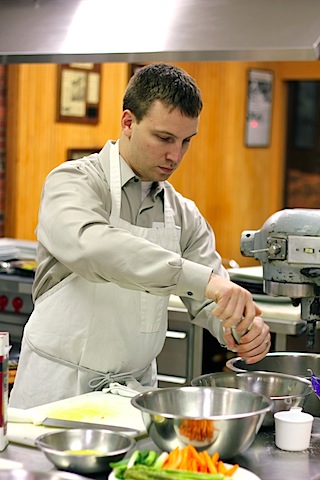 Then the veggies and the shrimp had to be fried. Check out this mega fryer! Elise actually told us that if you fry correctly, your food will actually retain less oil than it would if you sauteed it. Good to know.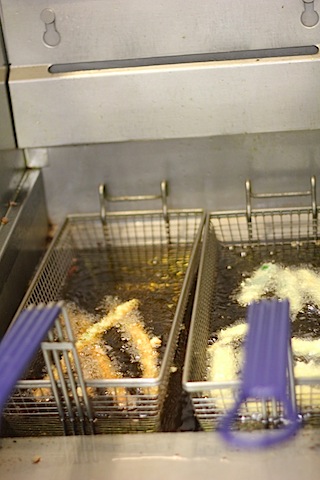 She also encouraged us all to get rice cookers, an appliance I never thought I'd want. Nor do I have space in my kitchen for it. But it did make cooking rice look so much easier. Could that be something to add to the wedding registry?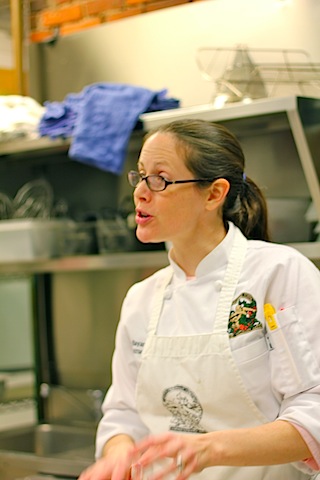 She also showed us how to season our sushi rice.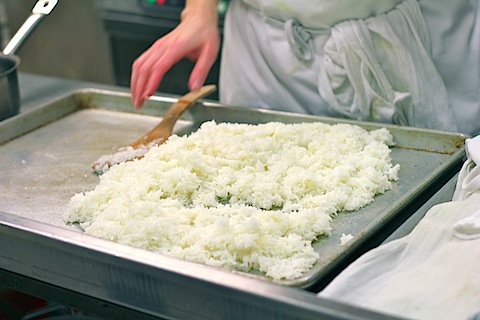 Beth and Adam were still working throughout all of this! I helped them with the shrimp for a bit and we obviously took time for some photos. I was so happy the school just wanted us to have fun in the kitchen. They allowed photos, lots of chatting, and laughing. What was I expecting? I had no idea!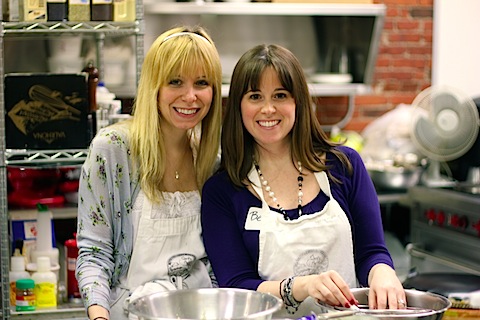 Um. Maybe Chris liked those knives a little too much? Clearly, Beth and I are clueless.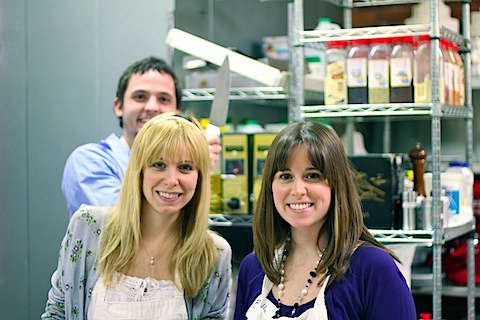 Then it was time to get rolling! Everyone in the class had been working on a different roll filling and we all got to share the fillings when it came time to build our rolls.
Let's just say I wasn't exactly an all-star sushi roller. I mean, it was my first time so I'm not beating myself up about it. but I had a bit of an over-filling issue. Also, see that mixer next to me? I want it in my kitchen ASAP.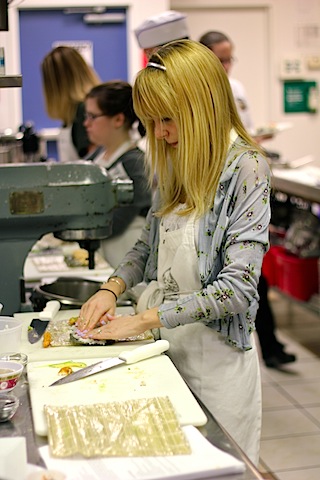 Adam was definitely a bit more skilled than I.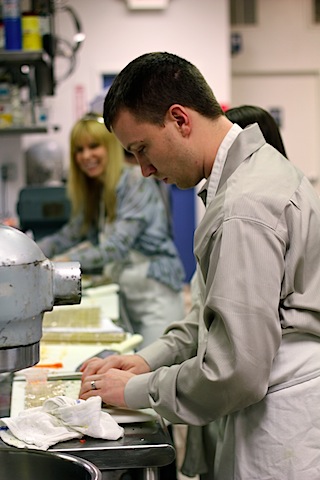 And finally, we got to sit down, crack open a Sapporo, and eat our sushi!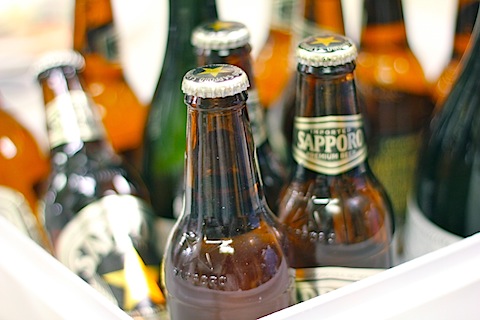 At least it tastes good, right?? Right.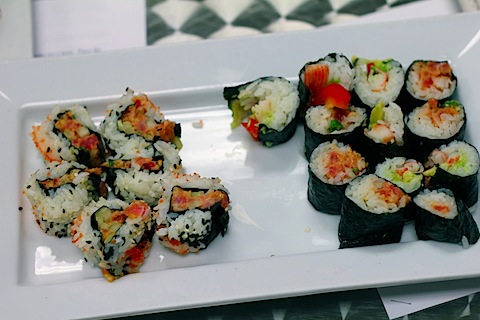 Beth and Adam's was definitely more fit for presentation.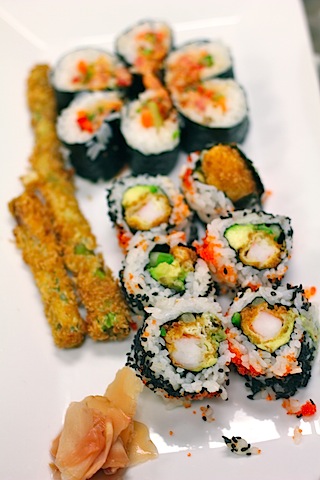 And yes, we made A LOT of sushi!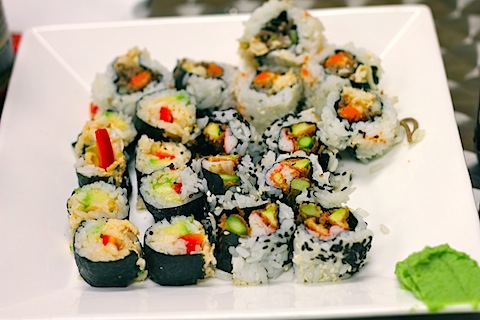 We ate as much as we could, along with extra tempura veggies and soba noodles. I was actually really impressed that while the sushi didn't look like it was made in a sushi bar, it did taste like it! We were allowed to take our leftovers home, but the idea of leftover sushi the next day just wasn't appealing.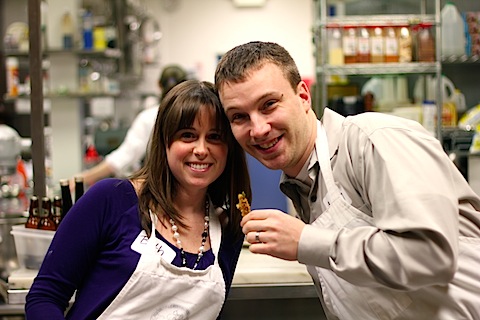 The only thing I was disappointed about is that we didn't have time for the dessert sushi. There was a delicious chocolate mango roll on the menu that I was dying to try! I guess I know how to make it on my own now 🙂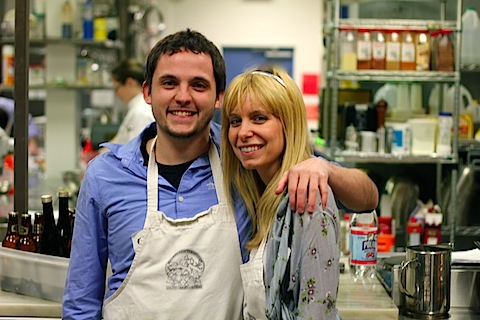 We all had an absolute blast in the class and this was the perfect way to spend a Friday night. In fact, Beth and I are already talking about planning a sushi-making party at home. You know, since we're pros and all.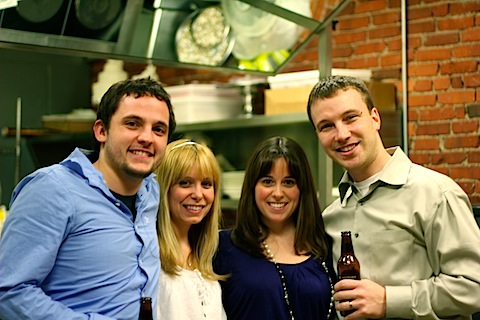 Thank you so much to Beth and Adam for this fabulous birthday present. Now that my birthday is FINALLY over (exactly 4 months later), we can get celebrating Beth's, which was Monday. We always joke about how our whole family likes to draw out birthdays as long as possible... I'm pretty sure 4 months is a record for me 🙂
And I definitely encourage all of you to check out the schedule and take a class at the Cambridge School of Culinary Arts. Sure, they're a little bit pricey, but totally worth it. Not only did we learn a lot, but we had an amazing Friday night out. The class went from 6:30-9:30, but we didn't end up leaving until close to 10:00. The school offers tons of different recreational classes, from Indian cooking to knife skills, so I'm pretty sure you can find something you're interested in. I totally need to take the cake decorating class, but I have a feeling it would take about 8 classes before I had any decorating skills.
Anyway, I'm off to Stonewall Kitchen for a class this weekend 🙂 I've decided that if I could take a different cooking class every weekend, my life would be complete. Oh, and we have some fun BCAE news coming up soon, too!
Have you ever made sushi? What's your favorite kind to eat?
The Cambridge School of Culinary Arts
2020 Massachusetts Avenue
Cambridge, Massachusetts 02140
(617) 354-2020
[Sues]