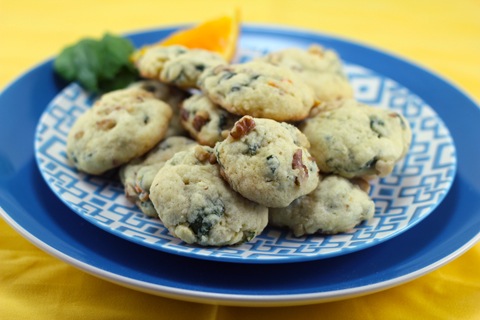 I swear, this is not some kind of a vendetta against my little check-out friend at Stop and Shop. But he really, really would not like me right now. Not only am I eating lots and lots of basil leaves, but I'm putting those basil leaves in cookies. The horror! Seriously though, I'm not really sure why I hadn't thought of basil cookies before. It took an email from the lovely folks over at DuPont Teflon to plant the idea in my head. They offered to send me a cookie sheet and loaf pan and provided me with a few recipes in case I wanted to try them. Not to generalize, but I'm not usually a fan of recipes from firms trying to promote products. But the second I saw the recipe for Sweet Basil Cookies, I knew that's the very first thing I'd be making on my new cookie sheet.
I'm also generally not a fan of non-stick cookware and would likely never purchase pots and pans with Teflon. But I was curious to try DuPont's ProBake cookie pan out as my normal cookie-baking ritual consists of alternating between spraying the cookie sheet with oil (which rarely works well) or putting parchment paper down before baking (feels like a waste and is a pain to cut to fit pan). Let's just say I was pretty excited to add a new cookie pan to my arsenal, especially considering I don't usually have a method to why I buy the ones I do. But I was even more excited to see what a basil cookie was all about.
Sweet Basil Cookies (makes about 2 1/2 dozen):
Print this recipe!
3/4 C butter
3/4 C sugar, plus 3 T
1 egg
1 T grated orange rind
1 1/2 T fresh orange juice
1 C sweet basil leaves, chiffonaded (sweet basil is the same as the basil you likely know. This recipe also called for lemon basil, but as I couldn't find that, I substituted for all sweet basil instead)
2 C all-purpose flour
1/2 t baking soda
1/4 t salt
1/4 C finely chopped walnuts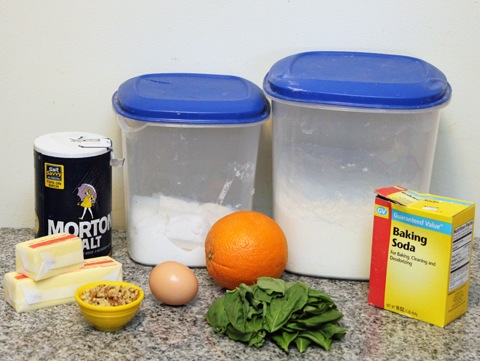 Now, the recipes simply called for basil leaves, but this worried me a bit, so I decided to chiffonade them up. My basil leaves were quite large and I wasn't sure how that would work in a cookie.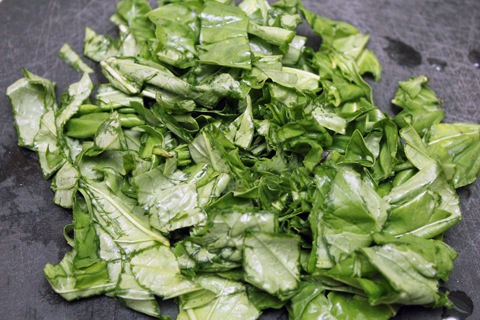 Start by creaming together the butter and 3/4 C sugar in a stand mixer set to medium speed, until light and fluffy.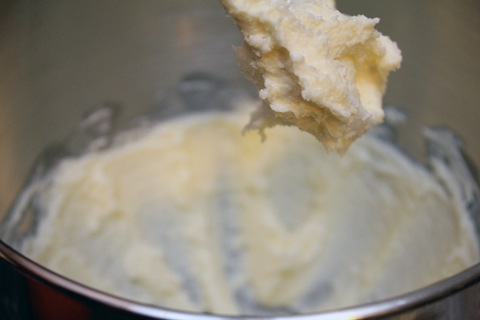 Add the egg, orange rind, and orange juice.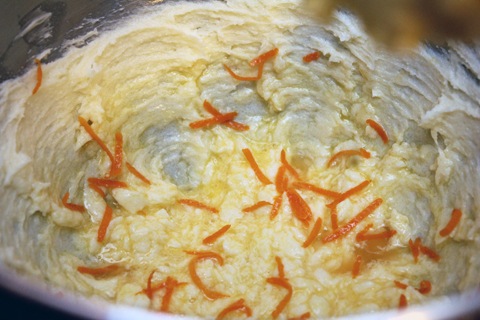 And then toss in the basil leaves, too.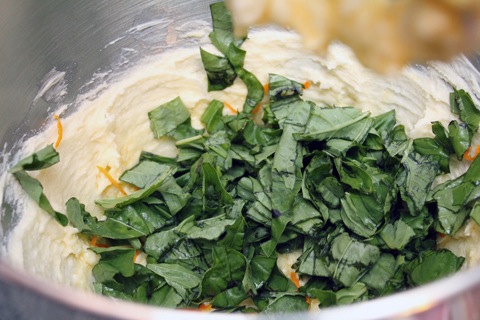 Mix everything up. It totally looks like I'm making a savory biscuit or something, doesn't it? But I promise you, these cookies are nice and sweet!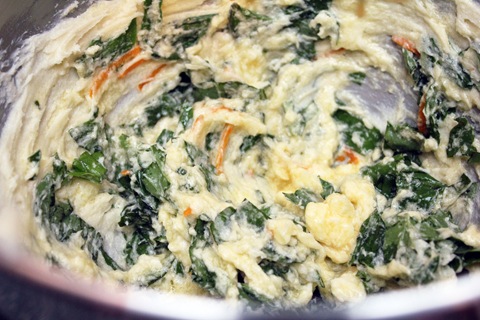 In a separate bowl, whisk together the flour, baking soda, and salt.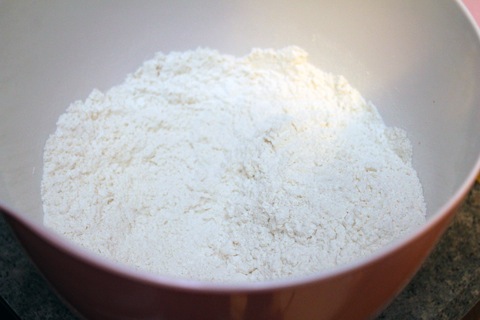 And slowly mix it into the wet ingredients, with the mixer set on low.
At this point, you'll want to cover the bowl with saran wrap and pop it in the fridge for about an hour.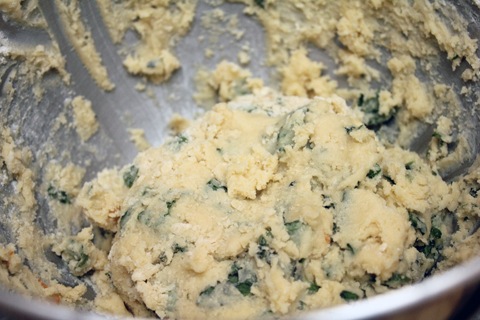 After an hour, set your oven to 350 degrees. Mix together the remaining 3 T of sugar and your chopped walnuts.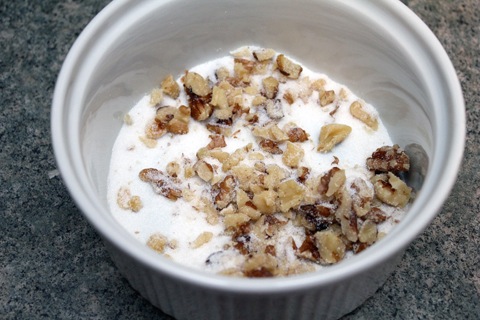 Roll dough into 1-inch balls. Roll dough ball in sugar/walnut mixture and then place on Teflon cookie sheet. Press down lightly to flatten a bit. Isn't the close-up of the Teflon cookie sheet super pretty? I enjoyed the fact that I didn't have to put down a sheet of parchment paper.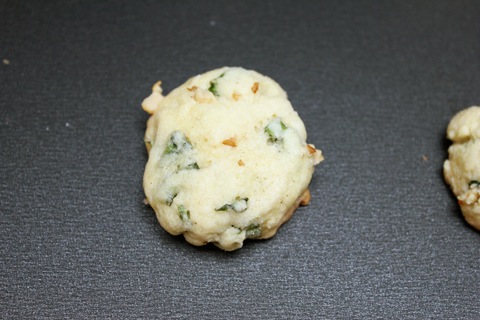 Bake for 10-12 minutes, at 350 until cookies are starting to turn golden brown.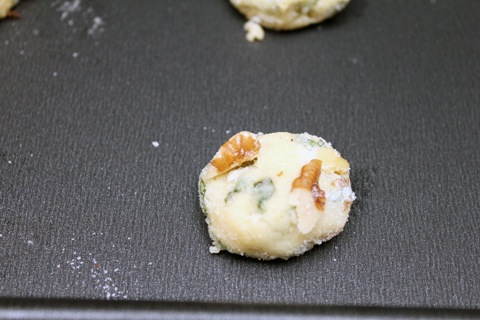 I was pretty in love with how easily the cookies slid off my new DupPont Teflon pan. And though sometimes parchment paper is nice to use because it makes for very easy clean-up, this pan was actually super easy to clean since nothing gets stuck on.
And you're left with what should be known as the official cookie of summer. It's a little bit citrusy and a whole lot basily. The basil really packs a punch, but in a completely awesome, "why didn't I think of this before?" way.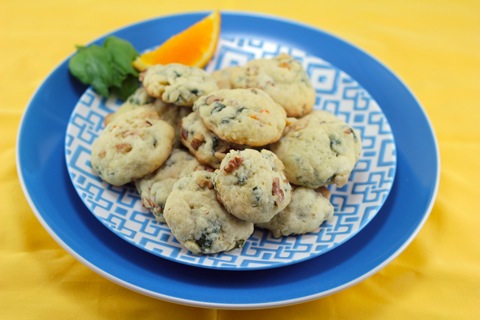 I absolutely loved that the cookies were soft, but firm and had so many complementary flavors going on. I'm honestly thinking about sneaking one to the boy at Stop and Shop and not telling him there's basil in it, just to see how he reacts. There's no way he wouldn't love these cookies. But wait, something tells me he probably doesn't like fruit in his cookies either… or walnuts. Maybe if I threw some chocolate chips in?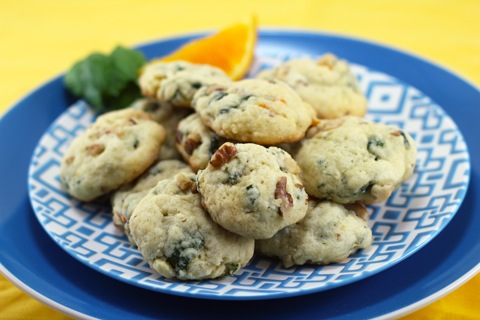 OK, enough about that silly boy. What matters is you. You will love these cookies. Especially with a nice tall glass of iced tea or lemonade. Or gin. Something about these cookies tells me they'd go fabulously with gin. Don't take my word for it though; try it yourself.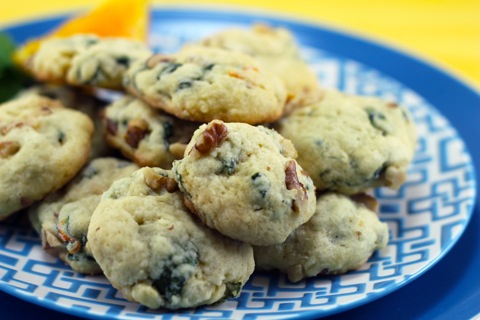 Not only should you make these cookies, but now you have the opportunity to make them on DuPont's ProBake Teflon cookie pan! Want to win one of your own? Simply leave a comment on this post letting me know what the most unique cookies you've ever made (or enjoyed!) were. If you win, I'll also be throwing in one of my favorite baking cookbooks, so you can get baking right away on your new pan!
For extra entries, 1) Follow us on Twitter! and 2) Tweet about this giveaway. I'll be picking a winner this weekend, so make sure to get your entries in by Friday June 1 at 11:59 p.m.
Happy Short Week!
[Sues]