For some reason, the other night while I was sleeping I thought, "Hmm, I wonder what a sweet potato cookie would taste like". Don't ask how that thought popped in my head, but I swear some of my best ideas come while I'm half asleep or dreaming. I love sweet potatoes in every form (mmm, sweet potato pie!), so I figured it was necessary to incorporate it into a cookie.
The following morning, the first thing I did was get to researching. I found quite a handful of recipes that sounded promising, but decided this recipe from Evil Shenanigans sounded the best... because of the white chocolate chips and cranberries 😉 That combination, along with sweet potatoes, sounded outstanding to me! The Evil Shenanigans' recipe actually included pecans but, as you all know by now, I had to omit them due to my allergy. Oh, and while we're on the topic of my tree nut allergy... I had a piece of almond by accident in a salad recently and I wound up with a swollen lip. Doesn't look like this allergy is going away any time soon. Waa waa.
Anywho. Back to these show-stopping cookies, my dear friends.
Here's what you'll need: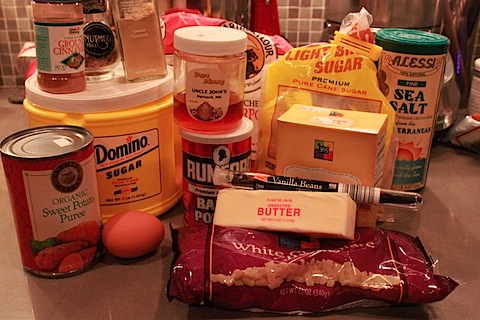 • 8 tablespoons (1 stick) unsalted butter, room temperature
• ½ cup packed light brown sugar
• ¼ cup white sugar
• 2 tablespoons honey
• 1 teaspoon vanilla. I, for some reason didn't have any more vanilla extract, so I used vanilla beans, which, for some reason, I did have. Go figs 😉
• 1 egg
• 1 cup sweet potato puree
• 1 ¼ cups all-purpose flour
• 1 teaspoon baking powder
• ½ teaspoon salt
• ½ teaspoon cinnamon
• ⅛ teaspoon ground ginger
• ⅛ teaspoon fresh grated nutmeg
• ½ cup white chocolate chips
• If using, ⅓ cup pecans, finely chopped
• ¼ cup dried cranberries
It's times like these when I'm impressed with my spice cabinet since I had everything 🙂
Here's what you do:
• Preheat oven to 350 degrees and line your baking sheets with parchment paper.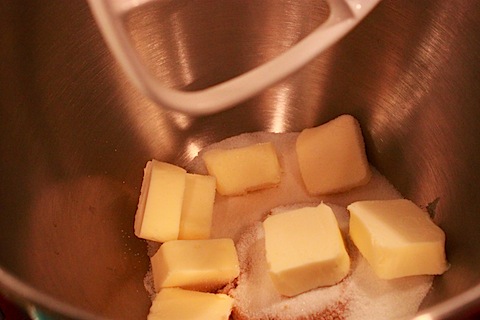 • In the bowl of an electric mixer, cream the butter, white sugar, brown sugar, and honey until fluffy.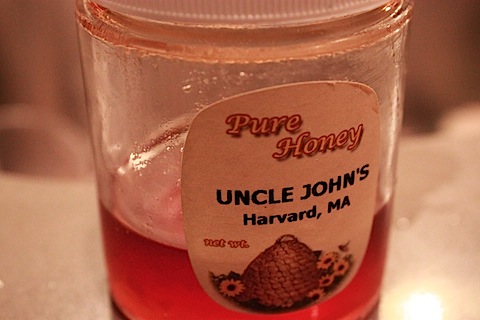 My Dad bought me this honey from a farm near my parent's house and I am in love with it. I need a refill soon 🙂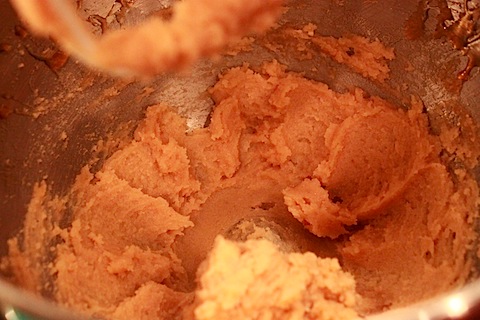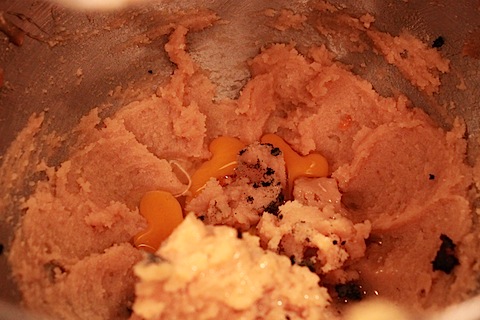 • Add the egg and vanilla (or vanilla beans) and mix on a medium speed until light and fluffy.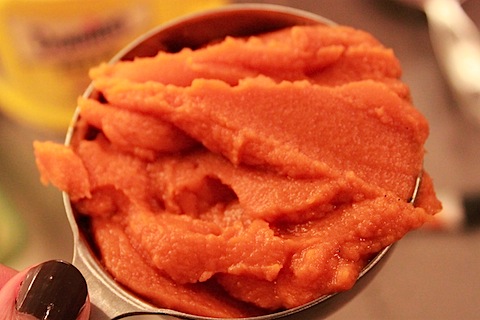 • Now, add the sweet potato puree and continue to mix.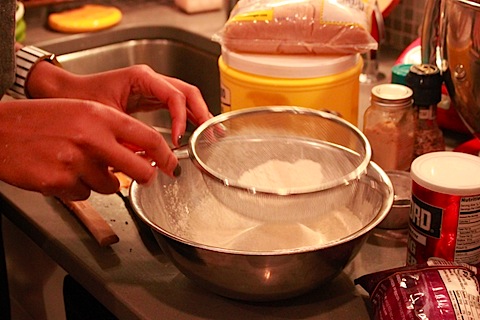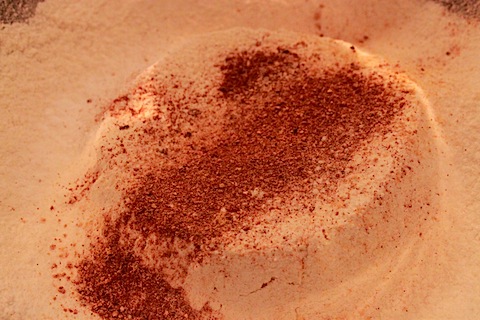 • In another bowl, sift the flour, baking powder, baking soda, salt, and all of your spices together.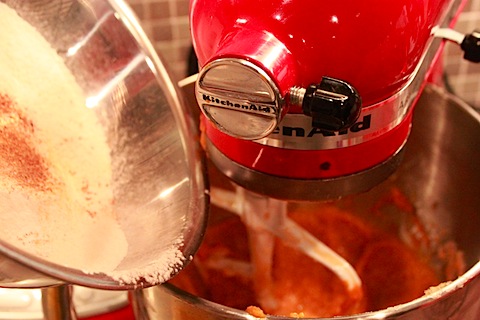 • And add the flour mixture to the sweet potato mixture until everything is nicely incorporated.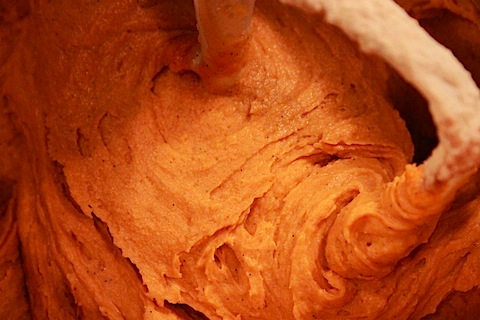 mmmmmmmmmmm, mmmmmmmmmm, mmmmmmmmm.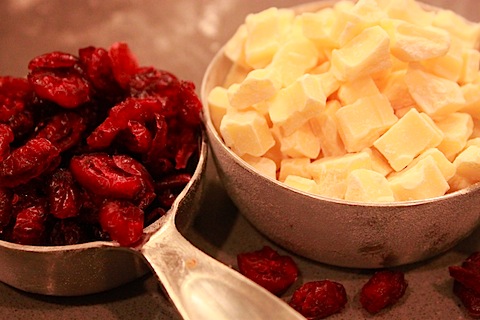 • Gently fold in the cranberries, white chocolate, and other add-ins you chose to use.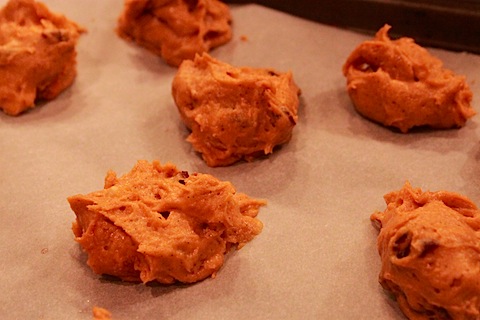 • Next, you'll drop tablespoon size scoops onto the baking sheets and bake for about 10-12 minutes. They're supposed to be soft but I suggest keeping an eye on them as they approach the last few minutes of baking as different oven settings vary. If you feel they need some additional time, feel free to keep them in a bit longer. They'll continue cooking/setting after you take them out of the oven, too.
The flavors in these cookies could easily be my best friend. They all worked so well together and the moistness and consistency of them, quite honestly, blew me away. Yes, they're cookies, but the texture is a bit muffin-y or even cake-y, which was a pleasant little surprise.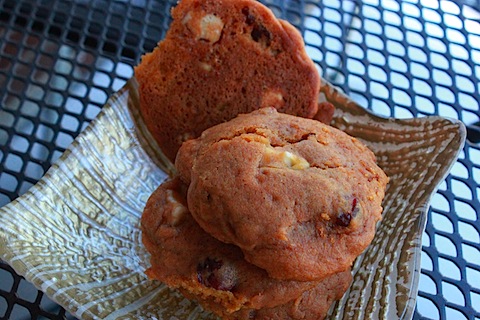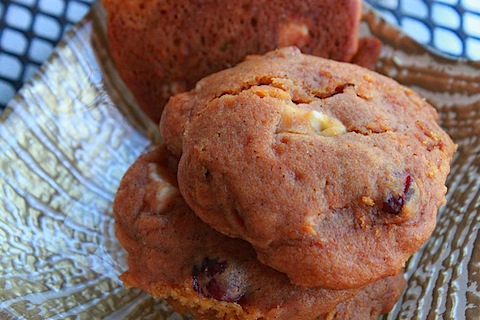 I tried to share with co-workers as much as possible, but let's be honest, I wanted them all for myself. And since we're playing the "let's be honest" game... I've been eating them for breakfast, too 😉
[Chels]