Tomorrow=Vacation. And can I just take a minute to tell you how ridiculously much I need a vacation? I don't think I've ever needed a break as much as I need one now. Granted, it's not going to be a very relaxing vacation. I'm headed to Austin, Texas, for Austin City Limits. A full weekend of music, family, food, and fun 🙂 I won't be catching up on sleep, but I'll be leaving work behind and having a blast. Thank goodness! Chels and I have been totally consumed with Project Food Blog (you still have some time to vote for us!) and a couple other projects, too. So, we apologize for veering from our "normal" blogging schedule 🙂
I had a few sweet potatoes left that I wanted to use before we left for TX and when I came across this recipe for Sweet Potato Falafel, I knew it was exactly what I was craving. You see, I used to have a bit of a falafel obsession. In high school, I made my mom buy the boxes (Near East) and she would make it for me every other night after track practice and before piano lessons or SAT class. I ate it so much that I got sick of it and couldn't stand the thought of falafel for a while.
Until I got to college and started eating it at many of the little Middle Eastern eateries in the area. Then a couple years ago, I made it myself and learned how easy it was. This sweet potato falafel is baked instead of fried and one of the easiest things you'll ever do. You just need to get your hands on some garbanzo flour (or chick pea flour), which I easily found at Whole Foods.
Sweet Potato Falafel (makes about 16 falafel):
2 medium sweet potatoes (about 1.5 pounds)
1.5 t ground cumin
3 cloves garlic, minced
1.5 t ground coriander
Handful of fresh cilantro, chopped
Juice from½ lemon
1 C (scant) chickpea/garbanzo flour
Olive oil
2 T sesame seeds
Salt and pepper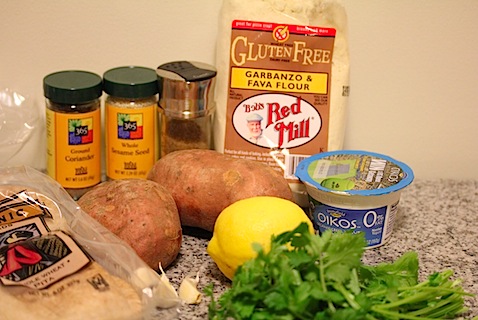 Bob's Red Mill is the best! I've been buying so many of their products lately 🙂 Whole Foods has an awesome selection, but Market Basket does, too.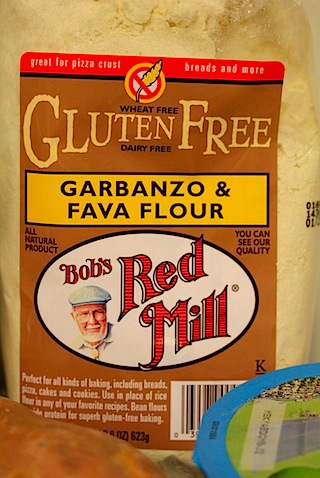 Heat your oven to 400 degrees and put your sweet potatoes in on a foil-lined cookie sheet. Cut some slits in the potatoes with a knife first. They'll probably take about an hour to be totally tender. (if you're low on time, you can totally pop them in the microwave for about 8 minutes or so, too).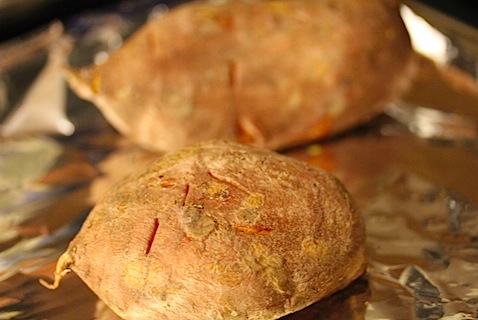 Once the potatoes have cooled, peel the skin from them and put them in a large bowl.
Add in the cumin, garlic, cilantro, coriander, lemon juice, and garbanzo/chickpea flour. And some salt and pepper if you like.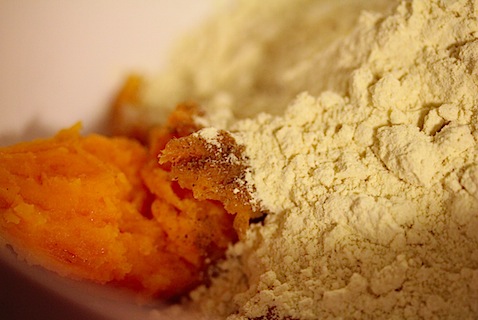 Mash until smooth and then either put in the fridge for about an hour or the freezer for about 20 minutes.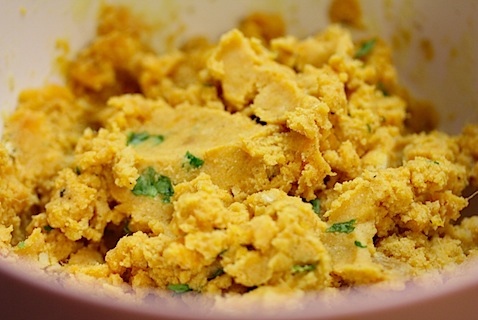 When you take the "batter" out, it should be sticky, but not really wet. You can add more flour if you need.
Form little balls with the mixture... The recipe said "falafelly looking things"), but I just pretended I was making cookies. I got about 15 little falafel.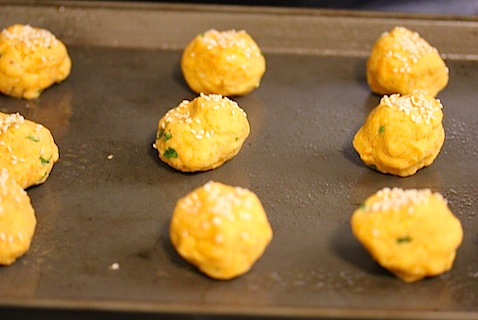 I also sprinkled them with sesame seeds: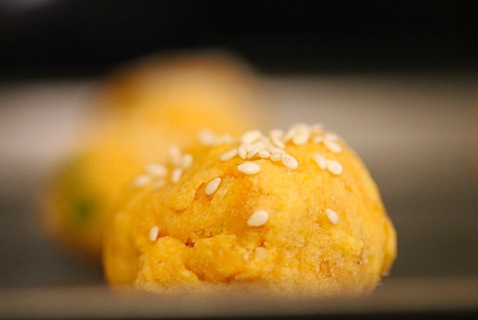 Then I popped them in the oven for about 15 minutes, until they were golden brown on the bottom.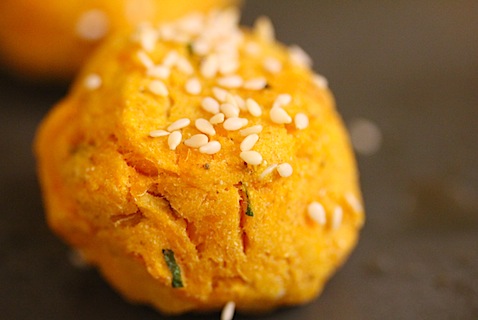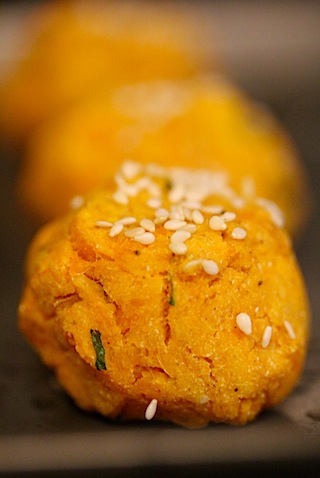 I served them with some Greek yogurt for dipping.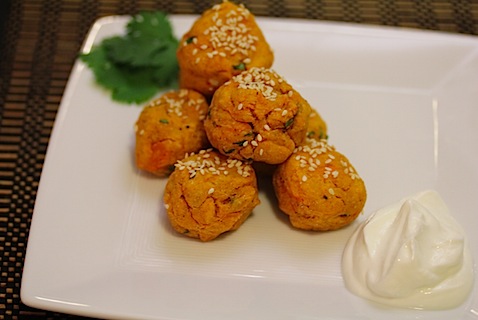 I was planning on putting them in the pitas, but ended up just gobbling them up!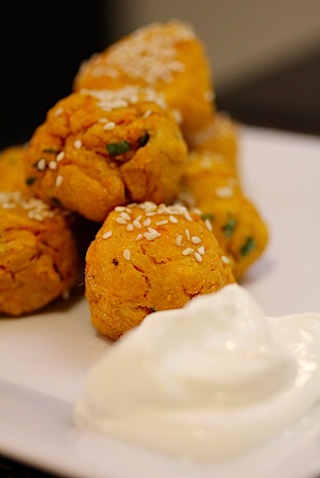 The falafel were a tad bit dry, but the website warned me they would be and that they're not the same as normal falafel. The yogurt definitely helped and the flavor was awesome!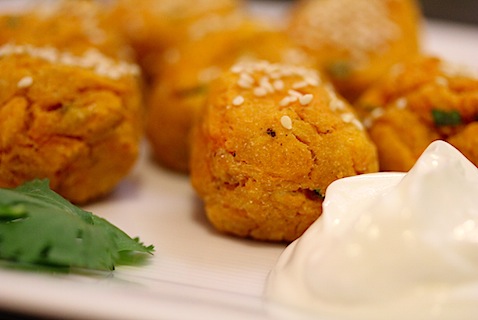 I'm probably going to throw a bag of these on my carry-on and snack on them while on the plane to Austin. They look like cookies, right? But they're definitely a bit healthier. And filling, too. These are the kinds of things I always want to have around for random snacking (I work from home and do A LOT of random snacking!).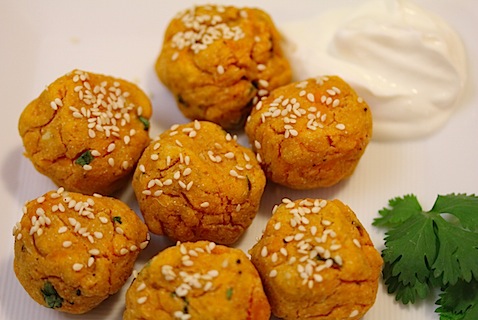 I'm headed to bed now to try to get a couple hours sleep in before my flight in the morning. Of course, I'll be back with some Austin, Texas, fun!! In the meantime, let me know if there's anything I can't miss while on vacation in Austin!
And please, vote for us for Project Food Blog if you get a chance and like our post. We'd love to show you what we have in store for Challenge #4 🙂 Thanks, guys, we appreciate all your support SOOOO much!
Are you a fan of falafel? Have you tried making your own?
[Sues]