As you'll probably soon learn, I have an obsession with orange vegetables. You're lucky this website didn't start during pumpkin season because I went absolutely pumpkin crazy. Pretty much everything I made and ate involved pumpkin of some sort. But since the holidays are over, I have to resort to other various orange vegetables. Last week was the squash soup, tonight was sweet potato fries.
I recently got a mandoline and was very excited to put it to use for my fries. Of course, if you don't have a mandoline, you can simply cut your vegetables the old-fashioned way (also known as with a knife), but mandolines are fun to use and make everything easier. They are very sharp and dangerous though, so be careful! I have the OXO Good Grips Mandoline,
like this one:

I took 2 sweet potatoes and using the "french fry" blade on my mandoline, sliced the potatoes into thin little french fries. Then I put them in a bowl and mixed them with a little bit of extra virgin olive oil, salt, and pepper and placed them on two trays: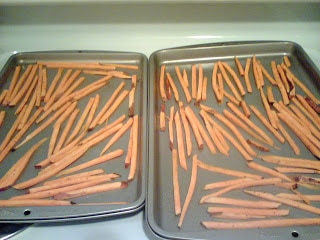 If you're doing this at home, try to separate the sweet potatoes so they're not overlapping. Then, place them in the oven at 450 degrees and bake for about 12-14 minutes. Of course, times will vary depending on how thick your fries are. Mine were quite thin.
And pretty! Mmmm. Along with orange vegetables, I also have a thing for ketchup. So basically, this is my dream team right here: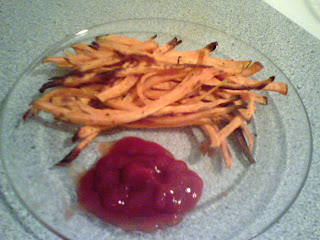 Doesn't get much easier than that! Since these french fries are really technically "french bakes," they're actually pretty healthy for you. And personally, I think they taste just as good as they would if they were fried! Now that you know how to make sweet potato fries, you also know how to make regular fries. And really, who doesn't like fries?
[Sues]