I am in no way, shape, or form a vegetarian (Hi, live without meat? No thanks). But I do love vegetables. And sometimes I get these strange, intense cravings for tofu. So I often buy tofu and then have no idea what to do with it besides make stir-fry. Boring. The last time I bought it, I checked in with the ever-trust worthy Martha Stewart who obviously had the perfect recipe for me. Tofu + one of my favorite foods in the world = Perfection! I'm talking about Sweet Potato Tofu Burgers. I altered her recipe a bit and loved what I ended up with.
Ingredients for Sweet Potato Tofu Burgers:
1 medium sweet potato peeled and cut into cubes

1 small onion, chopped

2 cloves garlic, minced

1 1/2 t curry powder

1/4 t ground cumin

2 T tomato paste


3 T corn starch (Martha calls for "potato" starch, but I couldn't find it and corn worked just fine)

1 lb firm tofu

1/2 C cooked brown rice

3 T cilantro

Salt and pepper

4 whole wheat buns
*Before starting, make sure you cook your rice. You don't want to get to the rice step and realize you still need to cook it!
The recipe said to use a steamer basket for the sweet potatoes, but I simply put the cubes in a pot of boiling water for 10 minutes or so (until they're soft and tender) and it worked just fine. The point is, you want them to be soft and mushy-ish
Cook the onion, garlic, cumin, and curry powder in a frying pan with some cooking spray for about 5-7 minutes, until the onion is translucent. Then stir in the tomato paste and continue cooking for a couple minutes.
Now you want to put the onion mixture in a food processor. If you don't have a food processor, I highly recommend getting one (Christmas is coming! Santa?). I just have a little mini one, which saves on space and isn't too crazy expensive. However, if you don't have one and you do have a blender, just throw it all in there. Also add the sweet potato cubes and corn (or potato if you found it) starch. Pulse mixture until the onions are finely ground.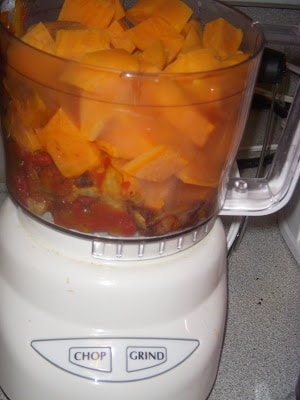 Now, drain your tofu and try to get rid of the excess water as much as you can. Put the tofu in a bowl, along with the sweet potato mixture, cooked brown rice, cilantro, salt, and pepper. Mix the ingredients together.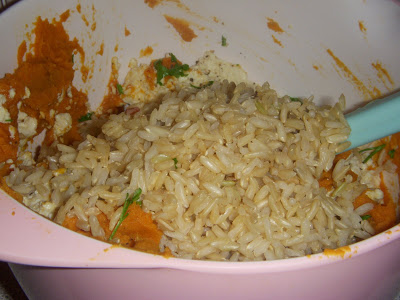 Then, using your hands, shape into hamburger-like patties, whatever size you like. Coat pan with cooking spray, turn to medium heat, and put patties in pan.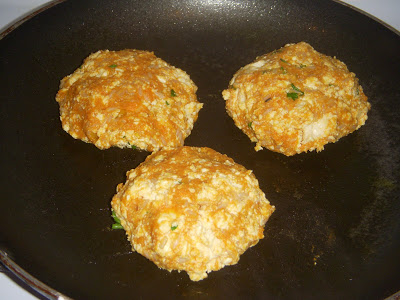 Cook until golden brown on each side. It took me about 7 minutes on each side.
I ended up really enjoying these and think they're an awesome option for tofu. While it's definitely not a real American hamburger, I liked it much more than a typical veggie burger and it's perfect for when you're in a healthy mood. Or when you're sitting in the midst of a winter storm dreaming about summer BBQs. Sigh.
[Sues]