When I was a kid, I would not eat fish. Of any kind. Except tuna fish. My poor parents had to cook dinner every night to suit me, who wouldn't eat fish, and my sister, who wouldn't eat beef. Sometimes I can't even believe they put up with it (I don't know what I'll do it my someday kids are picky eaters... I have a really hard time dealing with pickiness). They were good about trying to slowly introduce it and eventually I found I liked cod cakes (made with potato) and a lot of mild white fishes. Sometime in high school I finally started fully coming around and now I can't believe I lived so much of my life fish-free!
While looking for a swordfish recipe, I came across Giada's recipe for Swordfish with Citrus Pesto. Pesto! I love pesto. But for whatever reason, I've never made my own pesto. Must be incredibly difficult, right?? I bet you know what I'm going to say now... Nope! It was super duper easy. And now I'm totally obsessed with the fact that I know how to make it and I'm going to want it all the time. I actually used some leftover pesto on the rest of my sweet potato fry salad with feta this afternoon.
Pesto = best dressing ever. Now you know.
Citrus Pesto:
1 bunch basil, about 3 cups
½ C pine nuts, toasted
1 clove garlic
1 lemon, zested and juice
1 orange, zested and juiced
½ t salt
½ t freshly ground black pepper
½ C extra-virgin olive oil
1 C grated parmesan
Swordfish:
4 (6-ounce) swordfish steaks
Extra-virgin olive oil
Salt and freshly ground black pepper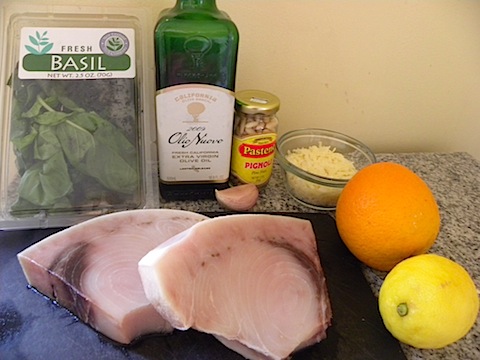 So, like I said pesto is the easiest thing in the world. It would be wonderful if you had a food processor in which to make it, though. I'm absolutely OBSESSED with my Cuisinart and I highly recommend one for everyone. They make life so much easier. Yes, you could use a blender, but in my opinion, the food processor is so much easier/faster/more fun.
Put the basil, toasted pine nuts, garlic, orange and lemon juices and zest, and salt and pepper in the food processor. I should note here that when you toast your pine nuts, be careful! They can burn very very quickly and you need to keep your eye on them.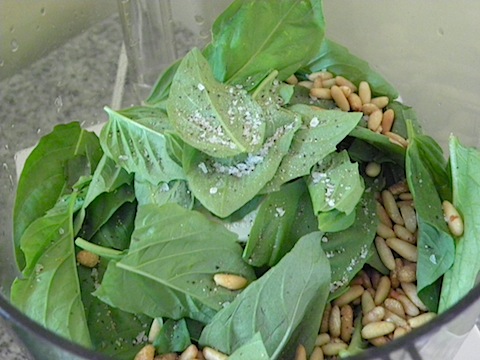 Blend the mixture until finely chopped. It takes like 2 seconds. And then, with the machine still running, gradually add in the olive oil until the mixture is creamy and smooth. Transfer the mixture to a bowl.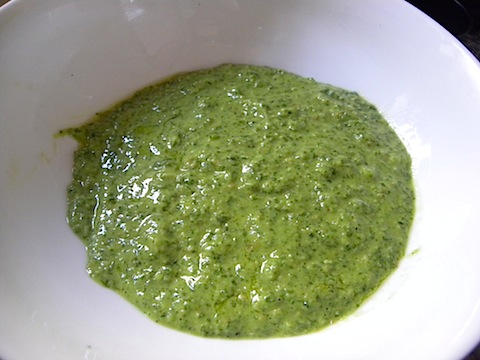 And stir in the parmesan cheese. Omg, it looks like pesto! And smells like it, too! At the ripe old age of 27, these are the things that excite me. Sad? I don't think so. I'm quite happy, thank you very much.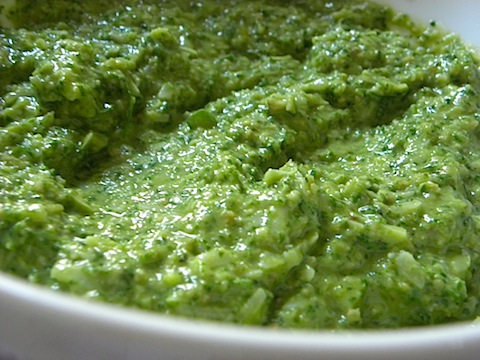 And that's all it takes to make pesto!!!! Try it and you'll be obsessed too. Promise.
Now get your swordfish out and brush both sides with olive oil and season with salt and pepper. I don't have a grill. Sadness (but the apartment building I'm moving into in a month has one!!). So I just used a griddle pan.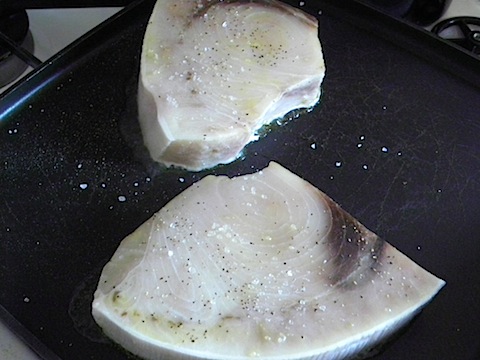 I love cooking fish and I just don't do it enough. This swordfish I cooked for about 4 minutes on each side at medium heat.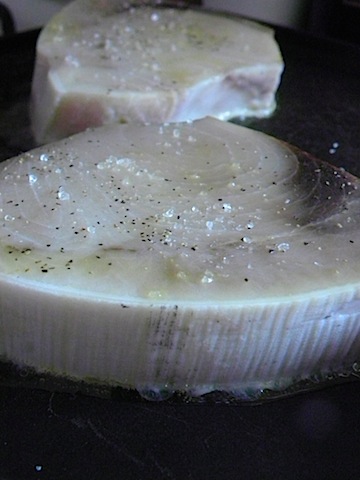 And the final product!! Just looking at this makes me want more. Lots more. I put a thin layer of pesto on the swordfish.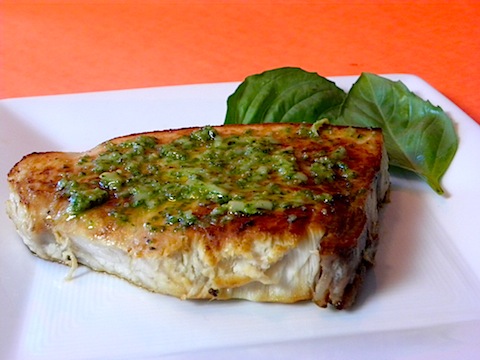 And then when I was done taking photos and sat down to eat, I added a lot more. What? I'm not going to lie.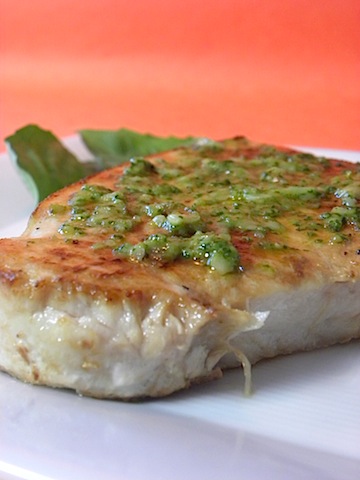 And now I totally want swordfish every night. I know, i know, it's not good to eat swordfish that often (you know, mercury and all). But every once in a while for a treat? Oh my, yes please.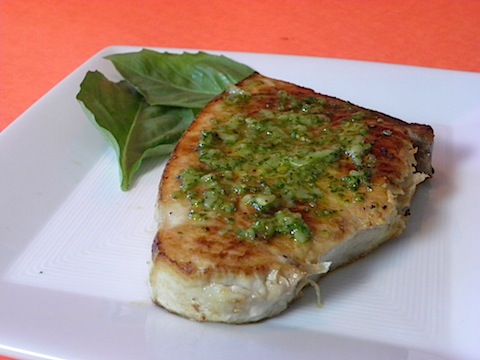 And, of course, when I'm not eating swordfish, I can always use pesto on anything else I can find in my fridge and cupboard. Can and will. I hear pesto freezes quite well, yes?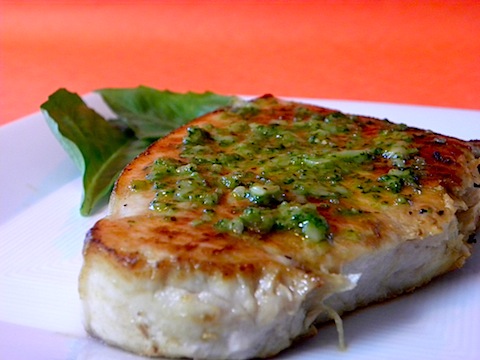 Are you a fan of pesto? What do you put it on? What should I do with it next? Ideas, please! 🙂
And while you're at it, don't forget to enter our Feta Friday Giveaway!!
[Sues]