Fried turkey is one of those things that if you haven't had it yet, you may think it sounds not so great. But you're wrong. Very, very wrong. It is far from greasy and in fact, is the most juiciest, most delicious turkey you've probably ever had. Also, likely the fastest. I've had the pleasure of indulging in fried turkey a couple times now when visiting Butterball headquarters. But I've never had the opportunity to fry my own turkey… Until this year. Butterball sent me one of their Masterbuilt Indoor Electric Turkey Fryers. And now I can enjoy fried turkey whenever I want for the rest of my life. Hurrah!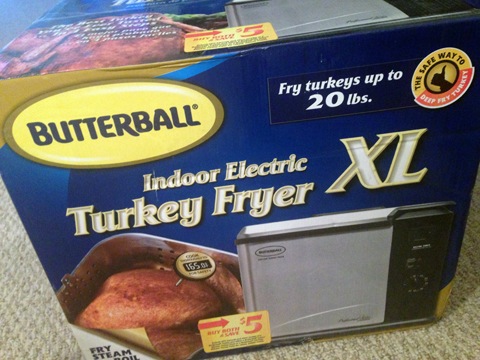 The fryer is an indoor electric fryer, but I was still a bit nervous to use it in my tiny apartment (which happens to have the most sensitive smoke detectors on Earth), so I headed to my parents' house. We were going to use the fryer outside, but then read that it wasn't recommended for outdoor use (because, you know, it could rain or something crazy like that). We finally decided that it was called an "indoor electric turkey fryer" for a reason and set it up on the counter. Thank you to my fabulous parents for a) letting me fry a turkey in their kitchen, b) helping me fry a turkey in their kitchen, and c) keeping my fryer in safe hands until Chris and I get a house… though I'm not sure how much of a punishment it is to be borrowing a turkey fryer!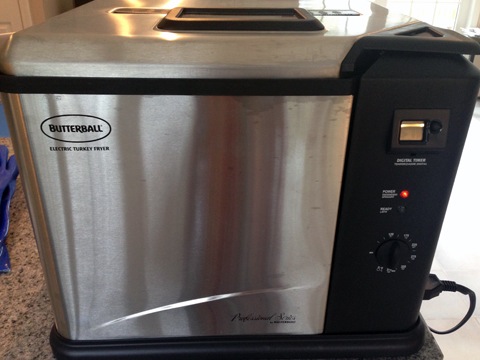 Since there's just a week until the big day (Thanksgiving, duh!) and there were only a few of us (oh, and we also had a big dinner planned for Chris's birthday!), I bought a Li'l Butterball of only about 9 pounds.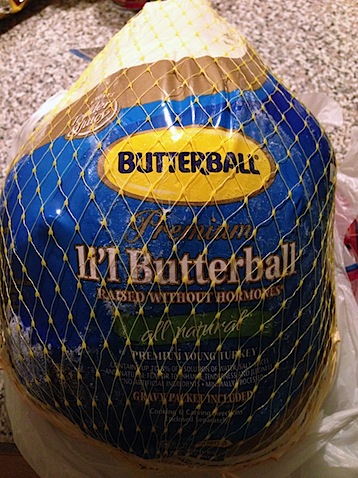 I was really, really excited. This is seriously my most favorite time of year. In the world. Ever.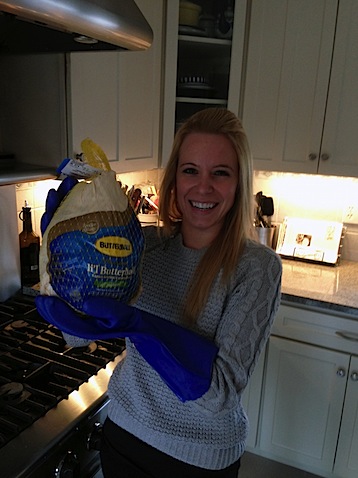 After rinsing the turkey to make sure there was absolutely no ice left in it (I thawed the frozen turkey in the fridge for a couple days), we patted it dry and seasoned it with some salt and pepper.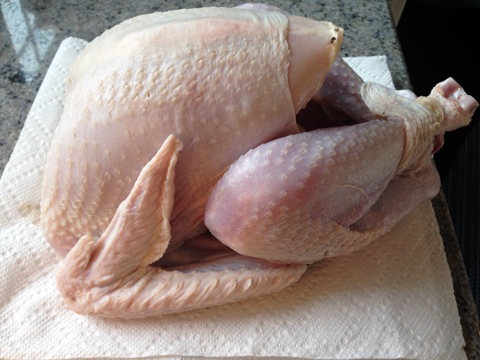 We also heated the oil up. Peanut oil is recommended for frying, but I couldn't even find a SMALL bottle of peanut oil at my store (what the heck?), so we used canola instead. I bought 2 big containers of it, but actually needed 2.75 gallons (oops), so luckily my parents were well-stocked. But a turkey and oil is really all you need for this!
I donned the Breaking Bad style gloves…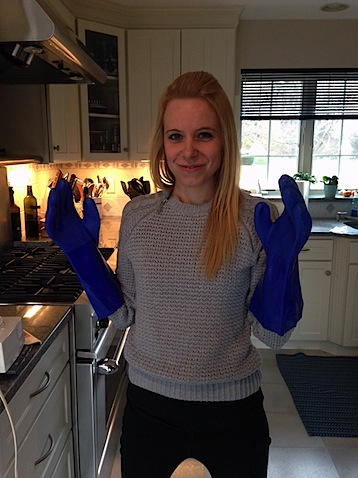 But then we had Chris do the honors and lower the turkey into the hot oil.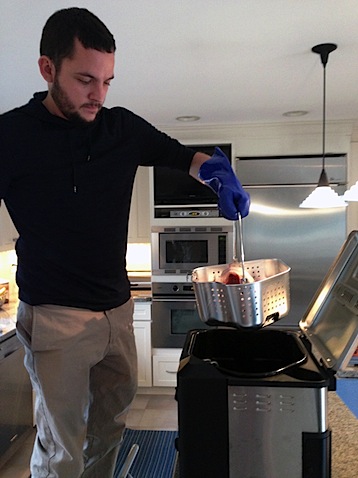 This was the scariest part because the oil sizzles a bit, but it ended up not being a big deal at all. My parents have high counters and we wanted to be sure we were doing it right, so Chris got up high to lower the turkey in.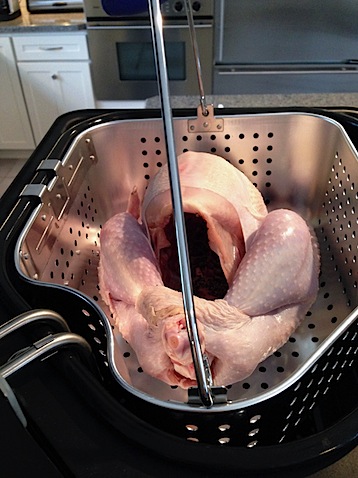 There it goes!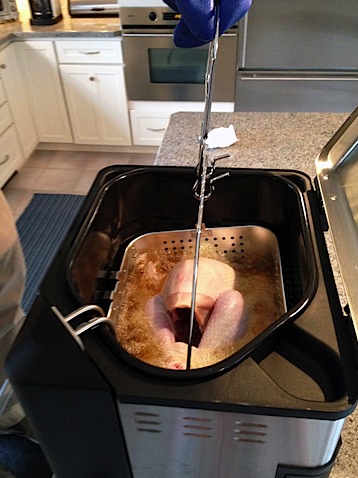 And then we wait. But only 30 minutes. Because that's legit how long it takes to fully cook the turkey. 30 minutes and delicious turkey is yours!!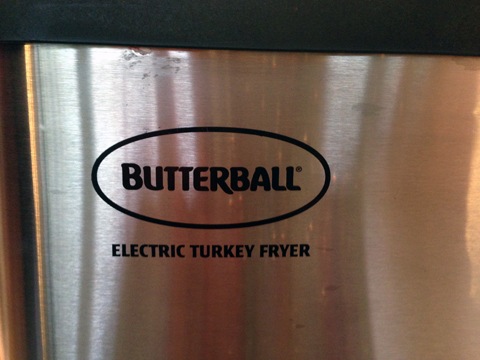 And just like that, we opened the top of the fryer and saw our beautiful turkey. That was so much easier than we thought it would be.
How crispy and awesome does that skin look?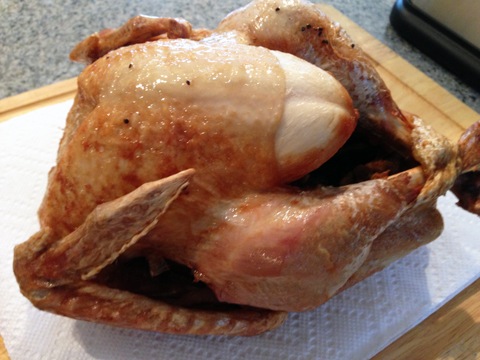 Despite the fact that I've been to Butterball University three times and have learned SO much, I'm still super apprehensive about carving. Luckily my dad is a PRO, so he gave me a quick lesson.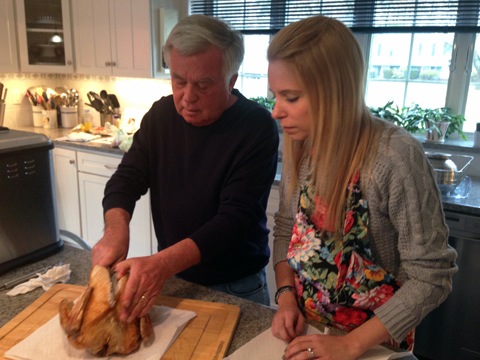 He makes it look so easy!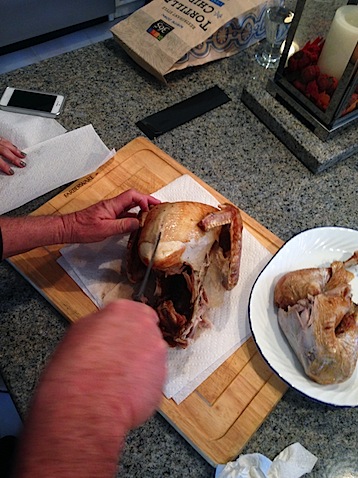 Some day I will be a turkey carving pro, too!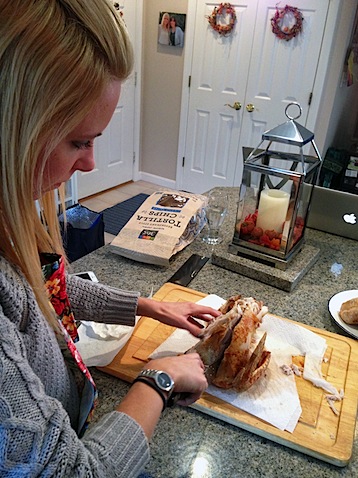 Because practice really does make perfect.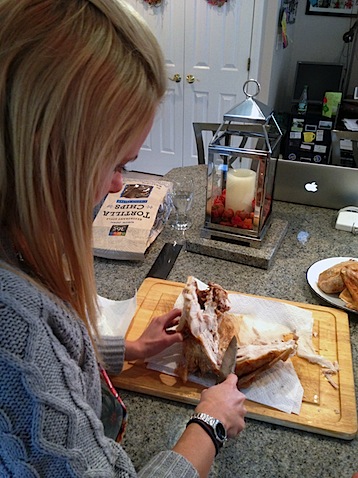 So, really. If you haven't tried fried turkey yet, I urge you. The first thing I said when I tasted this was "oh my God." Because really, oh. my. god. It was crazy awesome. And it wasn't just the deliciously fried skin. All of the meat was tender and juicy, but without a trace of oil. Combined with the fact that this is one of the quickest ways to prepare turkey, I don't get why everyone doesn't own a turkey fryer. Unless you don't have space for another large appliance. But I mean, maybe you have some parents or something who will keep it for a while? Or just store it under your bed or something. I promise it will be worth it!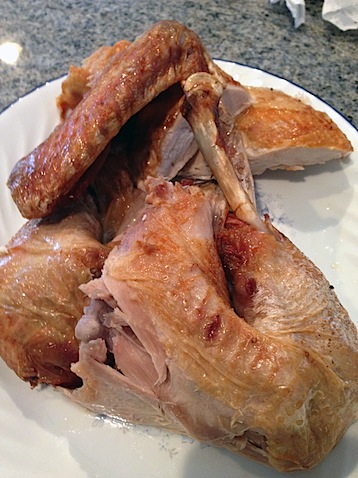 Check out Butterball's guide to frying for more information!
The countdown is ON until Thanksgiving and I'm beyond excited. I just started wearing my lucky wishbone necklace that I got from BaubleBar, but something tells me I'll wear this one year-round.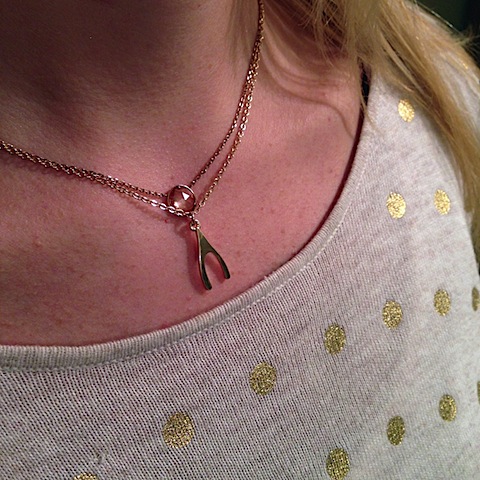 Have you tried fried turkey yet? How are you cooking your turkey this Thanksgiving?
[Sues]
Disclaimer: Butterball sent me this turkey fryer, but all thoughts are my own and based off my super lovely turkey fryer experience!