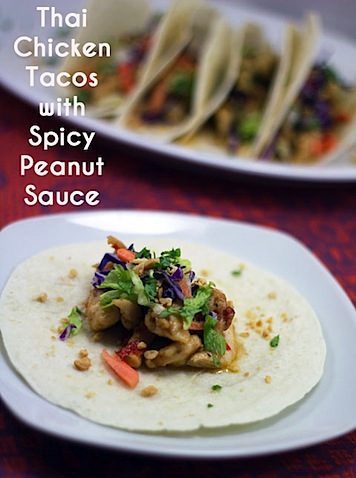 If you're a regular reader of WANM, then you definitely remember this face: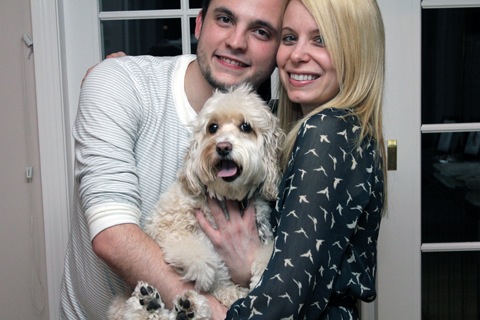 The fabulous Mitzi! And did you know she was in our wedding as the official flower dog?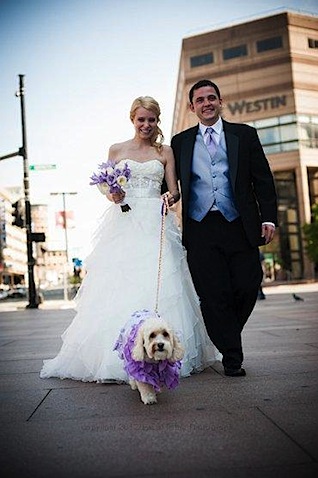 (photo from
Eye of Tobia
)  
Adorable! She had the sweetest dress on to match our wedding colors and even walked down the aisle and sat through our ceremony with barely a peep.
Well, Mitzi is the pup of my aunt and uncle, which is why I often refer to her as my cousin. A couple months ago, my aunt gave me, my sister, and my parents a few jars of sauce from a brand called Southpaw Kitchen and told us to go to town with them. Southpaw Kitchen is the business from Bay Area private chef David Potash and his fiancé and business partner Sarah Knoefler, manager and sommelier of Prospect in San Fran. David is the son of my aunt and uncle's "clutter consultant" and brother-in-law to their contractor. Lots of connections! Because my aunt and uncle know the rest of our family is totally into food, they gave us some of the new Southpaw Kitchen sauces and asked us to create recipes with them. We were planning to do a sort of recipe competition but because, let's face it, I'm the only one in my family who takes photos of everything I cook, it's been a little slow-going. But now that I've made my first recipe with one of the sauces, I'm going for it!
I was immediately taken to the sauces because their pretty jars mean they'd make the perfect gifts. They currently have three sauces, a Spicy Thai Peanut Sauce, Red Wine Port and Onion Spread, and Red Pepper Mostarda.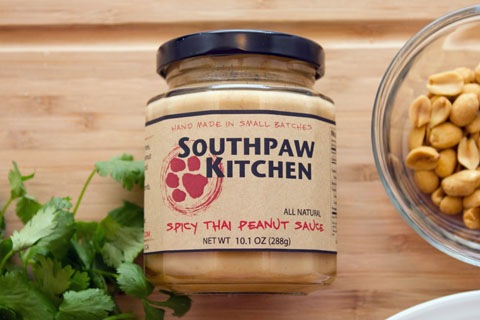 The sauces are special because they're made by hand in small batches. And because they give you the opportunity to have a gourmet meal without too much work. You know I'm generally not a fan of shortcuts and make lots of my food completely by hand. But when I get home from work at 7:30 or later, I'd much rather have a fresh mostly home-cooked meal that's ready in minutes than a frozen pizza that I throw in my oven. But if I'm going to use jarred, I'm going to use high-quality jarred.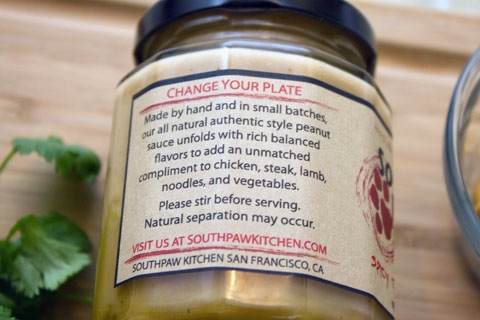 I started with the Spicy Thai Peanut Sauce because a) I love peanut sauce and b) I knew it would make for the perfect, make in a snap tacos. Literally, these tacos take under 15 minutes to whip up. Heaven after a long day of work. Especially if you like a little spice in your life.
Thai Chicken Tacos with Southpaw Kitchen Peanut Sauce (serves 4):
Print this recipe!
1 lb. chicken breast (or tenders)
1 T olive oil
15 thai peppers (use regular red bell peppers if you don't like spicy)
1/2 C Southpaw Kitchen Peanut Sauce
1/4 C peanuts
8 small tortillas
Red cabbage, shredded carrots, and lettuce of choice
1 small bunch cilantro, chopped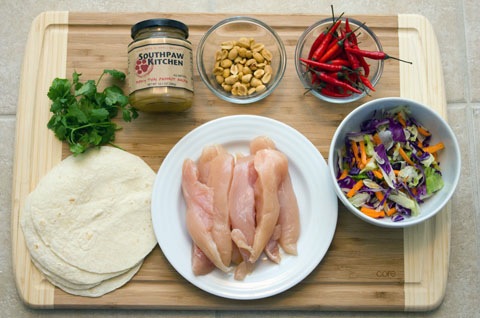 Trim any fat from chicken and slice into strips.
Add olive oil to skillet over medium heat and toss chicken in to sauté.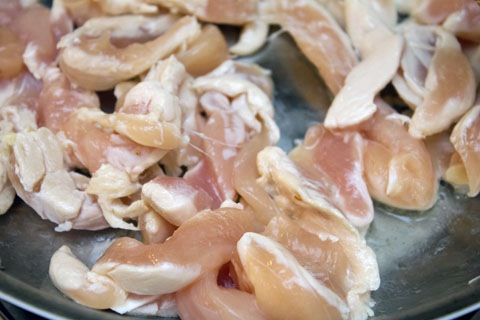 While the chicken is cooking, get going on the peppers. You'll want to chop them pretty finely.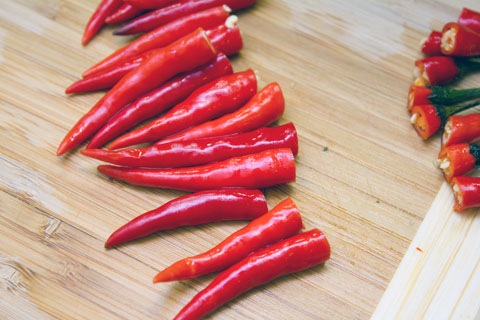 I have to once again proclaim that my Chef'n VeggiChop
saves my life with this. Seriously. I absolutely hate chopping spicy peppers as I always have to wear rubber gloves or risk seriously burning my eyes when I go to put my contacts in the next morning. With this little tool, I just slice off the stems and pop the peppers into the bowl. With a few pulls of the string, my peppers are diced. TOO EASY!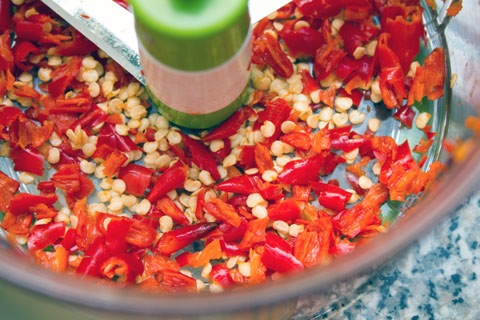 Of course, I need to warn you here, if you do not love spicy, remove the seeds (or at least most of them) before adding to the sauce. Or you can use red bell peppers here instead, if you're really afraid of spicy. My final tacos were SUPER spicy. I loved every bite, but I can handle a lot of heat.
When chicken is mostly cooked though, stir in peppers.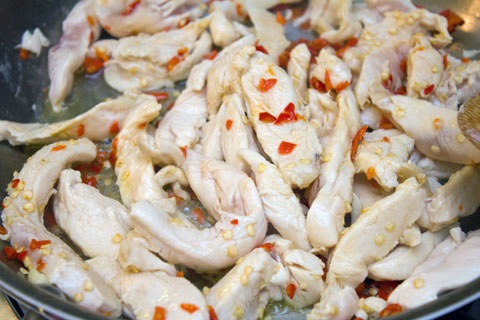 Add peanut sauce to pan and toss chicken until coated. Cook another 2-4 minutes, until chicken is cooked all the way through.
At this point, Chris asked, "what's that smell? It's amazing!"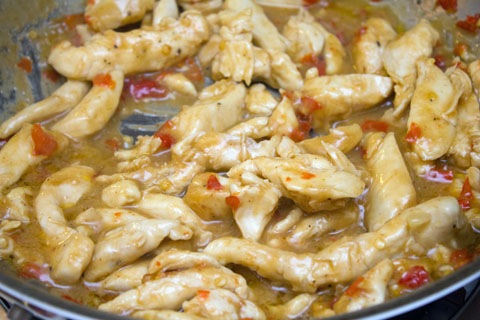 Pop your tortillas in the oven at a low temp so they can warm up a bit.
Chop peanuts. Or put them in your VeggiChop
. Not just for veggies! 🙂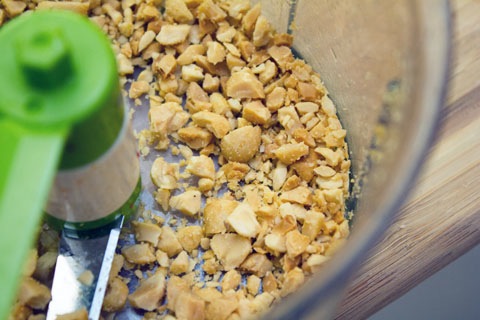 When the chicken is cooked though, you're ready to start building your tacos. Put a little chicken in the Spicy Thai Peanut Sauce on the warmed tortilla.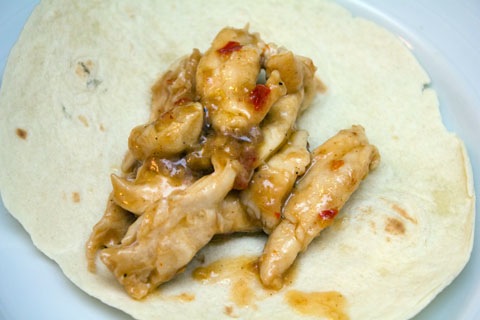 And top with shredded red cabbage, lettuce, and carrots. Or any combination you want. I ended up buying a mixed blend because my grocery store didn't have red cabbages (not to mention, this made prep super duper easy!). Sprinkle on cilantro, too.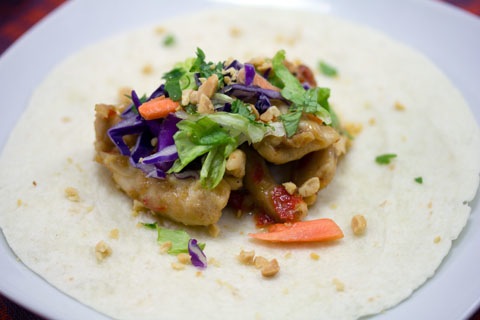 Continue with the rest of your tacos and serve!
I told you this was the easiest ever.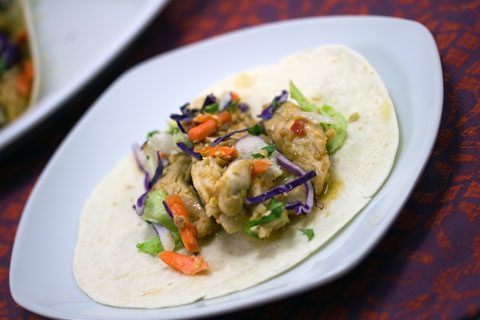 All it involves is cooking chicken and a little bit of chopping. And everything is super fresh, light, and satisfying.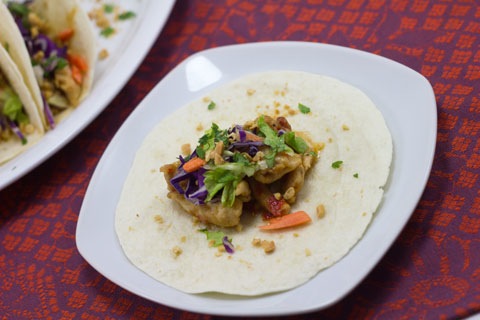 And like I mentioned, spicy! I obviously dipped my finger in the peanut sauce to taste it plain and it was SUPER flavorful and awesome. It definitely has a little kick to it, but I, of course, wanted more. If you only like a slight spice, consider leaving the Thai peppers out all together and using simple red bell peppers instead for a little sweet flavor.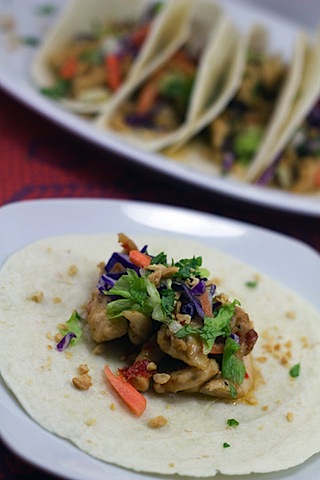 Tacos are pretty much my ideal weeknight meal anyway, but I usually make them with ground turkey. I want to make them with chicken, but find it difficult to make my chicken flavorful enough to satisfy me. The Southpaw Kitchen peanut sauce definitely did the trick!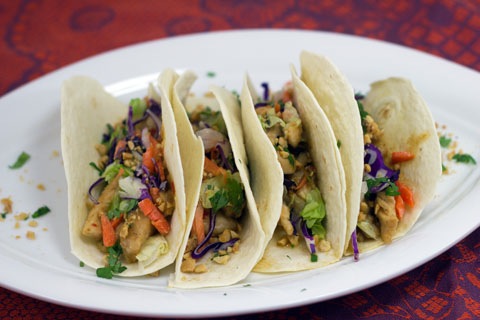 These tacos were packed with flavor and legit made me want to put the sauce on everything.You definitely don't need to add much in the way of flavor with these sauces. But the cabbage, carrots, and lettuce are great for a little crunch and some vitamins!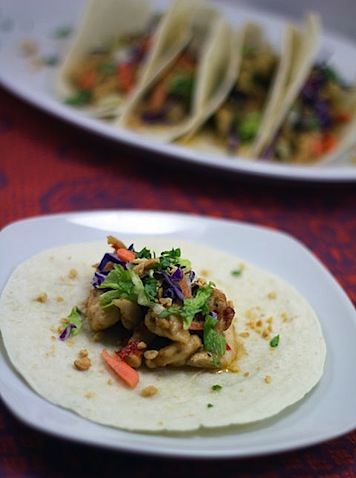 I can't wait to try the rest of the sauces… And to pour the Spicy Thai Peanut Sauce on everything. Definitely doing something with noodles next time! To learn more, check out what cheese SFWeekly paired with the sauces.
I'm actually currently dog sitting for Mitzi and am psyched for some quality time with my cousin. I'm also excited to head back to my old stomping grounds and be back in Brookline for a bit. We have lots of plans to head back to some of our old favorite spots and say hello. And we'll definitely be paying a visit to Hops and Scotch, which opened right after we moved. I kind of feel like I'm on vacation! Not to mention, my aunt and uncle recently had part of their home redone by the contractor I mentioned earlier…. If you ever need a good contractor, Nexus II Carpentry is fabulous (and also the first time I've ever promoted a contractor on the blog?? And likely the only time!).
Love love their new kitchen!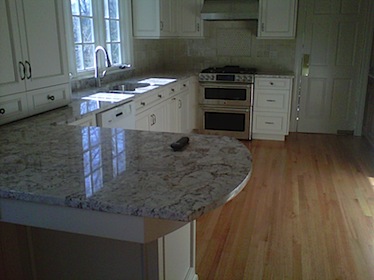 They also recently redid their basement. Which means Chris and I basically argue every time we're here about where to spend time. Clearly, I love the kitchen. And he loves the basement, which he has dubbed the "man cave." Luckily, the basement also has a mini kitchen (and a wine cellar!), so that's usually where we end up. Mitzi is obviously wherever we are 🙂
What's your favorite way to use high-quality shortcuts when cooking?
[Sues]