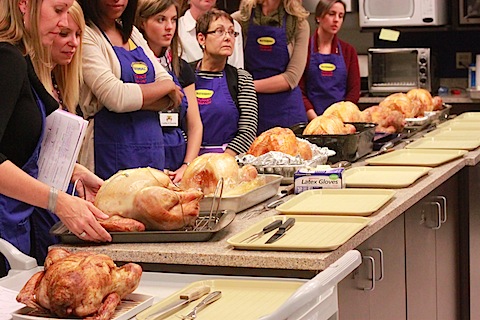 While your kitchen counters certainly won't look like the above photo (unless you have a MASSIVE family and make an incredible amount of turkey, I suppose?), it's still safe to assume that there will be a lot going on in kitchens across the country tomorrow! We love (LOVE) Thanksgiving so much and as our fourth year (woah?!) working with Butterball comes to an end, we wanted to remind you that they make it easy for you to find solutions to all of your turkey-related questions as well as finding some extra Thanksgiving inspiration.
Let me break it down for you, if you don't mind:
Pinterest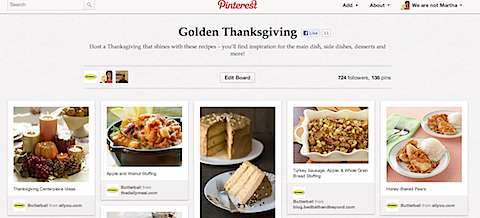 I'm definitely the kind of person who is always looking for inspiration. Yes, even the day before or of an event! And I know I'm not alone because many handfuls of people approached me today while I was at work asking what side dishes or desserts they should make for Thanksgiving. Yes, the Thanksgiving that is tomorrow. So if you're one of those people who's still trying to pull it all together, checkout the Butterball Pinterest Board, Golden Thanksgiving, that we excitedly contributed to this year. And it's not just dedicated to turkey. We've pinned some fun Thanksgiving crafts, side dishes, and desserts as well.
Butterball.com

Butterball's website is a great resource for all things turkey-related. Ideal cooking times and temperatures, food safety guidelines (especially great if you're traveling with your turkey), tips and how-tos on just about everything you'll ever need to know about turkey, and step-by-step videos. Carving, anyone?
Butterball Cookbook Plus App ($4.99 in App Store)

More than just a recipe finder, the new Butterball Cookbook Plus app is a resource tool for year-round cooking. The app, which has the ability to use voice commands, breaks recipes down by category (Kid-Friendly, Outdoor Cooking, Game-Time Pleasures, etc.) for easy navigating and organization.
1.800.BUTTERBALL
No mention of Butterball is complete without speaking about the one-and-only famous Turkey Talk Line. Our lovely and happy expert friends will be awaiting your phone calls if you run into any issues or just need a second opinion about your turkey!
And of course, tune into Butterball's Twitter and Facebook pages! And who am I kidding, I'm fairly certain I'll be checking Twitter throughout the course of the day, so you can always tweet us for help or advice 😉
And if you haven't already, try to lay out all of your dishes and servingware now since it's the night before. I like to do this as early as possible when entertaining just to have a final tally of what I have and need. You can even write the name of each dish on a post-it note and place it on each serving dish you're using to ensure you have enough. The more you can do ahead of time: setting table, setting centerpieces, chopping veggies, preparing appetizers, the more time you'll have to focus on your guests and the dishes that need to be prepared the day of.
There can be a lot of uncertainties on Thanksgiving. Will I finish all of this cooking before guests arrive? Will this person want to sit next to that person? How will I possibly eat all of this food without having to roll myself to bed!?! There are lots of things no one can really answer, but Butterball will at least help you with the turkey-portion 😉 The only certainties I have is 1) I will eat a lot. and 2) that I'll be spending all of tomorrow looking something like this: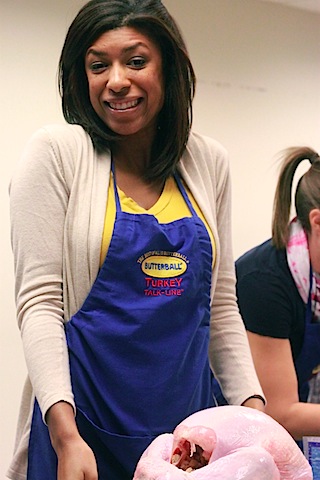 Sans apron. I left it at my apartment and I'm already at my parent's house. Bummer.
I hope you all have blessed Thanksgivings tomorrow!
[Chels]