This past weekend we had a group of the girls together to throw a Thanksgiving dinner. My roommate, Kate, and myself decided to host, mostly because I, for whatever reason, decided to offer to do the turkey and it would have been difficult to lug that big thing to someone else's apartment! As the time got closer I decided to just do a turkey breast instead of a full turkey since we were all having the "real thing" the following week with our families.
The Decorations:
As we were planning the party I decided it would be fun to make some tent cards and label them with all of the food everyone brought. I started out by rummaging through my paper drawer to see if I had any festive fall colors (yes, I have drawers filled with paper… mostly from the Paper-Source). I found some Poppy paper from Paper-Source and simply folded the 8.5×11 sheet of cover stock in half twice, cut, then folded again to create a basic tent card. A while ago I also purchased a leaf hole punch from Paper-Source and punched the shapes out using gold and curry colored paper. I felt there was a little something missing so I started searching for some twine. I found some kitchen twine in the cabinet and decided to place it over the fold of the card (tied a knot on the inside part of the card).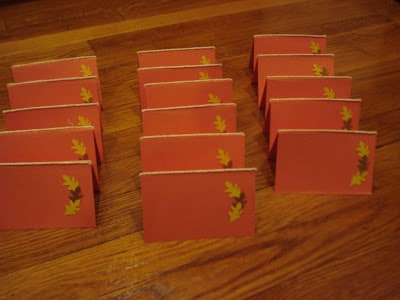 I have a little "thing" for plates and have been on the search for some new, fun ones anyway, so this was the perfect time to go searching. I found these great little red and white floral dishes at Pier 1 (they were on sale and there were only 8 left which is what I needed… must have been a sign!)… I used these for desserts.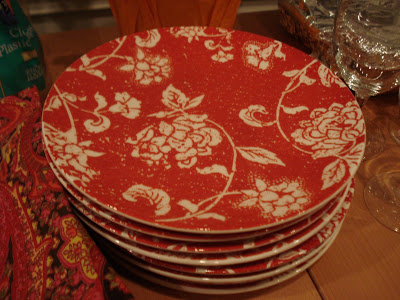 Also found at Pier 1 were these fantastic yellow/gold dinner plates. I think I'm in love with the paisley napkins I found at Crate and Barrel (4 in a set), they too were on sale.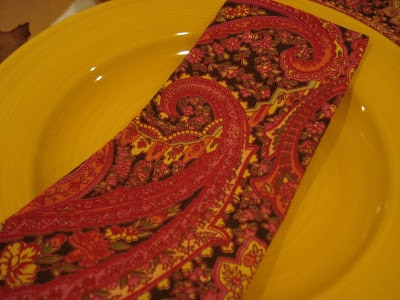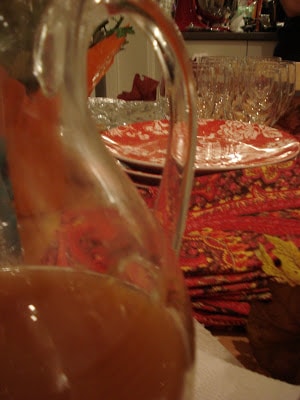 The table (through the pitched or spiced cider courtesy of our newly married friend Libby!)
The Turkey
After doing some searching for a good recipe, I finally found one for Bacon and Herb Roasted Turkey Breast from Martha Stewart and Emril. It's pretty basic but helpful that there's a video on the website too (and I love Martha's yellow argyle sweater, hehe!)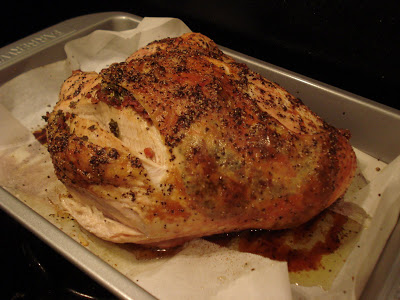 The recipe says to cook for an hour and 15 minutes or until your thermometer reads 165 degrees. I ended up cooking it a little bit longer but checked on it frequently to make sure it wouldn't be too dry.
Not going to lie, but making a turkey makes you feel like a real adult, maybe next year I'll try doing the whole bird! 😉
[Chels]
… stay tuned for the entire feast!