I hope you all had very merry happy holidays! I definitely had the very best Christmas yet. My whole family was together, there was lots of amazing food, and love was all around.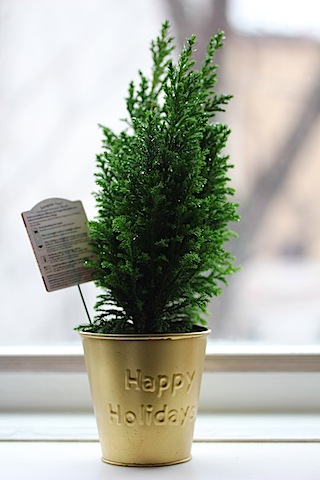 Oh, and Chris and I got engaged 🙂 Yay!!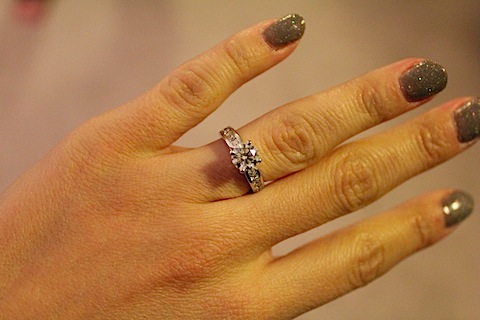 We were celebrating the anniversary of when we first met at Grafton Street in Harvard Square, which is also where we met, when he proposed. Of course I said yes 🙂 And I'm still on cloud 9.
It's been a crazy few days with the holidays and the massive amount of phone calls I've been making. I still have more people to call, but figured I'd make the blog announcement since I'm pretty sure everyone knows from Facebook anyway. Isn't it a strange time we're living in??
OK, so really Chris and I kind of sort of met through social media and he announced on Twitter that he was proposing to me right before he actually did it (You can see my personal Twitter account at @Susie if you want to see how that went down) 🙂 Also, huge shoutout to the absolutely lovely family sitting next to us at Grafton Street who bought us a bottle of champagne and were just the sweetest people ever.
So, now we'll be planning a wedding! I'm super excited, though we have no idea when it will be, where it will be, where to even start, etc. We're pretty sure we want something right in Boston since we met here, but that's about it (though if I had to choose my dream wedding, I'd definitely say Boston Public Library). But I'm a total planner and think we're going to have so much fun looking at all our options (and wedding cakes! I'm obviously excited to try cakes!). I'm sure I'll share some of my planning, etc. here on the blog. Chels already bought me a subscription to Martha Stewart Weddings (yay!) and my sister bought me Boston magazine's Weddings and Brides magazine, too. I'm already a magazine fiend, so I'm loving it! And I'm also loving the fact that I'm marrying my best friend!
Also, I'd LOVE to hear any wedding planning advice from our WANM readers 🙂
Anyway, back to Christmas! Chris stayed in Boston this year, which was so fabulous for me. We'll be heading to Virginia to celebrate the holidays with his family in a couple weeks. So, on Christmas Eve, we went to our family friends' party we always go to and then headed to the Andover Inn for a lovely Christmas Eve dinner. Christmas morning, Chris and I spent at my parents' house and then in the afternoon, we all headed to my sister and brother-in-law's apartment (they had to work Christmas morning).
It was my first Christmas not celebrating the whole day at my parents' house, but it didn't matter because we were still all together. And my sister and Adam did an awesome job decorating and making us feel at home. Their tree was beautiful.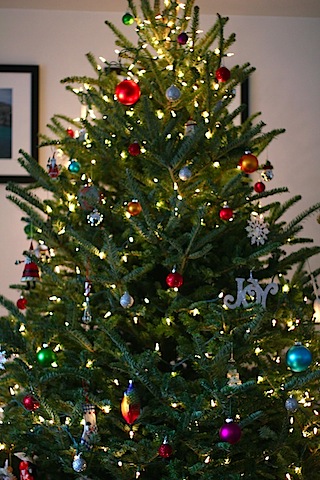 And we all managed to lug all our presents to put under their tree (it wasn't hard… they live just blocks away from me!).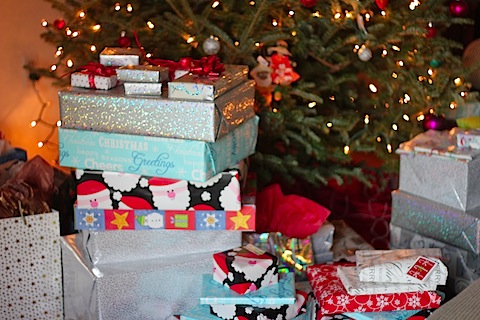 We started the afternoon with some appetizers and drinks. We finally tried Clown Shoes Pecan Pie Porter and it was the perfect holiday beer!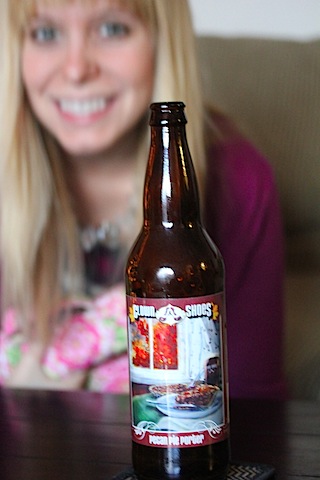 Then we got into some present unwrapping!
My sister crocheted Chris this awesome hat! She made me a scarf for my birthday and is currently making me a matching hat. I love it!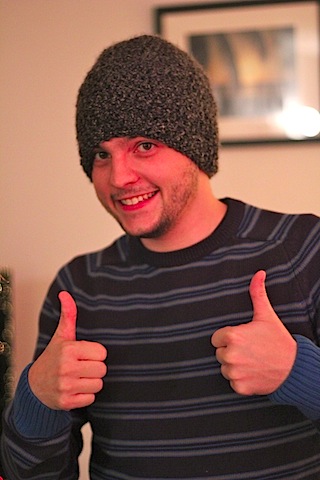 I think everyone was totally thrilled with their gifts… I got tons of lovely things, like a super fab new pair of winter boots, which are much-needed with the blizzard we're currently having in Boston!
After all the presents were opened (I'm pretty sure that took 2.5 hours), we sat down to a huge feast.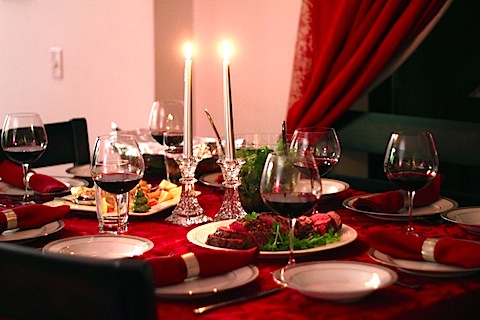 Involving perfectly cooked beef tenderloin.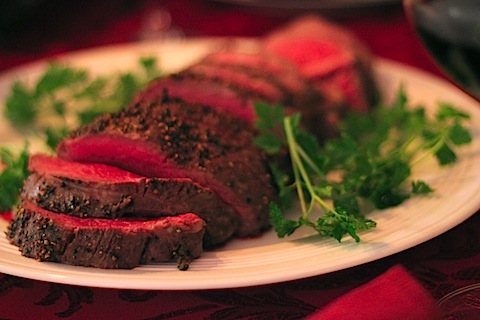 Stuffed shrimp.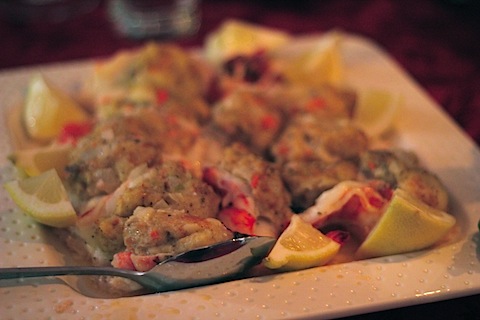 And potatoes gratin with fennel.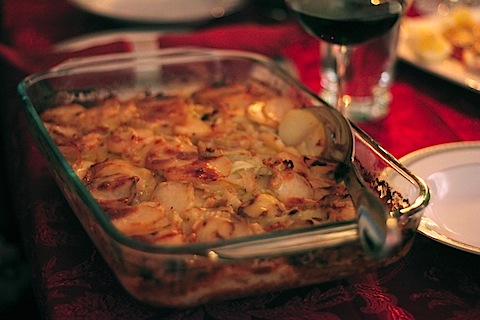 I kind of love this photo because it looks like the entire table is mine!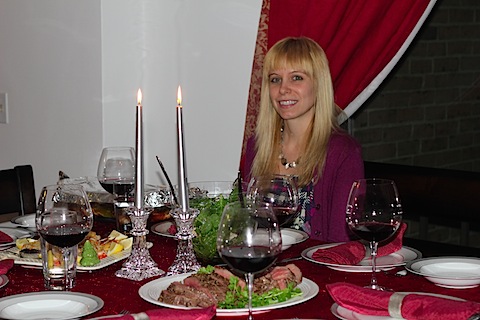 We also indulged in a delicious Yule Log from Party Favors. I was going to attempt to make my own, but things got a bit crazy and I knew Party Favors had an absolutely perfect one. And really, could I ever make a Yule Log that looks this cute??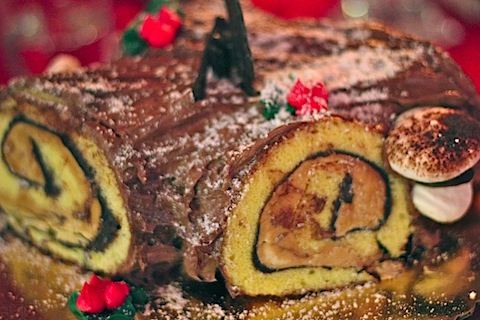 We made sure to take lots of family pics, too!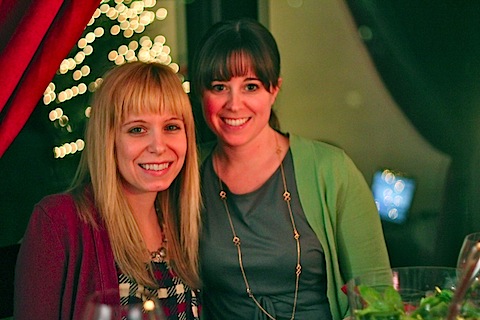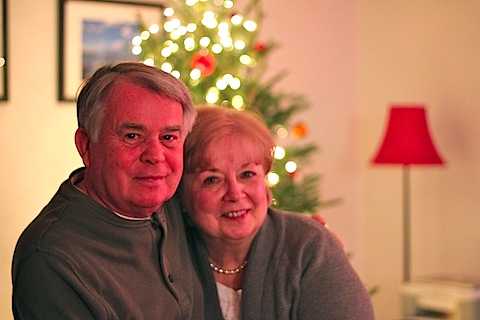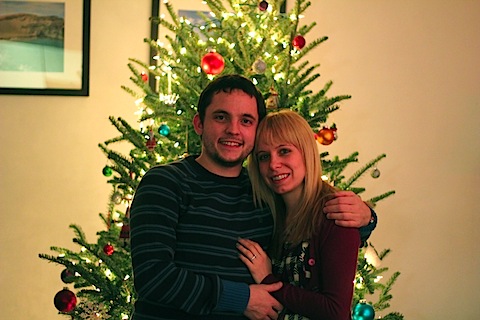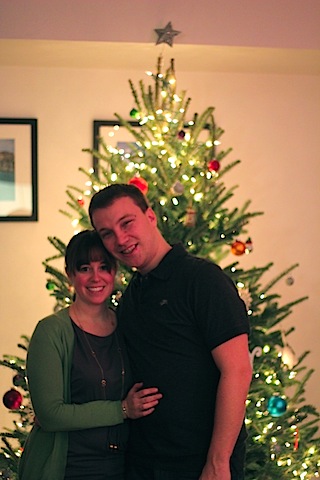 So yes, it was a pretty perfect Christmas all-around! 2010 was such a good year and now I'm really looking forward to all that 2011 brings. I have a feeling it's going to be a good one!!
Like I said earlier, we're in the middle of a blizzard here in Boston, so I'm pretty much taking a snow day. I'm going through tons of food magazines, drinking lots of coffee (got a new Cuisinart Grind and Brew for Christmas!), and doing lots of reading.
What was your favorite part of this holiday season?
[Sues]