My city apartment is 721 square feet. Total. And I have a roommate. And we both have an obscene amount of "stuff". When it comes to decorating and organizing, the only way I survive in a small apartment is by remembering the importance of vertical space. When the living gets tight, it's crucial to build up, so to speak. Instead of using all of your floor area for shallow and long storage pieces, purchase units that are narrow and tall, giving you greater room for foot traffic.
My most recent home decor project was in my bathroom. It's not a huge space and the only storage is the medicine cabinet. There's a small area, about 17" wide, between the sink and the toilet where I used to store my bathroom necessities in a small storage unit (that was overflowing). With the addition of a new roommate I decided to reevaluate the space and give the room a little facelift.
I'm quite stubborn when it comes to finding furniture. I always envision something a certain way and I refuse to settle until I find exactly what I want. Please note: This stubbornness and not "giving in" also translates to almost every other area of my life. I twitch if things aren't how I think they should be. I've got issuuuuues!
Here's what was on my "must have" list for the potential unit:
• white, to seamlessly match the rest of the bathroom.
• contained a few shelves but also a cabinet to conceal items that guests shouldn't have to see such as hair dryers, nail polish remover, extra soap, lady products etc. Hiding all of that stuff can make a space appear cleaner and not as busy.
• something that was tall and narrow enough to fit in the space.
• reasonably priced
• sturdy
In terms of looks, I ended up coming across exactly what I was looking for at several stores but couldn't bring myself to pay upwards of $170+ on units that weren't well made. A lot of stores had floor models out and the cabinets and shelving were quite rickety and didn't look very structurally sound. I ended up going with the Sloan White 18" Leaning Bookcase from Crate and Barrel for two reasons: 1) Crate and Barrel is a brand and quality that I trust and 2) I already own the 25.5" Sloane Leaning Desk so I know they're easy to assemble and very sturdy structures. I also figured if I ever get a bigger place I can put the two Sloan pieces together. Just me thinking ahead, kids 😉 Since I was compromising on having a cabinet, I purchased two baskets with lids on them for the bottom shelves, one for me and one for my roommate, so our personal items could still be concealed. Then I had a leftover basket that I used to store a few rolls of toilet paper in so guests can easily find it if we run out. I'm a self-proclaimed basket-whore. OBSESSED with the baskets. I'm planning to buy a couple more Ball jars for essentials like Q-tips and makeup pads, too.
Final product: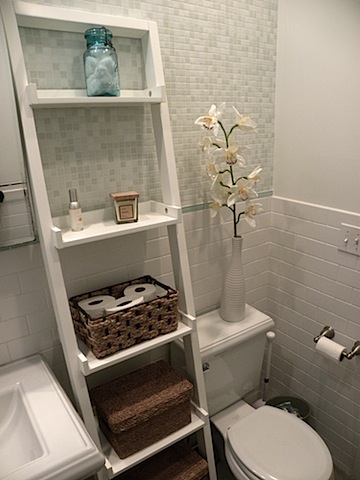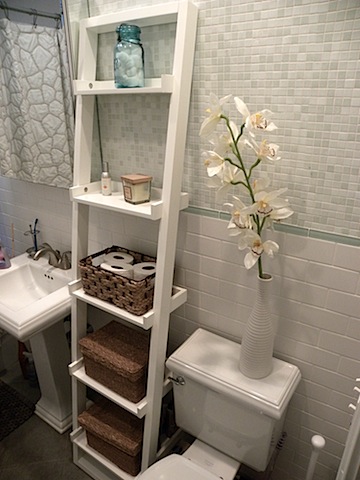 My Sloan leaning desk in my bedroom: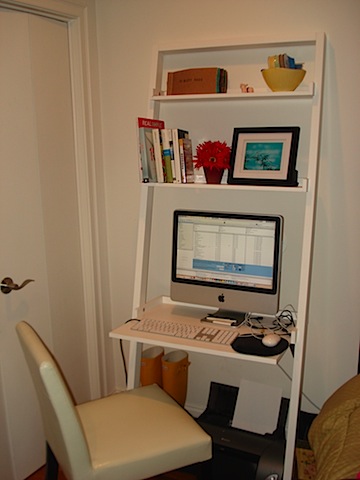 When you're looking for storage units that aren't vertically challenged, look for words like "tower", hinting a tall, narrow structure. Also, don't get attached to the name of a structure. The one I purchased for my bathroom is technically, or in Crate and Barrel's eyes, a bookcase, but I put it in my bathroom. Don't be afraid to get creative and do your own thing. A couple of my favorites are below: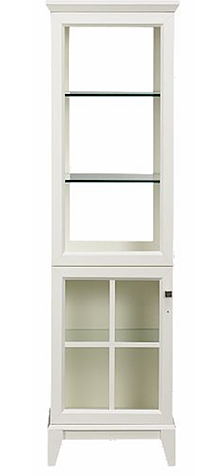 Patterson White Bath Tower, Crate and Barrel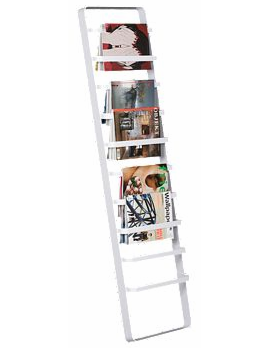 Slat Rack, CB2
When decorating small spaces, don't forget about your walls. Wall-mounted storage and shelving units can be a lifesaver if you don't want to take up floor-space: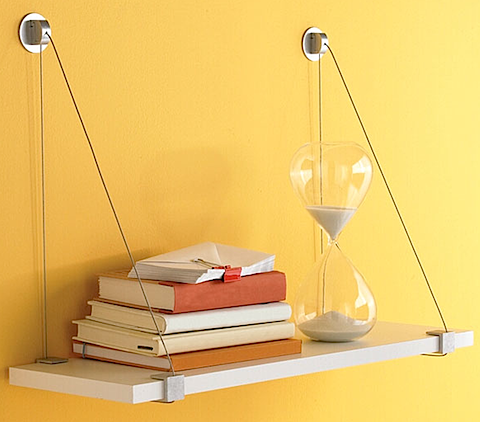 Cable Brackets with White Melamine Shelf, Container Store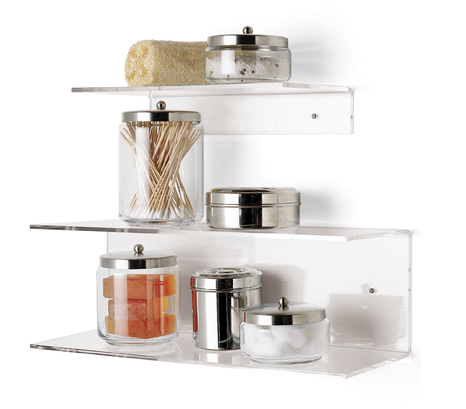 Single and Double Acrylic Shelves, Container Store
What are your go-to storage solutions for small spaces? Any creative ideas or tricks?
[Chels]